Benedict Cumberbatch for Doctor who now?
If the casting of British thespian Benedict Cumberbatch as Doctor Strange, the latest Marvel Comics' hero to make the big screen translation, seems to be a perfect one, you have to thank Star Trek Into Darkness for that.
Before he went on the press rounds for that sci-fi movie, the 40-year-old had never heard of Doctor Stephen Vincent Strange, Sorcerer Supreme.
"It was a conversation at the rooftop of Bad Robot when Star Trek was starting up its press, and one of the journalists there said 'You know, you make a great Doctor Strange.' You mean Doctor Who?, and he went, 'No, Doctor Strange.'"
So Cumberbatch went out and bought one of the comics, but it wasn't what he expected.
"I was like wow ok, that's quite a leap of imagination, and I thought, Oh I see what you were saying. He's an arrogant guy, he's intelligent, and I thought, no I'm not interested," said the actor with a laugh, at last week's Doctor Strange Asia Press Junket in Hong Kong.
When Marvel Studios, led by its president, Kevin Feige, actually approached him about the project, he still wasn't convinced.
"This is very much a comic of its time, this East meets West, this crossover of the cultism that Americans in the 70s, that kinda folklore, history of happy movement, psychedelia," noted the star of TV's Sherlock.
"I wasn't wowed about the character. He's very arrogant full-stop. And I don't know. It's kind of off-putting in a way, even though he does it with great revere and charm."
But further meetings with director Scott Derrickson, who discussed at length about the character of Stephen Strange with Cumberbatch, fleshed out the story and talked about adapting it to the 21st century, changed his mind about signing up for a role in the Marvel Cinematic Universe.
"This man is materialistic, but quite lonely. He thinks he has everything taken away from him, when he's actually been given another chance. And from that, he becomes this extraordinary superhero. Very extraordinary in the sense of where the other realms of other superheroes lie in, and what that does to the MCU. So that hooked me."
And full acceptance for his role came in New York, while he was filming with the Empire State Building in the background.
"I just looked up at the Empire State building and there I am standing in a red cloak, not cape, and blue costume, and to be standing there in the shadow of the building that generated a lot of comics in the first inception, you know, a poster on the wall, is amazing."
The experience was a parallel with the premise of one of his favourite books, Kavalier and Clay, by Michael Chabon. The tale about 2 brothers from Czechoslovakia, Prague, has one brother practising to be a magician and an illusionist like Houdini, while the other one becomes a cartoon artist. They too travel to New York.
"It's fantastic, to be in the shadow of that building as a superhero."
The Ancient One – Reinvented
Once he had his Doctor Strange, Derrickson set out to work on the other crucial character- the Ancient One. When news that English actress Tilda Swinton was going to play The Ancient One, a character traditionally depicted as being Asian, broke, the internet was set ablaze with enraged fans calling out on the whitewashing of the Asian character.
Still, Derrickson stood by his reasons and refused to back down.
"The character from the comics was so difficult to adapt. He was a cliché and a stereotype. I first of all decided, it can't be this old Asian master of mystic arts on the hill teaching the white heroes. That's just bad stereotypes, it's never going to work."
He decided to change the role to a woman, while preserving the qualities of the Ancient One.
"There are certain things in the comics you have to preserve. Unlike Wong, I totally reinvented Wong. It was great it was so fun, you know but I had to keep certain things in the comics."
Derrickson also steered clear of writing the role for an Asian woman, "because every time I tried to write that, it became a dragon lady."
With that approach, he began to write the role of the Ancient One and found himself writing it specifically for Swinton, breaking his own rule of never writing a role with an actor in mind.
"When I started to write it, for her voice, it suddenly came to life and it was doing all kinds of interesting things so when I finished it, that's when I brought it to Kevin and said 'here's the new draft, with the new Ancient One, and it's gotta be Tilda Swinton, and if it's not her, I'm gonna have to re-write it.'"
Thankfully, Swinton embraced the role, "When we met and started talking about it, it was very clear that there was a place for me in it somehow and it felt that the connection might be authentic, so that's why it felt very graceful, the idea of saying yes to it."
Still, she had no idea the role was written especially for her.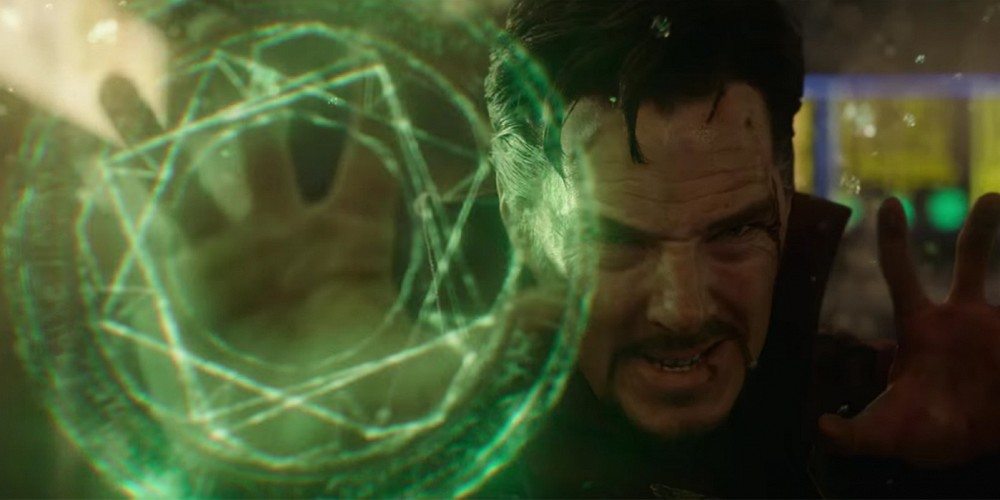 "Now I wish I asked for more money!" she joked.
For her role as the Ancient One, Swinton worked with Derrickson on creating the look of the master of the mystic arts.
"We sort of figured it out slowly, but quite meticulously, thought of all the different aspects, and kept coming back to bald. I wanted to be bald quite early. We kept testing it and thinking about the aspects, and we came back eventually and thought this was the strongest, this feels both the most ancient and the most modern, because it's quite a modern look."
And being bald has one additional benefit – helping toy manufacturers save the planet.
"I know there are all these beautiful pieces of merchandise appearing and I remember when we were working out the look, I'm thinking well if I'm bald it would be cheaper for all the manufacturers. LEGO won't have to do a little head piece. I'm saving a little plastic in the world!"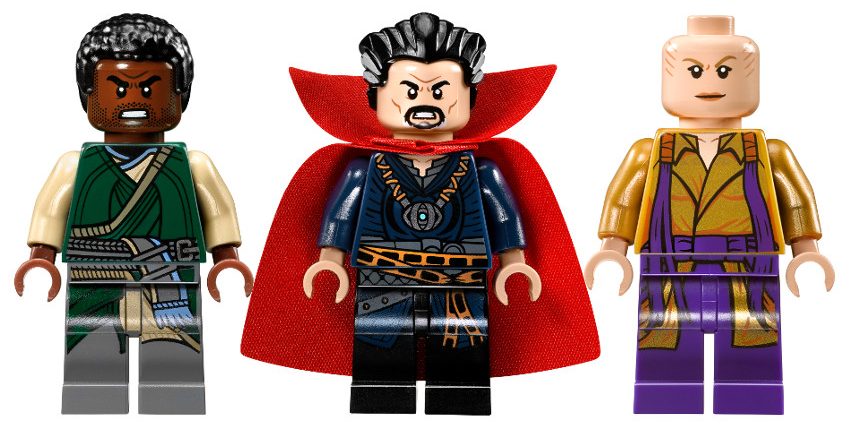 30 Years in the Making – From Comic to Screen
With the two leads committed, Derrickson embarked on his Doctor Strange journey that has been 30 years in the making. Having discovered comics when he was a kid, his clear favourite was Doctor Strange and to direct the movie now is a dream come true.
"It still feels unreal. I remember every day, working on the movie and going to set, and getting up every morning and thinking 'somebody is going to tell me I have to stop. Somebody's going to come knock on my trailer door and say this is all too weird you can't do this.' It's been far and away the most fulfilling film making experience of my career."
To bring the comic's psychedelic visuals to screen and maintaining its integrity, Derrickson turned to his other love, music.
"I was constantly listening to 60s psychedelic rock all the time when I was working on all of it, and I don't do any drugs. I just wanted to try to expand my mind, take my mind into interesting visual places in the comics, with the primary visual resource in it."
Once he figured out which parts of the comic's visuals he can bring to life, he worked with this production designer and visual effects supervisor to create the actual set pieces. The team got increasingly imaginative, and pushed boundaries after boundaries.
"The scene that takes place in Hong Kong was the most technically difficult sequence I've ever directed and it has to be one of the most technically complex sequences ever put on film to do, to achieve. But it started as an idea, started as 'hey what if we did this, and it was like can we do that? Let's try!' so it was just like freedom of imagination," Derrickson says.
The timing of the movie couldn't have been more perfect. There are mind-blowing effects in the movie that would not be possible a couple of years ago. Swinton weighs in, "I mean you're talking about such cutting edge technology, people literally inventing programmes for the movie itself. The real, real proper nerds made this film."
For the two actors, being in Doctor Strange was no walk in the park. Combining martial arts, stunts and hell lot of running, the physically demanding roles took a lot out of both Swinton and Cumberbatch physically.
"You're falling off sheer drops sometimes, you're being catapulted you know, 150 feet, not up but sorta diagonally, and fast, you're doing close-hand combat and martial arts scenes and fight scenes, and crashing through things," recalled Cumberbatch, but he's quick to add that there were always safety measures and doing the stunts himself was great fun.
The hardest part for him was shooting the scene in Hong Kong, which actually takes place outside the Longcross Studios in Surrey, England, in the dead of winter. There were night shoots at the outdoor set for over a month, and that took a toll on everyone.
The most rewarding moment for Cumberbatch was actually the last day of the shoot. The scene had him running on the street with co-star Chiwetel Ejiofor. Serendipitously, he was running outside the JHU comic store.
"You couldn't write it. And everyone was like, look over there, and I was trying to concentrate, and I was like what? And I went in as character, and I asked 'if the film doesn't work out, can I work here?' the staff replied 'yeah we'll find a place for you, you can make the coffee or something.'" he recalled.
"It was wonderful. It reminds you what it's all about, but because it makes you realise that you're doing something that's fun. We're trying to bring a lot of serious(ness) and integrity but also great humour and action and thrills to this, it'll hopefully really appeal to new Marvel fans as well as fans of the original comics and fans of the Marvel cinematic Universe."
One fan that Derrickson hopes to reach out to, is Steve Ditko, one of the co-creators of Doctor Strange. Though the artist is still around, he has pretty much kept to himself, but many of his artistic creations, such as the many dimensions first seen in the 1960s, have been carefully constructed in this movie.
"He is very private. I don't think Kevin's even met Steve yet. He's not like Stan Lee. Stan Lee obviously, he's a very sprite 92, but not Steve. I would love to meet him, and hopefully he will sneak off to a theatre."
Doctor Strange opens in theatres on 27 October.