New technology brings about a new set of expectations, as brands tout better performance and improved experiences with each new generation of devices, but more often than not, said improvements are no more than marketing gimmicks that trick consumers into something more.
Unless you're NVIDIA and have introduced the biggest thing to gaming since sliced bread – ray tracing. The leading global brand for graphic cards, NVIDIA has been touting performance-driven technology and innovation, and the recent release of its GeForce RTX 30 series looks set to take the world by storm, as its phenomenal performance shakes up the entire gaming industry.
In simple terms, ray tracing is a technique used to enhance the lighting in games. Complex calculations take into account multiple sources of lighting, the ensuing reflections, to the shadows generated both in the game environment, and on items within it. This enhances the in-game environment to deliver a more realistic representation, including environmental and atmospheric effects, different types of reflections on various surfaces, to even diffused lighting.  The end result is a more realistic recreation of environments that gamers can rely on in real-time simulations that taps onto their visual acumen.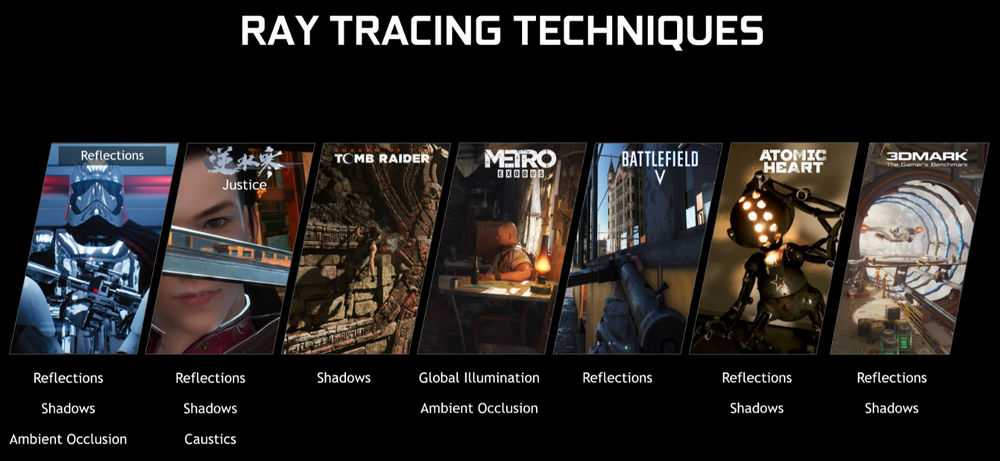 Ever since the introduction of ray tracing to their GeForce RTX GPUs, the company has changed the way video games are supposed to look on computers. Just last year, it pushed out the NVIDIA Reflex, which reduces system latency by combining both GPU and game optimisation, to offer the competitive edge gamers have been looking for in their intensive multiplayer competitive games. 
NVIDIA is constantly pushing boundaries to bring their GPU's gaming performance up a notch and another example of their ever-growing technology, is their DLSS (Deep Learning Super Sampling), designed to drive your gaming performance to the next level.
NVIDIA's DLSS is essentially a groundbreaking AI rendering technology and engine that pushes the limits of its performance. With a dedicated Tensor Core AI processor that's available only in their RTX series GPUs, the technology utilises its deep learning neural network to increase frame rates, and produce sharp and vivid visuals in your favourite games.
DLSS produces image quality identical or better to the native resolution of your computer monitors. Depending on your games, it allows you to pick your image quality modes and control your performance and quality. The Performance Mode, for example, can run up to four times AI super-resolution and push your 1080p render resolution to a 4K output, while the newer Ultra Performance mode enables users to output their 1440p resolutions to 8K.
The latest game to receive the DLSS treatment is Tom Clancy's Rainbow Six Siege, one of the most popular multiplayer tactical first-person shooter (FPS), which relies heavily on visual consistency and frame rates because of its competitive nature.
DLSS, as such, comes in handy in games like Rainbow Six Siege, where every second on the clock counts. With its aid, players will be able to achieve a performance boost of up to 50 percent at 4K resolution and over 100 FPS at maximum settings.
The gaming experience is further enhanced with powerful hardware. Coupled with an Intel i9-10900K CPU and 32GB RAM, an RTX 2060-fitted set-up can double the frame rates from 74 FPS to 124 FPS. An RTX 3080 GPU, meanwhile, will push gameplay from 209 FPS up to an incredible 258 FPS.
To ensure that everyday gamers are reaping the benefits of this cutting-edge technology, NVIDIA has also made DLSS extremely simple and accessible for added convenience. Once you have the GeForce Experience software installed on your systems, simply make sure that your drives are updated and head on to the game's settings/options to tick the NVIDIA DLSS option for activation.
For gamers with 1920 x 1080p and 2560 x 1440p resolution, Quality Mode is the recommended setting, while those with 3840 x 2160p can opt for Performance Mode.
Of course, there are alternate methods to upscaling resolution, but DLSS is able to rise above the competition with a combination of motion vectors, temporal feedback, and a sophisticated AI algorithm. This allows NVIDIA's technology to produce stabilised images at native resolution, which gives it an edge over traditional upscaling.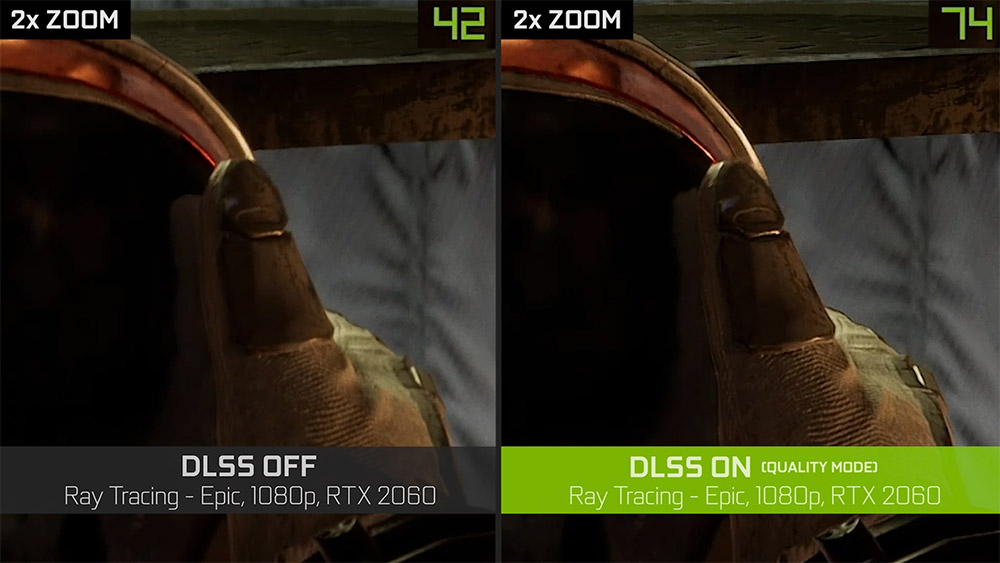 An example of this can be seen in the comparison video of Control, where the DLSS version shows greater proficiency in capturing subtle details and handling difficult subjects, such as a giant rotating fan.
Working with various developers, creators, and industry experts have allowed NVIDIA to extend the reach of its technology. Many gaming studios have since joined this venture, adopting the company's DLSS feature to let gamers run their titles faster, better, and smoother.
Rainbow Six Siege players aren't the only party to benefit from DLSS. Plenty of other games, including Call of Duty: Black Ops Cold War and Cyberpunk 2077, have also brought over the technology to their systems with enhanced performance. Running the latter in tandem with DLSS will boost performance of up to 333 percent, with the likes of Fortnite, Minecraft and Watch Dogs: Legion sporting over 200 percent improvement with an RTX configuration. This is done by maximising the graphical settings and resolution up to 8K, instead of sacrificing frame rates.

Besides that, NVIDIA later announced another pool of over 55 games that'll be supporting DLSS including Rust on 1 July, LEGO Builder's Journey (available now), Doom Eternal from 29 June, and more. As NVIDIA continues to expand its list of partners, gaming enthusiasts will be able to have their fill of the technological upgrade from the pool of titles below:
Battlefield V
Control
Call of Duty: Modern Warfare
Call of Duty: Warzone
Chernobylite
Crysis Remastered
Cyberpunk 2077
Death Stranding
Deliver Us The Moon
Doom Eternal
Dying: 1983
Final Fantasy XIV: Windows Edition
Fortnite
Icarus First Cohort
LEGO Builder's Journey
MechWarrior 5: Mercenaries
The Medium
Metro Exodus
Minecraft
Monster Hunter World
Moonlight Blade
Mount & Blade II: Banner Lord
Necromunda: Hired Gun
Nioh 2
Outriders
Pumpkin Jack
Rainbow Six Siege
Red Dead Redemption 2
Rust
Shadow of the Tomb Raider: Definitive Edition
The Ascent
The Persistence: Enhanced
Wolfenstein: Youngblood
Capable of driving maximum graphical prowess without comprising the core gameplay experience, NVIDIA has successfully set the stage for next-gen desktop gaming with their GeForce RTX GPUs and DLSS technology.
It certainly won't be a surprise if the company continues to bring things up a notch in the future, considering its relentless pursuit for gaming perfection, but in the meantime, do remember to check on these titles and enable DLSS, so you can enjoy enhanced 4K gameplay to the fullest.