We've reached the end of another amazing year and while we've come to expect another year-end period of shopping and sales galore, there's another reason that makes this sales period, especially Lazada's flagship 11.11 Biggest One-Day Sale and largest sale of the year stand out more, and it's nothing to do with great prizes or giveaways. Shopaholics know that with the impending GST increase from January, as well as the taxes for overseas online purchases coming into effect that same day, it means that we only have eight more weeks to stock up and save money, before things get more expensive next year!
Whether you've been feeling the itch to shop, been wanting to get your hands on some pretty pricey items you've been eyeing all year, or simply trying to get ahead of Christmas shopping, look no further than Lazada.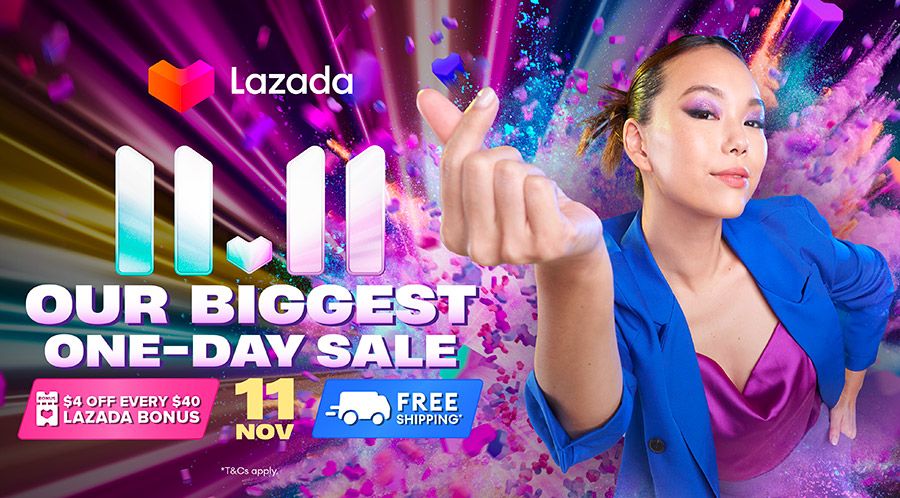 Held on 11 November, but with early deals starting from today, shoppers have a lot to look forward to even way before the big day. Remember that with sales, it's while stocks last and it's your choice if you want to wait for even lower prices, or risk having the product sell out.
Shoppers can start early with pre-sale promotions on 5 November, and start building their baskets early to fully enjoy S$4 off every S$40 with the incredible Lazada Bonus. In addition, from 8 to 10 November, shoppers can dial in directly to take part in a livestream to win featured deals worth up to S$500 for free, via a special 11.11-exclusive LazLive segment – #LazCall to Win!
With every Lazada sale, customers can also look forward to Free Shipping, exclusive deals, promotions, discounts and even Surprise Boxes. That's not all though! Lazada's biggest sale and flagship event is ringing in the new year with a Tesla Model 3 grand prize lucky draw that customers can maximise their chances of winning during the Lazada shopping period, from 5 November to 31 December 2022.
All of this leads up to the highly anticipated 11.11 sale where customers won't only get to shop till they drop across thousands of well-known international and local brands, but also participate in plenty of promotions that help them save more. These promotions include Add to Cart Challenge, Storewide Flash Sales and Surprise Boxes. Excited? We know we are. Read on for a more comprehensive look at what's in store on this special shopping day.
---
The Lazada 11.11 sale kicks off with a pre-sale running from 5-10 November. During this pre-sale period, shoppers can lock in great deals and not miss out when 11.11 comes around. Some of these deals include BOGO (buy-one-get-one free) deals, free gifts with purchases and exclusive prices!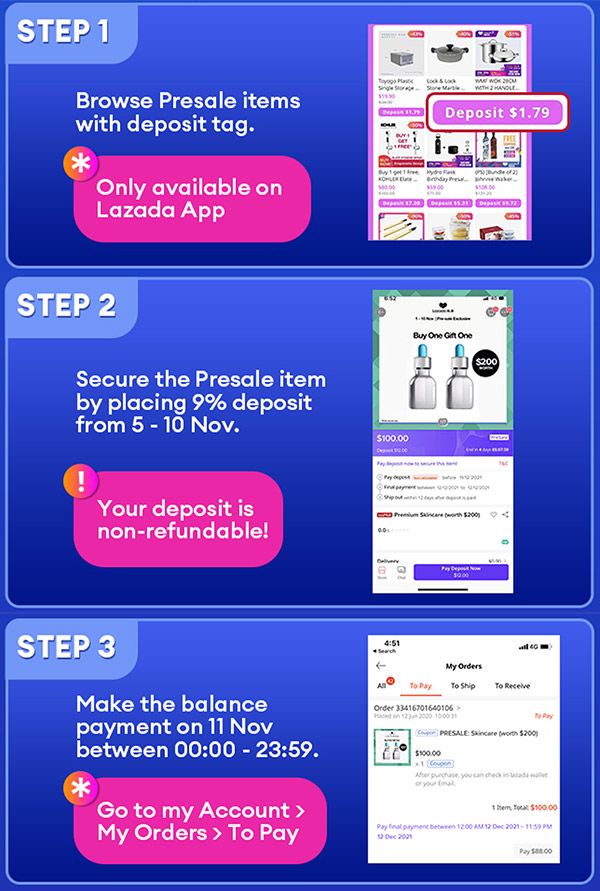 All you have to do is select an item from the pre-sale page that you're keen on purchasing, pay a 9% deposit during the pre-sale period, and when 11 November comes around, pay the remaining amount anytime within that day.
The pre-sale is particularly handy for folks who enjoy planning their purchases or may not have time on the day of the sale to fully participate in the timed Flash Sales or brand deals and other promotions taking place throughout . It's also a way to ensure that you get what you want ahead of the sale because nothing sucks more than seeing an item you want on sale, but is completely sold out. And regular shoppers know that Lazada's amazing deals are while stocks last!
---
Lazada Bonus (5 – 10 Nov)
Available from 5 November, shoppers can collect Lazada Bonus and use them during the 11.11 sale. Lazada Bonus basically allows you to offset S$4 off S$40, or S$12 off S$200 on products, so be on the lookout for items that have this special offer.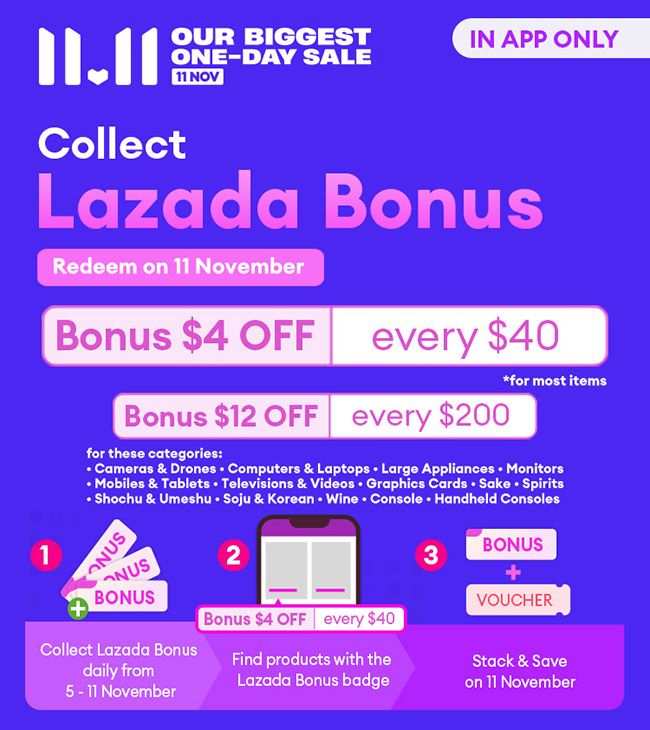 To make it easier to scope out these deals, make sure you find products with the 'Lazada Bonus' badge in order to use your vouchers.

You can collect as much Lazada Bonus from 5-10 November and visit daily and often to collect the maximum bonus! After collecting all these vouchers, all you have to do is cart out on 11.11. The maximum amount of Lazada Bonus that can be used will automatically be calculated and applied to the price.
Don't forget about that additional 1% GST increase coming soon, so if you need to maximise your savings, stack those vouchers on top of seller and credit card vouchers, and make the purchase knowing that you will have to pay a little more if you didn't plan ahead, and buy that smartphone, tablet or refrigerator next year.
---
Such massive campaigns aren't always about deals on existing products, but also a way to introduce new products to the market, from tech, fashion to beauty. We've now come to realise that clean air, even at home, is extremely important, and there also needs to be good airflow in preventing contaminants from lingering around. With personal health a key factor in the lives of everyone, Philips has a new air purifier/fan that is launching at a special price, and it comes with an exclusive gift with every purchase!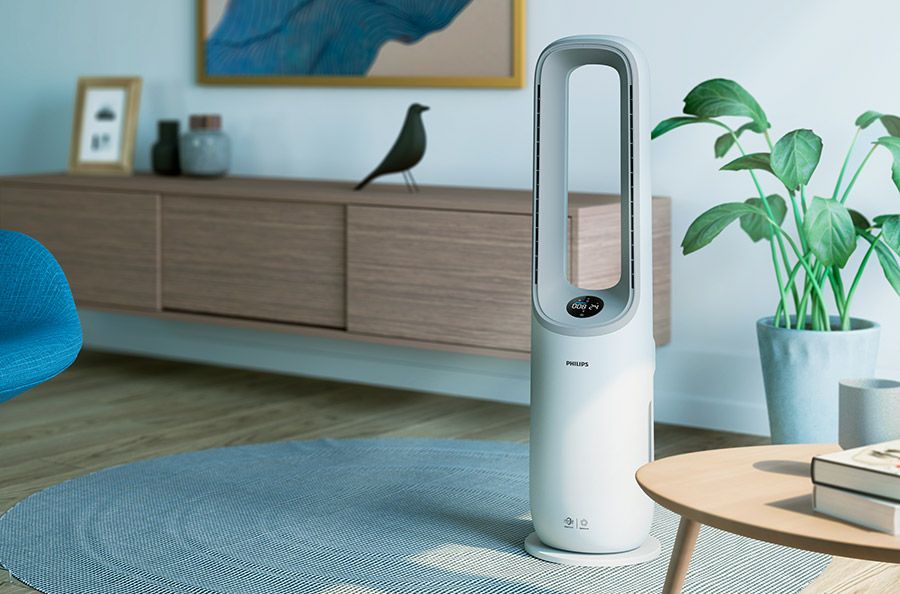 The new Philips 7000 Series 2-in-1 Air Purifier and Fan (S$699 Pre-Sale Price) is a smart device that automatically adjusts its performance mode depending on the quality of the air. If all is well, the device runs quiet at 20db, which is quieter than a library, while keeping the room cool.
To sweeten the offer, Philips is including a free Electric Pressure Cooker worth S$229 till 11 November only with every purifier purchase.
---
Drive into 2023 with a brand-new car. And not just any car, but a Tesla Model 3! From 5 November to 31 December, collect as many 'heartgrams' as possible to maximise your chances to win a Tesla Model 3.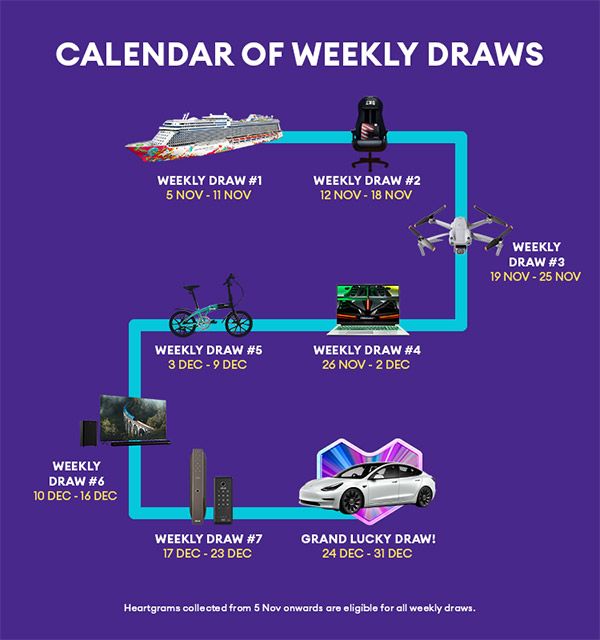 Customers with heartgrams will automatically be enrolled in a weekly Saturday lucky draw beginning 12 November all the way till 24 November. Some of the amazing prizes shoppers can look forward to winning include a DJI Air 2S drone, an OSIM Massage Gaming Chair, a 5-nights cruise by Genting Dream amongst many others. The shopping extravaganza will end off with the grand lucky draw for the Tesla Model 3 on 6 January.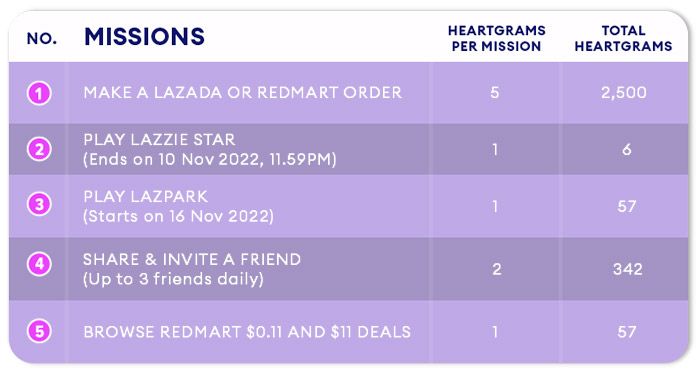 So how do you win heartgrams you ask? It's simple. All you have to do is play LazGames, make purchases, browse deals, and share the giveaway with a friend (up to 3).
---
#LazCall to Win (8 – 10 Nov)
Talk about dialing in for a massive deal! Between 8 – 10 November, a Lazada daily live show will run from 11pm-12am, and you'd want to have your phone close for this sweet opportunity.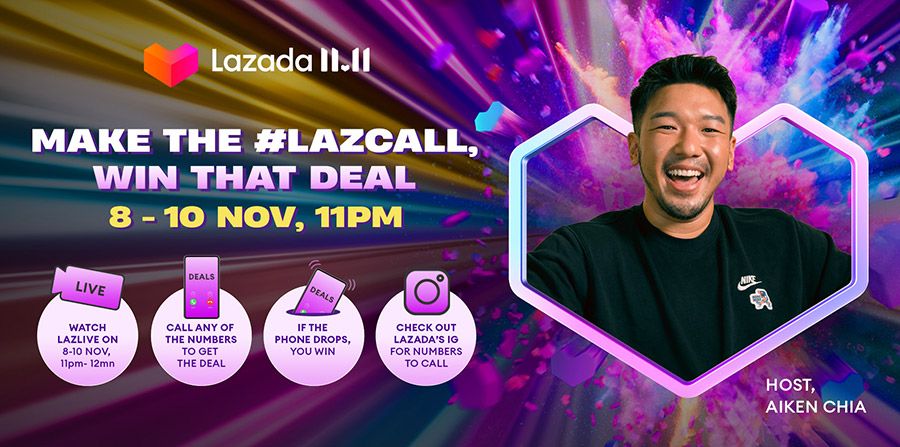 Follow @lazada_sg on Instagram and keep a lookout for 5 phone numbers to call during this show. At the host's cue during the show, call any of the numbers and you might win exclusive prizes worth up to $500! In order to win, it's not a matter of being the fastest caller, as one would need to successfully get through, and make any of the 5 ringing phones vibrating to fall off the table, in order to be crowned the champion.
The best part of this segment would be the vouchers that will drop during this period as well, so everyone walks away a winner!
---
Add To Cart Challenge (5 – 10 Nov)
Every day from 5 – 10 November, there will be 11 x $111 vouchers up for grabs for shoppers to spend on 11.11. Simply complete any or all of 3 tasks to have up to 3 chances to win a $111 voucher:
Add 3 items to your cart
Reach level 15 on Lazzie Star
Share the game with 3 friends
Upon completing any of the above tasks, click "redeem voucher" and see if you're one of the lucky 11 winners!
---
Storewide Flash Sales (from midnight of 11 Nov)
On 11.11 itself, 360 brands will be having a storewide flash sale on some of their popular products, and shoppers can look forward to up to 90% off discounts from popular brands like Nintendo, Estee Lauder, Nike and LEGO. In addition, shoppers looking forward to a holiday at the end of the year can also find spectacular deals for cruises and hotel stays.
The storewide flash sales only takes place for two hours from 12am to 2am on 11 November so make yourself a cup of coffee and stay up just for a teeny weeny bit later than usual. But if you really need the shuteye, flash sales also will take place from 12pm to 2pm on 11 November as well. Afterall, if you've been wanting to get some of these popular items, it's worth the hours of investment.
Here's a little sneak peek of some of the items you can expect for the 11.11 Flash Sales and a Lazada sale exclusive from Logitech.
---
Surprise Boxes (from midnight of 11 Nov)
Who doesn't love a surprise? Not only does Lazada's 11.11 sale lets you win plenty of amazing prizes and shop and save at the same time – it does both!
On 11 November, Lazada will be releasing more than 300 surprise boxes featuring brands like Estee Lauder, Walch, Zenyum, Chow Sang Sang, LION, mothercare, NESCAFE Dolce Gusto, New Moon and more with discounts up to 78% off. What's part of the surprise? Well, we can't ruin it for you but shoppers can expect a mix of items from the brand shoppers purchase from.

Each box contains an assortment of unnamed and unlisted items from one brand, and the amount you pay is a fraction of the value you're getting, so it can be a bunch of toys from Hasbro which works as great gifts to a bunch of kids, or a collection of plates and bowls for the home. Here's a Pro-tip – look at the product listing's pictures, as some brands are known to leave hints and clues on some of the contents within, so it's not a total surprise, but at this price, who's complaining?
Lazada will kick off the first round of surprise boxes from 12 – 8 am, then every two hours from 8 am to 11:59 pm. The surprise boxes come in four tiers that increase in price as you go up the tier. The first tier is an S$11 surprise box that contains S$50 worth of products, while the second is a S$29 surprise box worth S$100, followed by a S$49 box worth S$150, and finally a S$79 box worth S$200.
We don't know about you, but we have a preference for the beverage surprise boxes that can come with a selection of drinks, or a few bottles of wine for that year-end party. Do you need some items for an office gift exchange? Why not a beauty surprise box that comes with a selection of skincare products?
---
And that's Lazada's 11.11 Biggest One-Day Sale. sale for you. Providing you with the best deals and promotions that it has to offer, this sale is the perfect opportunity for you to shop till you drop, treat yourself to a holiday, shop for the upcoming Christmas season, as well as to drive into your New Year with the items you've been looking for all this while.
---
This article is brought to you together with Lazada Singapore.
---

Drop a Facebook comment below!