ASUS has been pushing the boundaries of design with their newer laptop models, from the likes of NumberPad-equipped ZenBooks to the upgraded ScreenPad iterations. Just when users are enjoying the productive and creative gains of these devices, the industry giant decided to up the ante by introducing yet another bad boy to the market – the ZenBook Pro Duo (UX581), otherwise also known as the perfect celebratory gift for their 30-year anniversary.
Built upon existing ScreenPad technology, the newest member of the family sees the debut of ASUS' new ScreenPad Plus, which packs and enhances the former's interactive capabilities into a refurbished, game-changing 14-inch full-width secondary touchscreen. The upgrade is most certainly a welcome breath of fresh air – while the concept of having two separate displays on a single portable device was already implemented in previous models, the experience of working at an enlarged visual space is a benefit only granted Pro Duo owners.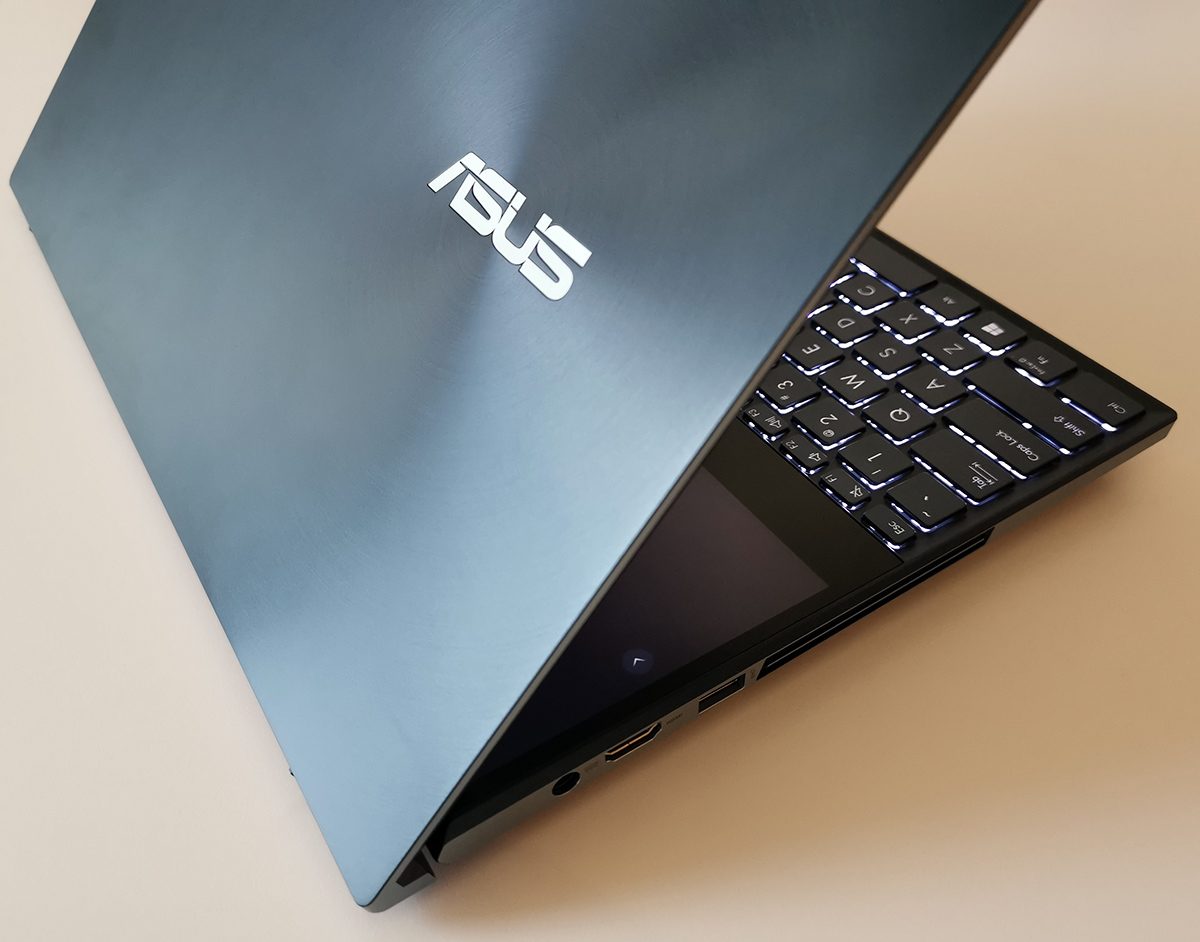 Sporting an aspect ratio of 32:9 and tucked directly above the keyboard, the 4K touchscreen has been designed to integrate seamlessly with the primary display for better workflow and enhanced multitasking. It works in a similar way to Windows' second display feature, so users can cast visual content onto its screen, then work independently off it.
With productivity being the name of the game, ASUS has also brought many time-saving functions to the table – all of which are programmed into the laptop's ScreenXpert control software. Apart from the cross-screen features like App Switcher, ViewMax and App Navigator that allow for easy toggling between the main display and ScreenPad Plus, there's the Task Group feature as well, where multiple tasks can be opened with a single touch. No more excuses, hey.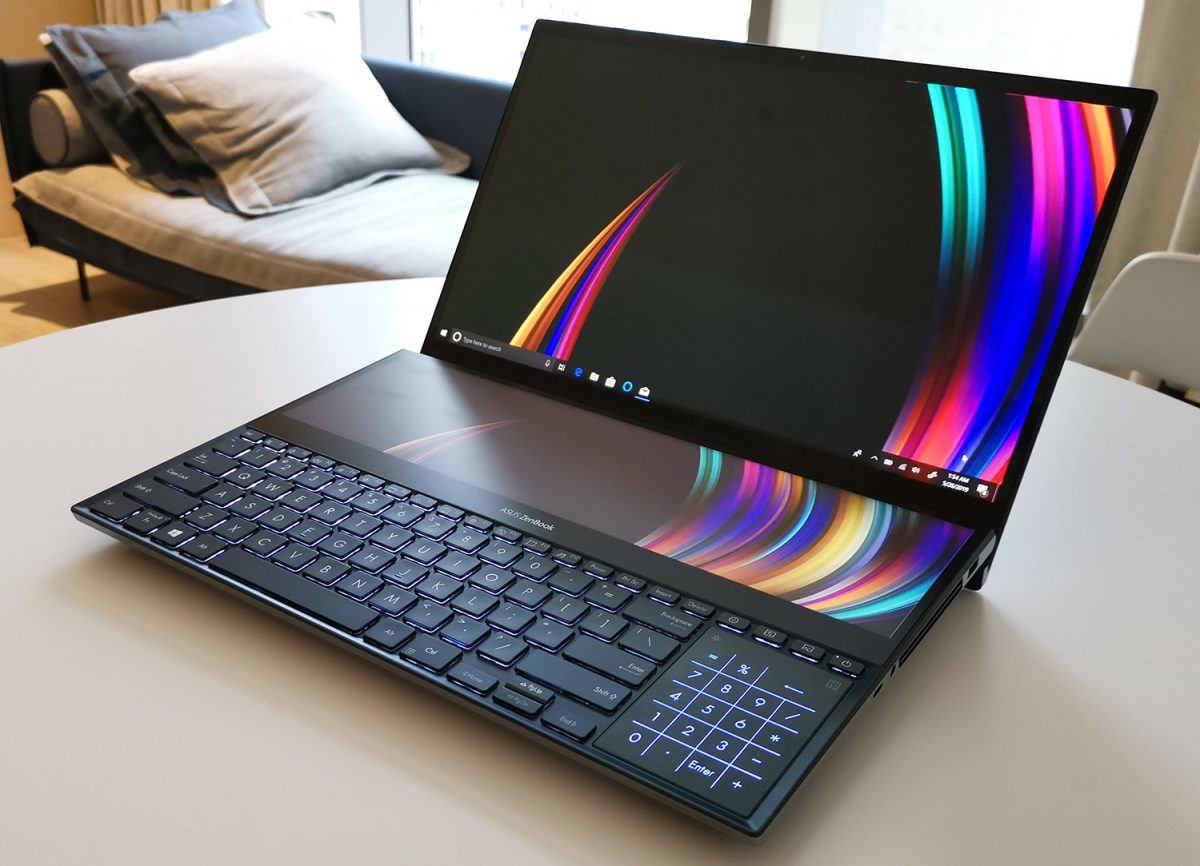 Content creators, meanwhile, can look forward to reduced clutter in their workspace. Accompanying the handy feature of pulling discrete apps, toolbars, and menus over to the ScreenPad Plus is the ability to dock tools such as video previews and timeline control onto the secondary display. Need to reply an urgent message but the job's not finishing itself? Hardly a problem – its in-built social communication apps lets one respond instantly to messages without having to switch between windows. Sweet.
The likes of ASUS' NumberPad doesn't go neglected, too. The Pro Duo brings back the LED-illuminated numeric keypad, now with new Amazon Alexa support to boot.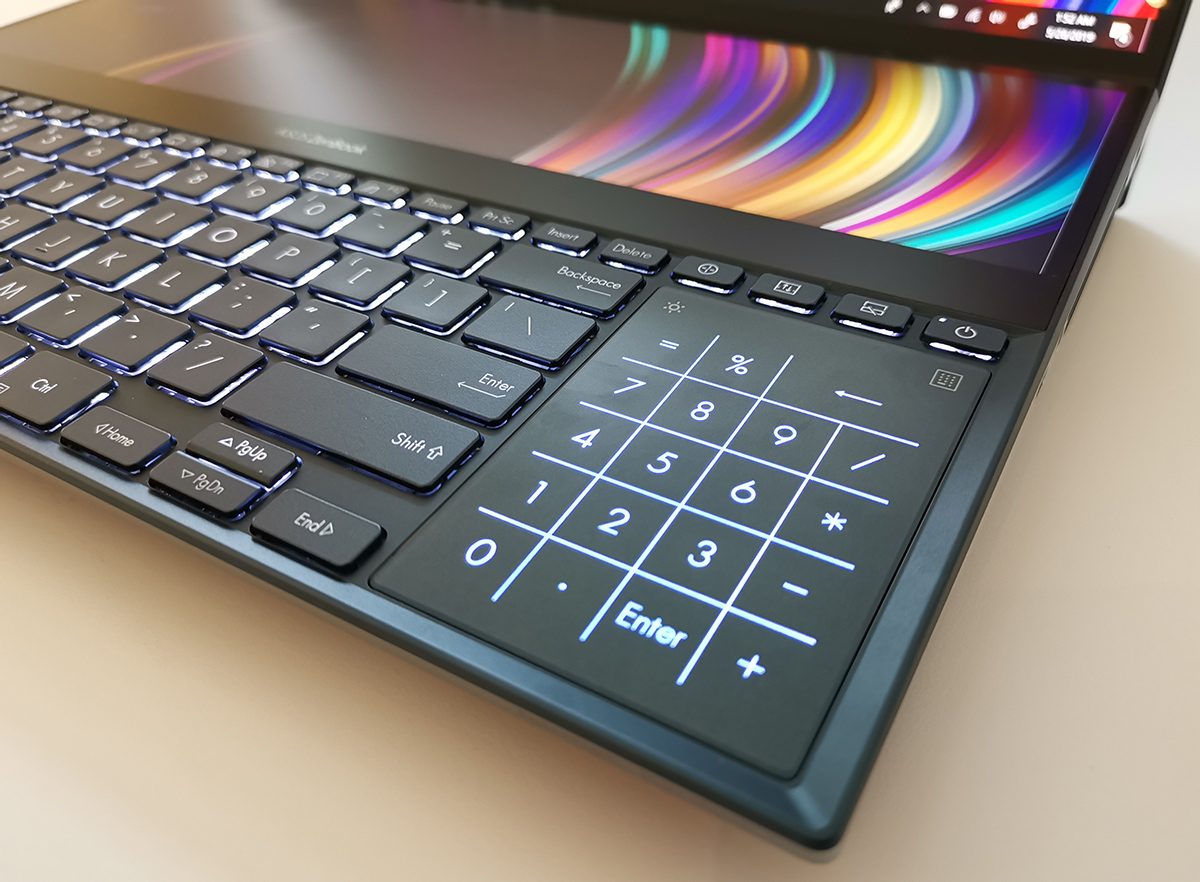 Where the ScreenPad Plus impresses on the creativity and productivity front, the laptop's primary display makes known of its brilliant visuals. The 4K UHD OLED touchscreen comes with an 89% screen-to-body-ratio and a wide colour gamut with 100% DCI P3 colour space in tow, allowing for fewer distractions and the display of vivid, realistic colours.
Beneath the aesthetics, a 9th-Gen Intel i9 eight-core processor and the high-performing gaming-grade NVIDIA GeForce RX 2060 GPU run the show, making the Pro Duo a viable choice for both on-the-go gaming and creative work. To reduce the risk of overheating, the laptop features a dedicate Turbo Fan button for a cooling boost, and is accompanied by ASUS' proprietary ErgoLift technology to improve airflow under the laptop and dispel trapped heat.
Individuals who are seeking greater affordability and portability may want to turn their attention to the Duo Pro's younger sibling instead. Measuring in at 14″, the ZenBook Duo (UX481) packs the same ScreenPad Plus features into a lighter, smaller chassis, but takes a performance cut in return, boasting an Intel Core i7 processor and GeForce MX250 graphics card. Oh, and it loses the NumberPad too.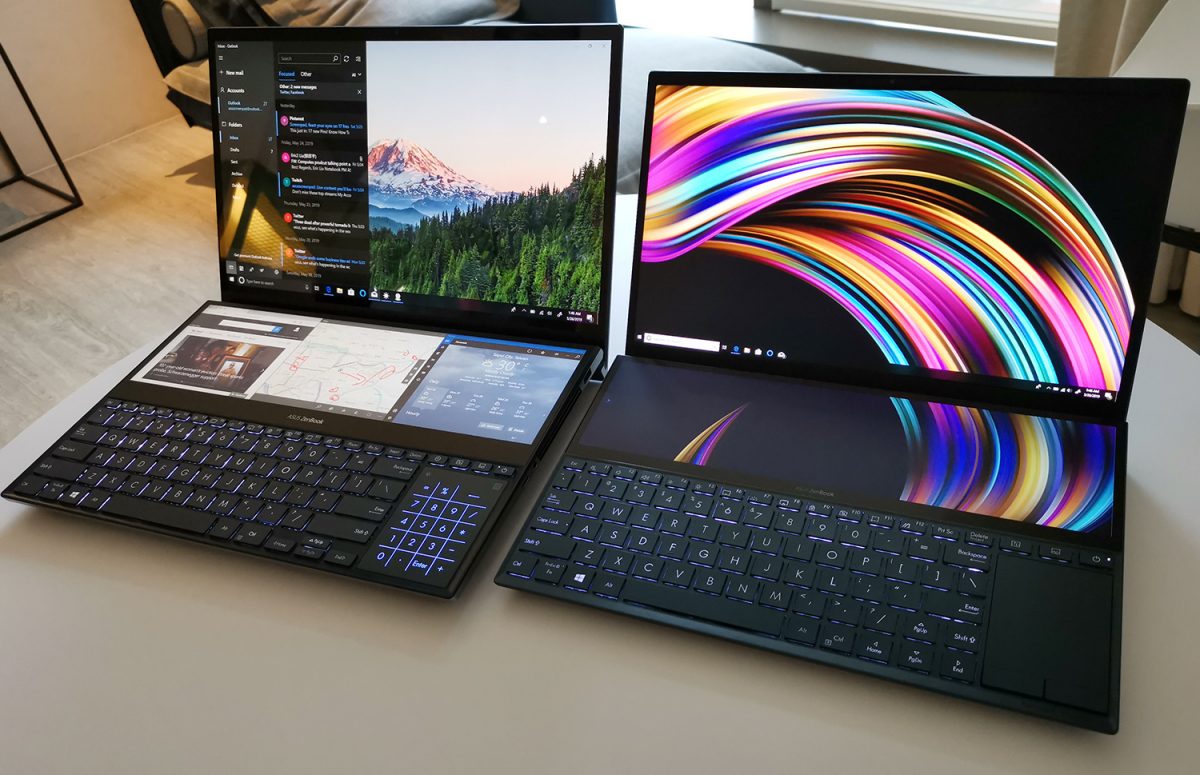 The ZenBook Pro Duo will be released some time in Q3 of 2019. No pricing details are available yet.
Specifications
ASUS ZenBook Pro Duo (UX581)

ASUS ZenBook Duo (UX481)

Processor

Intel® Core™ i9-9980HK
Intel® Core™ i7-9750H

Latest Intel® Core™ i7

Display

Main Display: 15.6" OLED 4K (3840 x 2160) 16:9 touchscreen
ScreenPad Plus: 14" 4K UHD touchscreen

Main Display: 14" FHD (1920x 1080) 16:9 screen
ScreenPad Plus: 12.6" FHD touchscreen

Operating System

Microsoft Windows 10 Home
Microsoft Windows 10 Pro

Microsoft Windows 10 Home
Microsoft Windows 10 Pro

Graphics

NVIDIA® GeForce RTX™ 2060 – 6GB GDDR6 VRAM

NVIDIA® GeForce® MX250 – 2GB GDDR5 VRAM

Memory

DDR4 2666MHz, up to 32GB

LPDDR3 2133MHz, up to 16GB

Storage

1TB PCIe® x4 SSD
512GB / 256GB PCIe® x2 SSD

1TB PCIe® x4 SSD
512GB / 256GB PCIe® x2 SSD

Connectivity

Intel® Wi-Fi 6 with Gig+ (802.11ax)
Bluetooth® 5.0

Up to Intel® Wi-Fi 6 with Gig+ (802.11ax)
Bluetooth® 5.0

Cameras

IR webcam with Windows Hello support

IR webcam with Windows Hello support

Interfaces

1 x Thunderbolt™ 3 USB-C™
2 x USB 3.1 Gen 2 Type-A
1 x Standard HDMI
1 x Audio combo jack
1 x DC-in

1 x USB 3.1 Gen2 Type-C™
1 x USB 3.1 Gen 2 Type-A
1 x USB 3.1 Gen 1 Type-A
1 x Standard HDMI
1 x Audio combo jack
1 x MicroSD card slot
1 x DC-in

Audio

Array microphone with Cortana and Alexa voice-recognition support
Harman Kardon-certified audio system

Array microphone with Cortana and Alexa voice-recognition support
Harman Kardon-certified audio system

Battery

71Wh 4-cell lithium-polymer battery

70Wh 4-cell lithium-polymer battery

AC Adapter

Output: 19.5V, 230W   Input: 100V-240V AC, 50Hz/60Hz

Output: 19V, 65W   Input: 100V-240V AC, 50Hz/60Hz

Dimensions

359 x 246 x 24 mm

323 x 223 x 20 mm

Weight

2.5kg

1.5kg
---
ASUS VivoBook S14, S15
And while the ZenBook Duo Pro is easily – and undeniably – the biggest star of ASUS' anniversary event, it's hardly the only party in the limelight. A new, refreshed line of VivoBook and ZenBook laptops is also set for launch, as they see the addition of ScreenPad 2.0 technology – a first for the ASUS VivoBook S14 and S15.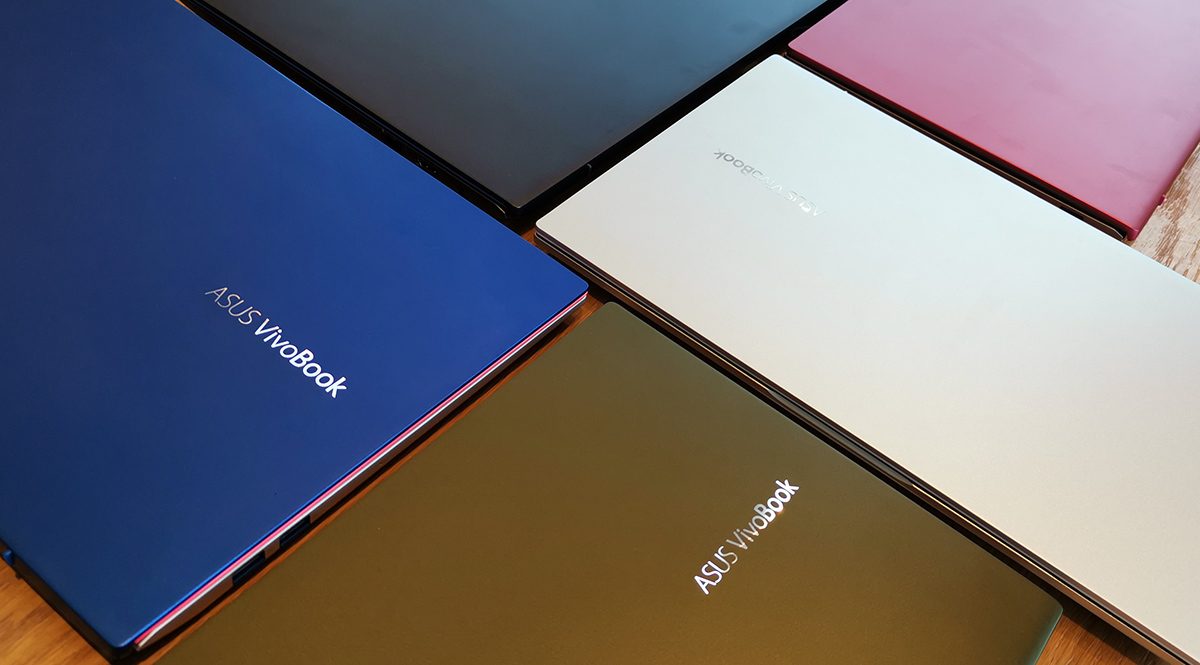 With a larger 5.65-inch touchscreen, more productivity-boosting features have been added to the list, such as Quick Key for one-tap automation of complex keyboard sequences, Handwriting for natural text input, and Number Key for rapid data entry. The VivoBook duo, which will be armed with Intel Core i7 processors, an MX250 graphics card, and a frameless four-sided NanoEdge display, is primed for an infrared camera and Wi-Fi 6 equip as well, with five unique colour-blocking finishes in store.
---
ASUS ZenBook 13, 14, 15
Meanwhile, the ZenBook 13, 14, and 15 models will experience the same benefits of ScreenPad 2.0, while operating on the latest 8th-Gen Intel Core i7 processor and a host of graphics card options – up to MX250 for the former two, and GTX1650 GPU for the last –, alongside an increased battery life.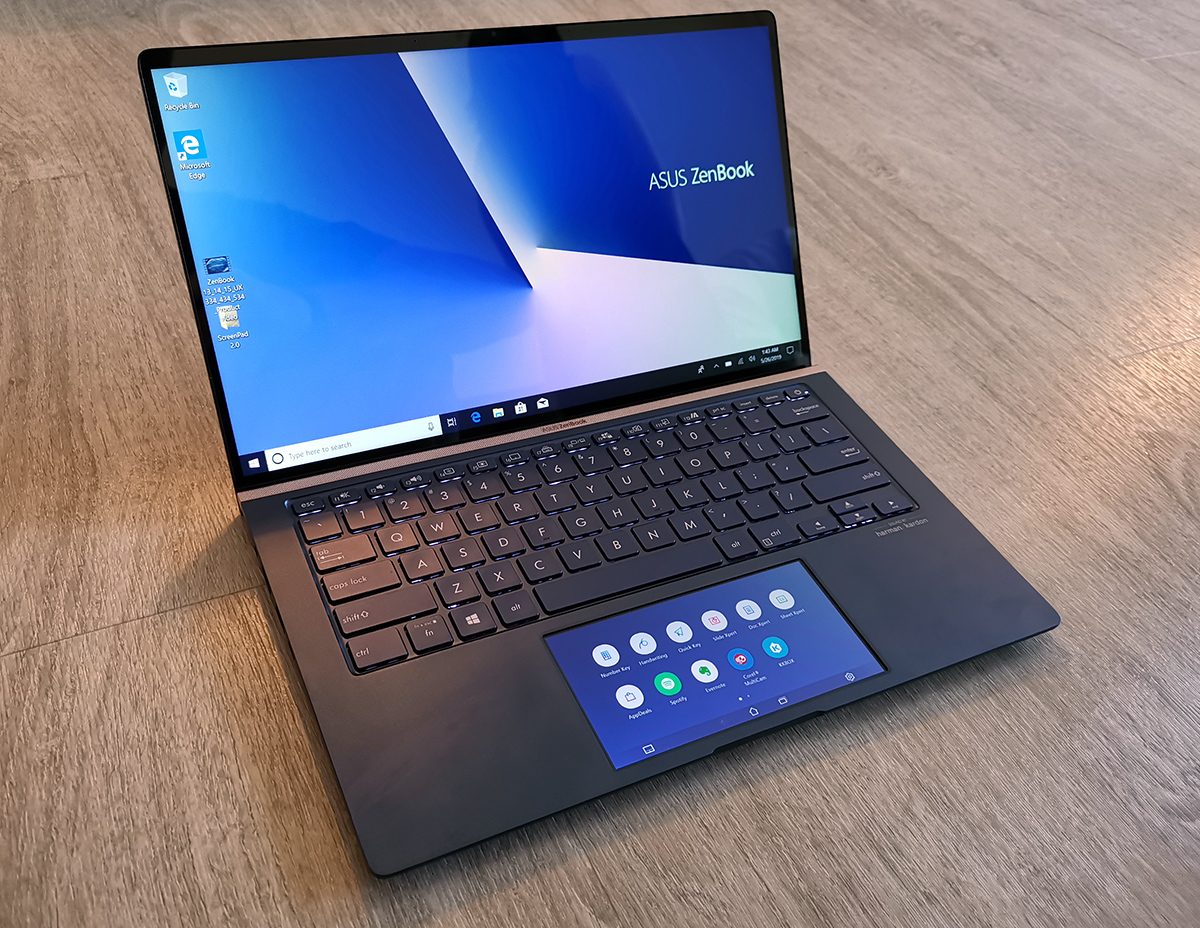 ---
ASUS ZenBook Edition 30
There's nothing like wrapping up a celebratory occasion than on a special, commemorative note, however. As part of ASUS' 30-year journey celebration, the team has unveiled the all-luxurious, limited-edition ZenBook Edition 30 (UX334FL) decked out in Pearl White genuine hand-stitched Italian leather, Rose Gold diamond-cut edges, and an extravagant 18-karat-rose-gold-plated 30th Anniversary logo (which reminds us of the Star Trek Insignia) on the lid.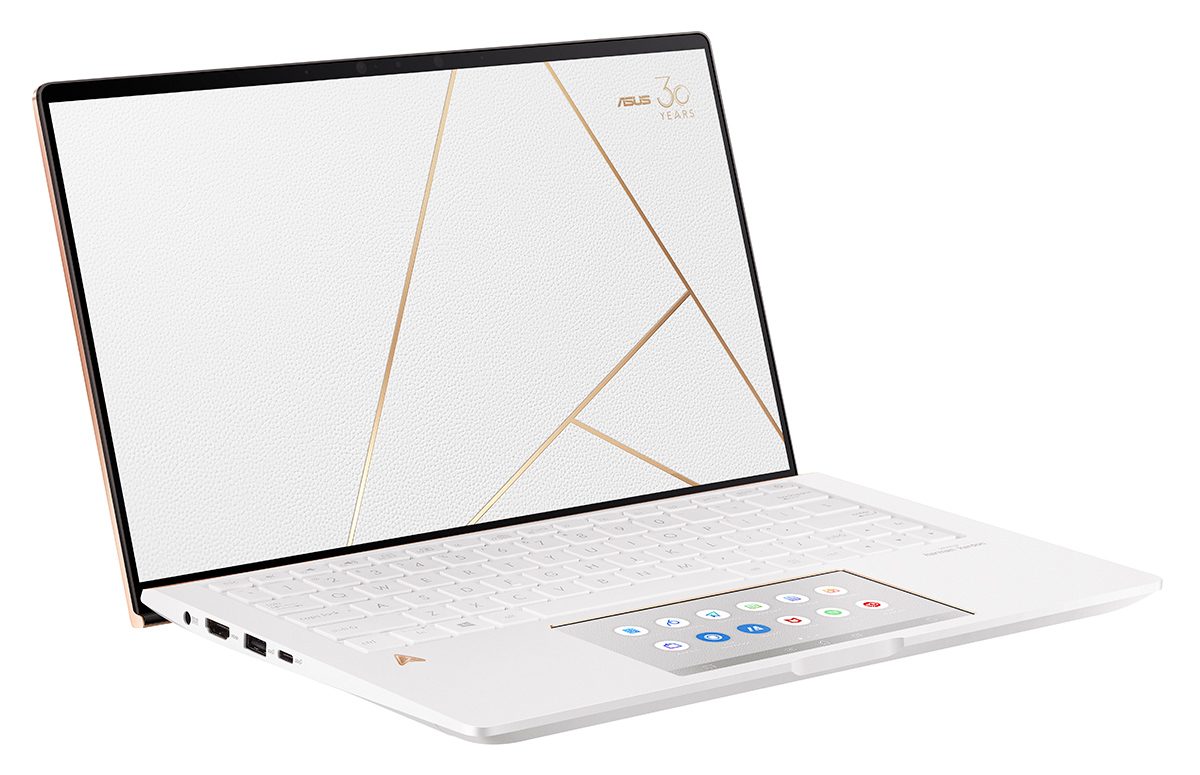 The premium experience is then topped off with an accompanying set of lavish accessories, including a Pearl White mouse, a leather-look box and mouse pad, and a leather sleeve.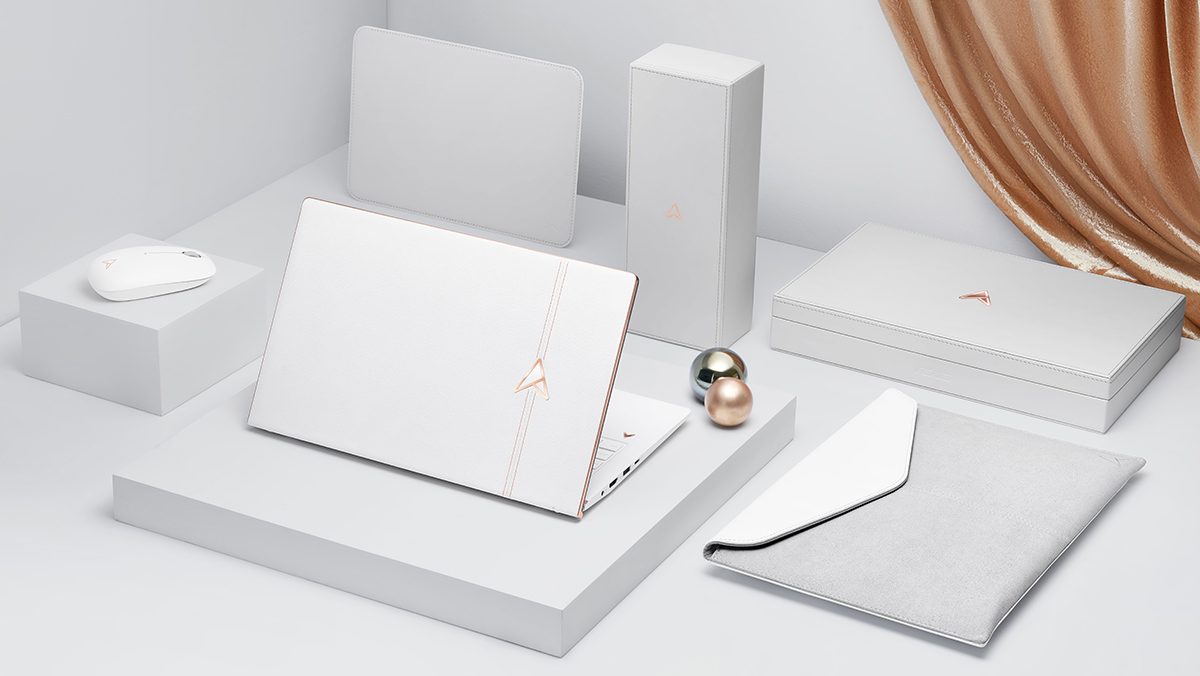 A significant finish for a significant event, indeed.