What do you get when you combine over 100 artists, and their love of toys?
You get an exhibition that's drool-worthy to any collector.
Working with artists from Singapore and around Asia, this exhibition was the brainchild of four local artists from art collective Gagatree. Established by Lester Lim, Yang, Michelle Low and Hansen Chan, all who had a background in design, the quartet wanted to find a way to express themselves that wasn't tied to their design work. Lim said that the idea started from how most ideas were born: a conversation at a coffee shop. Out of that conversation came Obot, a blank robot canvas where artists can design and create whatever they want from the blank vinyl robot. But why a robot?
"The robot is very straight on, it's very like a box," Lim said. They didn't want a boring flat canvas that most people are used to. The robot shape then became a challenge for the artists to put their personalities and taste in it. When asked about their artistic style, they said that their core belief is "vintage, yet quirky", resulting in the vintage-style wind-up robot as their canvas.
Of course, Gagatree doesn't just want to create these works for themselves. To be able to reach the widest audience possible, Gagatree worked with Action City to put together this exhibition. Since it is located at Raffles City, passing shoppers can freely view the toys and enjoy them at their own leisure. But what do they hope to get from putting together this exhibition?
"We want more people to know about art toys. We want them to appreciate why art toys are limited edition, that the artists put their own culture and thoughts into each individual piece." And indeed, all these toys are one of a kind, as no two robots are alike.
OBOT isn't the only one showing off their one-of-a-kind pieces. There's the DARUMA CLUB from Bandai, which features many modified Darumas. The nature of Daruma dolls themselves makes it a perfect toy to customize. In Japan, Daruma dolls are sold with blank eyes. When a customer purchases one, they draw in one of the eyes when they're setting a goal, and draw in the other eye when the goal is achieved. In this exhibition, there are many, many awesome looking Darumas, like a fire-breathing one and even a big Merlion inspired one.
The other toy line that is showcased in the exhibition is the DINO line of toys from Monster Little. Founded by Ziqi, these DINO toys are the cutest little monsters ever. Ziqi really loved dinosaurs as a child but was also really fascinated by the kaiju monsters of Japanese television. He decided to combine these two along to create the DINO line. The exhibition features some limited edition toys that aren't in production anymore. These DINOs are so cute, you might just want to actually eat them.
When asked about selling these toys, Lim mentioned that they are preparing to sell these just in time for Christmas, but no price has been set as of yet. Considering that most of these pieces are limited, one of a kind pieces, they won't be cheap. But wouldn't it be worth it to own a unique piece of art unlike any other thing in the world?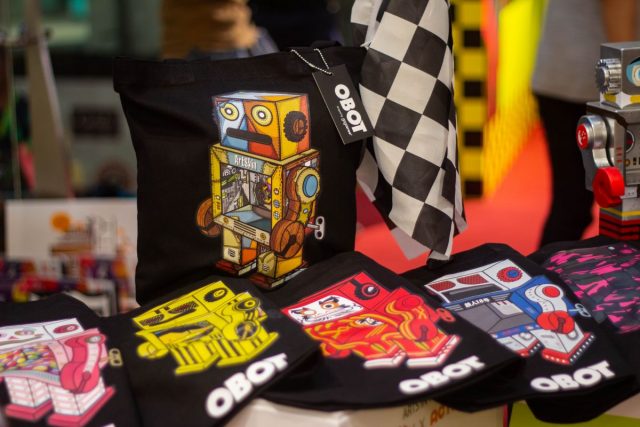 If the toys are a bit too much, but you still want to hold on to a piece of their design, they are also selling limited edition tote bags. They feature some of the design from OBOT and DINO and while they are not quite the same as having the toys themselves, they do look pretty damn cool.
Dea wishes she could play the latest Tomb Raider or Uncharted, but she can't, so instead she reads and watches other people play. On her down time, you can probably find her re-reading Captain Marvel. The Carol Danvers one.
---

Drop a Facebook comment below!