Boy, oh boy, Apple users are going to love this! The tech brand today announced that the HomePod (2nd gen) and HomePod mini will be available in Singapore starting 6 April!
The HomePod and HomePod mini are Apple's latest audio solutions to experiencing sound while making your home smarter at the same time. For starters, with the HomePod and HomePod mini, users can listen to a catalog of over 100 million songs with Apple Music, and create a home theatre experience with Apple TV.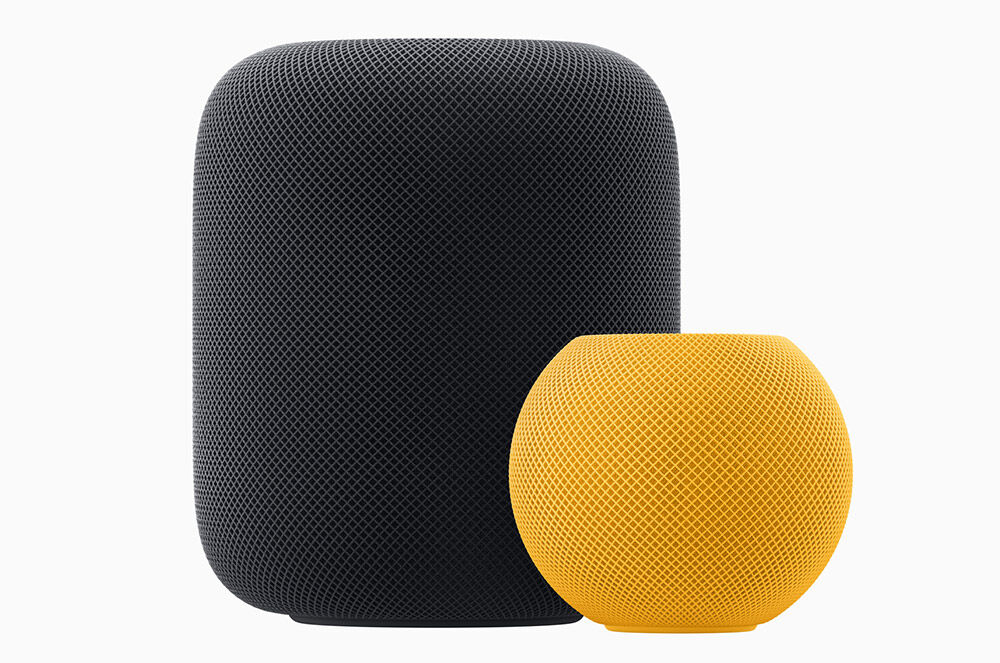 The HomePod delivers deep bass and high frequencies, includes support for immersive Spatial Audio tracks and is equipped with the S7 chip, which when combined with software and system-sensing technology, offer advanced computational audio that maximises the full potential of the HomePod's acoustic system. Speaking of acoustic systems, the HomePod is custom-engineered with a high-excursion woofer that droves the diaphragm a remarkable 20mm, built-in-bass-EQ mic and five tweeters around the base.
With room sensing technology, the HomePod also recognises sound reflections from surfaces nearby and then adapts sound in real time. This precise directional control means listeners will be immersed in crystal-clear vocals and rich instrumentation.
Although the HomePod mini is, well, a mini version of the HomePod, that doesn't mean it is smaller in power though. The mini features Apple-designed acoustic waveguide to direct the flow of sound down and out for an immersive 360 degrees audio experience. This means users can put the mini almost anywhere in the room and hear consistent sound.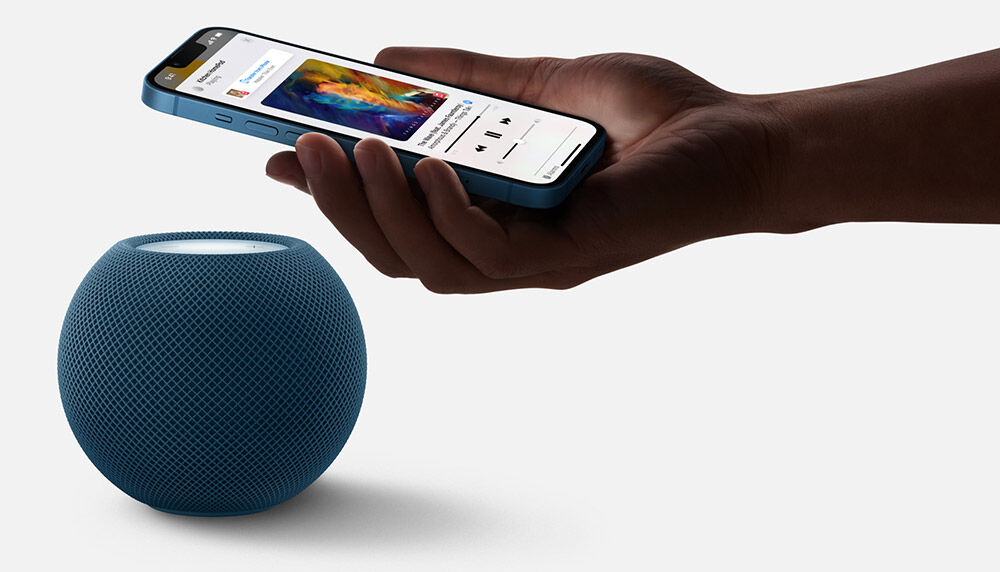 The mini is equipped with the Apple S5 chip that uses advanced software to analyse the unique characteristics of the music and apply tuning models to optimise volume, adjust the dynamic range and passive radiators in real time. This enables the mini to deliver deep bass and crisp high frequencies.
The HomePod and HomePod mini are also Siri-enabled so users can use it to turn their home into a smart one by connecting it directly to a host of IoT (Internet of Things) devices in the market. By activating Siri, users can control a single device or create routines and automations that will make their lives easier whether that's setting a morning wake up routine or switching on or off lights in the house. The HomePod lineup can listen for smoke and carbon monoxide alarms and send a notification directly to the user's iPhone if a sound is identified.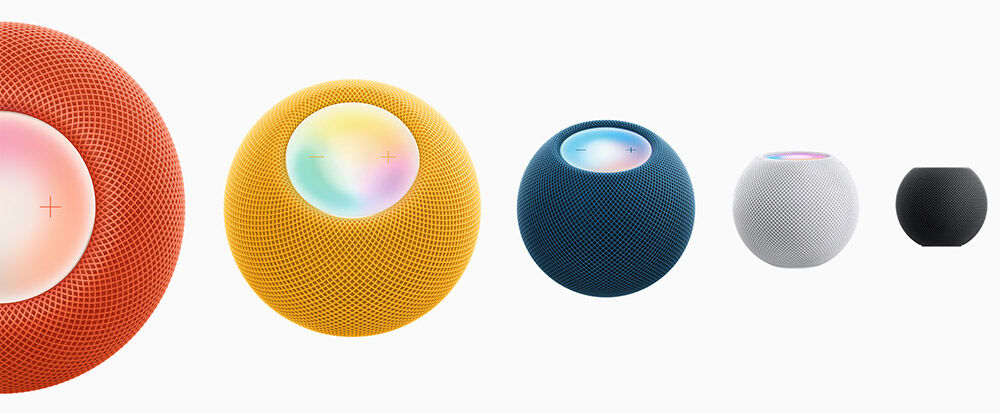 Most impressively, the new built-in temperature and humidity sensor can measure indoor environments so users can create automations that turns on the fan automatically when the room reaches a certain temperature.
Long-time Apple users will likely enjoy how this lineup seamlessly integrates with the Apple Ecosystem. Users can easily hand off whatever they're playing on their iPhone – a song, podcast or even a phone call – directly to the HomePod or HomePod mini. Anyone in the home can bring an iPhone close to the HomePod or HomePod mini and song and podcast recommendations will surface automatically. The HomePod lineup can also recognise ups to six voices so users in the same home can hear their personal playlists, ask for reminders and set calendar events too.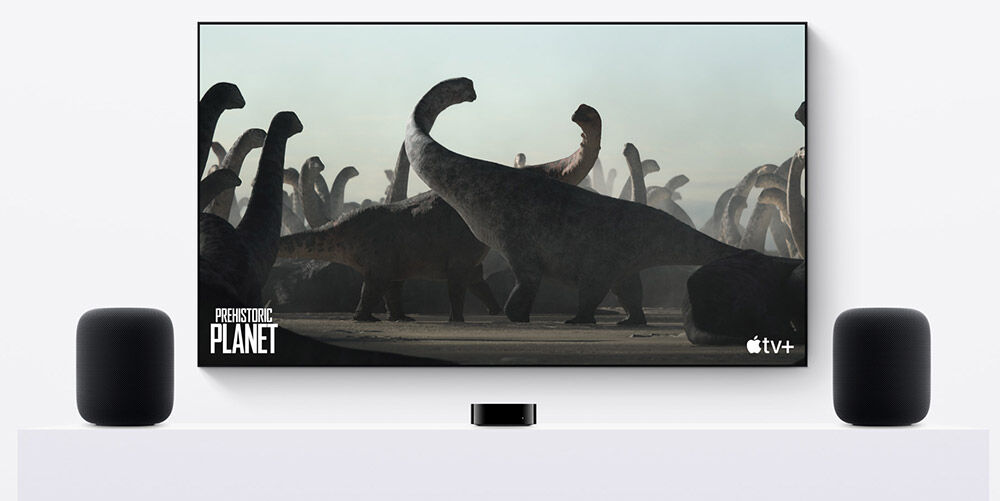 This lineup also easily pairs with Apple TV 4K to create a theatre experience. Users can use the HomePod or HomePod mini as an audio system for all devices connected to the TV. With the addition of Siri, users can control what's playing on their Apple TV hands-free too.
Perhaps, what Apple users will be most thankful for is that Find My on HomePod and HomePod mini makes it possible for users to locate their Apple devices and also ask for the location of loved ones who share their location via the app.
The HomePod is available in white and midnight for S$429 while the HomePod mini is available in orange, yellow, blue, space grey and white for S$139. This marks the first time that the American company has launched this range of products in Singapore and those interested can order the HomePod lineup on Apple's website starting 30 March, with availability in stores beginning 6 April.