The concept of gourmet halls is hardly novel, but the added convenience that it brings with food variety is very much welcome. Japan gourmet hall SORA by ANA Group was a successful addition to Changi Airport Terminal 2, so it only stands that the team would open a second outlet.
This time, the 116-seat establishment is situated within the premises of Terminal 1, and will be bringing renowned Japanese dishes from three prefectures – Fukuoka, Hokkaido, and Kanagawa – to diners. Accompanying the menu of Yatai-style ramen, katsu curry, and maze don are selected dessert choices, such as soft-serve ice cream and pancakes, that span across three renowned brands: Ikkousha, Yoshimi, and Megumi Maru.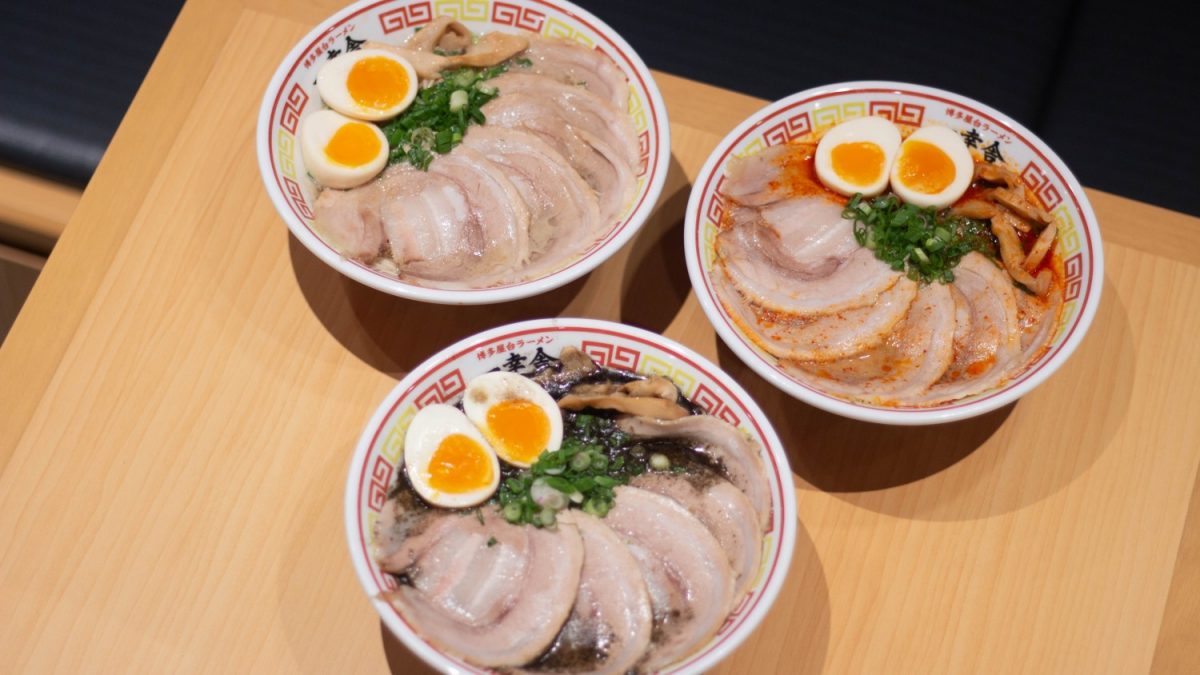 With the birth roots of Hakata ramen traced back to Fukouka, Ikkousha seeks to retain the tradition and nostalgia of the latter's culinary scene. For the first time in 15 years, the hugely-popular restaurant will be launching exclusive dishes prepared in Yatai-style – a Japanese term used to refer to open-air food stalls – which include the Special Tonkotsu Ramen (S$18.70), Special Red Chilli Ramen (S$20.90), and Special Black Garlic Ramen (S$20.90).
Unlike the thicker texture of conventional ramen broth, these Fukuoka-based offerings will come with a silkier, milkier alternative that's only exclusive to SORA.
Meanwhile, katsu curry specialist Yoshimi has opened their first-ever overseas outlet here, with its menu housing mainstays like the Pork Loin Katsu Set (S$23.80), Omurice Curry (S$16), and Beef Curry Rice (US$17.90). The Mille-feuille Katsu Set (S$26.80) is a new addition to the family, boasting a total of 16 pork layers, and positioned as a Singapore exclusive. Sweet-toothed individuals can also look forward to dessert time, as likes of the Mixed Berry Pancake (S$19.80) and Hokkaido Soft-Serve Ice Cream (S$6.90) are available for order.
Rounding up the dining experience is Megumi Maru, whose expertise lies in maze don. Set to deliver a debut maze-don concept to local shores, the vendor will be introducing dishes such as the Aburitoro Maze Don (S$35.10), Unagi Maze Don (S$20.10), Ebi Mentai Maze Don (S$17.30), Maguro and Salmon Maze Don (S$17.30), and Kaisen Maze Don (S$18.80). Courtesy of its partnership with ANA Group, these menu items have been adjusted to boast a healthier touch as well.
In addition to the above, sashimi-topped delicacies will be offered as well. Fans can opt for the Spicy Maguro Maze Don (S$16.90) or Otoro Maze Don (S$35.10), while maki roll lovers may wish to go for the Salmon Cheese Roll (S$16.90), Caterpillar Roll (S$13.70), Anago Roll (S$17.90), and Maguro Mentai Roll (S$15.90).
To celebrate SORA's new launch at Terminal 2, ANA Airlines is holding a lucky draw for diners, where a pair of round-trip tickets to Japan awaits as the grand prize. Instructions for eligibility may be found below:
Dine at either SORA Terminal 1 or Terminal 2 outlets with a minimum spending of S$50 in a single receipt.
Fill in the lucky draw with the accompanying receipt.
Drop the entry into the lucky draw boxes located next to the cashier counters at either SORA Terminal 1 or SORA Terminal 2.
The event is set to run from June 1 to July 31, 2019, so good luck to all participants!
With the launch of a new SORA outlet at Changi Airport Terminal 1, travellers will now have more Japanese dining options, albeit at a pricier cost. The menu items may not be as wallet-friendly, but its authentic – as authentic it can get, at least – options seem to warrant it a visit.
---

Drop a Facebook comment below!