AMD Radeon graphics card users are in for a treat from today, as the company is launching their latest "Big Bang" software update – the "AMD Radeon Software Adrenaline 2019 Edition". It comes with a whole slew of features and of course, up to 15% gain in performance across the latest games.
Over the last 4 years, AMD has the title for having "the industry's most stable driver". At a 93% reliability score in 2018 testing, this is up to 11% higher than their fellow competitors. In the past two years, 90% of AMD users have been satisfied with the Radeon Software experience which is not an easy feat, especially when having to cater to the hundreds of PC game releases over the years.
Here's a rundown of the several major new features in AMD Radeon's latest software update, starting off with Radeon ReLive for game streaming!
---
PC gaming comes full circle with mobile streaming
AMD Radeon ReLive is taking streaming to the next level – gaming is coming to mobile devices. Stream your games via AMD Link to your mobile device with up to 4K resolution, running at silky smooth 60 frames-per-second. And of course, gamers will enjoy Radeon's low latency gaming with hardware acceleration with up to 44% faster responsiveness than competitors (125ms versus 70ms). Seamlessly transition from your PC to phone to tablet, and all you need is a 802.11ac wireless network for achieving minimum latency and maximum performance.
The AMD Link mobile app is free to download now on both iOS and Android devices, and it will measure your network quality and optimise your stream automatically. It will even turn off your PC display while you stream. Gamers will have the option to use on-screen controls or any third-party Bluetooth controllers.
That's not all, as there's even desktop streaming too, supporting up to 4K video playback. Use productivity applications to continue working while on the go too. So now you can play games, watch movies, and even do your work remotely, anywhere around your home, as far as your wireless network can reach.
---
More options for content creators
There's also good news for gamers who love to share their greatest gaming moments and achievements. Radeon ReLive now supports several new features:
In-Game Instant Replay – you can now replay your favourite gaming moments with the in-game instant video playback, adjustable for 5 – 30 seconds replay.
Scene Editor – more control for producing better stream content. You can now create dynamic streaming overlays and transition between scenes with hotkeys.
GIF Support – you can now capture and convert your gameplay into instant 5 – 30 second GIFs, and upload them directly to gfycat.
Greater Audio and Resolution Support – with improved customization, streams are captured at higher quality audio, now with multi-channel audio support. Streaming aspect ratios and resolutions are now expanded to 16:9 and 900p streams.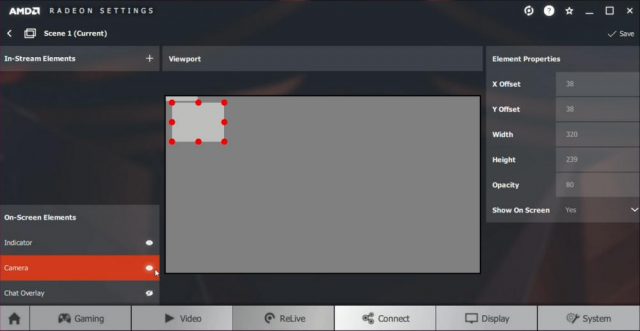 ---
Is it finally time to get that standalone untethered VR headset?
It sure seems like it. ReLive also comes with improvements in VR, enabling ultra-high PC quality VR experiences on standalone wireless and affordable VR devices such as the Samsung Gear VR and Google Daydream, via Steam VR. There's no better time than now to jump on the wireless VR bandwagon via the plethora of Steam VR titles, with immersive gameplay supporting up to 1440 x 1440p resolution.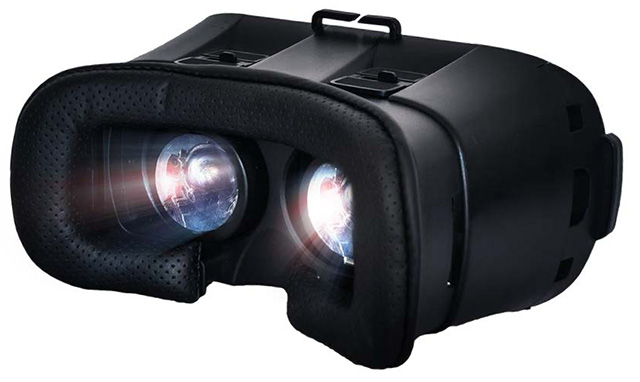 ---
Radeon Advisors have gotten smarter and better
AMD has also made it a whole lot easier to optimise your gaming experience too, via a trio of "Advisors" to help show your games' performance on-the-fly via an overlay, and offers tweaking suggestions.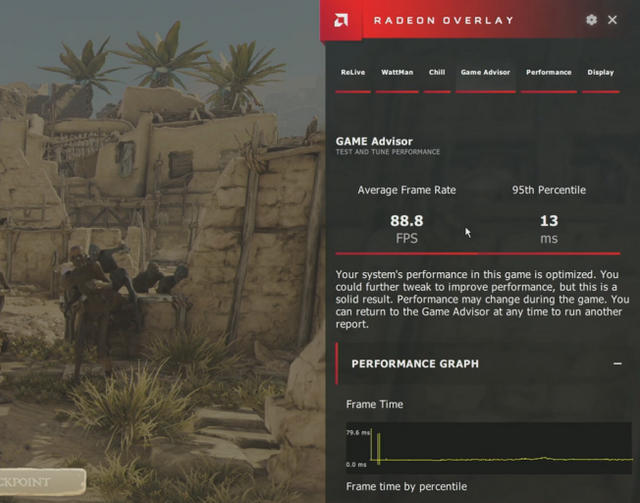 Here's a quick overview of each of the advisors and their respective improvements:
Game Advisor – helps optimise gameplay and gives in-game performance recommendations via an overlay. It also provides suggestions to either improve performance or image quality depending on what's more important to you.
Settings Advisor – automatically scans your system for you, and suggests settings to optimise, perfect for entry-level users.
Upgrade Advisor – the interface has been improved, providing greater visibility of game compatibility with AMD Radeon hardware. The advisor scans the games are on your PC, and checks the online database on min. Requirements, and provides a comprehensive compatibility comparison for easy reference.
---
A new and improved AMD Link mobile app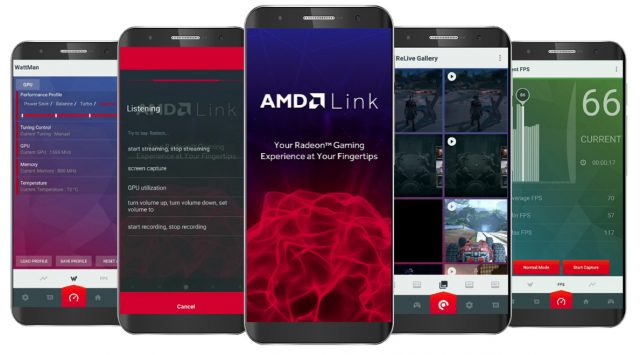 With its introduction in 2017, the AMD app enabled users to control and view GPU statistics from the convenience of your phone and tablet. Improvements in 2019:
Easy to connect – Connection process is now improved with just a scan of the QR code on the PC's Radeon software screen.
Easy Radeon software upgrading – you can now upgrade your PC's Radeon software from your phone.
Voice control – start/stop streaming, start/stop recording, take a screenshot, save instant replay, GPU temp/clocks, fan speed, memory clocks, etc. It is launching with English and Mandarin support.
WattMan – adjust GPU frequency, voltage, temperature.
Enhanced performance metrics – capture average FPS, max/min FPS with the press of a button.
Expanded Radeon ReLive – view screenshots and playback videos. Crop and save videos to your mobile device. View comment feed while streaming on YouTube, Twitch and Facebook.
The all-new AMD Radeon Software 2019 Adrenaline Edition and the updated AMD link app for iOS and Android are available for download now. So if you're a current AMD Radeon graphics card user, you know what to do.