Black Friday is finally here, and Cyber Monday to follow soon after. We're all geared up for the battle that is adding the things we want into our cart, clicking on the buy button and typing in our card details to secure our purchase before items go out of stock.
But what happens after you click buy?
We recently had a tour of Amazon's fulfilment centre in Singapore. At 170,000 square-feet, the fulfilment centre is the largest in the world for Amazon with 200,000 cubic feet of storage spacing, housing hundreds of thousands of products that are ready to be picked, packed and shipped to your front door this holiday season. 
---
We first start at the receive station.
The items arrive at the centre's dock and go onto a conveyor that takes it to the receive station where an employee checks the condition of the product. This is done visually so any products that have visual damage goes to the red bin. Whereas products which look good to the eye goes into the blue bin.
Kind of like picking fruits, you know? You want it ripe. So you check the colour and appearance of the fruit and ensure that there are no weird bumps, that it's not oddly shaped before you decide on getting it.
The good pile then goes to the prep station.
Here, items that are made out of glass or are fragile are bubble wrapped. Most of these products tend to be beers and alcoholic spirits, glassware or kitchenware. The items are then labelled and are registered for stowing. This is an important step as it minimises damage on the items. We wouldn't want to receive a package that is purely broken pieces of glass, do we?
Prepped items are stowed away.
Being Amazon's biggest fulfilment centre, the storage area is incredibly massive. Items are being placed in storage boxes that pickers can later pick up for packing. The items are stored in random. And just like a cat, if the item fits, it sits in the box.
No similar items are placed in the same location. Why? Well, this is to regulate flow and decongest the area when pickers come together to find the same items. Every item and storage box is electronically tagged and registered – making it easy for pickers to pick the items. 
Picking it up!
Once pickers pick up the items, they are placed in containers and are sent down a spiral conveyor belt that looks like a pretty sick slide that we're tempted to get on. Once these containers arrive at a central location, employees then pick them up and arrange the items according to the customer's order.
Customers often order multiple and different items in one order to categorising items by the customer's order makes it easier for the items to be packed up and shipped out after. 
Packing station and shipping the orders.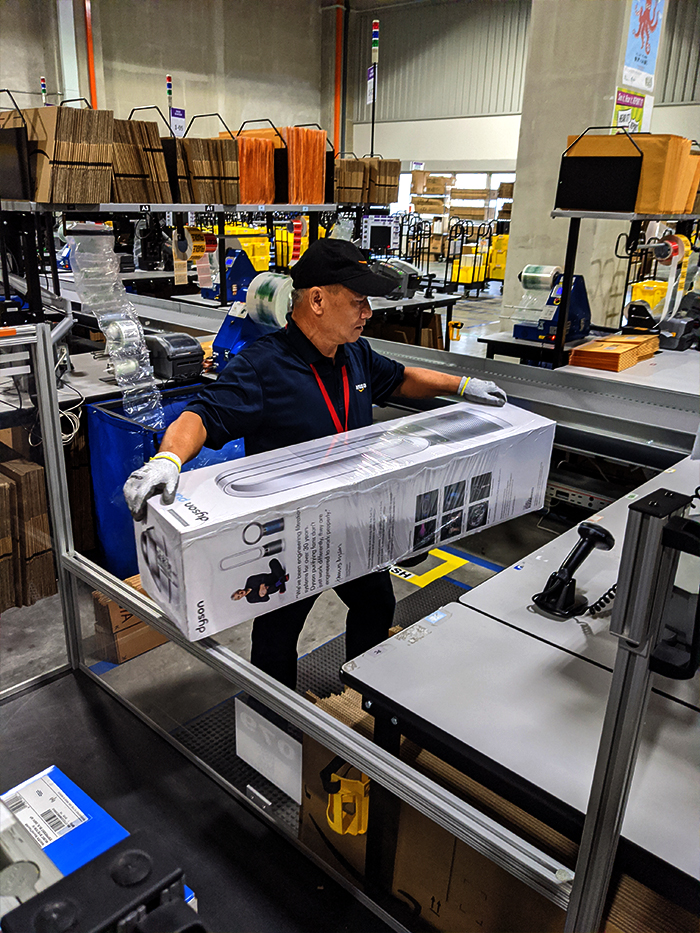 At the packing station, the items are scanned through a box recommendation engine. This tells the packer what box is needed to pack all the items for one customer. Large bulky items that already come in boxes – like vacuum cleaners for example – are not packed in a box because they already come in their own boxes. This is Amazon's attempt at reducing the use of cardboard boxes.
At the final checkpoint, the packages are then scanned through a machine that tells the packer the overall weight of the package. After this scan, the packer prints a sticker with all the customer's data such as customer's name, address etc. The package then gets pushed onto yet another conveyor belt to be shipped away.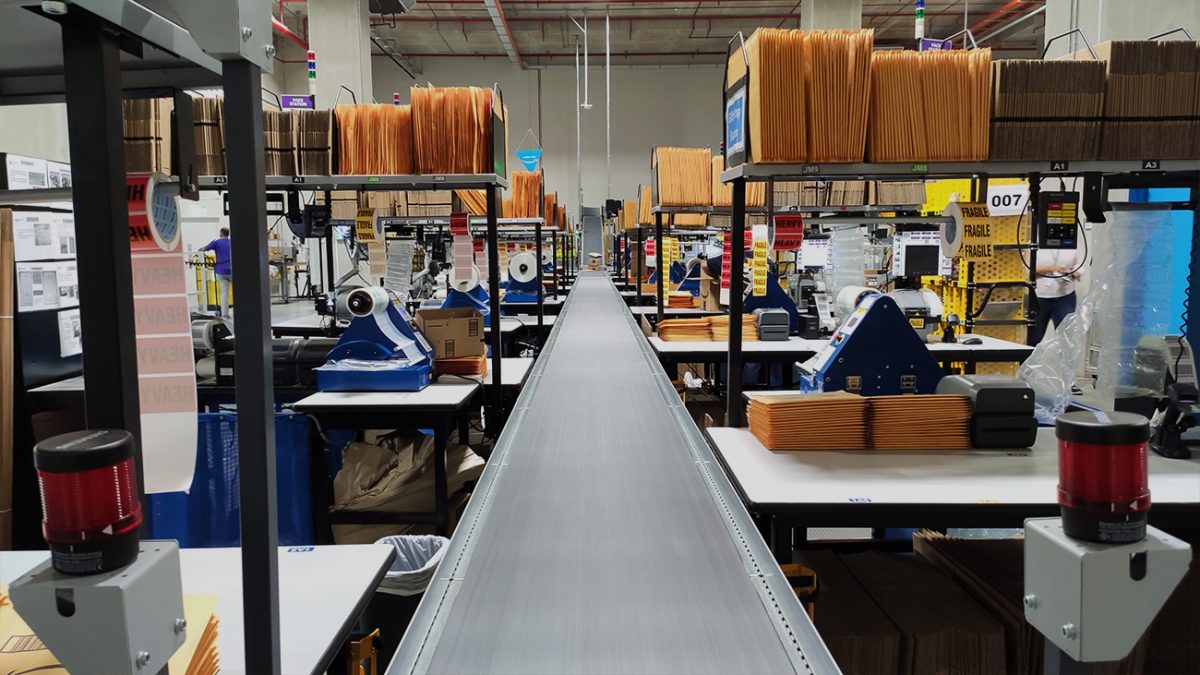 This process is very Toy Story 2 – the conveyor belts, the boxes full of toys. And with this fulfilment centre being the only one in Southeast Asia, these toys do get sent to Japan too. Fingers crossed no one orders 'The Prospector' or you may receive your package all damaged despite the bubble-wrapping.
---
There you go. That's what happens when you click buy. It's a long journey – and the actual journey of being delivered isn't even taken into account yet. But the good news is, all customers will enjoy free 2-3 days local delivery this holiday season.
Prime members, on the other hand, will enjoy 2-hour delivery with Prime Now and free-one day delivery and receive early excess to deals for Black Friday, Cyber Monday and holiday seasons. You can sign up to be a prime member online. It's quick and easy.
Not sure of what to purchase? Overwhelmed by the abundance of choices? Take a look at our Amazon holiday gift guide – we promise, it's an amazing list. So, reach for the sky and happy shopping! 
---

Drop a Facebook comment below!