Physical sporting activities and video games may not be the most congruous pair, but augmented reality  (AR) title HADO has made good headway with a fun combination of the two elements. Introducing a touch of AR technology into classic dodgeball has brought its most-known game HADO AR Dodgeball to great popularity, even on local shores. Slightly more than a year after expanding into Singapore from its home country Japan, the team is looking to spice up the competitive scene here – spurred on by a World Cup tournament in December 2017 – and a pivotal step of that lies in canvassing the public's interest.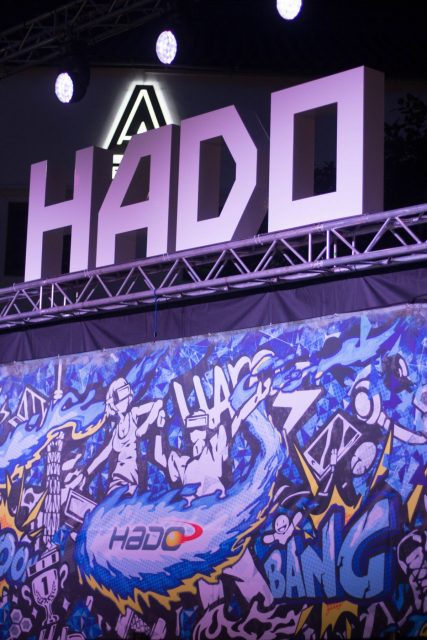 With the annual Singapore River Festival into its 2018 edition, the folks over at HADO have hopped onboard to deliver the HADO AR Challenge. Held at the hectic confines of the Clarke Quay Fountain Square on November 2 and 3, it's an open free-for-all experience, provided that the main prerequisite is met: individuals are to spend a minimum total of S$20 in any nearby location for a shot at gameplay.
What's the point of defeating challenges if the effort doesn't yield a reward, however? The leader of the scoreboard at the end of the event will be entitled to a staycation at Intercontinental Singapore, but this means victory is, by no means, going to be an easy affair.
Standing by the sidelines, HADO AR Dodgeball appears to be simple with a low-skill entry barrier. Each team of three fires off fireballs – or Hadouken, as most like to call it –, shuffles around, dodges their opponents' strikes, and put up shields. Being built upon dodgeball sees it bearing some similarities to the sport, and that's about where they end.
For starters, there's actually a lot going on that players have to acclimatise to once they are geared up with a headset and sort-of wristband. Attack bursts have limited ammunition to avoid spamming, and one has to hold up their arm to ensure the charge doesn't deplete fully. Punching, swinging to the sides, and actions as such allow for the firing of fireballs, while bringing the arm down builds a shield. Unlike traditional shooter games in the arcade, the visor is where the crosshair resides, so the shooting angle will be dictated by where one faces, instead of the direction the hand is pointed to. A lack of connecting restraints allows for the total freedom of movement, which can be a little disorienting at first.
Then, there are also other factors to consider. How do you decide when to go offensive or defensive? What should be the allocation of roles? Where do you stand in respect to your teammates? What tactics to deploy so as to wear the opposing team down? It's teamwork, strategical thinking, reflexes, and technical prowess, all in the span of 80 seconds.
Don't be fooled by the short playtime, however: one round can actually be rather exhausting, intense, and fast-paced. Slight perspiration is almost always a given, and arm aches are fairly common at higher playtime frequencies.
HADO AR Dodgeball is a great deal of fun that's made better with company. Usually played on a three-versus-three basis, the HADO AR Challenge will host two additional formats as well to accommodate more flexible playability: a two-versus-two showdown and the option to go solo. Following this, the finals of the HADO SG Cup is set to be held on November 11, 2018 at the same location, where the best of the best duke it out for an all-expenses-paid trip to Japan.
---

Drop a Facebook comment below!