Space. The deep, dark and vast abyss has fascinated us for a long time. Thanks to movies such as 2001: A Space Odyssey, Apollo 13, Interstellar, and The Right Stuff, our interest in space is kept very much alive.
Thankfully, your love for space doesn't have to be limited to the movies. There are plenty of space-related items to surround yourself with to keep your interest alive.
---
Modelled after the images of actual space shuttle launches, this 3D printed lamp is a sight to behold. The top portion of the lamp is the shuttle, while the bottom, where the light is illuminated, is the plume of smoke created during the lift-off.
Made from environmentally-friendly plant starch material (PLA), this lamp is perfect for the room of any kid who dreams of being an astronaut. Easily charged by USB cable (included).
---
If you are or someone you know is fanatical about all things astronaut, then these astronaut figurines are a must-get. Available in gold and silver visors, this family of resin astronauts are ideal for putting around the home.
---
Brighten up any room with this Whimsical Astronaut Rainbow Cloud Lamp. Emitting up to 16 colour modes, including a rainbow light effect, the icing on this lamp is the "just chilling" astronaut lying on top of the cloud. The lamp is accompanied by a remote control for colour adjustment and is great for placing in the little ones' room as a night light.
---
Are you into planets? Then this Saturn Multi-color Lamp would be perfect for you. The lamp's design is crafted based on NASA's satellite images, and comes with 16 color modes. The lamp is activated by touch, and has brightness adjustments so that you can tweak it to just the way you like it.
The lamp has a 300mah built-in battery which can support for up to 10 hours, and is rechargeable via USB.
---
This is the perfect accessory for your office or home desk. The sight of a resting or standing astronaut chilling with their mobile phone while "carrying" your mobile phone on his back makes an adorable sight.
We find that on top of it being a great phone holder, this "Just Chilling" Astronaut Phone Holder is also great for watching videos by playing your phone horizontally, great for some video-watching when you are lunching in the office.
---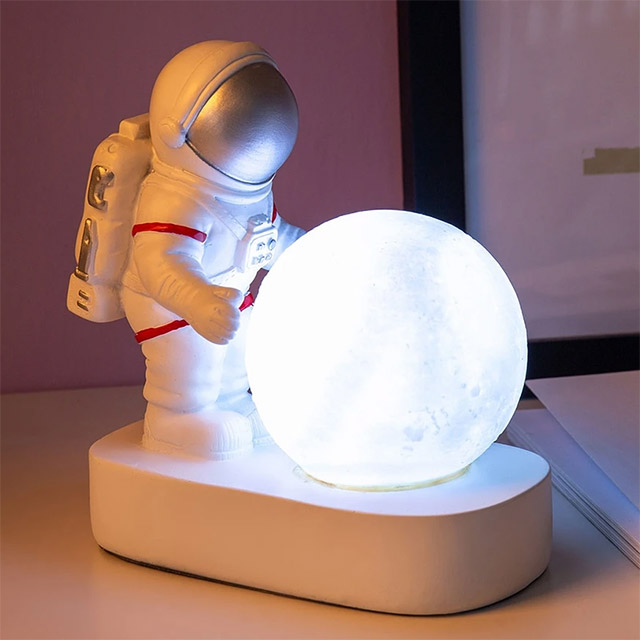 Looking for a small bedside lamp? This Astronaut Moon Night Light might fit the bill. Small and light-weight, it can be carried around the room if you're looking for things without having to turn on the room light. The illuminating moon has lunar swirls and craters, modelled after the real thing.
---
Tired of boring monotone bedsheets? Then inspire your little ones with this Astronaut Children Bedding Set. The set only has a duvet cover and a pillowcase, cleverly designed such that the pillow is the astronaut's helmet, while the duvet print is the astronaut's outfit. When your child is tucked under the cover, it would look as he or she is a tiny astronaut.
The bedding set is made from 100% polyester and uses rotary screen printing to reduce fading tendencies.
---
Inspire any kid with this Jumbo Size Astronaut Plush. Available in three colours and two sizes and designs, these plush toys are cute, cuddly and put a smile on anyone's face. The astronaut design is actually modelled after Neil Armstrong's astronaut outfit during his iconic moon landing.
---

Drop a Facebook comment below!