Productivity has always been at the forefront of Apple devices, and the iPad is no exception. Acting as the middle ground between a smartphone and a laptop, it marries viewing estate with carrying convenience, coming in as a handy tool for both work and play.
With its operating software due for an update in September this year, users can expect more productivity features to hit their devices. While iPhone users have plenty to look forward to in the upcoming iOS 17, here are five iPadOS 17 improvements to check out, which individuals enrolled in the Apple Developer Programme can now access, and the general crowd in July 2023 via a public beta. 
---
1) Adding widgets to the lock screen
While the widget-adding process may seem like a minor quality-of-life improvement, it proves useful for those who have difficulty keeping up with their daily tasks, to-do lists, and the like, and especially so if their iPad is their go-to device. The upcoming update will allow users to add their favourite widgets to their lock screen to see information like upcoming events and reminders at a glance. A one-stop list as such makes it easier to remember deadlines, appointments, and day-to-day deliverables, so you can map out an action plan, prioritise the items, and start the day right.
2) Viewing and interacting with PDFs in Notes
Working with PDFs is pretty common place and you would think editing one would be simple, but reality is far different and behind in expectations, until now. Nothing quite beats the convenience of having everything all in one place, and that's what Notes is bringing with iPadOS 17. Individuals can simply pull up the app to read and annotate a PDF, as well as link related notes, such as useful research or template references, for quick and organised viewing. 
3) Collaborating on PDFs
As far as workplace collaboration goes, communication is always key. iPadOS 17 seeks to better facilitate participation by introducing real-time updates to notes that are shared with others, which means every change made to the document – markings, scribbles, diagrams, stickers, and more – will appear live on the collaborator's device. Neat.
4) Work together with Follow Along in Freeform
Operating on the same basis, Follow Along takes users along the working process of their collaborators, who are granted access to a host of new drawing tools in Freeform, including a watercolour brush, calligraphy pen, highlighter, and even a ruler. When one party moves around the canvas, the other will see everything unfold in front of their eyes simultaneously.
5) More flexible layouts in Stage Manager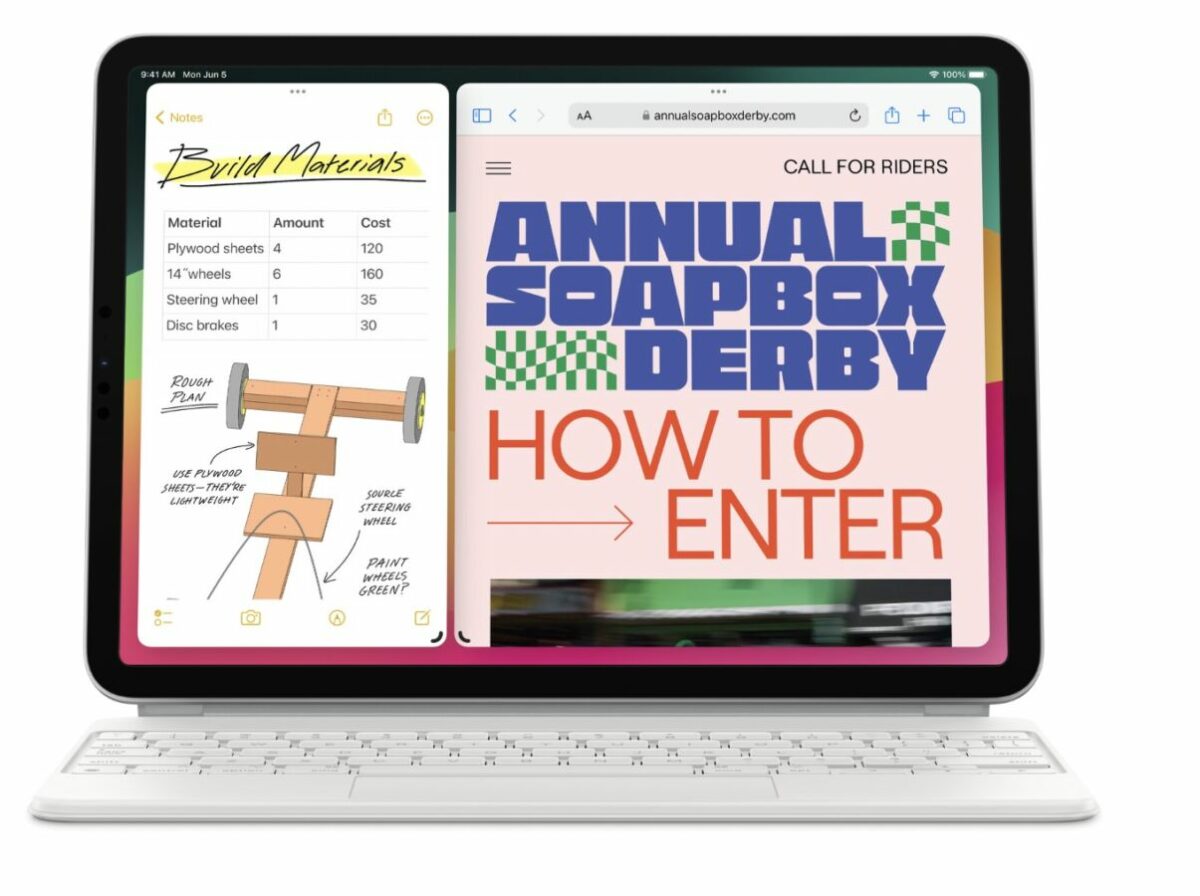 A one-size-fits-all workspace layout doesn't exist, so flexibility is always a huge plus. Stage Manager is getting an upgrade with iPadOS 17, offering more room for moving and resizing windows, on top of its already clutter-free arrangement. Choose the setup that best fits your working style, and say goodbye to distractions – staying focused is the name of the game here.
---
With iPadOS 17, productivity is set to be a way of life. Most of these features have already proven handy for individual use, and improving on them for smoother, more efficient workplace collaboration only serves to cement Apple's spot as the top dog in the tech scene. The software update is due to arrive in September, but those enrolled in the Apple Developer Programme have first dibs and can check it out now. As for the general public, an open beta in July will be their best look at it.