If you caught the latest episode of American procedural drama Criminal Minds: Beyond Borders, it offers an interesting but totally BS nuggets of information about Singapore.
"The employers (in Singapore) have a hard time finding unskilled workers doing manual labour, so they get migrant workers from other countries to do the menial jobs. But that leaves the Ministry of Manpower with nowhere to put them, so a lot of times as a result, they end up in government dormitories in Geylang, " says Clara Seger, (Alana de la Garza), the senior supervisory special agent, and also linguistics specialist and cultural anthropologist.
We want to know what drugs she took while on the way here with her team. Government workers dorms in Geylang? I only read about the many illegal ones yo…
She also adds, "It is the embodiment of income inequality. Singapore has a lot of poverty, human trafficking and a lot of crime."
For those of you who are not watching Criminal Minds: Beyond Borders, the second spin-off of Criminal Minds, the show follows a fictional International Response Team of FBI agents who solve cases involving US citizens on foreign soil.
The episode was not shot here, and stars, Gary Sinise, Daniel Henney, et al, didn't set foot on the island. But it uses a lot of stock footage of Singapore, from MBS, Sungei Road to Geylang. The script also keeps talking about Singapore laws like it is some kind of Terminator machine bent on incarceration.
We won't go into spoilers for this particular episode, which finds the team in sunny Singapore trying to solve a murder and a smuggling operation, but we guarantee that you'll go "What The Fish" at the end.
This episode is riddled with alternative facts, bad geography and a poor understanding of our country's laws. Don't believe us? See for yourself.
1) The episode kicks off with an opening shot of Singapore. NOT. Does anyone know where this is?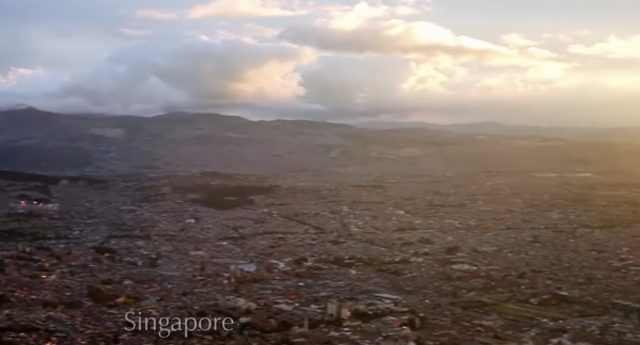 2) In a voice over, Jack Garrett (Gary Sinise) mentions a Chinese Singapore proverb that translates to "Where there is a sea, there are pirates".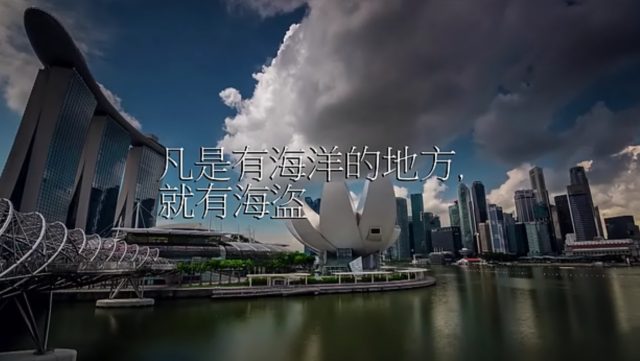 We prefer the ancient American saying, "Stop pulling shit out of your ass."
3) Oh, look. Does this look like Geylang? Nope. It's supposed to be in Bedok, as displayed in the second photo. *snigger*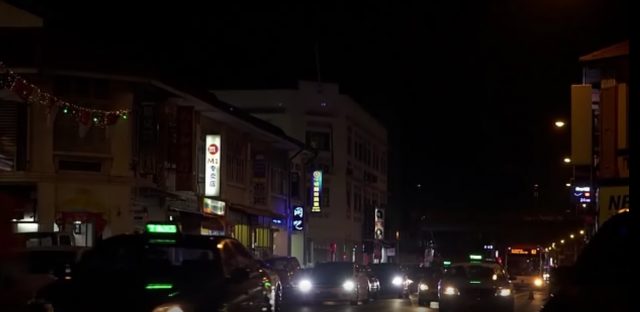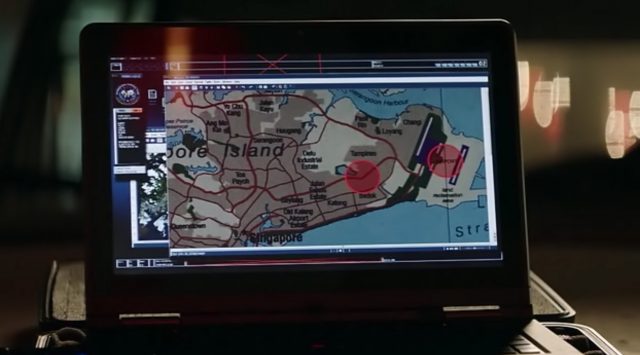 4) Does anyone know where this outdoor Zi Char chef is located at Bedok? Heck, do we even have any more outdoor chefs in Singapore anymore? (Short of the ones at festive events that is)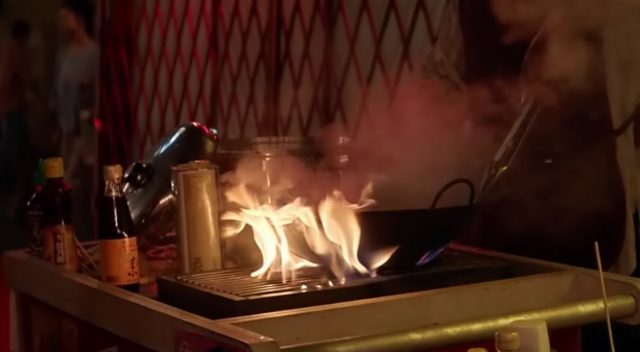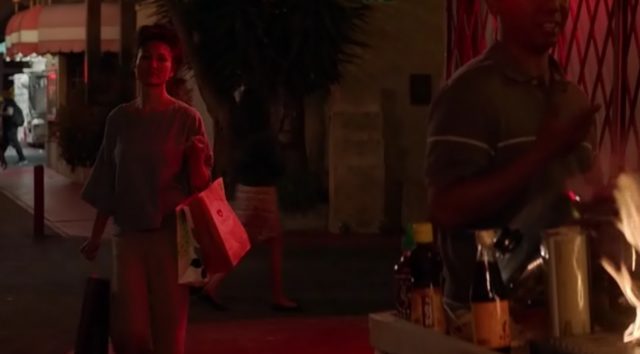 5) There are no guns in Singapore but that's ok. You can easily walk up to one of our non-existent outdoor street hawkers, and steal one of their knives to commit a crime.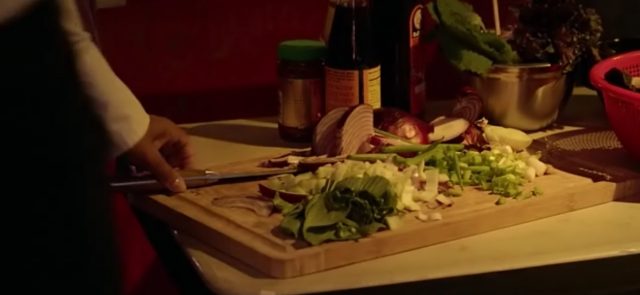 6) This is supposed to be a back alley in Bedok. Can you spot anything else incorrect in this photo?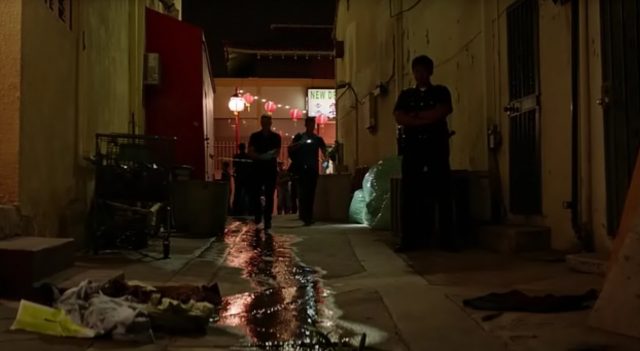 7) Do you see it above? What about now? Both members of the Singapore Police Force are not wearing their peak caps. What kind of mata are they??? But they are wearing white shirts under their uniform. It's hot here you know….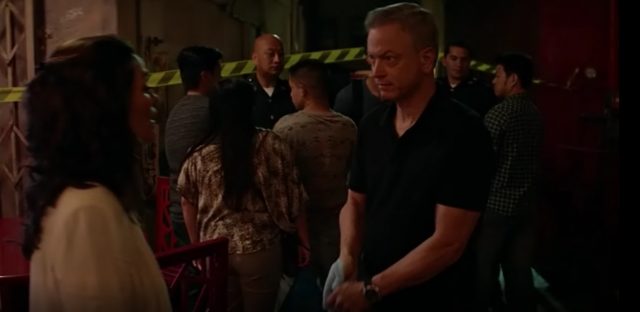 8) This is a gem. Earlier in the episode, the team makes mention of Singapore tough laws against drugs.
Here though is an overlay of all criminal activity in the last 12 months, including drug busts. The concentration of activity is supposed to draw the where all the illicit activity here takes place – can you guess where? Geylang of course. What? You can't see all the yellow dots there is it? (Although I am curious about the two criminal activities in Changi, near the airport.)
And any true Singaporean would know that if this map was real, Yishun would light up like a Christmas tree!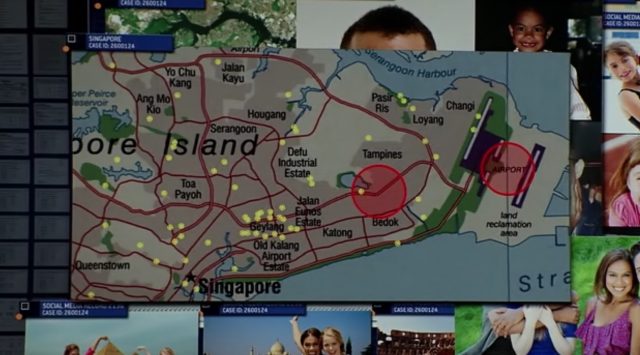 9) Another establishing shot of Singapore. NOT! Who left the lipstick there? But hey, they got Geylang correct, I think. Here's how they describe the one place in Singapore with the most awesome food: "Officially, it's known as the red light district, but more accurately, it is an overcrowded slum with a thriving underworld."
WHAT?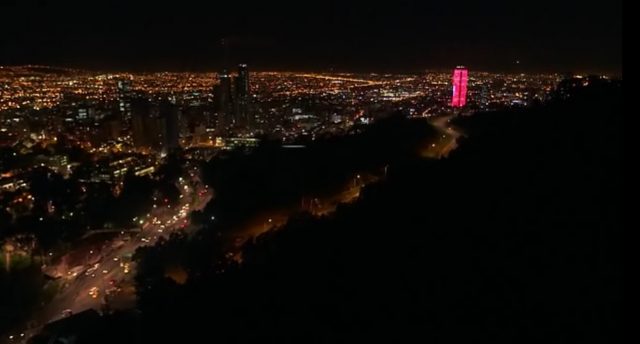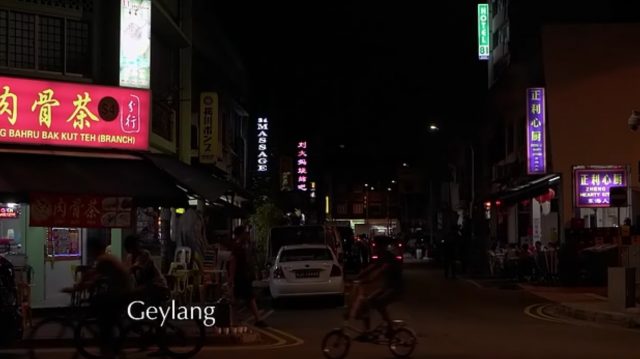 10) And here's a close-up of an outdoor hawker centre in Geylang… except that this is Makansutra Gluttons Bay, which is by Esplanade la! There's a sign right there!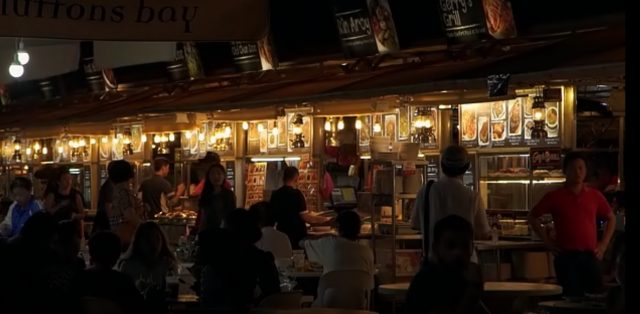 11) Eh, the producers of this show are really making an effort to show the best of Singapore, in Geylang.
This is the Sri Mariamman Temple along South Bridge Road, which is as close to Geylang as Beverly Hills is to Glendale and Pasadena in Los Angeles!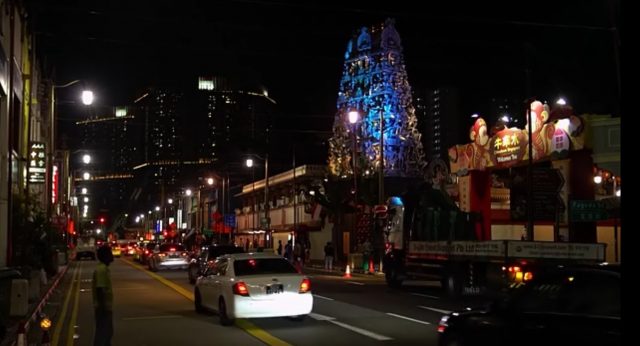 12) And this is the building in the CBD where the criminals meet. It's located at 25 Doosim Road. Crap. Was Google Maps offline the day they wrote this episode?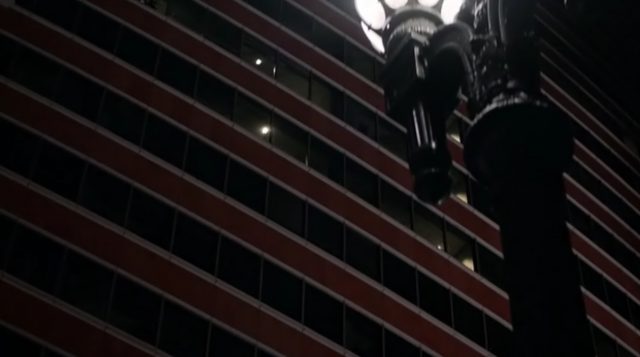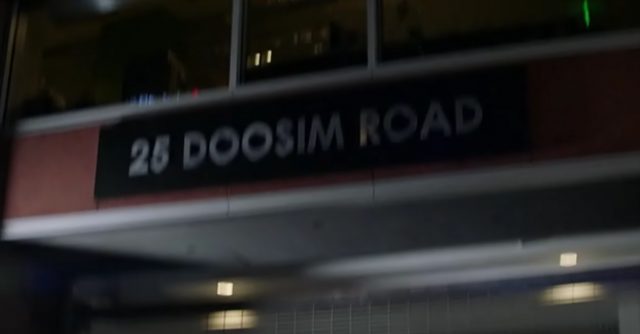 13) This looks legit. Men in SPF polo shirts wheeling away a dead body.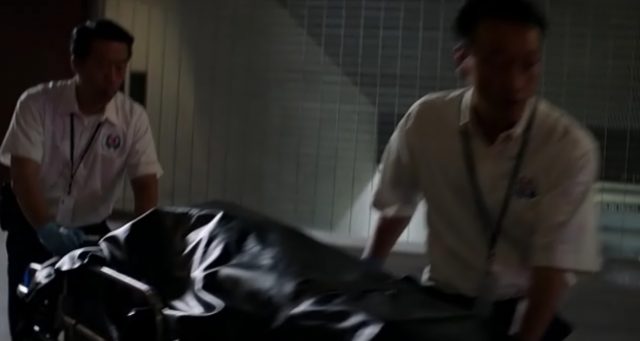 14) Oh, look. Another mata without the proper head dress. Corporal, wake up your idea can!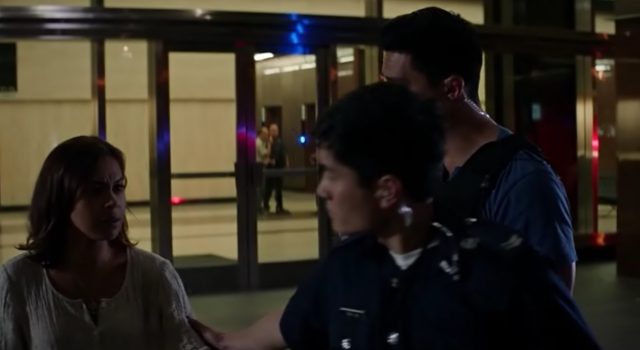 15) This looks nothing like the CBD here. And what bicycle sharing service is that in the shot?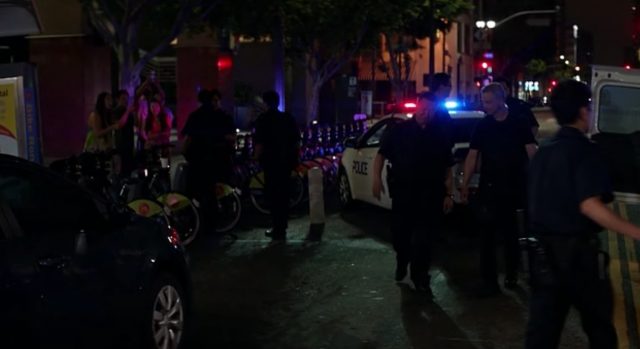 16) Okay, to be fair, they tried on this. The police car in the photo above? The license plate is SCH R453X, which is almost close to local plates. Except police cars from the SPF all start with QX.
17) At the start of the episode, an American couple asks for food recommendations from the air stewardess. She says her personal favourite foodie haunt is at Kampong Glam, but she tells the couple to go to Maxwell Road for the chicken rice. The guy points out chicken rice has been recommended three times by people.
What's there to eat at Kampong Glam?
18) Changi Airport doesn't look like Changi Airport. Come on, we're the world's best airport but the one in the episode looks like a pathetic US domestic airport.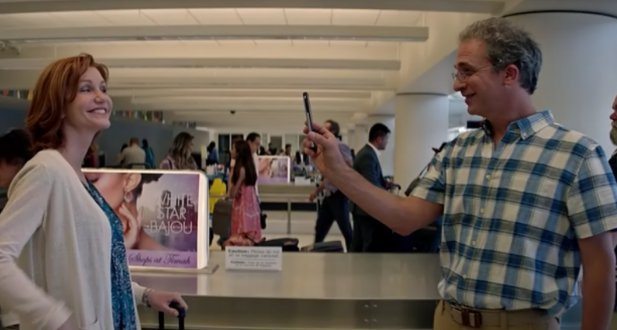 19) Man, the American really hate and do not understand our legal system. Throughout the episode, there are multiple mentions of crime and the legal system here.
"Talk about the swift justice system. There's no such thing as trial by jury, and judges have been known to pass harsh sentences for foreigners." SINCE WHEN?
"Singapore experiences less than 10 murders a year."
There's also talk about Michael Fay, though he is not named in the episode. But dialogue from the episode ended by saying that Fay maintains that was coerced by the police into his confession.
Apparently, Singapore has cameras around the city, which the suspect expertly avoided, which increases her guilt. When were these cameras installed?
20) Hong Kong American actor Tzi Ma plays Senior Station Inspector Cheong and hey, he tries a few lines with a Singapore accent. Which is not bad, if not for the fact that he starts off with an American English one, switches to Singlish for one line, and goes back to his usual accent. Oh, he also talks to his colleague in Chinese. Weird.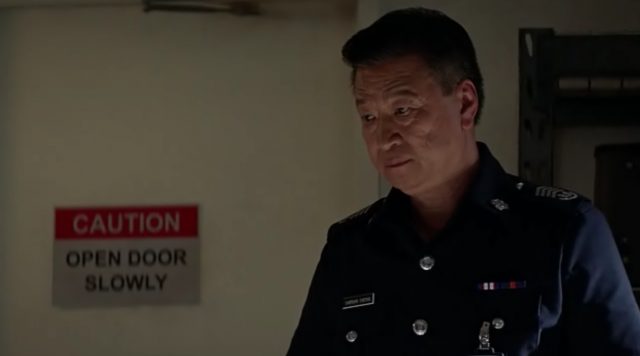 This episode triggered Kim Huat so much that he even made a video about it –
Criminal Minds: Beyond Borders producers cannot make it.
If you're keen to check out the travesty for yourself the episode "Cinderella And The Dragon" (Season 2 Episode 6) can be found on Hub VOD Entertainment (StarHub TV Channel 500) under AXN On Demand. It will be available until 1 May 2017.