Snacking is a terrible habit, and we're 100% supportive of it because hey, we love snacks too. If you're after snacks that are sweet, spicy or just downright weird and wacky. We've got the list for you.
---
1. Laksa Kit Kat
Ah, Kit Kat's no stranger to weird flavours. From Matcha to Corn, Kit Kat's almost done it all. The latest being the Singapore Laksa chocolate. We can't even begin to imagine how this would taste. Would it taste coconutty? Spicy? Would we get a prawn tail snuck in there? At S$7.50, this better be good!
---
2. Roti Prata with Fish Curry Kit Kat
Roti Prata with Fish Curry is a Singaporean staple. There's something so simple yet so delicious about dipping fried dough into spicy curry – but adding chocolate to the mix? We're not too sure about that. Going for S$7.50, we might be better off having the original meal instead.
---
3. Soy Sauce Kit Kat
Just. No.
---
4. Mala Seaweed
Wow, it's been a hot minute since we talked about Mala. Remember when everyone was eating Mala for lunch, dinner, supper and walked around with red lips? Yeah, Tao Kae Noi is bringing Mala back with not one, not two, but three different Mala flavoured seaweed.
The Big Roll Mala (S$2.30)
The Big Bang Mala (S$3.25)
The Crispy Seaweed Mala (S$3.85).
And just like Mala, you can have this dry and soupy too. Just cut the seaweed into smaller strips and use them as a garnish. You're so welcome for this quick tip.
---
5. Tobasco Chocolates
Keeping things in line with all things spicy, we've got something that might entice you too oh reader with a sweet tooth. Hailed from the United States, the Tobasco sauce is made out of hot pepper and is now on restaurant tables and even our kitchen cabinets at home. Whilst the thought of hot pepper sauce mixed with dark chocolate may sound disgusting, we have to say, it's not as bad as you think. Sold primarily by a seller on Shopee for S$10.50, the spicy chocolate is made into bite-sized wedges and come in a collectible tin. Someone should make chilli padi chocolate for a local spin. 
---
6. Bubble Milk Tea Crispy Seaweed
Look, regular humans are 60% water. But we Singaporeans are 60% bubble tea. It's a known fact, don't try to debunk us. This is the first seaweed snack Tao Kae Noi has made that's sweet. Going for S$2.70, this Bubble Milk Tea is much cheaper than your regular bubble tea – and there probably wouldn't be a long queue to get it too. Just make sure you get it before the Asian Baby Girls do because if it's good, there'd be none left for you.
---
7. Guinness Potato Chips
Australia has beer-battered chips. Here in Singapore, we have beer-battered potato chips. Hand-cooked and flavoured with a unique blend of herbs, we'll be sure to put this on our tab. It'll just be an exta S$4.50 – what harm would that do?
---
8. Marmite Chips
You put it on toast, you use it as a dip. Who would've thought we'd have Marmite on chips? We're not that big of a fan of uh… eating yeast-extract, but some people might! It is S$2.50 on Lazada, so have a go and tell us if it tastes alright? 
---
9. Cereal Chicken Skin
Does this mean we can have it with milk? Haha, apologies for the bad joke. But Cemani's cereal chicken skin snack is based off the buttery cereal prawns that we love. Sorry to those who were hoping it'd taste like Honey Stars or KoKo Krunch, but this is something we're genuinely excited about – and hopefully try. It's available on Cemani's website, 7-Eleven Outlet and NTUC FairPrice Finest outlets ranging from S$5.50 to S$10 depending on size.
---
10. Teh Tarik Popcorn
Now this, this is it Chief. We had to save the best for last because nothing could possibly beat the beloved Teh Tarik. Sorry Bubble Milk Tea lovers but Teh Tarik has been and will always be the OG Milk Tea of Singapore. Hi bosses (yes, we know you're reading this), maybe we could get this in addition to all the other snacks in our pantry – it's only S$10 from The Kettle Gourmet.
---
So yeah, we just updated your snacks roster for you. You're welcome.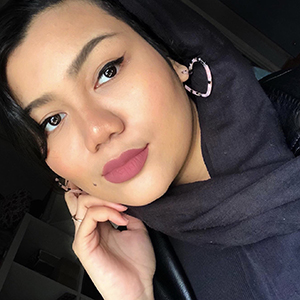 Don't judge a book by its cover, for behind all this makeup, is a geek just like you. To simply put it, superheroes, Star Wars, Harry Potter and all things gore and creepy makes this girly girl swoon.
---

Drop a Facebook comment below!