Here's the secret to true geekdom: Anyone can be a geek, regardless of age, race, language, or religion, and don't let anyone tell you otherwise.
Aside from food, and entertainment, perhaps one of the grandest unifiers of the human (read: geek) race is toys. And for those who say toys are just for kids, they clearly haven't met us at Geek Culture.
In celebration of geekdom and all the things that pop culture represents, Amazon Singapore is hosting its first-ever Great Toys Sale, happening from now until 24 July 2020. For many collectors, collectible and toy sales happen across the island quite often, but what makes Amazon Singapore stand out is that customers can have access to overseas products as well, providing the collector with a certain level of exclusivity with their collection.

During this period, shoppers can enjoy up to 50% off on over 7,000 items across various toy categories, including action figures, board games, dolls, preschool toys, party accessories, and more. Now that Toys R' Us has lost its standing as the world largest and most extensive toy store, there's a vacuum that Amazon Singapore can nicely fill, with its selection of mass market products from Hasbro and Funko, to the more premium offering from Kotobukiya, Diamond Select, Tamashii Nations and Jada.
And just so you know it's not a mere laundry list of items at a discount, Amazon offers recommendations based on the age of the kids, the brand and type of toys, latest releases and also best sellers. Scroll down even further and you'll get a more personalised list of recommendations, from top sellers and most wished for products.
Here are some deals you can look forward to enjoying during Amazon Singapore's Great Toys Sale:
What's more, HSBC cardholders will be able to receive a S$15 Amazon.sg Gift Card with a minimum purchase of S$80 on Amazon.sg. This offer will be available from now till 17 July 2020.
Without further ado, here are our top picks for Amazon Singapore's Great Toys Sale!
---
Tamashii Nations Meisho Movie Realization Ronin Jango Fett Action Figure (26% OFF)
Tamashii Nations has been knocking it out of the park with their samurai-inspired designs of Star Wars characters. Boba Fett's father/clone template, Jango, is no different here, and looks absolutely badass in exquisitely-detailed traditional armour. Complete with 8 optional pairs of hands, two guns, and a kunai blade, Samurai Jango is here to slay with his killer looks.
Marvel Gallery: Spider-Man (PS4 Video Game Version) PVC Figure (47% OFF)
Marvel's Spider-Man on the PS4 certainly left an indelible mark on the gaming community's collective hearts. Now, fans of the game can celebrate Peter Parker with this awesome 10-inch tall sculpt from Diamond Select Toys.
Kotobukiya Marvel Universe Cyclops & Beast Two Pack ArtFX Collectible Statue (43% OFF)
Ah, yes, it wouldn't be a geek list without a callback to one of the most iconic comic book and cartoon TV series of all time. The 1990s X-Men gets so much right, especially the designs of this family of mutants. If there's anyone that can do justice to these characters to geek up your home, it has to be Japanese statue maker Kotobukiya, with intricate detailing and true-to-character posing. Here's a two-pack statue collection featuring Hank McCoy/Beast and Scott Summers/Cyclops!
Check out more Action Figures & Statues Geek Picks via our Wish List!
---
Funko Pop! Rides: Game of Thrones – Night King on Dragon Collectible Figure (52% OFF)
Though it's been a year since HBO's Game of Thrones concluded, there is still plenty of love (or hate, depending on how the divisive final season appealed to you) for the series and its massive cast of characters. The Night King, in particular, is now iconic, with his deathly gaze and his icicle spears, and then gaining the (un)dead Viserion as his mount. The Funko Pop version is still menacing, if not a little cute too.
Funko Pop! Thor vs. Thanos (30% OFF)
Though this scene from Avengers: Infinity War is essentially moot, given how the rematch between Thanos and Thor (plus Captain America and Iron Man) was pure awesomeness, seeing the God of Thunder test his thunderous might against the Mad Titan is always amazing, even in Funko Pop form.
Funko Pop! Mr. Bean
While the likes of the Night King and Thanos are fearsome, powerful, and have massive armies at their disposal, they can't best the universal appeal one has like Mr. Bean does. And now you can get him as a Funko Pop! Also, that miniature version of Teddy is just too adorable not to pass up.
Check out more Funko Geek Picks via our Wish List!
---
Exploding Kittens (47% OFF)
One of the most popular party card games in recent years, Exploding Kittens is a ball of furry fun. Essentially, it's a game of survival, where players aim to be the last man standing, by discarding cards from their hand and avoiding Exploding Kitten cards, and instead throwing them to other players!
Stranger Things Dungeons & Dragons Roleplaying Game Starter Set (30% OFF)
If you've been a fan of Stranger Things, and have been curious to try out D&D, this Starter Set based on the game Mike Wheeler & Co. are seen playing throughout the series is the perfect way to get cracking with your own group of friends. It comes with a set of the basic rules, pre-generated characters, an adventure module written by Mike Wheeler himself, a set of polyhedral dice, and even a pair of Demogorgon miniatures to get started playing! Warning: friends not included.
Legendary: A Marvel Deck Building Game: MCU 10th Anniversary (30% OFF)
A deck-building game centered around characters from the MCU?! Fans of the Marvel Cinematic Universe, this is definitely for you. This card game for up 1-5 players lets players duke it out as each original member of the Avengers, by recruiting other Avengers as they play, while taking down various villains seen in the movies. Just make sure to blast John Silvestri's "Portals" while you play, for additional effect.
Check out more Board Game Geek Picks via our Wish List!
---
LEGO Star Wars Resistance Y-Wing Starfighter 75249
Though everyone will no doubt associate Star Wars with the X-Wing, there is still much love to be had for its bomber cousin, the Y-Wing. This Resistance version of the starfighter, piloted by Zorii Bliss in The Rise of the Skywalker looks just as awesome as its other variants, featuring spring-loaded shooters and bomb elements, as well as five Minifigs, including the diminutive D-O.
LEGO Overwatch Bastion 75974
If you've been an avid Overwatch player over the years (or at least know someone who is), then this set is certainly for you. Of course, it only makes sense to get this for Bastion mains, but even if you just like Overwatch in general, there's always a good reason to get the brick versions of these iconic heroes. Plus, Bastion can even transform into his tank mode for extra awesomeness!
LEGO Minecraft BigFig Creper and Ocelot 21156 (33% OFF)
Ah yes, another iconic game gets the LEGO treatment, and this one might be more familiar to the young'uns. Everybody's favourite Creeper is now buildable in LEGO form, as is the ferocious Ocelot. Perfect to decorate your desktop or room with.
Check out more LEGO Geek Picks via our Wish List!
---
Star Wars The Black Series The Mandalorian Incinerator Stormtrooper Premium Electronic Helmet
Remember that one episode in The Mandalorian on Disney+ where this particular Stormtrooper came onto the scene to literally light everything up around him in flames? Yeah, it was glorious. And now you can don his unique helmet in style, complete with red-tinted lenses, and voice modulation too. Now all that's missing is an actual flamethrower, but your garden hose works just fine as well.
Star Wars The Black Series Centrepiece Luke Skywalker (50% OFF)
There's probably nothing more classic in Star Wars than Luke in his X-Wing pilot gear brandishing his lightsaber on the battleground of Hoth in The Empire Strikes Back. This sculpt by Hasbro's The Black Series captures the intensity of the conflict in that sequence, from Luke's pose, to the debris and explosions at his feet. The perfect geeky glow-up to your desktop/display cabinet.
Star Wars The Rise of Skywalker D-O Interactive Droid (48%)
Of all the things that one might remember from last year's ultimately divisive The Rise of Skywalker, probably one of the things everyone could get on board with was D-O, the cute roller droid. And he's now available as an animatronic pet, complete with his own little ball to interact and play around with, via an app!
Check out more Star Wars Geek Picks via our Wish List!
---
Transformers Generations War For Cybertron Deluxe Fan-Vote Battle 3 Pack with Holo Mirage, Powerdasher Aragon, & Decepticon Impactor – Amazon Exclusive (37% OFF)
It would certainly be safe to just recommend a single Transformers toy set for you to consider getting your hands on. But why do that when you can go all-out with your geek purchases during this sale? This set includes not just one, but THREE robots in disguise as part of an Amazon-exclusive pack. It features two Autobots, Mirage and Powerdasher Aragon, duking it out against the Decepticon Impactor. If this isn't epic, we don't know what is!
Transformers Cyberverse Spark Armor Optimus Prime Action Figure (51% OFF)
Though Optimus Prime is best known for his iconic red-and-blue truck alternate form, here he is in a brilliant gold (actually, it's yellow) Ark Power Suit, thanks to the Ark Power Vehicle strapped to his back in his truck form.
Transformers Movie Hollywood Rides Series Optimus Prime Diecast Model (30% OFF)
This one's for the diehard Michael Bay fans. The pimped-up truck that is Optimus Prime's alternate form certainly caught the attention of the world when it first debuted in 2007, and still remains iconic in today's modern age. Now, fans can grab this die-cast model by Jada Toys with intricate detailing across the model.
Check out more Transformers Geek Picks via our Wish List!
---
Legends In 3-Dimensions Marvel Spider-Man 1:2 Scale Bust (28% OFF)
While this isn't the actual wall-crawler in person, we thought you might still like a replica of Spidey's bust keeping vigilance in your display cabinet. Standing 10 inches tall, this ½-scale bust of your friendly neighbourhood Spider-Man is certainly a conversation starter wherever you display him.
Marvel Legends Series Gamerverse The Punisher Premium Electronic Helmet (35% OFF)
Everyone is no doubt familiar with the classic red-and-gold Iron Man, and the all-grey War Machine. But what if The Punisher stole their suits to unleash bullet hell upon evildoers? This badass helmet might give one an idea. Armed with The Punisher's iconic skull paint job over the helmet, as well as red LEDs that light up the eye sockets, and with sound effects that play when opening and closing it, wearing this electronic helmet will make others think twice before messing with you.
Marvel Legends Series Family Matters 3 Pack with Magneto, Quicksilver & Scarlet Witch – Amazon Exclusive (63% OFF)
X-Men fans need some love too, so why not get the loving (heh) family of Erik Lensherr/Magneto and his two adorable mutant children, Pietro (Quicksilver) and Wanda (Scarlet Witch) Maximoff? Hasbro's Marvel Legends 6-inch action figures certainly do this iconic trio justice, and will no doubt be an excellent addition to any collection.
Check out more Marvel Geek Picks via our Wish List!
---
Funko Pop! Rides: Batman 80th – Metallic 1950 Batmobile – Amazon Exclusive (39% OFF)
Though Batman's 80th anniversary is long past, it's always a good time to celebrate the Caped Crusader by getting some exclusive merch. In this case, this Amazon-exclusive Funko Pop version of his Batmobile from the Golden Age of comic books, complete with a metallic sheen.
DC Collectibles Designer Series: Batman By Brian Bolland Mini Statue
Arguably the most iconic version of the Caped Crusader from the comics, Brian Bolland's Batman from The Killing Joke is what defined many modern iterations of the Dark Knight. This 7-inch polyresin statue depicts Batman holding Joker's iconic calling card — just a simple Joker playing card. A classic that is a must-have for any Bat-fan.
Bandai Tamashii Nations S.H. Figuarts Wonder Woman "Justice League" Action Figure
Though the likes of DC Collectibles and McFarlane Toys are the more well-known producers of DC Comics statues, it would be foolish to pass up those made by Bandai Tamashii Nations either. The Japanese statue maker's iteration of Gal Gadot's Wonder Woman from 2017's Justice League perfectly captures the badass warrior-princess, with multiple points of articulation and customisation options, including hands and weapons.
Check out more DC Comics Geek Picks via our Wish List!
---
Bandai Gundam Heavyarms Ver EW 1/100 Master Grade (25% OFF)
Guns, guns, and more guns, is the theme of the mobile suit Gundam Heavyarms. Featuring a gatling gun/shield hybrid, combat knife, beam saber attachment, and its signature missile pod clusters mounted on the shoulders and legs, Heavyarms is hands down one of the most badass-looking mobile suits to get your hands on, especially if you're looking into jumping into the gunpla hobby.
Mazinger Z Grendizer (Infinitism Ver.) 1/144 (29% OFF)
Fans of the iconic Mazinger Z mecha anime series will no doubt be keen on adding this badass model kit, the Grendizer, to their collection. Like all model kits, it will take some time to assemble Grendizer, but once complete, it will certainly make even Duke Fleed impressed, seeing such a well-sculpted miniature replica of his mech.
Star Wars Model Kit 1/12 BB-8 and R2-D2 Action Figure (25% OFF)
Though model kits are normally associated with mecha anime, there are actually quite a number of Star Wars model kits lying around too. Here's one with the iconic droid duo, BB-8 and R2-D2. Once assembled, these well-detailed and sculpted replicas will add tons of colour to your geek space.
Check out more Model Kit Geek Picks via our Wish List!
---
NERF Rival Nemesis MXVII-10K, Red – Amazon Exclusive (35% OFF)
The Nemesis MXVII-10K is one of the most popular NERF Rival models to date, and for good reason. Just one look at that magazine is enough to tell you why. In a NERF match, it's all about spraying and praying, and this bad boy does that job so well. And this red colour scheme is exclusive to Amazon, so what are you waiting for?!
NERF Rival Phantom Corps Hades XVIII-6000 (49% OFF)
Another NERF gun that promotes the spray-and-pray playstyle, the Hades XVIII-6000 is another badass addition to the collection if you wish to pepper your opponents or zombies with high-speed projectiles.
NERF MicroShots Marvel Captain America (35% OFF)
The MicroShots line is the perfect way to get the little ones into this hobby. And the best part is that this one is based on the de facto leader of the Avengers. What's not to love?
Check out more NERF Geek Picks via our Wish List!
---
Now, Amazon Singapore says there are over 7,000 items in this massive toy sale, so your challenge is not in simply making a purchase, but in discovering the perfect toys to checkout. While the two-week sale ends on July 24th, it's also a first-come, first-serve, while stocks last campaign, so we recommend you don't wait to the last minute to check out.
Here are some tips on getting your hands on that treasured collectible before they go out of stock, or to add them to a wish list for future purchase.
---
#1. Join Amazon Prime for just S$2.99 per month
First and foremost, don't forget to grab an Amazon Prime subscription for just S$2.99/month. Why? It nabs you a juicy free international shipping on overseas orders above S$60, which means you don't have to worry about shipping fees, since some of the hot items on this list come direct from the United States! Additionally, you'll also get free and fast domestic delivery at no minimum purchase, which is great if you need something, such as groceries, clothes or accessories, in a pinch.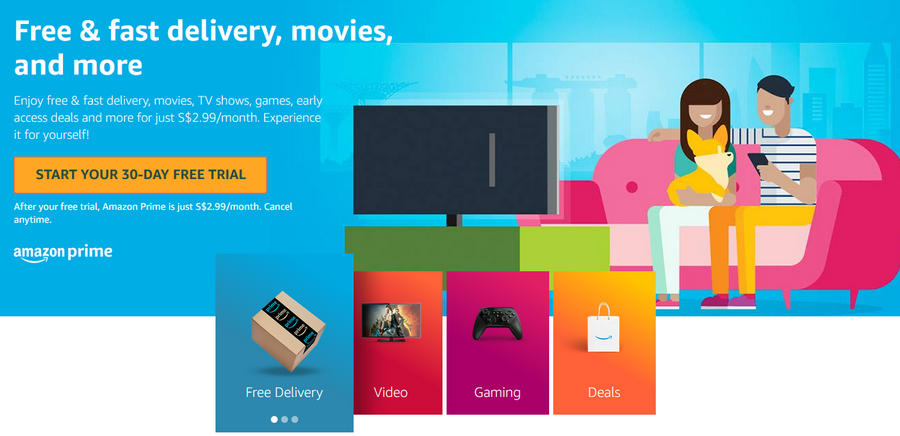 Furthermore, subscribing to Amazon Prime also grants you access to Amazon Prime Video, which is filled with several hit TV series such as Good Omens and Star Trek: Picard, The Boys, as well as a Twitch Prime subscription, which gives users free games every month, and more cool bonuses. Did we forget to mention that it is currently the cheapest content and service membership available in Southeast Asia?
Of course, if you're just trying to dip your toes into the whole shebang, there's also a free 30-day trial for Amazon Prime which you can definitely check out as well.
---
#2. Wish Listing Fun
As you slowly browse through Amazon.sg's extensive list of products, you will naturally find items that you might want but not necessarily purchase there and then (we understand – the urge to buy everything is strong but we all have budgets to consider), so the ability to create a wish list is crucial in making sure you don't need to worry too much about forgetting the item you were just searching for. Adding items to your wish list also allows you to compare prices between similar items on the spot, without having to navigate to the specific item's page all over again. Once an item is placed on this list, it will also notify you if there is a drop in price.
Simply click "Add to Wish List" located at the side of the product page, where you'll be prompted to make it private or public. Setting it to public means you can share the link to the wish list with anyone you want, to hint to friends to buy stuff for you on your birthday, create a wedding gift registry and so on. Do use this feature as it is always handy if you need some "help" in getting the items you want, such that the purchases do not show up on your credit card bill (just don't quote us on that).
Also, you have the option of creating multiple wish lists via the "Create a List" function, just in case you have specific groups of items you might want to purchase together, such as Toys For Myself, Toys For The Kids, Toys I Want To Ask Friends To Get On My Behalf, Toys To "Buy" For Friends, etc. You get the drift.
---
#3. Product Filtering Tips
Browsing through the catalogue of products on Amazon.sg might certainly be a daunting task especially for newcomers, which is where the ability to filter searches comes in handy. Thankfully, Amazon.sg's filtering is pretty top-notch, as it allows you to sift through items with a specific criteria, such as only items that qualify for Amazon Prime, products from specific sellers and brands (especially those that are more highly-rated), and even picking shipping from the local warehouse or overseas (naturally, those from overseas take a little longer to arrive).
So if you're looking for an urgent gift on a special occasion, filtering the products by "Prime – Ships from Singapore" would ensure the recipient receives it between 1 to 2 working days.
Remember that while some items qualify for Amazon Prime shipping, the estimated delivery date for items shipping overseas might take a little longer due to the current pandemic landscape, so just make sure you look out for these factors before adding items to your wish list or purchasing them.
But even if it takes over a week for that sweet Diamond Select statue to arrive, do you really mind the wait? Let us know what you think of Amazon Singapore's first toy sale, and what else you would like to see for the next one.
---

Drop a Facebook comment below!