Kumoya has done it again. After the success of their Snoopy-themed pop-up cafe, they are back with another adorable pop-up. From September 26 to September 29, head on down to Kumoya Singapore to hang out with your favourite Sesame Street characters.
To celebrate 50 amazing years of Sesame Street, sit down to a meal with Elmo, Cookie Monster, Big Bird and other iconic characters. Kids and adults alike will get to enjoy a special Sesame Street-inspired menu.
Before stepping into the cafe, guests are greeted at the door with a miniature Elmo standing in front of the Sesame Street sign where you can commemorate your visit to this fleeting experience.
Akin to walking through a bag of Skittles, the entire cafe is decked out in technicolour prints of the crazy cute characters on the walls, tables, and most importantly, the food.
The Kumoya staff with the help of Instagram-famous Shirley Wong (@littlemissbento), have created a menu featuring the popular characters which not only look good but taste good as well.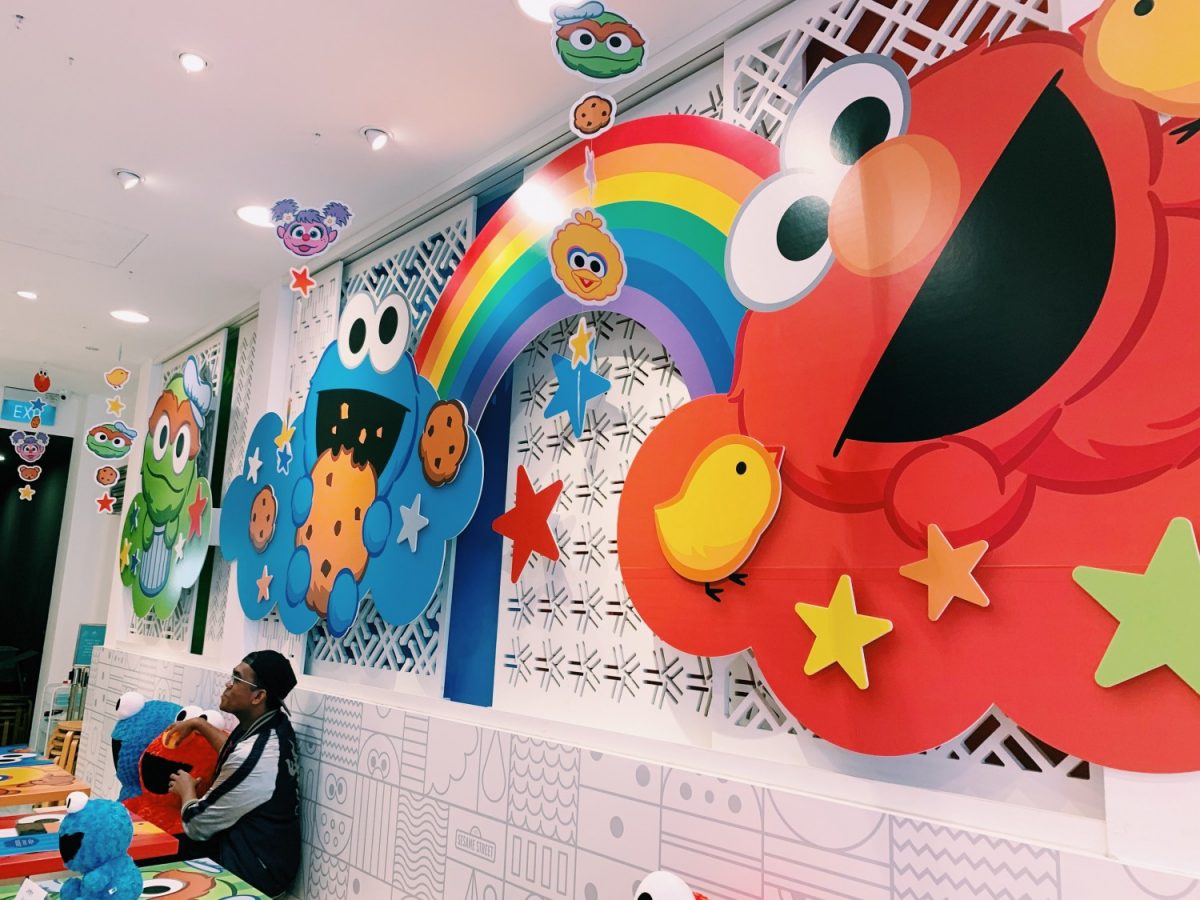 To start off the menu, there is a range of snacks such as Nacho Cheese Fries and Karaage Chicken with Shoyu Glaze available from S$11.90 to S$13.90. The main course is where things get insanely cute.
Pay no attention to the ridiculously long menu item names and try Cookie Monster's OM NOM NOM Japanese croquette rice with cream sauce (S$22.90) or Abby Cadabby's Magic Golden karaage chicken waffle with soyu glaze (S$25.90).
The desserts and drinks are equally kawaii as the Big celebration with Big Bird and friends mango kiwi shibuya toast (S$27.90) has marshmallows, colourful cereal and even a side of chocolate. All while Big Bird's face sits atop the vivid dish on a bright yellow macaron top.
Even if you're just stopping by to cool off on a hot day, take a sip of the Cutie fruity Elmo red soda or the Big Bird "I'm a bird" mango tango soda (S$15.90 each). On the other hand, indulge in warm beverage on a cool night with the "LA LA LA" Elmo hot chocolate or latte.

Want a little dessert with your beverage? Then Cookie Monster's cookie shot with matcha milk (S$14.90) is the go-to menu item for you. Simply pour the matcha milk into the cookie shot and once you're done, gobble up that cookie soaked with Matcha goodness.
You can even pick up a little souvenir of your visit to the pop-up cafe, just saunter over to the display overflowing with plush toys, collectables and stationery. That way, you can bring home your favourite Sesame Street character.
To relieve the nostalgia of your colourful childhood, head down to the Sesame Street x Kumoya pop-up cafe and snuggle up to your fuzzy friends. It only lasts for three days so don't miss it!
---
Here are the details of the pop-up cafe:
Date: 26 September – 29 September 2019
Location: Kumoya @ 8 Jalan Klapa, Singapore 199320
Opening Hours: Closed on Monday. Tuesday – Thursday, Sunday (12pm – 9.30pm). Friday and Saturday (12pm – 10.30pm)