CinemaCon is really bringing us all the geek goodness. The stars and director of the upcoming Transformers spinoff, Bumblebee, took the stage to show the first preview clip from the movie.
The spinoff is set to star Hailee Steinfeld, John Cena and Jorge Lendeborg Jr and is directed by Travis Knight. They presented this first look, which introduces Steinfeld's character, 17-year-old Charlie, as the one to first bond with Bumblebee and give him his name. Set in 1987, this looks to be a heartfelt origin story for one of our favourite Transformers.
"[Travis Knight]'s taking the story back to the beginning, set in a period where I first fell in love with Transformers," said John Cena about the movie.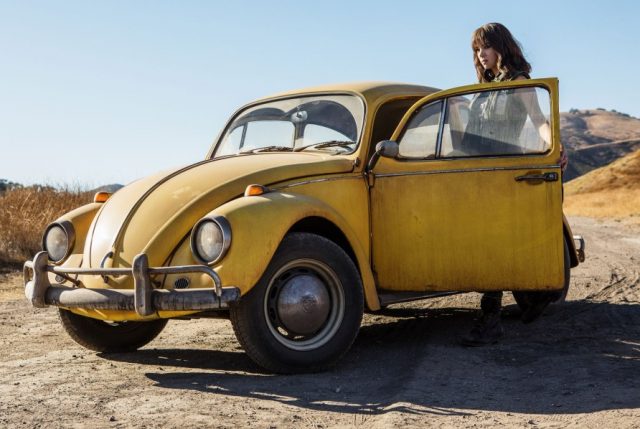 Here's Comicbook.com's description of the clip that was screened:
An alarm goes off at 8:00 AM. Charlie shuts it off, unhappily waking up. Her room is covered in posters. She rocks out with headphones on while brushing her teeth. In the garage, her car is playing the same song. When she enters, it stops.

A piece of the car hits the floor. She look beneath it. Getting on a board with wheels, she slides under the car. Ultimately, she finds Bee's face, which lights up in the eyes and stands up above her. She's shocked. This thing fits in the garage! They have a standoff. Bee stumbles around. She reaches for the door handle but sees he is just stumbling around and scared as he huddles himself into the corner.

She approaches and says, "Hi." Bee chirps back. He's still scared and avoiding her in the corner. "Do you speak?: she asks. Bee nods to indicate he does not. He stands up, holding his neck, after seeing the wrench in her hand. He analyzes her hands and comes closer, allowing them to touch his face. He can understand her. "What are you?" she asks. "Where did you come from?" He shies away from answering. He points to her shirt. He is asking who she is. "I'm Charlie," she tells him. "Charlie Watson, I'm 18 today. Actually, it's my birthday today. What's your name?" He shies away, with his ears going down. She rules, "You sound like a little bumblebee." That's what she's going to call him from now on. "Matches your outfit, too," she says.

Later, clips of Bee running from a helicopter, trucks exploding, Bee playing on the beach, driving Charlie around, and other Transformers cut into the frame. A red and white winged Transformer is fighting him. He uses his arm cannon. He fights fighter jets. Charlie does her best to help him. He lands in a desert.
Looking at the stills and the clip, this is definitely shaping up to be a very different movie from what we're used to seeing from Transformers. It's a refreshing change, and we're eager to see what Travis Knight has in store for us.
Bumblebee is set to premiere on December 21 , 2018.
You could call Jeanne a dabbler – anything she isn't yet a fan of, she will be eventually. The list of things she's into is only rivalled by the things she plans on getting into. Overanalysing makes everything fun.