Whether you're a Force-wielder disrupting the balance, a bounty hunter hired to assassinate, or even a stormtrooper missing his shots, it doesn't really matter because today, on May the 4th, all of Star Wars fandom will gather despite our differences, to celebrate the one and only Star Wars Day.
Other than hoarding all the hottest Star Wars collectables that we can find and catching up on the latest Star Wars flicks on Disney, there's still one last thing we can do as geeks and fans of the franchise to live the Star Wars dream, and that is to play some games.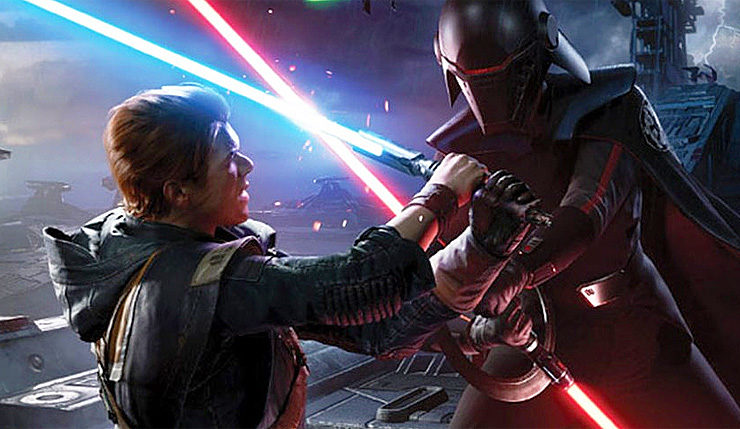 The Star Wars cinematic franchise has inarguably created one of the biggest fandom and communities in the world, having branched out from its original movies into animations, live series, toys, comics, theme park attractions and ultimately, games.
Just like the franchise's complex history, the number of games they have published can give even the biggest fans a rough time. Though there are a handful of Star Wars games that have made their name in the gaming market and if you have been itching to virtually become a Jedi or even a Bounty Hunter, we've handpicked some of the best Star Wars games that you can get into.
---
#1. Star Wars: Knights of the Old Republic
Kicking off with a classic, Star Wars Knights of the Old Republic is an old school role-playing game that'll take you all the way back four thousand years before the fall of the Galactic Empire was formed and the fall of the Jedi Knights.
The gameplay is round-based and features combat actions based on Dungeon & Dragons rules and lets you select different classes with skill and feat stats that you can distribute and unlock. Thanks to its immersive story and characters, the game received critical acclaim and was nominated for many awards, so if there's one game perhaps you need to try as a true-blue Star Wars fan, this could be it.
The game also continues into its sequel Star Wars: Knights of the Old Republic II – The Sith Lords.
If old-time visual effects can't convince you, a remake of the game is currently being developed by Aspyr although no official news has been released yet.
Star Wars: Knights of the Old Republic is available on Xbox One, Xbox Series X|S, PC via Steam, Linux, Mac OS X Google Play Store, and iOS App Store.
---
#2. Star Wars: The Old Republic
If you're looking for a massive multiplayer online role-playing game (MMORPG) to meet fellow force-wielding friends, then The Old Republic is your only shot. A sequel to the Knights of the Old Republic I and II – The Sith Lords, the game is considered one of the fastest-growing MMORPG of its time back in 2011, and was a huge financial and critical success.
It is the only free-to-play MMORPG that lets you create your own story in the centre of the Star Wars universe. With eight iconic roles taken from the saga, determine your own destiny and play as one of them, whether it's a Jedi, Sith, Bounty Hunter or Smuggler, they've got it all.
Even today, the game is being updated with new storylines and group content you can enjoy after you complete the game. A full-fledged MMO, The Old Republic will let you engage in crazy multiplayer combats, pilot your airships and explore the wonderful universe of Star Wars.
Star Wars: The Old Republic is available on PC via their website and Steam for free.
---
#3. Star Wars Jedi: Fallen Order
Up next, a recent third-person action-adventure game, follow the story of an abandoned Jedi Padawan and escape the evil schemes of the Empire.
Following the events of Episode 3: Revenge of the Sith, Star Wars Jedi: Fallen Order is a single-player narrative-driven campaign that focuses on immersive combats where you must develop new Force abilities, learn lightsaber techniques and moves to overcome your enemies and environment.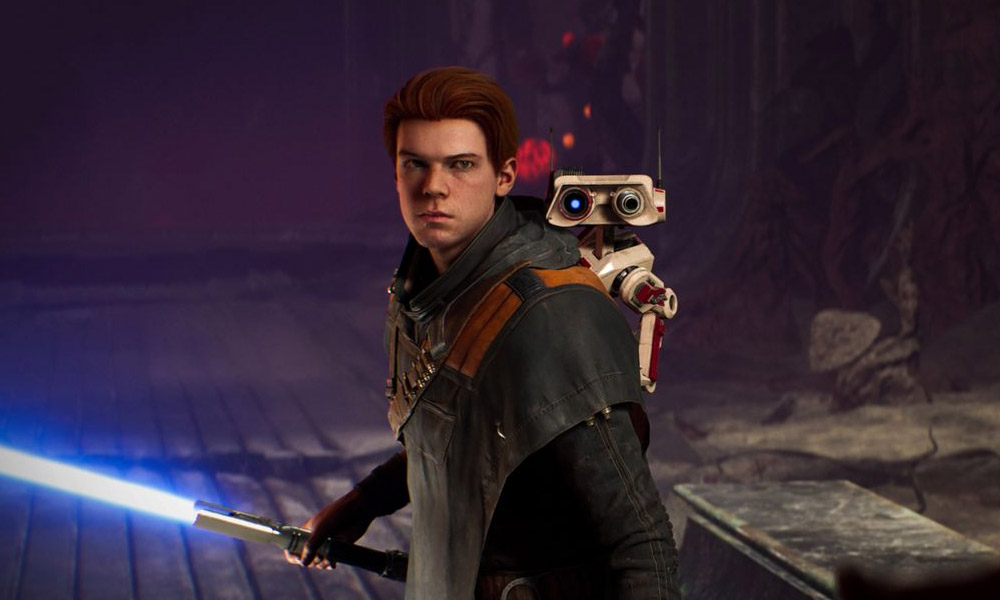 The game will take you on a cinematic journey as you explore familiar locations, meet new and iconic characters to rebuild the remnants of the Jedi Order before it's too late.
Star Wars Jedi: Fallen Order is available on PlayStation 4, Xbox One, Google Stadia and PC via EA, Steam and EPIC Games.
---
#4. Star Wars: Squadrons
Ever dream of being a dog-fighter across the galaxies?
Well, buckle up and master the art of starfighter combat in Star Wars: Squadrons, a first-person action Star Wars pilot simulator where you can take control of different classes of starfighters from the New Republic or the Imperial Fleets.
Whether your favourite is the TIE bomber or the A-wing, modify your ships, upgrade your systems and destroy your opponents in an intense 5v5 multiplayer strategic space dogfight or fly solo in a single-player campaign where you learn what it takes to be a real pilot in Star Wars
Star Wars: Squadrons is available on PlayStation 4, Xbox One, and PC via EA, Steam and EPIC Games.
---
#5. Star Wars Battlefront II
Can't take the heights (or space in our case), but still want to blast things up?
Embark on a multiplayer battleground in Star Wars Battlefront II, where you play as troopers, heroes and even starfighters across all three eras of the Star Wars franchise. Developed by EA DICE, the game is a sequel to the 2015 title of the same name which is a complete reboot of the original series back in 2004.
Star Wars Battlefront II is essentially a first and third-person shooter where 40 players fight against each other across familiar landscapes of Endor, Naboo, Tatooine and more. When you're not playing classic heroes such as Obi-Wan Kenobi, Yoda, or Darth Vader, customize your own unique trooper with a wide variety of cosmetics, weapons, and abilities and take controls of tauntauns, tanks or speeders to engage in all-out galactic war.
Star Wars Battlefront II is available on PlayStation 4, Xbox One, and PC via EA and Steam.
---
#6. LEGO Star Wars: The Complete Saga
Relive the entire Star Wars movie from the episode I through V LEGO-styled!
Great for fans of both Star Wars and LEGO, the LEGO Star Wars: The Complete Saga is a collected version of both games LEGO Star Wars: The Video game and its sequel LEGO Star War II: The Original Trilogy.
With over 120 playable characters, solve puzzles, challenges and battle your way through different levels progressively through the entire story of the cinematic universe as you collect Gold Bricks in order to complete the game.
The game also features a two-player local co-op mode and tons of possibilities for you to customize your characters with different parts from all six movies so you can mash up characters like Han Windo and Lando Amidala.
Although released in 2009, LEGO Star Wars is still a light-hearted and enjoyable game perfect for friends and families in 2021.
LEGO Star Wars; The Complete Saga is available on iOS App Store and PC via Steam.
---
Bonus! For Kids:
If you're worried about leaving your kids alone while you game, fret not because here's a bonus for you and your Star Wars kids!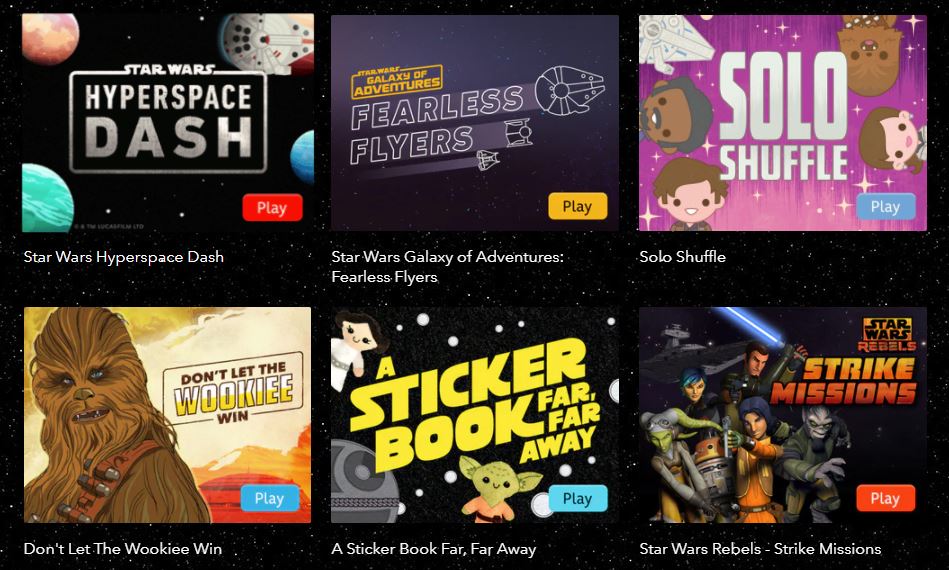 Disney's official website has put up a handful of really cute browser-based Star Wars games that your kids can play, from simple puzzles to racing games, all you gotta do is go to their website with an iPad or laptop and you're covered for both you and your kid's gaming season.
Check out the list of games here.
---

Drop a Facebook comment below!