The weekend has come and gone, and so has Singapore Toy, Game and Comic Convention 2017 – almost faster than Wally West can run. Almost.
Local fans got to spend a weekend celebrating the best of local and international pop culture. But in case you were busy saving the world and couldn't make it, here are some of the highlights from Day 2!
Naturally, there were some amazing cosplayers. A little bit of every thing from modern iterations and timeless classics to trending Japanese characters and evergreen American favourites.
Fans also got to meet some of their favourite artists and get their autographs.  Some were even lucky enough to snag custom pieces.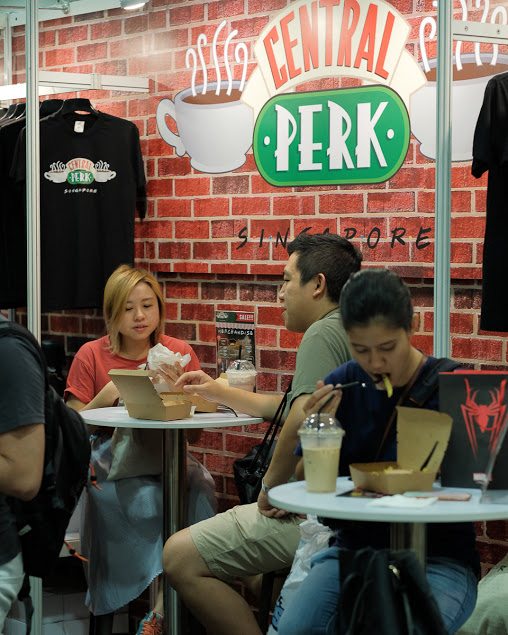 Not only did our wallets get tired from all the shopping, but so did our feet. So we headed out to the Central Perks pop-up cafe to meet friends and make new ones! An odd inclusion but it does have its place in pop culture.
The hall was filled with energetic remixed anime music which kept fans pumped all through the day.
For those who enjoyed something a little slower, there was also a huge tabletop gaming area where people could learn how to play games, challenge the masters or hang out with fellow board game lovers.
One of the star attractions for this year was the Star Wars zone, where fans could meet the dark lord himself, his grandson or explore the Millennium Falcon.
The indie area had some pretty cute staff stuff to check out too. Though a lot of it was sold out because it was already Day 2 of the convention.
Last but not least were the really cool toys on display (check out more here) for wallets to cry over and owners to drool about.
Although this year's event suffered from a high questionable layout decision, long bag check queues and poor signage, the event was still filled with lots of exciting guests, cool toys and amazing cosplayers. Here's to looking forward to another amazing event in 2018!
Victoria is a consummate dragon trainer fueled by ice cream and cake. A huge cartoon, tokusatsu, bronze and modern age comics fan, she aims to one day use her cosplay skills to become a spy like Sydney Bistrow.
---

Drop a Facebook comment below!