Valentine's Day may still be a month away, but the seasoned gifter would know about the hassle, indecisiveness, and last-minute problems that come with buying presents, especially when shipping, or delivery services are involved. As such, it's always good to start planning early, and have a shopping list stashed somewhere on standby.
If you're looking to please your geeky partner this Valentine's, we're here to help! It's time to do away with your typical flower bouquets, and swap them out for a nice, geeky bunch of plushies.
Thinkgeek's collection of plush bouquets has plenty to offer, from the popular Star Wars droids, to the bundle of round, colourful planets for astronomical geeks (S$52.90, without shipping). Not so big on fandoms? There are also other choices available, such as the adorable Plush Corgi Bouquet (S$66.17, without shipping), or the clever Plush Science of Bouquet (S$52.90, without shipping). There's certainly enough geekery to go around – even the bookworms would be impressed with the Plush Book Bouquet (S$79.40).
Of course, every geek-inspired gift collection will almost always have the hottest characters from a galaxy far, far away. In addition to the droids bouquet, the Star Wars Plush Bouquet 3.0 will make for a better choice for the more hardcore Star Wars enthusiasts.
Standing at S$105.88 (without shipping), it's not exactly wallet-friendly. But the nine-character lineup, which includes the likes of hot favourites Han Solo, Princess Leia, and Darth Vader, alongside newer ones such as BB-8, and a Porg, sure makes everything worth the price. Plus – they can be taken off their long "stem" dowels for playtime, and re-attached later for display, as with the others. A two-in-one function, sweet.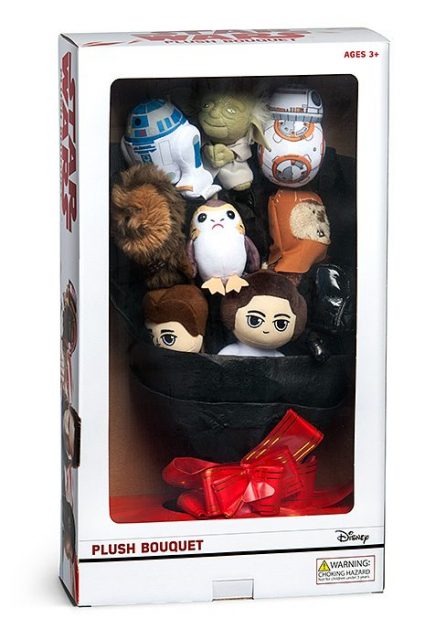 Depending on the type of plush bouquets, the pricing runs the gamut from a discounted price of S$39.70 to S$105.88. In particular, the Star Wars Bouquet – Darth Vader (S$66.20), Star Wars Bouquet – Droids (S$52.90), Plush Bouquet – Microbes of Love (S$39.70), and Plush Bouquets for Moms (S$24.99) help to save wallets from further distress, by means of a reduced cost.
Now, what's your excuse for not getting your loved ones these incredibly geeky plush bouquets?
Si Jia is a casual geek at heart – or as casual as someone with Sephiroth's theme on her Spotify playlist can get. A fan of movies, games, and Japanese culture, Si Jia's greatest weakness is the Steam Summer Sale. Or any Steam sale, really.
---

Drop a Facebook comment below!

---