Battle in the arena with comfort and style as Secretlab unveils their most exciting collection yet, the official League of Legends Champions gaming chairs.
Teaming up with Riot Games, Secretlab has created this designer collection in order to commemorate the over 10-year long partnership between both teams. Every chair has been realised in stunning detail, draped in motifs related to the game-lore and character personalities. Fan-favourite characters, Akali, Ahri, Yasuo and even the K/DA pop star personification of Akali will be the main inspirations for the design of each of the four chairs.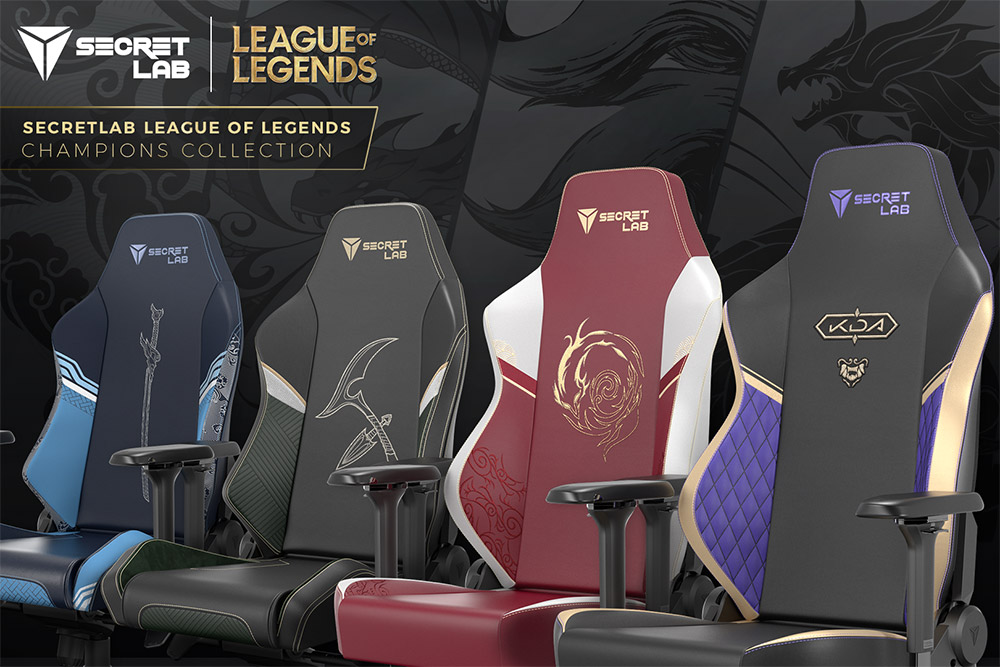 The first two designs are the Akali and Ahri editions. With the Akali edition, Secretlab pays homage to the rebellious rogue assassin with a fearsome dragon poised to strike tattoed on the back of the chair. As for Ahri, her elegance shines through the nine fox tails sweeping gracefully across the back of a red chair with intricate patterns from her clothes and fox fires embroidered all around the chair.
The next version is a design inspired by the pop-star rendition of Akali from the wildly popular K/DA group. Her cyberpunk style is captured by the gold embroidery and purple accents decorating the rich black upholstery and accentuated with diamond-quilted side wings.
The last chair in the Secretlab League of Legends collection is a stunning navy chair embellished with ukiyo-e style cloud and wind motifs to represent the katana-wielding swords-master, Yasuo.
With Secretlab creating premium gaming chairs since 2014 and Riot Games developing countless acclaimed titles such as League of Legends, the partnership is the perfect converging point for everything that gamers love.
The chairs will be launched today with more information coming up soon so stay tuned!