With the new Samsung Galaxy Z Flip 4, the Korean chaebol knows of the model's Achilles Heel.
As outlined in our review last year, the device itself is excellent and sets itself apart from the sea of flat devices that have defined pretty much every smartphone in this generation. The latest Samsung Galaxy Z Flip 4, knows exactly what the customers are looking for and has made battery life a priority with their 2022 device.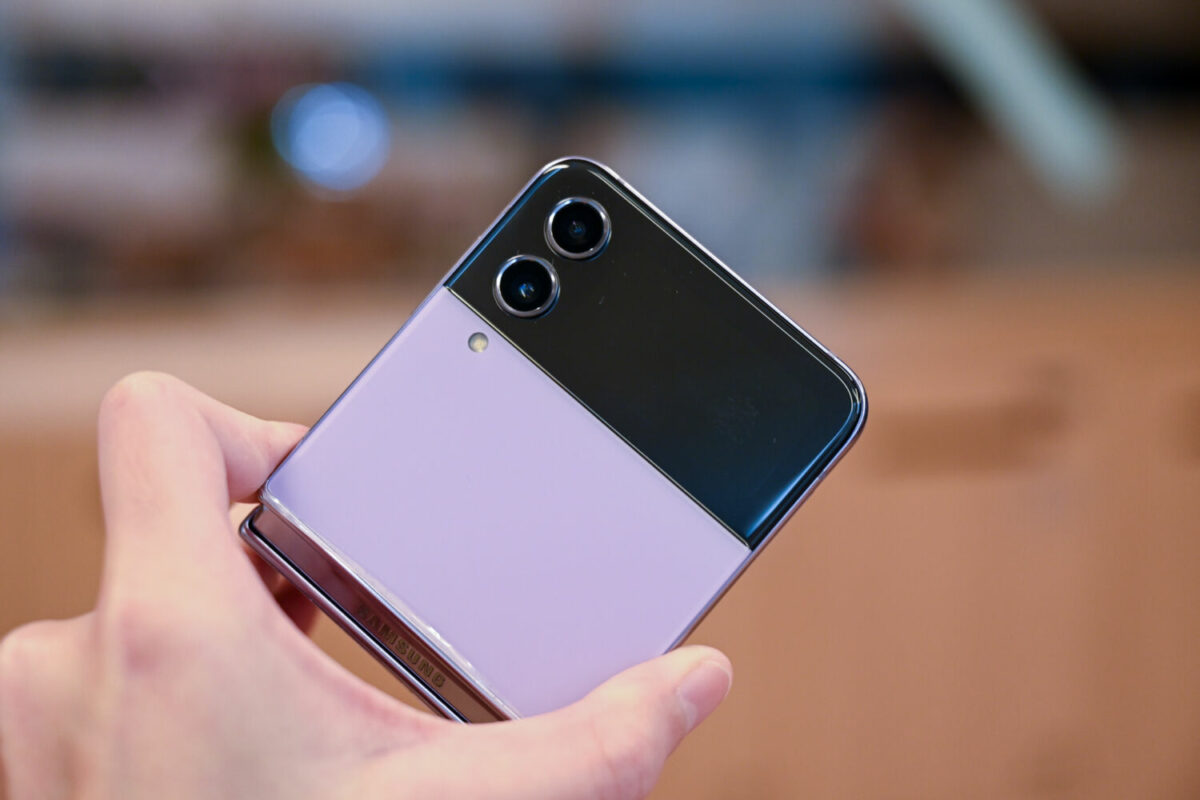 When it comes to aesthetics, the Samsung Galaxy Z Flip 4 maintains the same look and feel. Now, the battery has bumped up to 3,700 mAh (from 3,300 mAh) while slimming down the device by a bit more.
Announced at the recent Samsung Unpacked 2022, Geek Culture had a chance to look at the devices up close in New York. Measuring 165mm x 71.9mm x 7.2mm expanded, the Flip 4 features a 6.7-inch display with a 120Hz adaptive refresh rate, and a maximum brightness of 1,200 nits. When closed, the device measures, 71.9 x 84.9 x 17.1mm. Unfolded, the phone measures, 71.9 x 165.2 x 6.9mm. Weight wise it now weighs 187 grams which is a nice departure from its more professional cousin – the Samsung Galaxy Z Fold 4.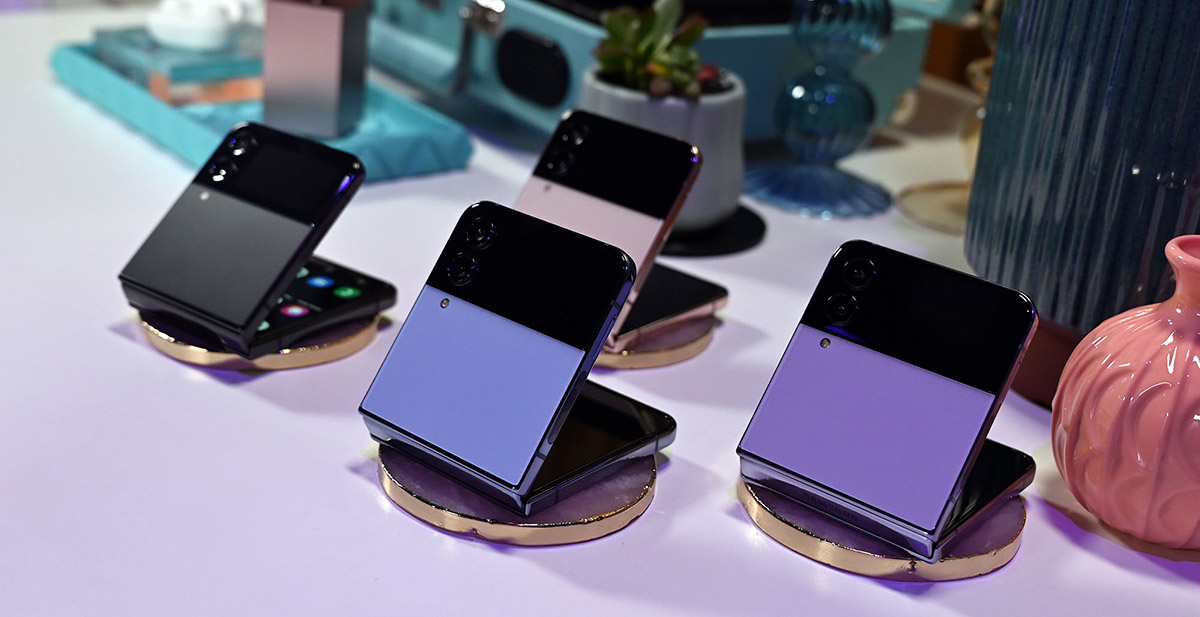 Powered by a Qualcomm Snapdragon 8+ Gen 1 processor and Adreno 730 chipset, Samsung will not be releasing an Exynos variant with their Flip and Fold devices as well. Hurray to all consumers as you'd be getting the best hardware no matter where you are around the world. Camera-wise, we're seeing the Flip 4 get a 12MP Wide-Angle and ultrawide camera, and a 10MP selfie camera. But, as we all know more megapixels don't always mean better which is why the Flip 4 will be also getting the best tweaks from the Samsung Galaxy S22 with the 'Nightography' feature software-wise.
On paper, it would seem that the overall upgrades to the Flip 4 have been modest. However, with our brief hands-on, the improvements to the software side of things have been the focus. Outside of that, the area that Samsung would like for everyone to focus on would be in the realm of aesthetics and customization. With the Flip 4, the number of available colours have been reduced overall to Graphite, Bora Purple, Pink Gold, Blue but users are now free to mix and match the designs as they see fit with the Bespoke editions.
The Samsung Galaxy Z Flip 4 will be available for preorder from 10 August 2022 onwards with prices for the phone starting from S$1,398 for the 128GB model to S$1,748 for the 512GB model. Pre-order customers will receive their devices from 26 August onwards whereas retail release will be from 2 September 2022.
Interested parties can get the Samsung Galaxy Z Flip 4 on Lazada, Shopee and/or Amazon Singapore.
Model
Samsung Galaxy Z Flip 4
OS
Android 12
One UI 4.1.1
Processor
Snapdragon 8+ Gen 1
Memory
8GB
Storage
128GB / 256GB / 512GB
Display
6.7-inch FHD+*
Dynamic AMOLED 2X
Infinity Flex Display (2640 x 1080, 22:9)
120Hz adaptive refresh rate (1~120Hz)

Cover screen – 1.9-inch Super AMOLED Display, 260 x 512
Camera
Front Camera – 10MP Selfie Camera
F2.4, Pixel size: 1.22μm, FOV: 80˚

Rear Dual Camera – 12MP Ultra Wide Camera
F2.2, Pixel size: 1.12μm, FOV: 123˚

12MP Wide-angle Camera: 12MP Wide-angle Camera
Dual Pixel AF, OIS, F1.8, Pixel size: 1.8μm, FOV: 83˚
Connectivity
5G
Battery
3,700 mAh
Dimensions
Folded – 71.9 x 84.9 x 17.1mm (Hinge) / 15.9mm (sagging)
Unfolded – 71.9 x 165.2 x 6.9mm
Weight
187 g
Colours
Bora Purple, Graphite, Pink Gold, Blue
[Bespoke Edition] Front/Back (Yellow, White, Navy, Khaki, Red), Frame (Silver/Black/Gold)
Price (SGD, including GST)
$1,398 (128GB) / $1,498 (256GB) / $1,748 (512GB)
Availability (Singapore)
2 September 2022
Gerald currently straddles between his love of video games and board gaming. There's nothing that interests him more than trying out the newest and fanciest gadget in town as well. He dreams of publishing a board game sometime in the future!