If you miss the multi-screen functionality of desktop setups, Republic of Gamers (ROG) has you covered. The ROG Zephyrus Duo 16 (GX650RX-LB213W) is the brand's most powerful gaming laptop, a dual-screen gaming powerhouse that packs top-notch specifications, with the additional promise of multitasking on the go.
The unique characteristic of the Zephyrus Duo lineup of gaming laptops is the dual-screen display – each screen can function independently but when combined, multiplies your productivity for work, play or stream.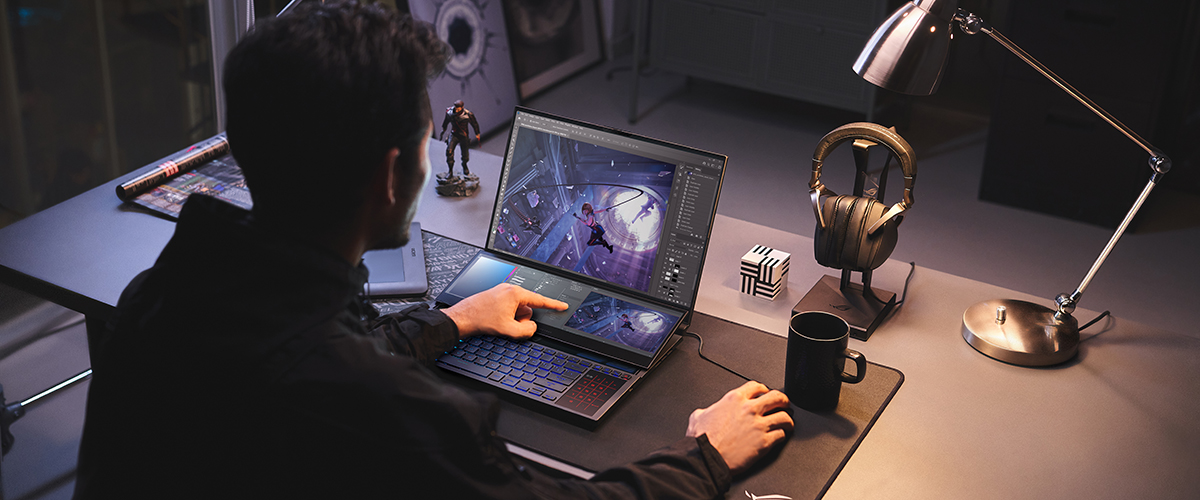 ---
ROG Nebula Dual Display
If you've used multi-screen setups on desktop machines before, you'll know how helpful it can be for letting you multitask efficiently. You can watch YouTube on one while gaming on another. Join a Zoom session, while taking notes on the next screen. Or watch the same multiplayer deathmatch from the perspective of multiple streamers. You get that with the Zephyrus Duo 16 along with the portability of a laptop, two big pluses in one package.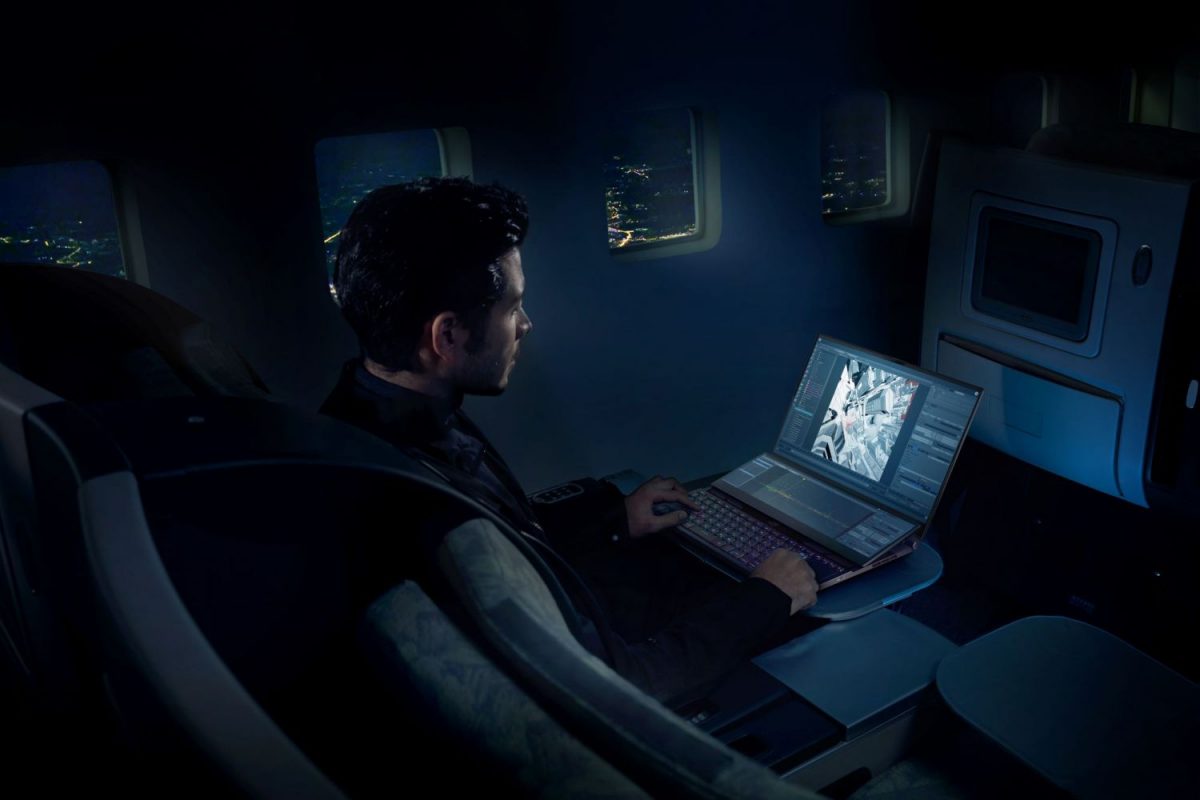 The IPS panels are ROG Nebula Display-certified. The certification means that the laptop has been tested to meet and exceed some standards, which include a 100% DCI-P3 colour gamut, 8-bit colour depth, and at least a brightness of 500 nits. It is Pantone Validated with Dolby Vision HDR support for games and movies, so you'll be able to enjoy colours as intended. With Adaptive Sync support, on-screen action will also stay smooth, consistent, and tear-free. Throw into the mix a three-millisecond response time, and the Zephyrus Duo 16 is more than well-equipped to offer colour-accurate and sharp visuals.
A common concern with long hours of use is eye strain, and the team has taken upon itself to address it. The Nebula Display has received TUV Certification for low blue light emissions and flicker reduction, such that your eye health is being taken care of.
But that isn't the only star of the show. There's a second option that users can go for: the all-new Dual Spec panel that seeks to combine ultra-high refresh rates and resolution. Exclusive only to ROG, it runs at either 1080p 240Hz or 4K 120Hz, which offers a fluid content-creation experience on top of gaming excellence, especially for FPS titles where every second counts.
The 14-1-inch secondary screen, the ROG ScreenPad Plus, provides a sharp 3840 x 1100 resolution and functions as a touchscreen, along with stylus support. When opened to its maximum range, the secondary screen reaches a 13-degree viewing angle and is designed to look like it's sitting flush with the main screen. The design is such that it also allows for better air intake, which helps cool the machine – a necessary feature for the top-end components used to power the machine.
---
Lean, Mean, And Most Powerful Beast
The Zephyrus Duo 16 is powered by the latest AMD Ryzen 9 6900HX Mobile Processor, one of the best AMD workhorses of its generation. The 8-core, 16-thread 20MB cache chip can even be boosted up to a fast 4.9GHz, so you'll never be held back in your games by the CPU.
For graphics, this beast has a dedicated NVIDIA GeForce RTX 3080 Ti Laptop GPU with 16GB of GDDR6 memory, which means it will be able to run any new games on Max or High settings – even for the foreseeable future.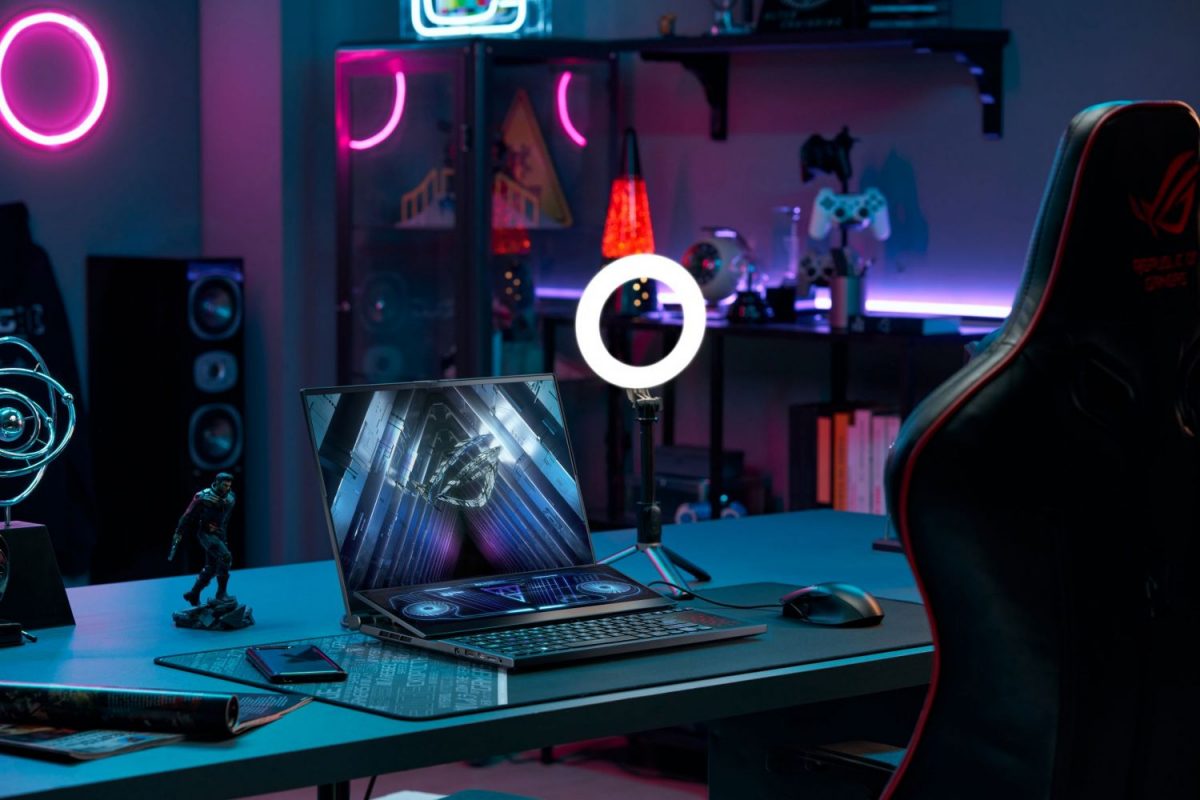 It can reach a total graphics power of 165W and, with access to ray tracing and DLSS, delivers high resolution and high frame rates in any game. The Zephyrus Duo 16 also includes a MUX switch that opens a direct channel between the display and graphics card, reducing latency and boosting performance by nine percent, which translates to smoother gameplay with minimal lag.
The laptop has plenty of memory with 64GB of DDR5 4800MHz RAM and a ton of storage with 4TB of PCIe 4.0 SSD as well. Expect fast load times and no bottlenecks from multiple tasks running. Incredibly, it squeezes all these into a smaller chassis than the previous year's model, measuring just 355 x 265.9 x 20.5mm, and tipping the scales at a respectable 2.5kg.
---
More Than Just Gaming
The sheer horsepower goes beyond the realm of gaming too. For GPU-intensive tasks like video editing or 3D rendering, the punch that the Zephyrus Duo 16 packs in will prove useful because of its reduced render and export times, in addition to a quicker processing speed. Coupled with its 4K resolution and rich colour gamut, the laptop offers an accurate viewing experience for creative work, especially when it comes to photo editing and visual design. The blend of gaming and content creation capabilities thus establishes it to be a powerful all-rounder, allowing users to not only play hard, but work hard as well.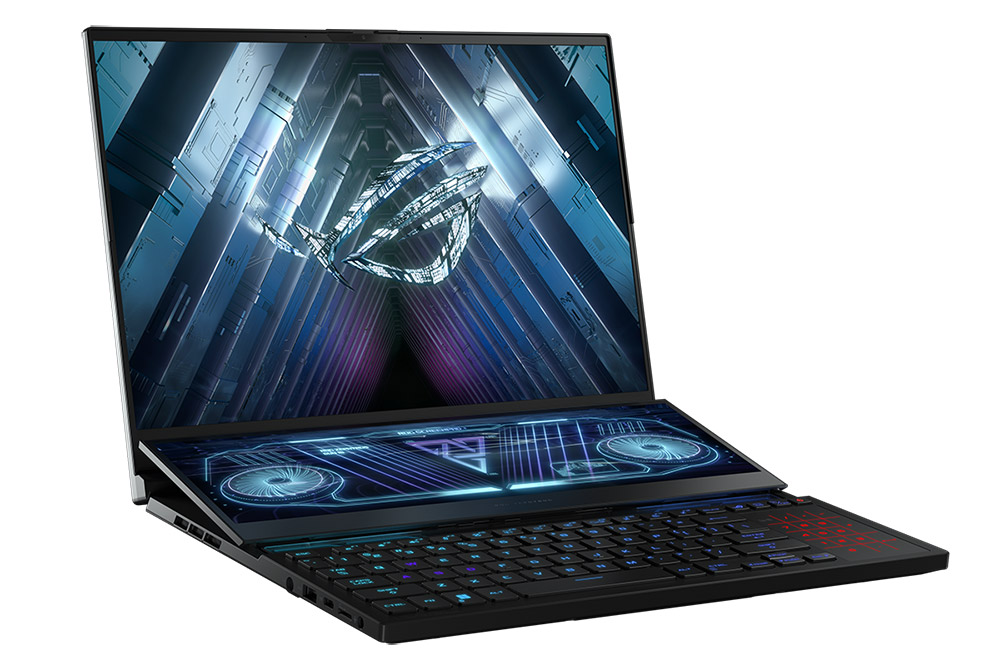 ---
Cooling
With all these powerful components onboard, one key requirement is superior cooling and among the many innovations used to improve the cooling system on the Zephyrus Duo 16, the stand out addition is the use of Thermal Grizzly Conductonaut Extreme liquid metal.
This indium and galium compound, unique to ROG laptops, results in 15 degree-cooler CPU temperatures compared to machines using standard thermal pastes. It is also unlikely to dry out, which means your laptop will stay cool for its lifetime.
Its 28.5mm airflow intake vents, which together with the lifted design of the secondary screen, helps to get up to 30 percent more airflow to cool the interior, so every component can function at its optimum state.
---
Battery, Speakers, Ports
The Zephyrus Duo 16 is powered by a 90Wh battery, with a USB Type-C charging capable of fast charging to 50 percent capacity in 30 minutes. It supports Wi-Fi 6E and comes with 2 x USB 3.2 Type-C, 2 x USB 3.2 Type-A, 1 x HDMI 2.1, 1 x 3.5mm audio jack, and 1 x MicroSD card reader.For audiovisual capabilities, the laptop offers six Dolby Atmos-capable speakers with dual force-cancelling woofers, an IR camera for seamless unlocking with Windows Hello support, and a three-microphone array with AI noise cancellation for clear online communication and crisp shotcalling.
---
While the introduction of more elements may not always be a step forward, ASUS has shown that it can work out with the right tools. The ROG Zephyrus Duo 16 is more than well-equipped to offer twice the productivity, elevating its dual-screen setup with a host of nifty features. You'll be able to get your own power productivity gaming laptop now at the ROG Experience Store Bugis, authorised retailers, and on ASUS Online Store for S$7,998.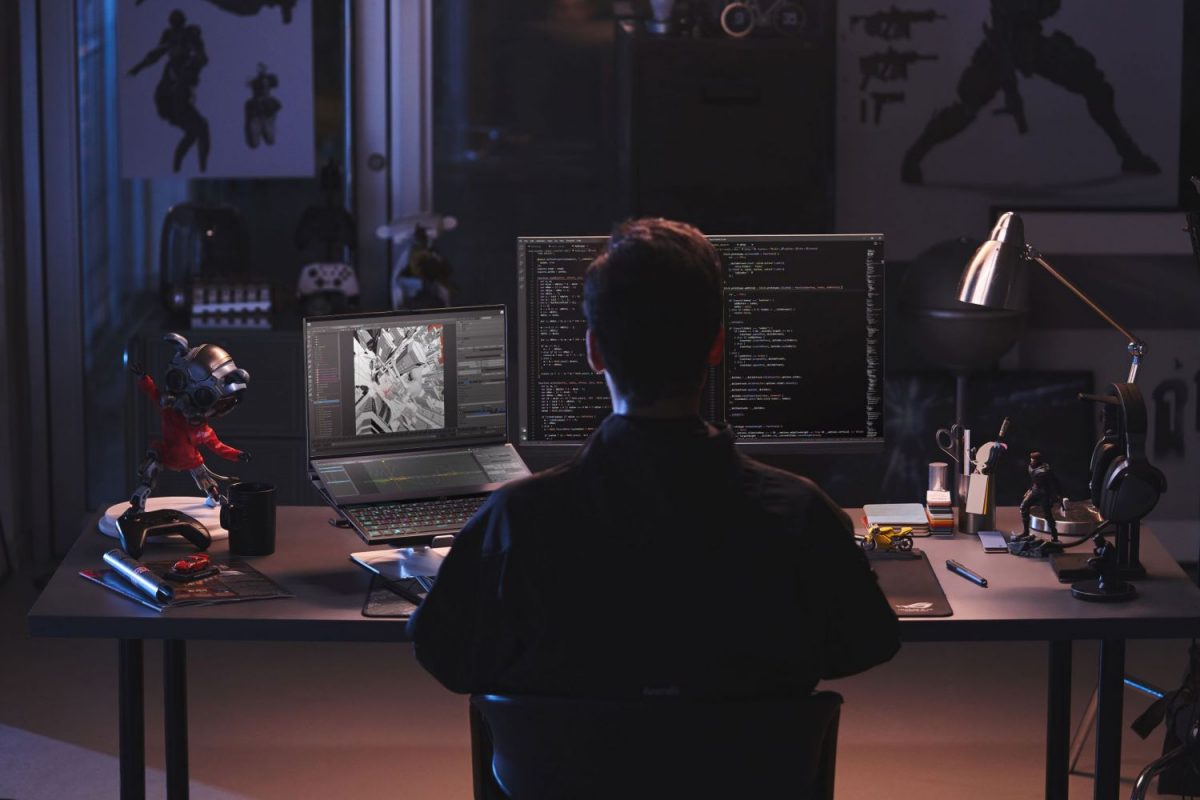 ---
This article is brought to you together with ASUS Singapore.