Star Wars fans looking to be among the first in the world to catch The Last Jedi when it opens here on Dec 13 will have to pay a little more for that privilege to visit the galaxy far far away.
With the new Star Wars movie approaching theatres in less than a month (17 days but who's counting), fans are spoilt for choice when it comes to the wide range of theatres and formats to choose from. We have Digital, 3D, ATMOS 3D, IMAX 3D, Gold Class, Premiere, Platinum, Diamond…. (Just kidding, the only thing that is diamond is what I have to buy my wife to make her watch Star Wars with me).
With advance sales now available (since 24 Nov 2017), we did a quick cost comparison amongst cinemas who offer the more 'atas' options that Star Wars fan boys can choose from.
The one common thing we found is that like the different skills of a Jedi, the cinemas are charging cinema goers different prices for the experience. While some offerings are at a premium, there are also bundle offers that Force Choke you into acceptance.
---
SHAW THEATRES
Beyond the usual digital offerings, Shaw Cinema also offers the IMAX 3D and Shaw Premier experience.
Shaw IMAX 3D (Available at Lido, Waterway Point, JCube)
The first show begins on 13 Dec at 6.15pm (Early Access Fan Screening). Going at $39 per ticket, the Early Access screening is S$16.50 higher than the usual cost of a IMAX 3D ticket (S$22.50).
Not only will you have bragging rights to be the first to see The Last Jedi in Singapore, the set also comes with a special popcorn combo with an exclusive collectible BB-8 popcorn tub (BB-8? That is sooo 2015, shouldn't it be BB-9E by now?) and a goodie bag. (That's where the additional S$16.50 goes to.)
For those who can afford to wait an excruciating 6 more hours, you can purchase the normal IMAX 3D ticket at S$22.50 for the 12.45am screening on 14 Dec.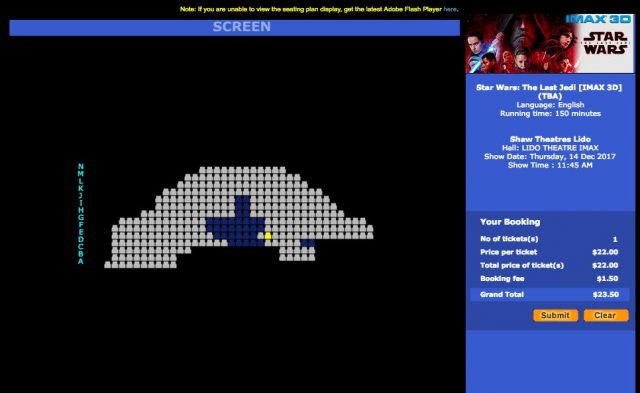 Shaw Premiere (NEX Cinema)
For those who prefer a more intimate session with the force, the Shaw Premiere cinema would be your cinema of choice. Located only at NEX, fans can choose from 2D or 3D formats of the movie at S$20 or S$25 respectively during off-peak sessions (Monday – Thursday except opening titles/ sneaks), or S$25 and S$30 during peak sessions (Friday – Sunday, Eve of Public Holidays).

Good job for staying on target Shaw.
---
CATHAY CINEPLEXES
For Cathay, fans have the option of Dolby ATMOS and Cathay Platinum.
Dolby ATMOS 3D (JEM)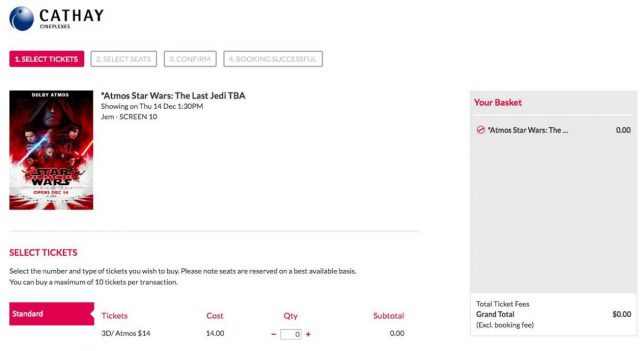 The first screening for Cathay ATMOS 3D is on 13 Dec at 9.10pm. Tickets are going at S$14. This is slightly more than Golden Village's Dolby ATMOS (S$10.50) and this is without the 3D option.
Cathay Platinum (Cineleisure, The Cathay and JEM)
For those wealthy smugglers who are willing to spend a bit more, Cathay's platinum option is available on 13 Dec at 9pm (across all the three cinemas). Tickets are going at S$38 a pop, which is $10 more than for current movies like Justice League ($28).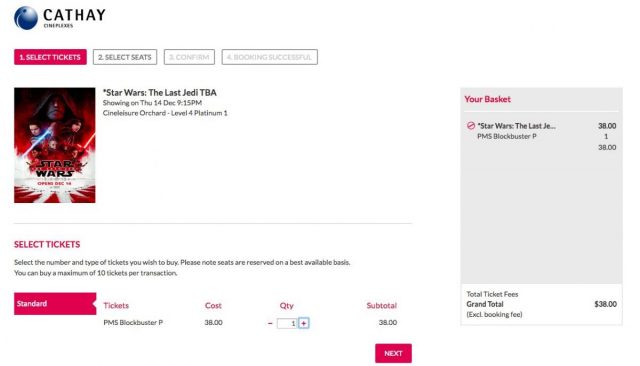 Surprisingly, this additional levy does not come with any additional goodies, such as drinks or popcorn set as indicated. However, we understand that Cathay Platinum does come with one drink, choice of popcorn, and one platter normally on selected days but that does not apply for blockbuster first week opening & sneaks.
With prices like this, I think most fans would prefer to opt for Shaw's early access screening. At least they are well fed, and have a little souvenir to bring home.
---
GOLDEN VILLAGE
Lastly, we have Golden Village aka the Mos Eisley Cantina. You know… That wretched hive of scum and villainy. Why? Unlike the other cinemas, GV has only two options for fans to buy in advance. They are offering the Star Wars Marathon and the Gold Class Dessert Set (yes, it is still a movie and not a name of a dessert). And the prices can probably buy you a smuggler to fly you to Alderaan.
Star Wars Marathon (Gold Class Katong, Gold Class Vivo City, Jurong Point and Plaza)
Available for those who have forgotten how Han died in The Force Awakens, this is the two film combo package for you. On 13 Dec, GV will be showing both The Force Awakens and The Last Jedi back to back, though we're not too sure if 2 movies count as a marathon though.
At the Katong and Vivo City cinemas, GV will be charging a whopping S$116 (members) / S$120 (non-members) per ticket for this marathon. Not only will you enjoy both movies, GV will also be throwing in a Lightsaber umbrella (Luke or Vader), a set of chicken wings and refillable popcorn (hmm no drinks though, so I'm guessing customers will be forking out more money for drinks).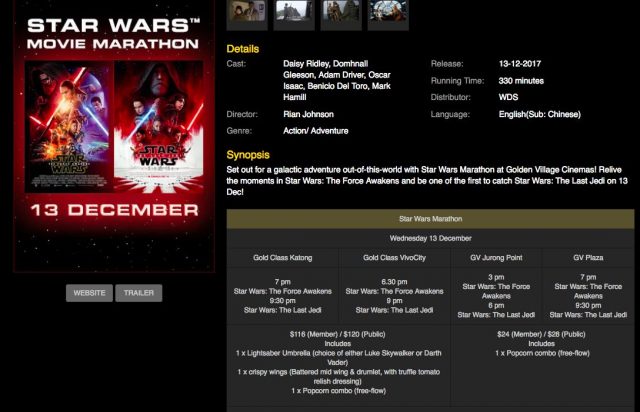 For those who do not have enough credits, they can opt for the cheaper alternative (read non-Gold Class) at Jurong Point and Plaza Singapura. Tickets are going for $24 (members) or $28 (non-members). Each ticket comes with refillable popcorn.
Gold Class Dessert Set (Gold Class Katong, Gold Class Suntec, Gold Class Vivo City)
Finally, Golden Village has the Gold Class Dessert Set. Besides watching the movie in Gold Class comfort, paying fans will get to enjoy an Intergalactic Dome Cake (Black Forest Cake with Ice Cream) and a Galaxy Ice Blend (which is described as 'a taste of red velvet cake and blue cookie monster'). How much would this set you back you ask? Why, a not-so-sweet price of S$60 (for members) or S$65 (for non-members).
That's right. There is no movie only option if you want to enjoy The Last Jedi in Gold Class glory. Golden Village Force bundles the food with the ticket, to get fans to pay more than twice the amount for being the first to watch the movie.
Naturally, they are not threatening to slice off your hand to make you buy a ticket, but this is price gouging at its worst. Pray that they don't alter the deal any further.
It is pretty clear that cinemas are doing their best to exploit cater to Star Wars fans here in Singapore. Though many fans will be thrilled with the various options available to them, I can't help but feel that majority of fans would prefer pre-purchasing tickets without the frills (especially if the frills cause the prices to be marked up so much more and aren't even special in the first place). After all, the dark side is seductive.
Based on the options that are available, the Shaw IMAX 3D option gives fans the best value for money. For S$22.50, fans would get to enjoy the Rian Johnson's new epic masterpiece in all its glory, without being charged for additional frills.
As the show's runtime is at 150mins, those who prefer a more comfortable setting might want to consider catching the show at Shaw Premiere, since they don't seem to be milking Star Wars fans.
But you better reserve those tickets fast! And May The Force Be With You.
Glenn loves traveling and is a huge fan of movies. In his spare time, he is constantly on the look out to add to his Star War collection of toys and memorabilia. He is also looking for more space to store these items as his office cubicle is now reaching full capacity.