As Kratos and Atreus gear up for their journey to the Nine Realms in God of War Ragnarök, the pair is also dropping by Singapore in the real world. From 9 to 13 November, the premises of Design Orchard will play host to character murals, large size standees, various fringe activities, and more in celebration of the game's launch on the PlayStation 5.
The pop-up event runs from 10am to 10pm daily, and is free for the public to visit. Even from the outside, the God of War theming is prominently displayed, starting from the staircase that has been transformed into a painted canvas of the game environment.
Past the steps are where character cutouts and murals greet visitors, with each featuring a different aesthetic. The one nearest to the stairs, for instance, pits the dynamic father-son duo against the terrifying force that is Thor, while the illustration next to it shows Kratos unleashing his rage. The highlight of the showcase, though, is the painted tarp that stretches across a grassy expanse, adding a unique touch to Kratos and Atreus' designs.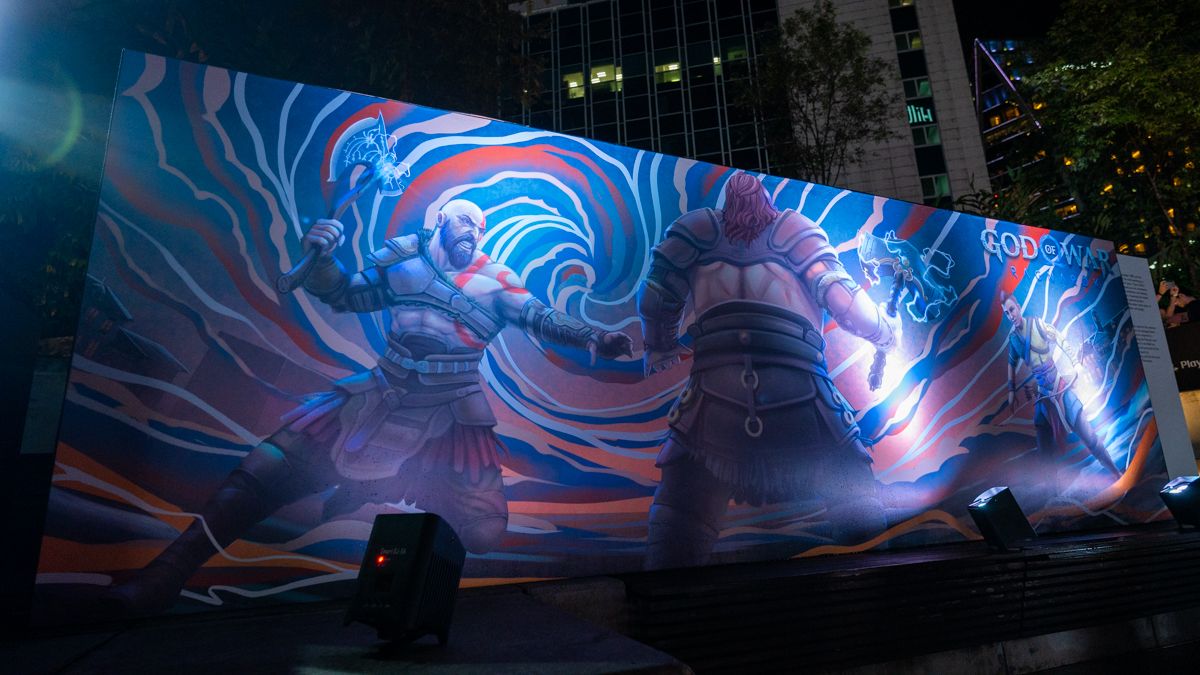 Head on inside, and more goodness awaits. The journey of Kratos and Atreus is chronicled through an artwork exhibition, which not only highlights stylish works from regional creators, but also offers a comprehensive rundown on the pair and their roles within the game universe. The walls, meanwhile, are lined with various character posters.
Amidst the indoor space stands a tall and mighty statue of Kratos, which comes with the ever-magnificent Leviathan Axe in hand. There's more to it than meets the eye, however — press down on the Jötnar head at the side, and his (its?) arm will swing about.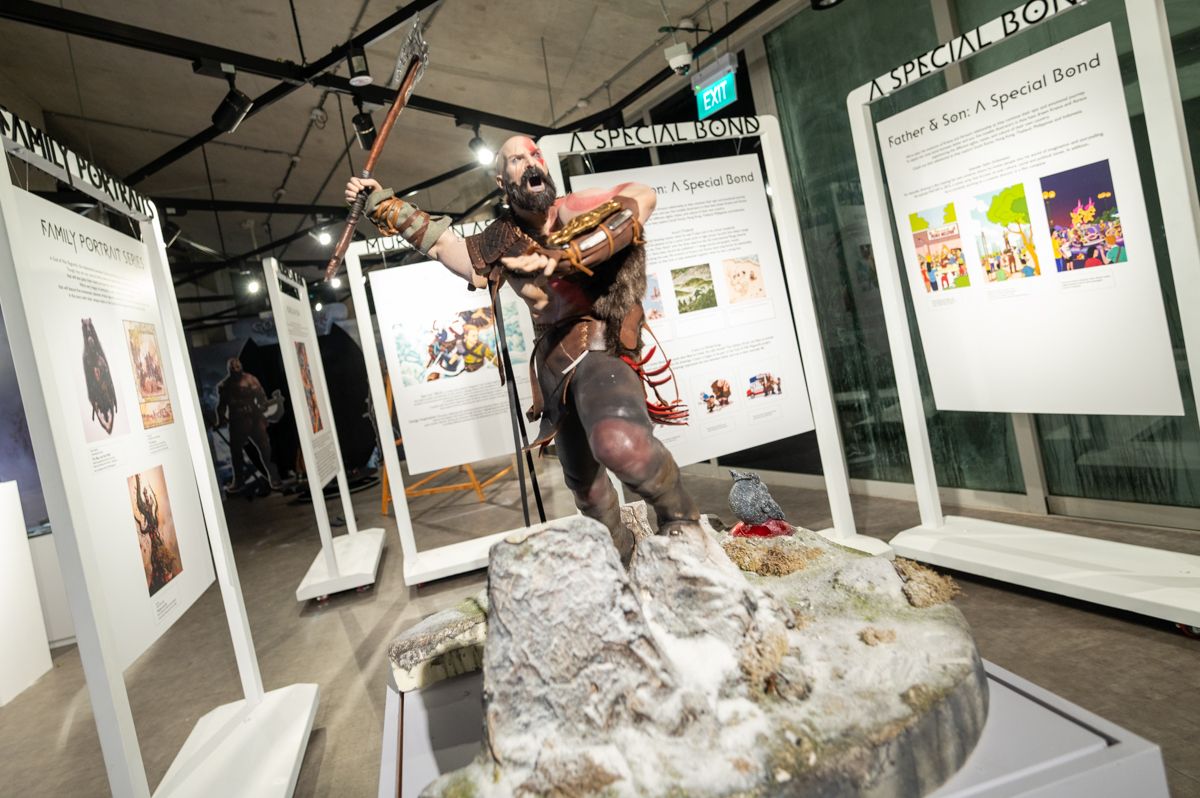 Accompanying the figure is a display of the divine God of War Ragnarök Jötnar Edition and the limited edition DualSense controller, the dream collection for any fan. Here it is in all its envy-inducing glory:
Visitors will also be able to get their hands on a cup of themed latte at Alchemist Coffee, featuring the game's iconic wolf and dog motif. Do note, though, that redemption is restricted to 50 cups per day, but there's a catch: you'll have to keep an eye out for the password on PlayStation Asia's social media channels, and recite it correctly in front of the staff to enjoy the caffeine boost.
If coffee isn't quite your cup of tea, there are also fringe activities to check out. Channel your inner Atreus and put your archery prowess to the test, become Kratos and other characters with sticker tattoos, or collect emoji stickers — the playing ground is always open for tryouts. Succeed at these challenges, and there are prizes to bring home, such as a sticker pack, a Leviathan Axe ice maker, a PS5 umbrella, a holding case, and even a handy PlayStation-themed backpack.
To cap off the experience, there will be merchandise available for purchase (at select retailers islandwide, from 9 Nov onwards), as well as a photo wall for photo-taking opportunities. New Era 9FORTY Caps, a #FR2 T-shirt, a Photo Phactory Coaster Set, and a pair of Talking Toes Socks are up for grabs, but PlayStation Asia presents another means of walking home with all items: 10 fan packs worth S$250 each to be given away. The closing date for that is on 13 November (@23:59hrs), the last day of the event, so remember to post up your entry before then. Details can be found on site.
To top it all off, there is a PlayStation Bottle daily giveaway at 7pm to the first 20 PlayStation Plus subscribers who flash their subscription via their PS mobile app.
With its predecessor's divine status in the gaming scene, it's only apt that God of War Ragnarök has gotten a launch event to call its own. The affair should prove enjoyable for both fans and casual visitors alike, and marks the perfect way for returning enthusiasts to revisit the Nine Realms. Now, if only the pop-up could stay for a longer time…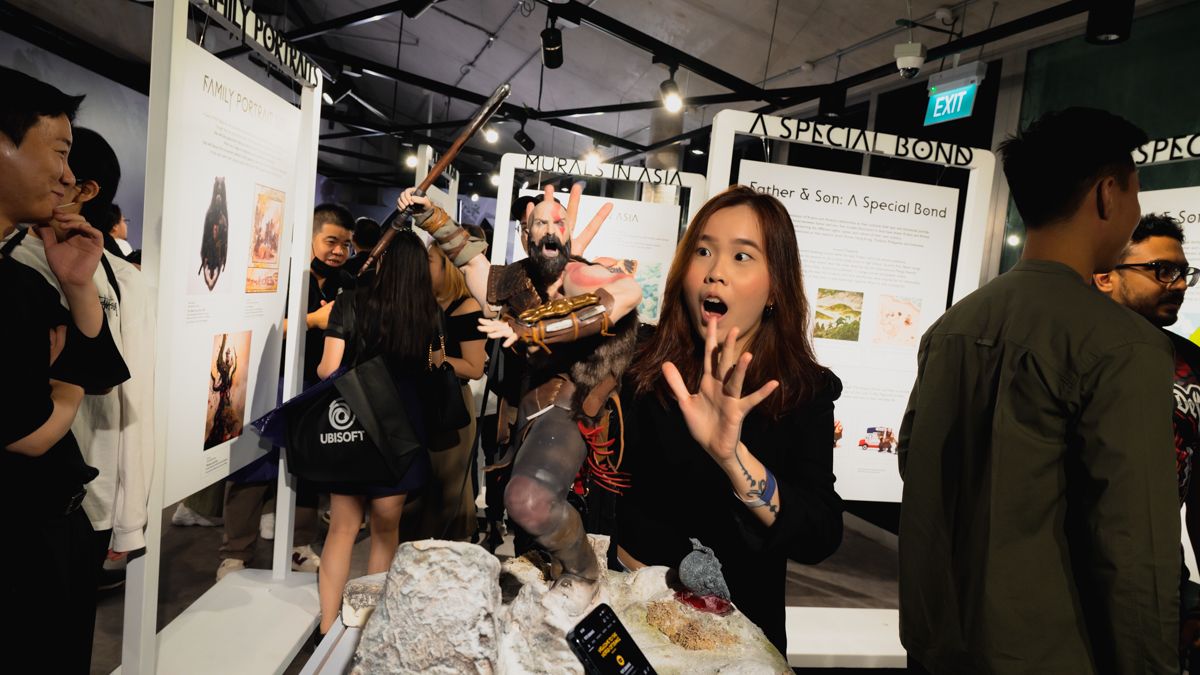 ---

Drop a Facebook comment below!