Gomu Gomu no… Fashion Statement! One Piece's Luffy is making a big splash as a brand new figure under Mighty Jaxx's CosmiQ line.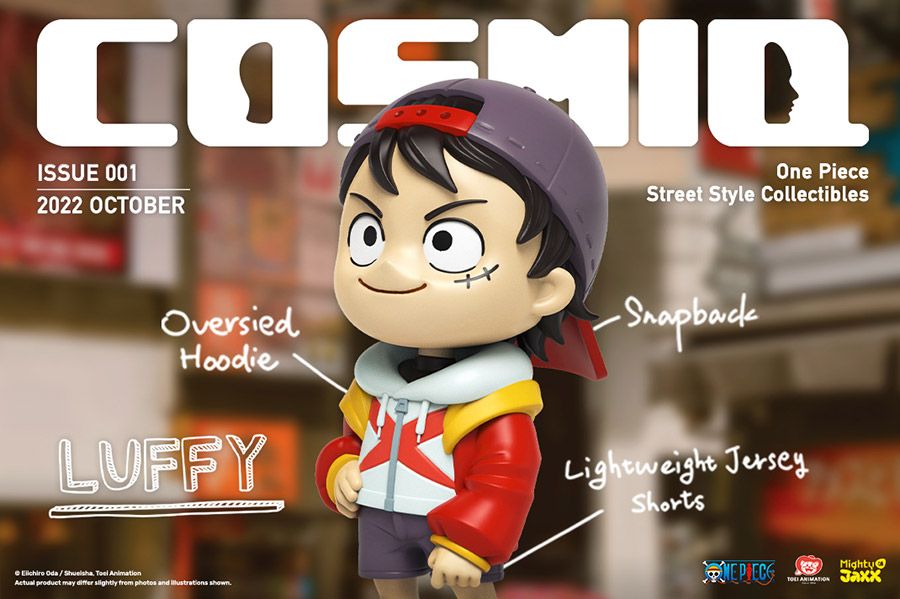 While Luffy has been featured before in Mighty Jaxx's collectibles, such as Freeny's Hidden Dissectibles: One Piece series and the XXRAY PLUS: Luffy, they've always stuck closely to his appearance from the anime and manga.
However, the limited edition CosmiQ x One Piece: Luffy seems to have received a fashion upgrade. Standing at 8 inches tall, the vinyl figure flaunts a stylish snapback and matching lightweight jersey shorts. More interestingly, the captain of the Strawhat Pirates is dressed in an oversized hoodie which sports a design that resembles his notable chest scar from the New World Saga. With such trendy streetwear, this Luffy wouldn't look out-of-place in modern-day Shibuya.
The CosmiQ x One Piece: Luffy figure made its debut at New York Comic Con, which takes place from 6 to 9 October 2022. It is available for order on the Mighty Jaxx website from 8 October 2022, 9pm (GMT+8) at US$169.
Sales of this item is limited to Hong Kong, Macau, Malaysia, Philippines, Singapore, Taiwan, Thailand, United States of America, Canada, Australia, New Zealand, South Africa and China.