The main Octopath Traveler titles have grown to become JPRG (Japanese role-playing game) darlings in their own right, but things are just getting started. Starting 7 December 2023, Octopath Traveler: Champions of the Continent will bring the essence of the original – glorious pixel graphics, majestic music, a rich fantasy world, and all – to smartphone devices, with pre-registration now open for Southeast Asia regions.
As a free-to-play mobile game, Singapore, Thailand, Malaysia, Philippines, and Indonesia gamers can enjoy an enthralling ride, anywhere and anytime, at no additional cost. Set in the continent of Orsterra, the adventure whisks players away to a world depicted through HD-2D pixel graphics, where three power-imbued rings have fallen into the hands of three evil doers. 
As the once-peaceful territory continues to be eroded by darkness, players, as the "chosen one of the rings", will embark on a journey to defeat the evil forces together with the newfound allies encountered along the way. The rule of eights run the show here – where the original Octopath Traveler centred around eight protagonists, Champions of the Continent features eight bosses. There are also eight professions to choose from: Swordsman, Dancer, Merchant, Scholar, Apothecary, Thief, Hunter, and Priest.
Each job has their own unique stats and characteristics, which factors into one's play style. The exclusive battle system in this mobile version allows for a team of up to eight party members, with action speeds being the cornerstone of its turned-based gameplay. Faster action speed holds the key to victory, while attack and defense commands will end a character's move.
To give players a head start in the game, every pre-registration milestone comes with some rewards in tow. The full list of tiered goodies is as follows:  
50,000 achieved – Rubies x50, Leaves x10,000
100,000 achieved – Rubies x60, Gold Guidestone x10
200,000 achieved – Rubies x90, Tasty Experience Nut (L) x10
300,000 achieved – Rubies x120, Traveler's Sacred Seal x10
500,000 achieved – Rubies x300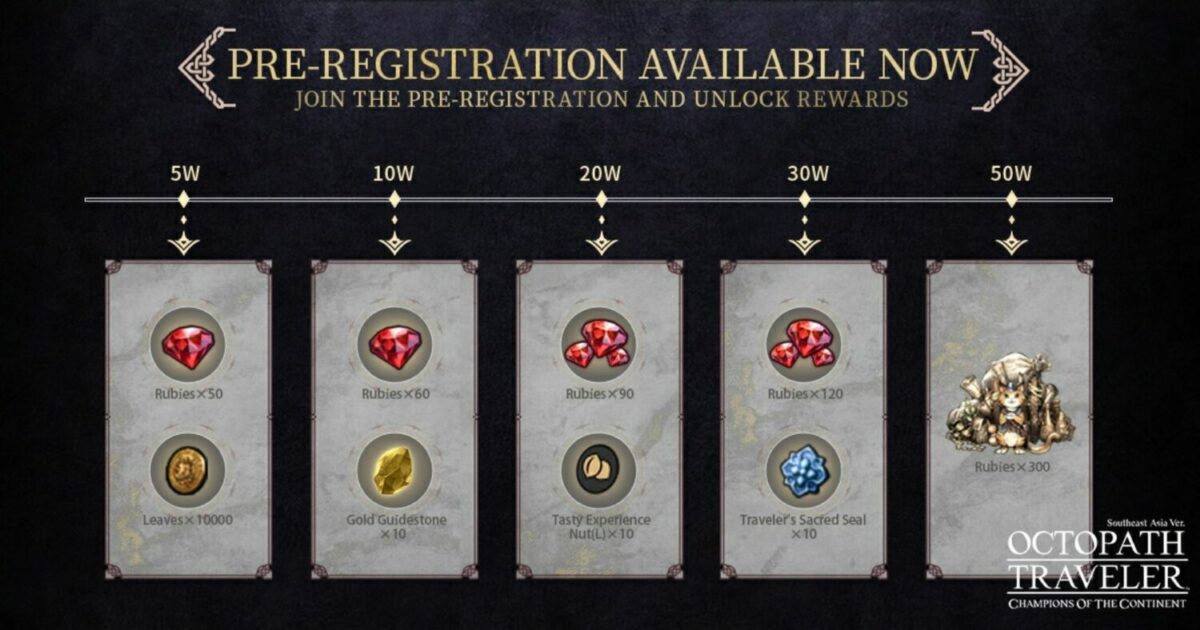 Other notable features in Octopath Traveler: Champions of the Continent include three main plotlines, a vast map, an NPC interaction system, and a star-studded voice-acting cast. Story wise, players can choose to start their journey with the "Wealth", "Fame", or "Power" chapters, with a new chapter set to release approximately every month. This will culminate into the final chapter for each of the eight professions, slated to drop two years after the game first launches. There won't be any time-limited content as well, allowing the adventure to be enjoyed at one's own pace. 
The world, meanwhile, encourages exploration. Scattered across the vast map are hidden treasure chests guarded by monster bosses that drop Gold and various materials upon defeat. With the loot, players can level up characters, craft equipment, and strengthen their brigade.
And speaking of party members, multiple NPCs will be available for interaction, from inquiring them for more information to hiring them to participate in battles. Do note, though, that actions have consequences – bargaining appears as an option when purchasing items or hiring them as companions, but should it fail, your relationship with the character will be damaged.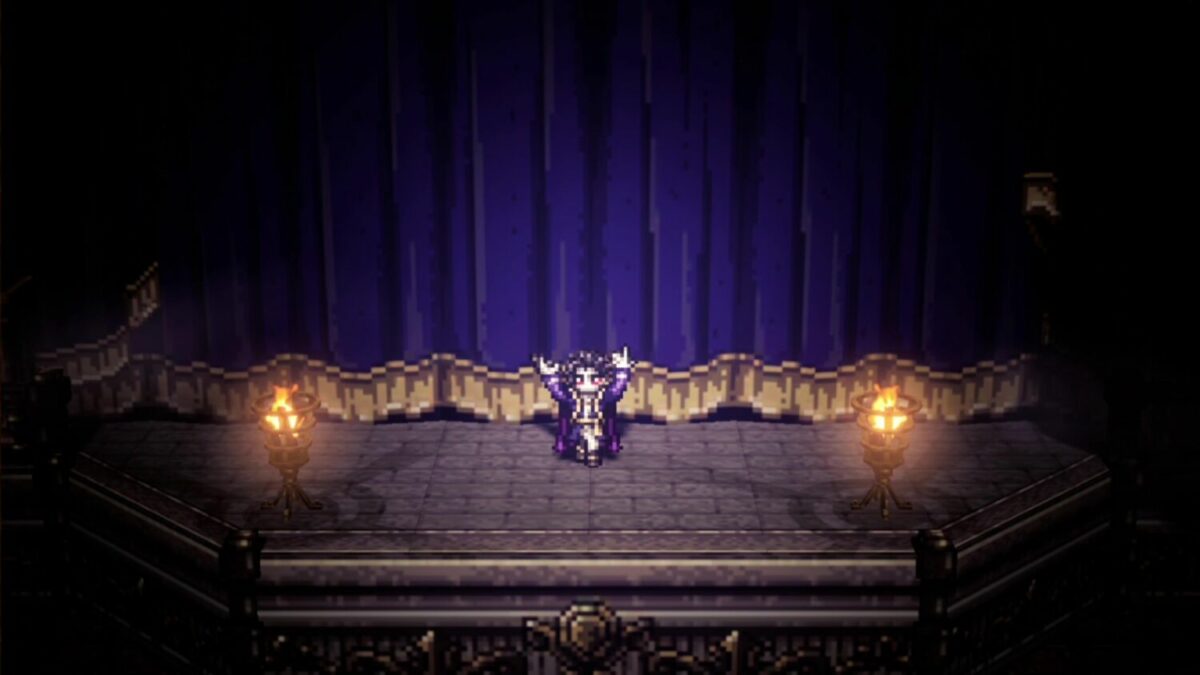 Breathing life into these characters are some of the most notable names in the Japanese voice-acting industry. Expect to hear the familiar voices of Aoi Yuki (Madoka Kaname in Puella Magi Madoka Magica), Yoshitsugu Matsuoka (Kirito in Sword Art Online, Inosuke Hashibira in Kimetsu no Yaiba: Demon Slayer), Kenjiro Tsuda (Nanami Kento in Jujutsu Kaisen), Yuki Kaji (Eren Jaeger in Attack on Titan), Rie Takahashi (Ai Hoshino in Oshi no Ko, Hu Tao in Genshin Impact), and more. 
Octopath Traveler: Champions of the Continent will be available on the iOS App Store, Google Play Store, and the official website starting 7 December. Pre-registration is now open till launch, with participants eligible for the rewards just by registering on any of the platforms.