Our beloved Italian plumber is back and this time with the help of his brother Luigi. Super Mario has gotten his very own line of LEGO sets last year which included many familiar characters except for one significant green lad. This time around, Luigi is joining his twin in his adventures with LEGO's new rollout of the 71387 Adventures with Luigi Starter Course along with several expansion packs to extend the fun.
Luigi may now have his own LEGO set but that doesn't mean he won't be needing the help of his trusty older brother in his adventures. Designed to encourage teamwork, the Luigi LEGO sets are created to take down each enemy and obstacles with the help of both brothers in exchange for more points.
Similar to the previous Super Mario LEGO sets, these upcoming ones require creativity in the brick building when setting up your own LEGO Luigi Land with the Starter Course and expansion pack. We were fortunate enough to receive the LEGO 71389 Lakitu Sky World Expansion Set that offered a different experience when piecing together the whole course.
If the boxes does not come with an instruction booklet, it is no problem at all. The building process is also supported by the LEGO Super Mario app that not only help players piece together the items but also gives them ideas on how to build their courses for optimal fun.
Much like the Super Mario piece, points can be earned by having Luigi defeat the enemies by knocking them over or by jumping repeatedly on them. Players will also get extra points when both Mario and Luigi team up together to overcome the obstacles such as trying to topple Bowser off the tower and Lakitu off his cloud.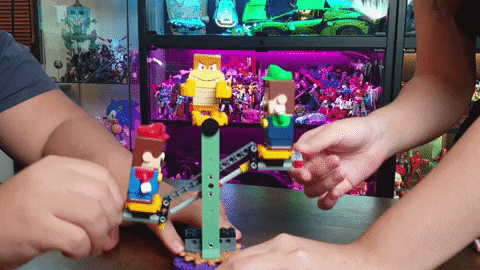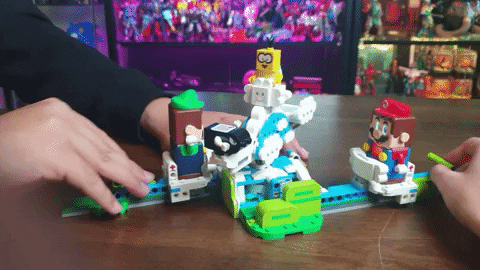 Points will be reflected on both figurines' LCD screen as well as in-app which the toys are linked to via Bluetooth. Players may also seek help from Yoshi by having both Luigi and Mario jump on its code to give them the extra hand when dealing with the enemies they encounter throughout the course. You can even jump onto the "?" blocks to earn mystery rewards such as additional game time to further collect points in the process.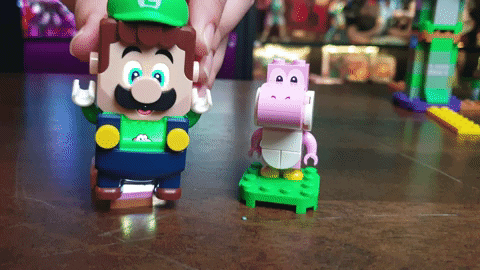 Overall, this LEGO Luigi series is a great extension to the fun and interactive world that LEGO Super Mario has provided with its set. Moreover, due to its need of collaboration in building and playing, family and friends can also join and share the joy of this new collection. With the popularity of the previous Super Mario sets, fans of the 80's game are certainly more than ready to get their hands on these up and coming sets featuring the other half of the loved plumber.
Here's the complete product line-up to look out for:
71388 Boss Sumo Bro Topple Tower Expansion Set (S$49.90)
71389 Lakitu Sky World Expansion Set (S$64.90)
71390 Reznor Knockdown Expansion Set (S$109.90)
71392 Frog Mario Power-Up Pack (S$14.90)
71393 Bee Mario Power-Up Pack (S$14.90)
71394 Character Packs – Series 3 (10 Collectible Character Packs including Galoomba, Parachute Bob-omb, Crowbar, Boo, Amp, Torpedo Ted, Bony Beetle, 1-Up Mushroom, Scuttlebug and Swoop) (S$6.50 each)
All packs and sets from this line will launch globally on 1 August 2021 and can be purchased at LEGO Certified Stores, Toys 'R' Us, and the official LEGO Store on Lazada, Shopee and Amazon.