Today is the start of Huawei's Y6 Pro S$54 promotion, especially for senior citizens aged 50 and above, and when you have a promotion this good there is bound to be a huge crowd.
Unless it also draws in security and policemen in combat gear.
Indeed, on the morning of July 26, photos of long queues surfaced on the internet, with some commenting that the first in line have been queueing since the night before.
We can't say we are surprised at the turnout. Does no one remember the long queues for McDonald's Hello Kitty toys a few years back?
Well, we all saw this coming but Huawei clearly did not, having prepared only a set number of the Huawei Y6 Pro per outlet. According to comments online, the number of sets prepared ranged from 10 to 40 per store. What truly splendid foresight on Huawei's part.
Stocks for the Y6 Pro quickly ran out across multiple outlets in Singapore, disappointing many Singaporeans who took time out of their busy day to queue for the phone.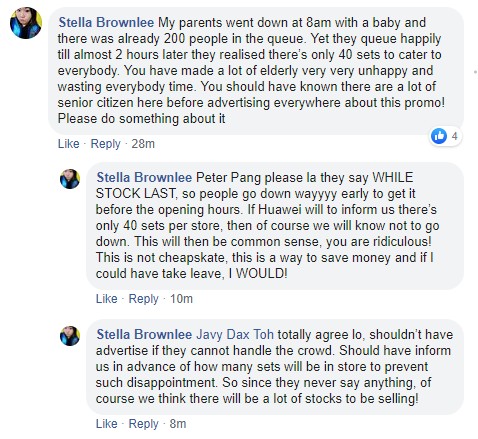 According to a store assistant that spoke with Geek Culture, a lot of elderly folks came to queue at their Huawei outlet early in the morning, only to find out at 10am that only 30 sets of the Y6 Pro were allocated to the store, which was sold out in minutes. Needless to say, the crowd was not happy at that revelation. The police were eventually called in to manage the situation.
Some even took to Huawei's Facebook to express their displeasure, citing how their parents spent the whole morning queueing for the phone only to go home empty-handed. While others questioned how the stores could have sold out so quickly, despite only opening at 10am.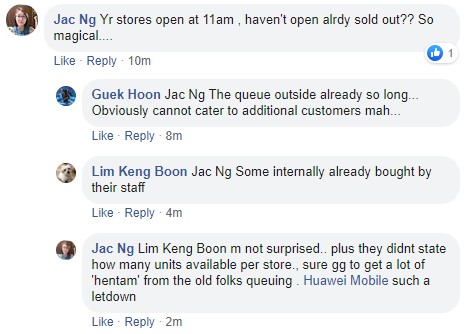 While others tried to give suggestions for how Huawei could remedy the situation.
We guess the lesson here for any business hoping to run a promotion is to always be prepared for Singaporeans. They are always more than willing to queue if it means they get that sweet, sweet deal.
Oh, and also sometimes it might be better to just shop on Lazada.