Unless you live in Jakarta, you're probably not able to play Pokémon GO in Southeast Asia.
Unless you're cheating, and that's a no no.
But we get it. You want to learn the ropes of the game, to get a hang of it before it officially lands. If you're the type of person who has basically restarted Fallout Shelter several times because you've "mastered" the first few hours after playing dozens more to maximise your resources, here's how to do the same with Nintendo's newest Augmented Reality game, minus the hassles of going out in the real world to search for virtual Pokemon characters.
That's right. We have the set-up and installation guide on how to play Pokémon GO on your PC.
After all, there is something so much better with playing this latest craze among gamers worldwide, without the need to leave home. As long as you have specific Windows series on your PC, along with a few apps available for download, you should be able to start experiencing the excitement that this game offers. Start off a beta account if you will, learn the steps and when the game finally launches, start a new account and play on, with a vast amount of experience already invested.
BlueStacks offers the convenience of playing this brand new game, and perhaps get some smart tricks to make the most out of your gaming experience.
One word of caution, which we have to remind you again – the use of this app violates some of the terms and policies by developer Niantic. So, you will have to play the game with BlueStacks at your own risk, since some consequences involved are being soft-banned or inability to play for 30 to 60 minutes, as well as permanently banning of your player account. Which =is why we don't recommend that you start off with your usual gaming account, and treat this as a trial.
And if you are ready to go ahead and proceed to playing the game on your PC, just keep in mind that you are responsible for your own decisions to do so.
Play Pokemon GO using Your PC: How to Get Started
Before you can start downloading the necessary apps for this game for your Android, you need to use a PC equipped with certain versions of Windows including 7, 8, 8.1 or 10. Then, you need the BlueStacks app, which will first require rooting by using KingRoot. This way, you can have root access that will give you a chance to make the most out of this app.
The following are among the different apps you should download and install, which could allow you to start playing Pokemon GO on your PC.
To initiate the download of the FakeGPS app, you need to check DropAPK, and go to the link that states Direct Download APK. When you start the downloading of this app, you must keep in mind to remove all popups. Then, you need to click on the generated link upon choosing the option Create Download Link.
For a much better experience in using the app, it is recommended to opt for the paid version (though the free version works). Otherwise, your PC may be exposed to malware virus, and some ads that tend to pop up the moment you begin the downloading process. If your PC does not have any protection from malware, then the virus may only cause some problems to your PC.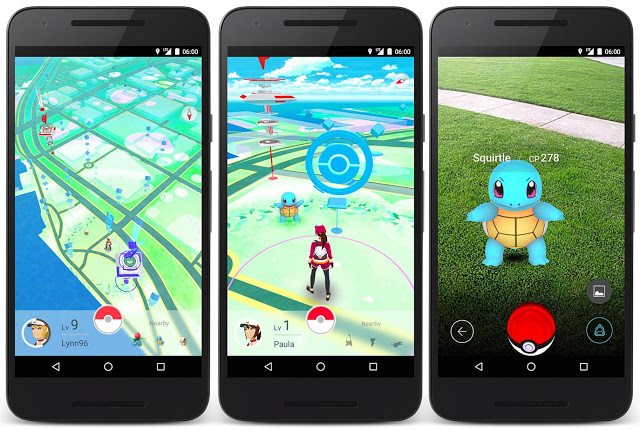 How to Install the Android Apps
Be sure to complete the downloading of the apps needed, followed by rooting the BlueStacks APK to install other apps needed.
Open the downloaded BlueStacks APK and install KingRoot. This may be done by clicking on the app icon found on the left side of the screen, which should enable you to run and install this rooting tool.
Setup the Lucky Patcher app.
Install FakeGPS, but you will need to use the Lucky Patcher APK to do this. Look at the bottom of the screen and click the Rebuild & Install button to find the app. Next, you will need to enter these sections: SD card > Windows > followed by the Documents folder. To start installing FakeGPS, just click Install as a System App.
In some cases, there may be a need to use another folder to move APKs, which will allow you to access them easily through Lucky Patcher. This is necessary if an error message appears, which states that a particular folder is unable to be read. One tip to move APKs is by using Explorer, and you can move apps into the Sample Pictures from the Downloads folder. After doing this method, you can restart the BlueStacks app manually once you click No to the option that says Reboot and Apply Any Changes.
If the FakeGPs has been successfully installed, and you are unable to locate it in the apps drawer, what you can do is to launch the APK using Lucky Patcher. Search at the bottom, then use Filters and click the Apply button after you have selected the System App (where you can find the FakeGPS). Go through the list of apps and select FakeGPS, then click Launch App. You will also have to select the Expert Mode on the Settings section.
The Developer Options Tool APK is useful when there is an error that continues to appear even after you have successfully performed the above steps. Simply open this APK after downloading it and turn Off the settings. Then, you will have to set the mode into High Accuracy, which you should be able to do so upon going to the Settings and Location App in BlueStacks. Once you have completed these steps, you can start the installation of the Pokemon GO APK.
Tips to Play Pokémon GO with BlueStacks
Install the Pokémon GO app and sign in to your other/non main Google account. Once you have opened the app, you can start choosing your preferred character and do some customizations to it. Keep the AR setting turned off, so you can see the character in a virtual world using the camera on your device. Whenever you have to open FakeGPS, just go to Lucky Patcher and follow the steps performed previously. However, it is not advisable to jump far distances when you go to various locations (like being in Bishan one moment, and deciding to be in Jurong East the next), since you may run the risk of getting your account banned for 30 minutes to an hour.
If you need more resources, check out this link to Bluestacks.
---

Drop a Facebook comment below!