We're getting closer to consumerist heaven and Hasbro is helping us spend a bit more for our loved ones this season.
Dubbed as the Hasbro Christmas Toyland, the site features autoplay music reminiscent of websites from the past. Who makes websites with autoplay music these days, really?!
Jokes aside, this site is perfect for the clueless relative that has no idea what are the trends and what to get their loved ones. The premise is simple – plug in gender, age, preference, price and voila! Instant gift recommendation!
I tried it with my first combination and not being gender specific and cos I've got BIG MONEY, why not spoil myself with a new NERF gun and this is what I got –
Not bad.
So let's move on to my favourite Star Wars line. Wonder what Hasbro has up their sleeves for older kids like myself.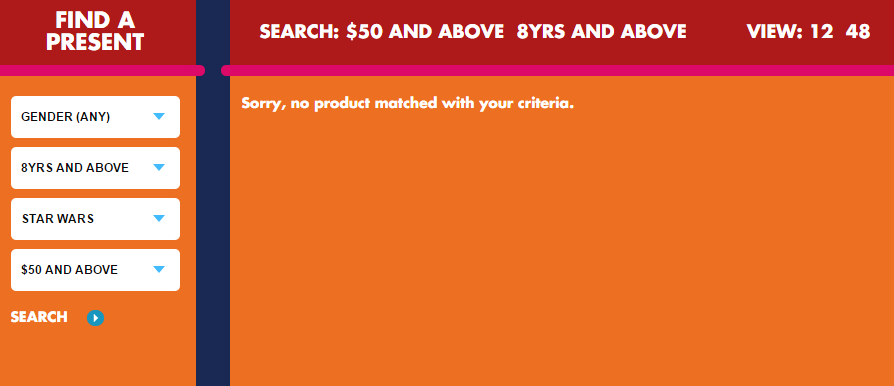 OMG NOTHING! Let me make myself younger than I already am..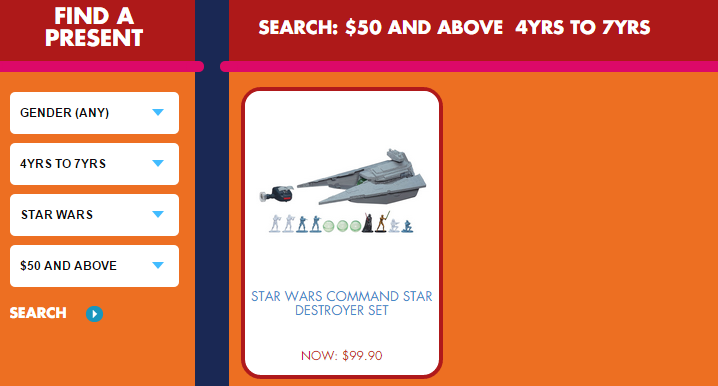 IS THIS A SUBTLE HINT HASBRO?!
Unfortunately, the only Star Wars that I would be looking forward to is the larger Black Series Boba Fett or Sandtrooper which I've yet to see in stores.
Nice attempt and maybe Hasbro could work on helping me generate a wishlist that I can send out for office Secret Santas. That would be soooo useful! Looking forward to 2015's version!
Gerald currently straddles between his love of video games and board gaming. There's nothing that interests him more than trying out the newest and fanciest gadget in town as well. He dreams of publishing a board game sometime in the future!
---

Drop a Facebook comment below!

---