Who would have imagined that Brisbane, Queensland would prove to be a mecca when it comes to all things geeky? Aside from hosting the largest Marvel Cinematic Universe art exhibit in the world, it is also home to four must see destinations if you love your games and video games.
In no particular order, we present to you 4 Geek Comic and Gaming Destinations in Brisbane.
---
Netherworld Arcade
From the outside, Netherworld Arcade looks just like any other pub. But step through the doors, and you'll notice that something's a little different. There are a few brightly lit pinball machines lined up against the back wall. The chalkboards hanging on the walls list beer, cocktails…and high scores?
It is only when you get further in, through another door and into the back rooms, that you'll realise Netherworld Arcade is a real haven for retro gaming.
It's stuffed to the gills with machines dating from the 70s until now: Pinball machines, old arcade games (Pac Man! Donkey Kong! Space Invaders!) and even an ancient-looking pair of Daytona racing machines. Each costs $1 to play, and there's a different free-to-play game every week.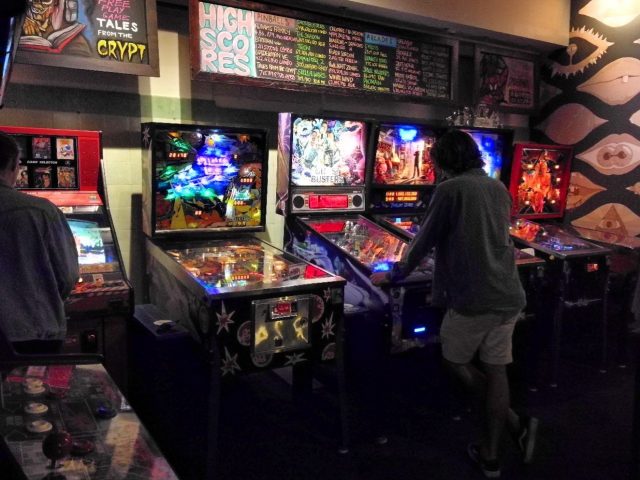 If you're not an arcade fan, don't worry. There are shelves full of board games, as well an area set up for you to try out old consoles like the Sega Mega Drive, Atari and SNES.
On top of being a top-notch place to get your gaming fix, you can get awesome F&B here as well. The bar has 24 beers on tap, including 14 from around the region. There are also a couple of exclusive brews, such as the Netherworld Golem and the Netherworld Kobold.
The food is also pretty kickass, and surprisingly… hispter. It's vegan-friendly, and the menu has American and Japanese influences. I tried the Manticore (A$16), a Persian-inspired bowl with quinoa, falafel, hummus and flatbread. It's definitely one of the better things I've eaten in a pub.
If you're in Brisbane, Netherworld Arcade is definitely a place you'd want to check out. Even if you aren't a retro game fan, the atmosphere and food is too good to miss.
Address:
186 Brunswick Street, Fortitude Valley
Opening hours:
Monday – Closed
Tuesday – Midday to 11pm
Wednesday – Midday to 11pm
Thursday – Midday to 12am
Friday – Midday to 1am
Saturday – Midday to 1am
Sunday – Midday to 11pm
---
Guf Brisbane
Guf Brisbane has something for everyone.
There's a spacious card gaming area, which has hosted tournaments of just under 100 people. To the side is a private room with a long conference table, for druids and paladins to conduct their D&D sessions.
If you're a gamer of the digital variety, don't fret. There are 30 gaming PCs, as well as a private PC room for when you and your friends want to yell at each other in peace. For console gamers, there's a section with wall-mounted screens where you can hang out and play.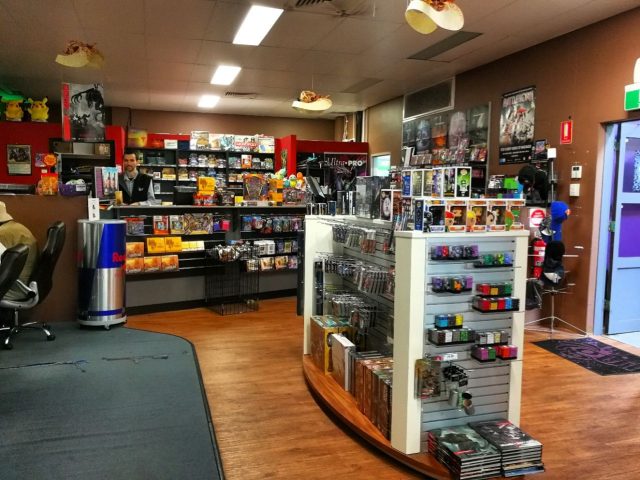 Almost every night, there is some sort of meetup for either Magic, Pokemon or Yu-Gi-Oh card players to come and test their mettle. The shop hosts pre-release events for Magic as well.
If you're looking to add to your collection, Guf has got you covered. Behind the counter is a massive wall of booster packs for a variety of games. Aside from the usual sleeves, albums and deck boxes, there's also a whole display case full of loose Magic cards, each priced individually.
(If you look carefully, you can spot gaming chairs by Singapore's very own Secretlab in the PC gaming area too!)
This particular outlet has been around for three years, and it's the only one in Brisbane. The rest of the Guf outlets are around the Melbourne region.
Address:
279 – 281 Brunswick Street Mall, Fortitude Valley
Opening hours:
10am to 11pm every day
---
Warhammer – Brisbane
Warhammer in Brisbane is a tidy little workshop, with miniatures and paint supplies lining every inch of its walls.
It's not a big place, but it exudes a warm, cosy, casual vibe. When we visited during lunch, people were dropping by, working on their pieces and chatting — it seemed more like a place for friends to hang out, than a shop.
This probably reflects the personality of its owner and Warhammer evangelist, Alistair, who's been in charge of the shop for two years.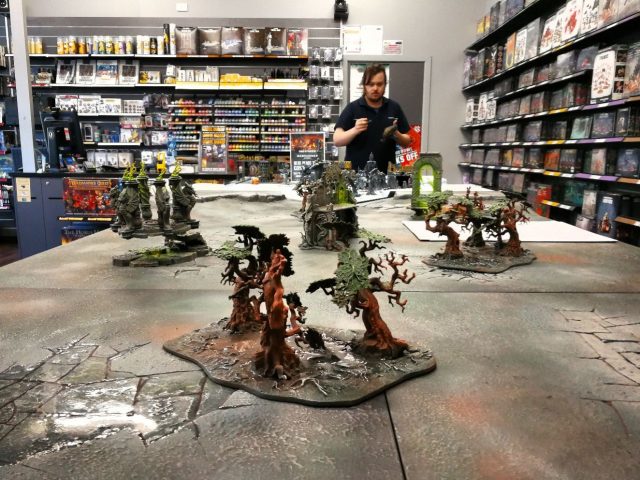 His boundless enthusiasm for Warhammer is very infectious, and if he's free when you drop by, he'll be more than happy to spend an hour or two teaching you the basics of Warhammer — how the game works, how to paint, and how to get started building your very own army.
Aside from a painting area, there are also a couple of tables for people to game on. There are organised events every Friday and Saturday, and more casual meetups during the rest of the week.
Address:
Shop 6, 420 Queen Street
Opening hours:
Monday – Closed
Tuesday – 11am to 6pm
Wednesday – 11am to 6pm
Thursday – 11am to 6pm
Friday – 11am to 8.30pm
Saturday – 10am to 5pm
Sunday – Closed
---
Comics Etc
At Comics Etc, it's really comics everywhere.
There are figurines perched on rails hanging from the ceiling, there are posters on the walls, there's a giant Deadpool bust and signboards pointing to Mount Doom and King's Landing. If you look out a glass door onto the fire escape, there's even a Batman mural on the wall outside.
Comic Etc's collection is just as impressive as its decor. Against one wall, there are bins with newer issues painstakingly alphebetized, with back issues in the drawers below. Other shelves have comic books tagged for sale. It's not just English comics either; there's a whole section dedicated to manga.
Aside from comics, the shop also sells a whole bunch of comic-book related memorabilias, from the usual figurines and posters to slightly more oddball objects like steering wheel covers.
Address:
81 Elizabeth Street
Opening hours:
Monday – 10am to 5.30pm
Tuesday – 10am to 5.30pm
Wednesday – 10am to 6pm
Thursday – 9am to 6pm
Friday – 9am to 8pm
Saturday – 9am to 5pm
Sunday – 10am to 4pm
Lisabel is a former tech journalist who loves mechanical keyboards, sneakers, capoeira and cheesy puns. She has dreams of being the next Masterchef, but so far all she has produced is a bunch of Play-Doh pasta.
---

Drop a Facebook comment below!