In the market for performance cars, you're spoilt for choice. Almost every major car maker has something that will get your adrenaline flowing in a very short amount of time. Conventional wisdom says if you're spending a lot of dough on a set of wheels, you'd want people to notice it, so manufacturers typically dress their performance cars with flashy bits and up the decibel level to the Irritating setting. That way, you can effortlessly turn heads with your latest fiscal injection as you zip around town.
But driving a fancy car is becoming as socially acceptable as openly discussing your recent bonus. Unless you don't mind the scrutiny, what can you get to satisfy your need for speed without inviting too much attention?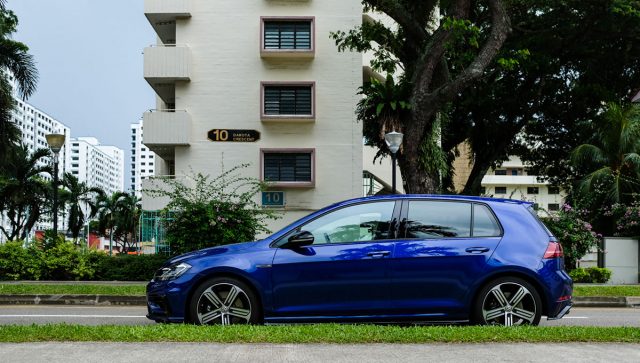 To answer that question, we need to understand how first impressions about car ownership work. If you asked me what car I drive and I answered "I have a Mercedes," you'd probably think I'm doing well for myself, never mind that I didn't mention it's the cheapest available model from seven years ago. What if I told you I drive a Nissan? You'd probably surmise I have absolutely no place in my beating heart for the love of driving, unless I added the letters "GTR" to my reply.
A simple social experiment like this points to how we often process information based on the order in which they are received. That means if you want to stay under the radar but still own a car that will put a grin on your face, the Audis, BMWs and Mercs of the world are out. You want a badge that's a bit more modest, so you're looking at the likes of Honda or Volkswagen. However, the current-generation Civic Type R looks it was designed by the people behind the Gundam series; it's as understated as turning up for a funeral in a clown suit.
The Volkswagen Golf R, on the other hand, is about as discreet and unoffensive as the regular family hatchback on which it's based, save for the four tailpipes in the rear, a smattering of R badges where the GTI emblems would be, and the standard 18-inch Cadiz wheels. In terms of appearances, the GTI is the younger and visually flamboyant upstart to the Golf R's more self-assured understatedness.
In fact, unless you pay close attention to the details, you might mistake the R for an entry-level Golf. Volkswagen Singapore offers the Golf R in five colours, all of which help you stay practically anonymous on the road–until you need to be somewhere in a hurry.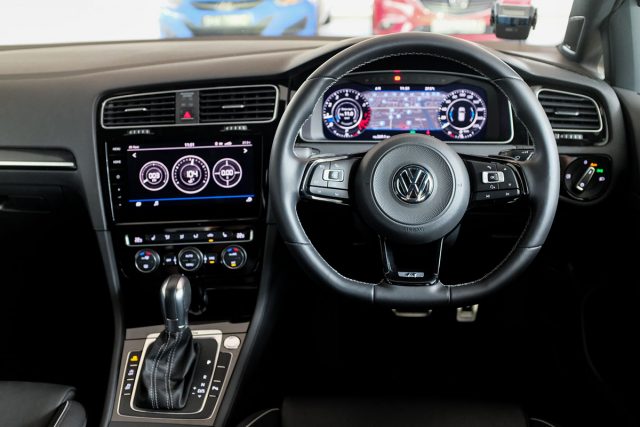 When that happens and you decide to raise hell, the Golf R will respond with a surge of revs as the digital needle rises along the Active Info Display's tachometer with a bassy crescendo. It's not as loud as you think, though; because the Golf's noise insulation is pretty admirable by default, the rortiness is piped into the cabin to enhance the aural experience for the driver and passengers. The 2.0-litre, four-cylinder turbocharged lump in front pumps out 286 bhp and a maximum of 380 Nm of torque between 1,850 and 5,300 rpm, enough to complete the century sprint in 4.6 seconds.
Of course, there is more sophistication to the Golf R than mere straight-line acceleration. The car goes around corners with aplomb thanks to its permanent 4MOTION four-wheel drive, which gives the Golf R an uncanny stickiness to the roads and makes light of tackling twists and turns at ludicrous speeds. Odds are that you'll lose your license before the car struggles for traction around a tight bend, and over the last weekend, I finally understood the appeal of a four-wheel driven system.
Back off the loud pedal and the Golf R's frantic demeanour retreats into its shell, allowing the reassuring family hatchback's personality to return to the fore. The newly-developed 7-speed DSG gearbox (DQ381) runs wet in an oil bath, delivering effortlessly smooth up- and down-shifts while managing decent economy on local roads. Comfort isn't sacrificed in the pursuit of speed; seat cushioning and lateral support are more than adequate, keeping you in place when you swing round bends at ridiculous speeds, emboldened by the car's ability and traction.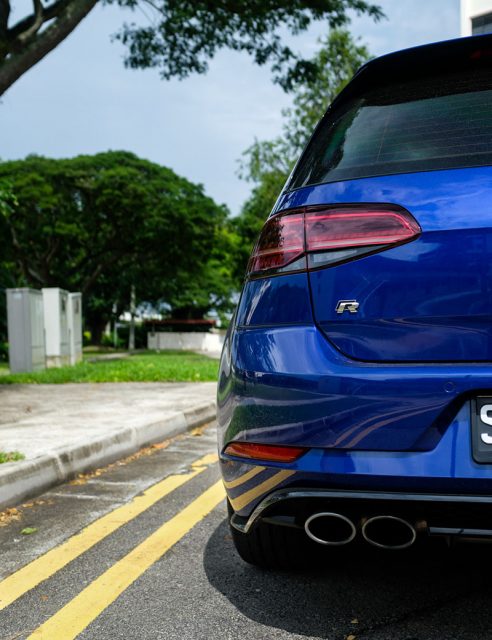 I described the GTI as a car that will indulge a driver's Jekyll-and-Hyde personality, and it remains a very fun car to drive and own. The Golf R takes the GTI's recipe to another level–where the GTI calls for regular chilli, the Golf R uses habaneros.
Purists will contend that the GTI and Golf R are 'soft' hot hatches which dampen the raw visceral experience of a performance car. They could complain the cabin is too peaceful and un-fussy. They could point to the exhaust note that's piped into the cabin and cry "Fake!" They might even say the Golf R looks nothing special. For these people, there's always the Honda Civic Type R, because not every performance car needs to be made with the same formula that includes outrageous spoilers and badges, an unfiltered ride experience, and a shouty exhaust.
If you want greater performance while maintaining a low profile, the Golf R ticks all the boxes.
---
The original version of this article first appeared on Eat.Fly.Drive.
GEEK REVIEW SCORE
Summary
The Golf R takes the GTI's recipe to another level – bringing in habaneros in place of regular chili.
Handling -

9/10

Performance -

9/10

Design -

7/10

Comfort -

8/10

Practicality -

8/10

Value -

9/10
---

Drop a Facebook comment below!