Chances are that you probably have not heard of Chinese smartphone brand, Vivo. The last and smallest smartphone subsidiary of China's BBK, Vivo has always remained in the shadows of its more famous siblings, Oppo and OnePlus.
In fact, its entry into the Singapore market in January was a rather muted affair, as the oversaturated market can be very unforgiving to new brands hawking mid-range devices. That plus the fact that Vivo only launched two older model devices in January.
Vivo's latest though, is its attempt to stay relevant. The X21 is a mid range devices packed with one high-end feature that the company hopes to ride on – an on-screen biometrics sensor that allows users to access their phone simply by tapping their thumb on the screen. Most other brands have opted for a physical rear or front sensor, and Vivo is touting this as the first commercially available device.
Based on our first impressions, the X21 is a pretty decent phone, with the new on-screen fingerprint scanner as a neat plus point, but the other features on the phone seem to be a step behind the latest features that other brands have to offer.
We can't really put a finger on it, but this phone doesn't seem to be all it's hyped up to be.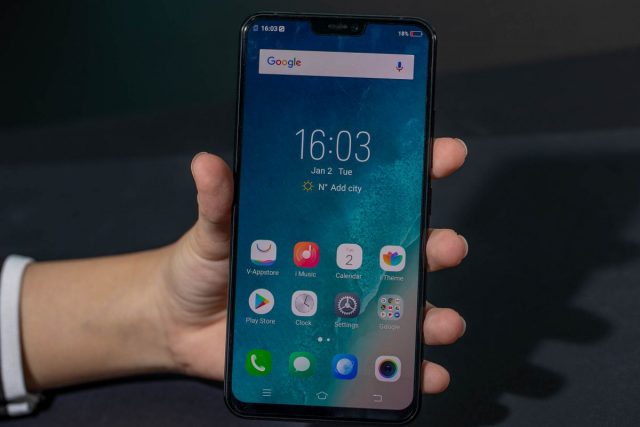 Measuring 154.45 mm by 74.78mm, and weighing in at 156.2g, the phone is large and thin with tapered edges, meaning it was built for a slightly larger than average-sized hand, so it's hard to keep a firm grip while using it. It has a  a 6.28-inch, Full High Definition, 2,280 x 1,080 pixel display, backed by 6GB RAM and 128 GB internal memory. It also supports a microSD card with up to 256GB, so there's no shortage of storage space on this phone. It also has hybrid dual SIM.
Design-wise, it's neither the best looking device, nor the most convenient to use. Compared to thicker, smaller models, you feel incredibly insecure trying to use this phone without dropping it. Thankfully, it comes with a decent case, but it's not the best experience.
The fingerprint scanner is the selling point for this phone, and it does its job. It's not the first Vivo phone with the in-display fingerprint scanner, but it's the first to be released in Singapore. The light to indicate where you should place your finger activates when the phone is moved, without turning on the rest of the lock screen. From the lock screen, you can choose to use facial recognition to unlock your phone as well, but the fingerprint scanner's by far the easier option in this case, since you don't even have to press the lock button to awaken the phone.
The only catch? The scanner is limited to only one place on the phone, rather than the entire screen, and it takes a second to read. It won't slow you down much, but it's still a bit of a pause.
The camera is the other selling point for this phone, but it's really not that impressive. Both front and rear facing cameras are 12 megapixels, with the rear camera having an additional second 5MP sensor.
It does alright in brightly lit settings, and it does a really good job of lighting up night shots, though the colours could use a bit more punch and effect.
But the zoom is terrible. It was also difficult to get the camera to focus on small objects, and even then, they turned out grainy. Under any kind of close inspection, these pictures are horribly disappointing.
Sadly, the video camera is all that, and worse.
Vivo's known for prioritising the front camera for high selfie quality, but its pretty limited. This camera features the 'Face Beauty' option, which smooths out wrinkles and blemishes for a flawless finish.
While you can toggle the intensity of this effect, there's no way to customise the airbrushing for specific results.
Unfortunately, the camera seems geared towards a very specific audience: the selfie camera auto-adjusts for faces and lightens your skin tone, which might be good if looking as white as a ghost is your goal, but if that's not what you want out of a picture, you end up looking really washed out.
And say goodbye to scenic selfies, since the whitewashing effect also washes out your background. This camera's biggest weakness seems to be white light, because under fluorescent lighting, no matter how dim or how bright, pictures always seemed really grainy and washed-out. God forbid if you're wearing white.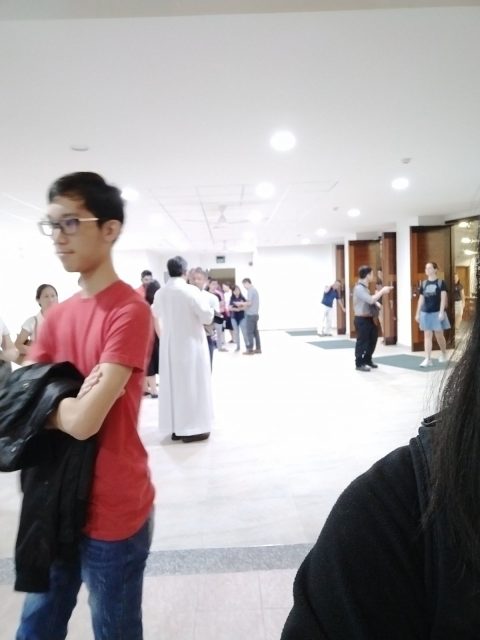 Of course, you can adjust the lighting with filters, but the whitewashing effect remains. On the bright side, this phone adjusts for backlighting, which it does remarkably well. But if you're looking for a phone camera to take anything other than really whitewashed selfies, this camera is just a no.
(Left: Taken by Vivo X21. Right: Taken by Pixel 2 XL)
One reason to buy this phone is the headphone jack, which is reason enough to get a phone if you like listening to music. And you should be using earphones, because the in-device speakers are pretty sad. There's only one output source at the bottom of the phone, meaning that if you're watching something, the sound only comes out from one side. Admittedly, the speaker is loud; higher registers are quite clear. However, there's also a ton of crackling that comes through.
This phone delivers the additional disappointment of having a micro-USB port instead of a USB-C, which I guess is in line with this phone being slightly behind in the latest upgrades. Plus, it uses Snapdragon 660, which is a mid-range processor. The X21 still runs fine, but it's still unusual, since, at SG$799, it price range sits nearer to the side of the top-range phones.
And if you get this phone, be prepared to learn yet another Android OS skin. FunTouch 4.0 is the user interface that Vivo has slapped on its devices, and previous versions have been noted for their similarity to the Apple OS. Funtouch 4.0 looks less similar to the iOS design than previous versions, more similar to the Android layout, and it adds many more controls in the control center. But it does get a little cluttered, and a bit difficult to navigate quickly.
Overall, though, this phone functions just fine. It's just a matter of whether you'd trade the not-quite-cutting-edge fingerprint technology for a well-functioning camera, better processor, or better audio. For us, it's not quite worth it.
GEEK REVIEW SCORE
Summary
This phone is pretty mediocre for its price. Especially if you care about the camera, at all.
Aesthetics -

7.5/10

Build Quality -

7/10

Performance -

5/10

Value -

4/10

Geek Satisfaction -

5/10
You could call Jeanne a dabbler – anything she isn't yet a fan of, she will be eventually. The list of things she's into is only rivalled by the things she plans on getting into. Overanalysing makes everything fun.
---

Drop a Facebook comment below!

---