Wireless sound tech is increasingly overtaking its wired counterparts and at a more affordable price point. With an increasing number of Bluetooth connected earbuds coming into the market, from Sony's WF-1000XM Noise-Cancelling Wireless Earbuds, Sennheiser's CX True Wireless Earbuds and even the recent Huawei FreeBuds 4, the competition between audio brands is getting tougher, especially with the manufacturer bringing the overall price down to a more affordable level.
This is where Chinese digital accessory brand UGREEN enters the fray with its HiTune X5 True Wireless Stereo Earbuds. Whilst the company might not be as well known as some of the audio companies, it's a well-known hardware accessory maker and its latest earbuds tout some of the latest features so if you're not keen on flagship brands but are looking for a wallet-friendly alternative that's almost as good, this product might just be for you.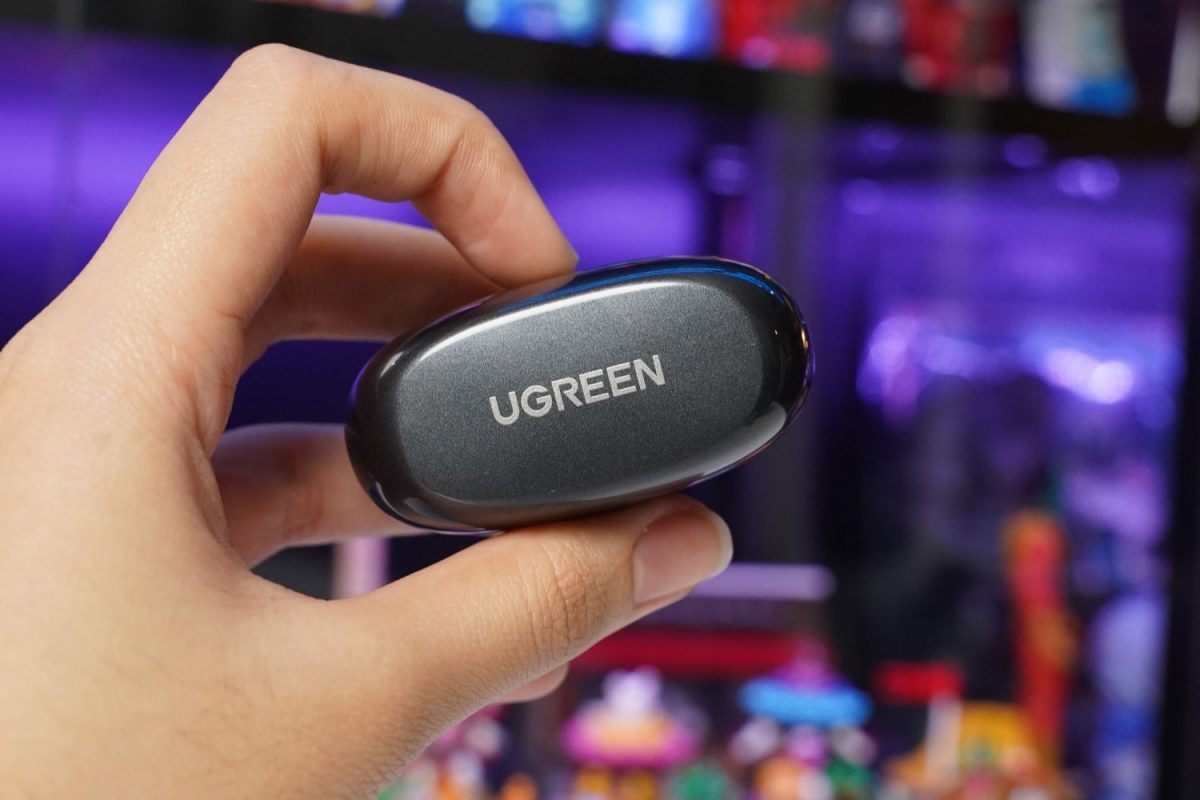 The HiTune X5 True Wireless Stereo Earbuds dons a glossy all-black aesthetic for a sleek and elegant look. Weighing 5.1g each and 46.7g with the charging case, the device measures only 5m in length and 4m in height, making the entire package a nice, snug companion in the bag, especially for those who are always on the go. Due to their compact form factor, they are very comfortable to wear, with their open design lending a secure fit to the ear, particularly for active individuals. And to ensure that comfort is prioritised and it's a perfect fit, UGREEN has included four silicone tips that vary in size to choose from – XS, S, M and L.
The earbuds themselves have a modern look to them, sporting a hybrid between a shell-style in-ear and an Airpod-style hanging buds. The build of the buds sits comfortably in the ear yet still has a protruding allowance that forms a convenient touch control surface. The large oval surface on the earbuds are used to perform a variety of functions, either to answer or end a call, increase or decrease volume, advance or reverse a track and even activate voice assistant. Although this feature might be efficient, the surface itself is a tad oversensitive, to the point where a slight nudge can accidentally end your call.
As the touch controls have been set up beforehand by the company, users who prefer a customised way of controlling your song tracks or calls functions might be a little thrown off by the lack of an individual touch, but for the everyday user, these are handy to change settings on the fly:
| | |
| --- | --- |
| Action | Function |
| Tap x1 (Left or Right) | Play/Pause |
| Tap x3 (Right) | Next Track |
| Tap x3 (Left) | Previous Track |
| Tap x2 (Right) | Volume Up |
| Tap x2 (Left) | Volume Down |
| Tap x1 (Left/Right) | Answer/End a call |
| Hold for 2 seconds (Left/Right) | Hold for 2 seconds (Left/Right) |
| Hold for 2 seconds (Left/Right) | Activate Voice Control |
Taking a closer look at the charging case yields a premium touch that can be likened to that of higher-end models. At the front side of the case, three white LED lights indicate the battery life of the earbuds. The light also is used as the reset indicator when users find it hard to connect the earbuds to their devices. As for the rear side, one will find the reset button or power button of the case. This pod is also powered with a USB Type-C charging cable that comes included in the unit.
What surprises here is not merely the small form factor or price, but the impressive sound quality that matches its more prestigious contemporaries. Where smaller brands tend to overlook bass calibration and power, UGREEN's earbuds ship with superbass enhancement technology courtesy of its 10mm dual dynamic drivers. This feature allows the crisp and clear mids and highs to remain well balanced, all while providing users with the punch that their sound produces due to the evident bass.
What's more, the HiTune X5 True Wireless Earbuds has a gaming-specific feature that can be activated with just a tap to either the left or right earbud four times. What this mode does is disable certain features to favour faster data processing for lower latency. When put to the test, however, there seems to be little difference after playing Call of Duty on mobile and Overcooked on Nintendo Switch when the feature is active. Audio quality doesn't appear to have taken a hit, boasting a barely noticeable change that's impressive in our books.
Of course, the S$67.99 device isn't for audiophiles, as there is an obvious audio disruption when audio levels are dialled up to the highest, offering a tangible vibration that impacts the overall quality of what one is listening to. Yet, this is something that can be resolved by lowering the volume down or avoiding listening to loud sounds. Whilst it is far from perfection, it still has an overall well-round mix of tones.
Feature-wise, the HiTune X5 also comes with noise-cancelling tech that is quite handy for those that would like to concentrate on their work. That said, while the earbuds can fit snugly into your ear, it doesn't fully create that vacuum that some in-ear monitors provide, so you won't get the full active noise cancelling experience, and will still be able to hear your surroundings.
Connection-wise, the earbuds run on Bluetooth 5.2 technology, which is currently the most advanced version of Bluetooth. Users are, as such, able to enjoy higher wireless bandwidth, with the addition of a stable signal that almost never randomly disconnects at odd timings. On specific compatible devices, each bud will receive a separate signal of its own that allows for mono use. This can be useful for those who want to stay aware of their surroundings more effectively. One thing to take note of is that the earbuds can only connect to one device at a time. Therefore, users will have to ensure that devices are disconnected first from the buds to enjoy using them with another product.
Overall, UGREEN's HiTune X5 True Wireless Stereo Earbuds have exceeded expectations, especially coming from a small brand that specialises in digital but not audio accessories. If you are looking for a cheaper alternative that's able to give satisfying audio quality, this is one to look out for. Although these buds are far from perfect with the lack of app support to customise the control, functionality and EQ, it still does a pretty solid job of playing music and answering calls.
For those interested in grabbing a pair for yourselves, UGREEN HiTune X5 True Wireless Stereo Earbuds can be purchased on either Lazada, Shopee or their official website for S$67.99.
GEEK REVIEW SCORE
Summary
The UGREEN HiTune X5 True Wireless Stereo Earbuds is an affordable alternative to similar flagship products on the market all while still being able to perform an excellent job. It is stylish and a breeze to use with its fast connectivity feature.
Aesthetics -

8/10

Build Quality -

7/10

Performance -

7/10

Value -

9/10

Geek Satisfaction -

8/10