The armchair race to be the go-to gaming chair in the region has been heating up, with mainstays Secretlab and DXRacer being the two big cats in the market. However, prices can be a finicky thing, and if you are a gamer on a budget but still require the comfort of a good lumbar companion, then check out the Tesoro Zone Balance gaming chair.
You might not have heard of Tesoro, but the Taiwanese company has been consistently building up their brand with esports sponsorship, and is now a serious competitor with their range of gaming products. From keyboards, mice, surfaces, to headsets, this could be the next breakthrough brand everyone should be looking out for, and the Zone Balance gaming chair is one such product.
Available in black/white, black/red, and all black, the Zone Balance is a chair with heft. Full assembly of the chair took about 20-30 minutes, with no extra tools needed besides the included Allen wrench to lock in the bolts and washers. The plastic covers did require a little bit more force and the use of a screwdriver. All the different parts that make up this gaming chair are sturdy and well made, from the tilt lock lever, piston, 5-wheelbase, to the polyurethane coated wheels.
Well cushioned all around with a zigzag pattern on the surface, there is a thicker line of padding along the sides of the Zone Balance that helps support your lower body. More Tesoro branding and the same geometric pattern can be found on the back of the chair as well.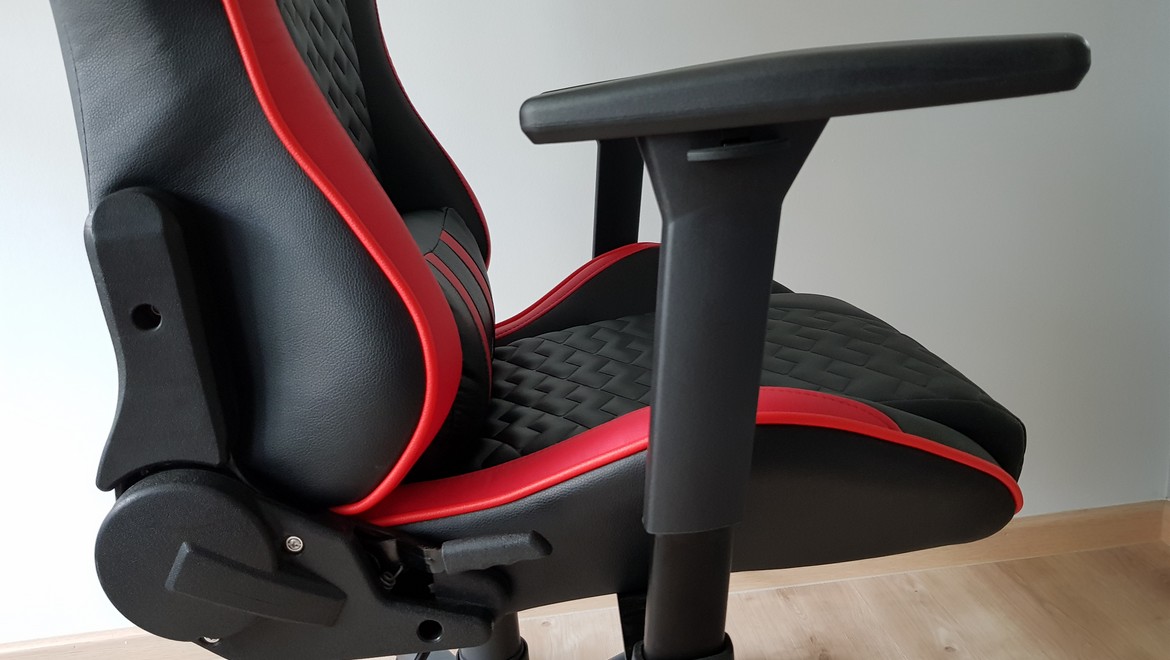 Both the lumbar support and head support cushions provide significant comfort, and they are held securely in place with elastic straps and a plastic buckle (for the lumbar cushion). As a proud owner of a Secretlab OMEGA, I appreciate how little I had to do to keep my cushions in place, which means my comfort is always taken care of.
The armrests are slightly padded, and can be adjusted side-to-side, slide forward and back (four settings) and adjusted up and down in seven different levels. Regardless of work or play, you should be about to find an arrangement that will suit each situation. If you ever get too tired and feel the need to recline, the Tesoro Zone Balance can be pushed all the way back to 180 degrees. If you need it to tilt, it can be achieved by simply pulling the height adjustment lever out and leaning back, with the tension controlled by a dial underneath the chair.
The Tesoro Zone Balance is not exactly suited for taller gamers, it was a good fit for my height (1.72m) and should be a reasonable fit for any desk or workstation. The seat height can be adjusted with a maximum limit of 8 cm if there's a need to. Do note that it tends to tip over easily if you are sitting or moving near the edge of the chair, so always make sure your gaming butt is tucked all the way in.
Spending well over six hours each time, I had worked and played in the Zone Balance without significant issues. The cushioning and the padding are soft, but solid enough to prevent compression. They have maintained their shape for well over a month now, and does not look like that will change anytime soon.
The overall shape of the chair offers enough room for unrestricted movement, and is reasonably comfortable without being too snug. That means you do not heat up quickly, especially in Singapore's weather, so that's a plus for sure. As mentioned, I am a big fan of both the head and lumbar cushions, and it only gets better through continuous use.
Another sticking point to note when using the Tesoro Zone Balance is that changing direction may meet with some resistance, and the wheels may cause some wear and tear on the surface of your floor.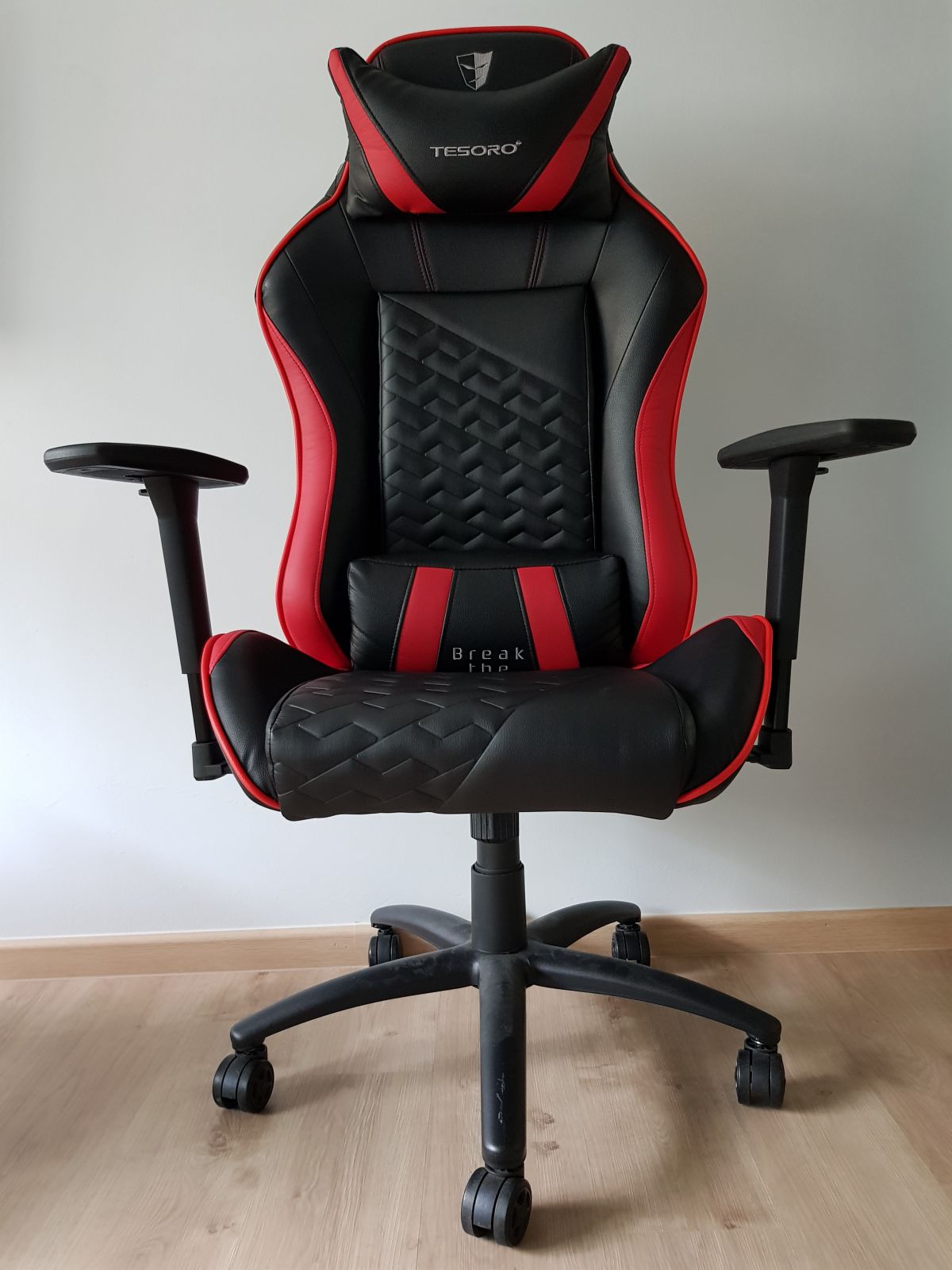 Overall, the Zone Balance is a well-built product, with its steel frame and comfortable cushioning all adding up to a smooth time in the gaming chair. The levels of adjustments should cater to most users, and it does not look too shabby either, the less is more mantra definitely applies here. That said, It can be a little noisier than when you first sit in it, but that's to be expected over time and can be fixed with some lubrication.
At the low price of S$239 with a one-year limited warranty (from our friends at Tech Dynamic), the Tesoro Zone Balance is definitely worth a look if you are looking for comfort without shelling out too much. The comfort, features, options, aesthetics, and especially the price tag make this gaming chair an attractive prospect for all gamers and should be on your list if you are ever looking for an upgrade in this department.
GEEK REVIEW SCORE
Summary
As a package, the Tesoro Zone Balance certainly warrants a check if you need an upgrade for your butt while working or gaming, especially with its wallet-friendly price point.
Aesthetics -

7/10

Build Quality -

7/10

Performance -

8/10

Value -

7.5/10

Geek Satisfaction -

8/10
Jake is a full-time trophy hunter and achievement gatherer on consoles, and part-time Steam Sale victim. He has a thing for Batman and awesome statues, and running out of space for both. Send help.
---

Drop a Facebook comment below!

---