Say what you will but there is little doubt that Japanese cuisine is immensely popular in Singapore. From the many conveyor belt sushi restaurants to places selling Japanese-style curry rice. One such restaurant is Sun With Moon, which has been around in Singapore since August 2005.
A key aspect of Sun With Moon is the effort made to refresh their menu yearly, making sure that customers have something to look forward to every year. Both modern and traditional Japanese fare occupy their menu with every change and this time, Geek Culture had the chance to try out some of the items that have made it into their 2019 grand menu.
Kaisen Yukke, S$13.80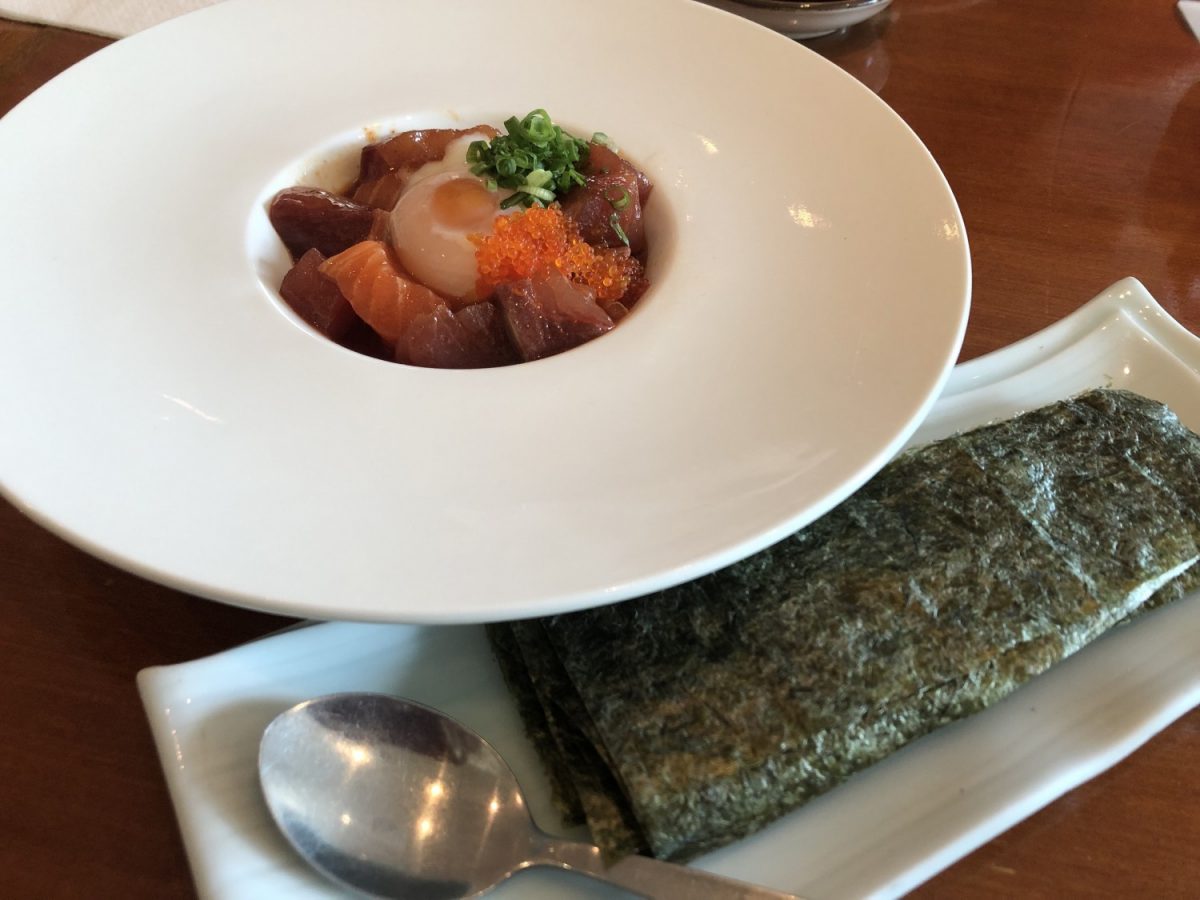 The Kaisen Yukke is an appetiser that asks one to make their own seaweed roll. The dish is served with a plate of freshly diced salmon, tuna, yellowtail sashimi, marinated with sweet and spicy soy sauce, with a soft boiled egg sitting atop it, and another plate with sheets of seaweed. Simply mix the plate with the sashimi and scoop it onto the seaweed. We recommend you to not scoop too much onto the seaweed lest the sashimi falls out as you are rolling the seaweed. Each bite comes with the crunch of the seaweed, and the sweet and spicy tang of the soy sauce marinate with the flavour of the ocean following closely behind.
Unagi Aburi Salmon Oshi Sushi, S$20.80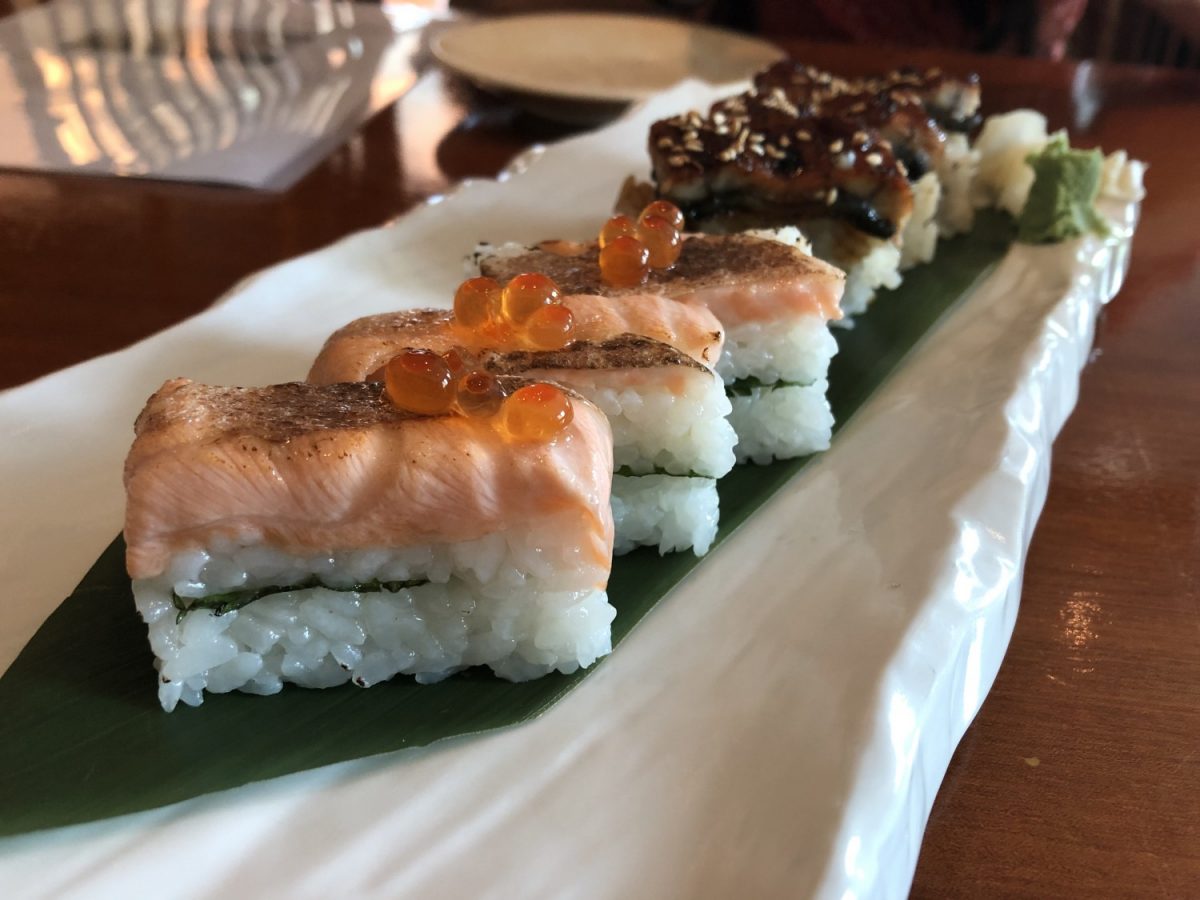 This one dish comes with two different types of sushi to give you the best of both worlds. On one side you have the Salmon Oshi sushi, while on the other you have Unagi Aburi Sushi. Oshi sushi in Japan means 'pressed sushi' where the rice and ingredients are pressed in a wooden box and what you get is an aesthetically pleasing, rectangular sushi. The Salmon sushi, which comes topped with salmon roe, has more umami flavour than the sweet Unagi Aburi. If you have always found yourself deliberating between which sushi to get, now you can just get both!
Aburi Hotate Paradise Roll, S$23.80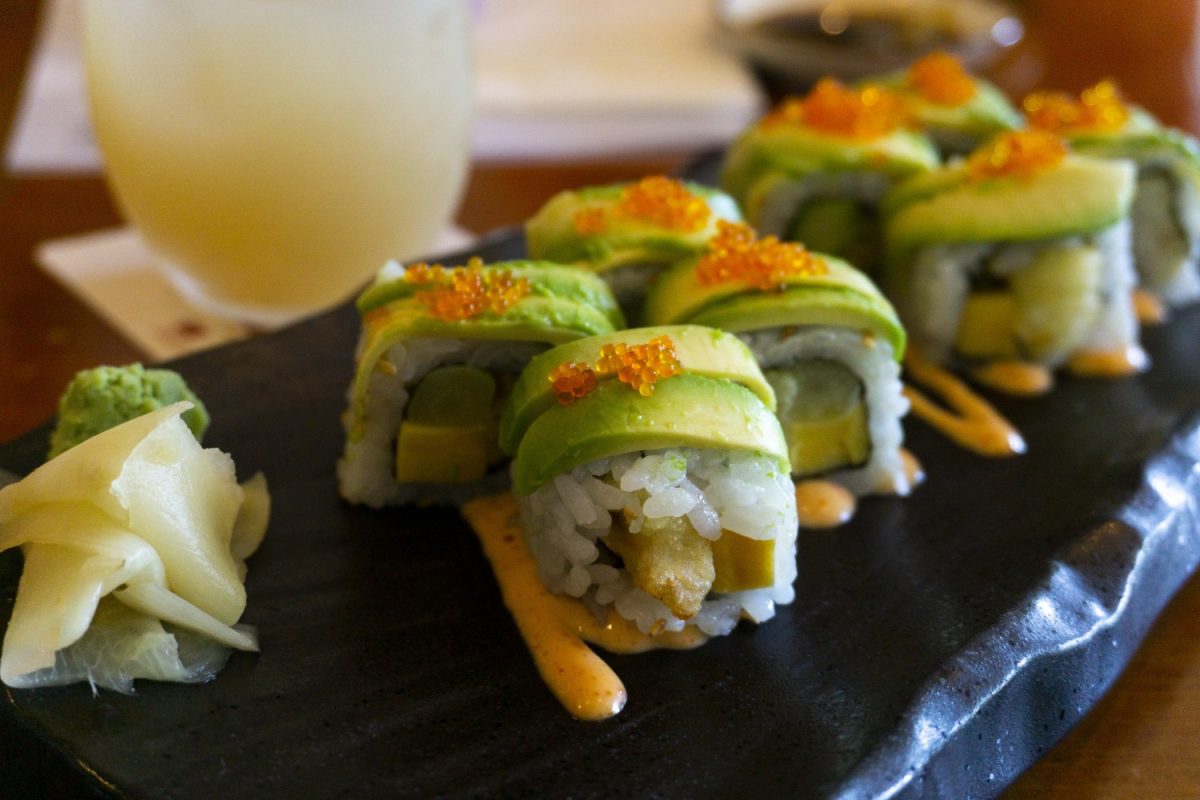 This sushi roll comprises of flame-seared scallops, crunchy asparagus, and sweet Japanese omelette. It is then topped with slices of avocado and fish roe. Each bite brings with it the crunch of asparagus and the umami of scallops, along with the creaminess of the avocado slices. If you happen to be a fan of avocado and scallops then this will be a treat for you. However, we ultimately found this sushi roll pretty forgettable in the sea of dishes that came before or after it.
Canadian Sangenton Tonkatsu, S$17.80
One can never go wrong with deep fried pork, and Sun With Moon's deep fried Sangenton pork cutlet is no exception. The dish comes with thick, deep-fried, breaded Canadian Sangenton pork that is both crispy and juicy. Unlike most other pork cutlets, Sun With Moon uses Canadian Sangenton pork which is incredibly popular in Japan for its premium quality. The dish comes served alongside sliced cabbages to clear your palate in between bites of the cutlet.
Premium Kaisen Mix Nabe, S$26.80
This Japanese hotpot comes filled to the brim with loads of delicious ingredients, including Snow Crab legs, sliced salmon, scallops, prawns, squid, and vegetables, all simmering in a pot of broth. Customers will get to select from one of four soup choices. What we got to try was the clear Wafu broth which was had a refreshing taste, one that makes it easy to finish the whole pot of soup without getting tired of the flavour too quickly.
Mountain Pork Nabe, S$18.80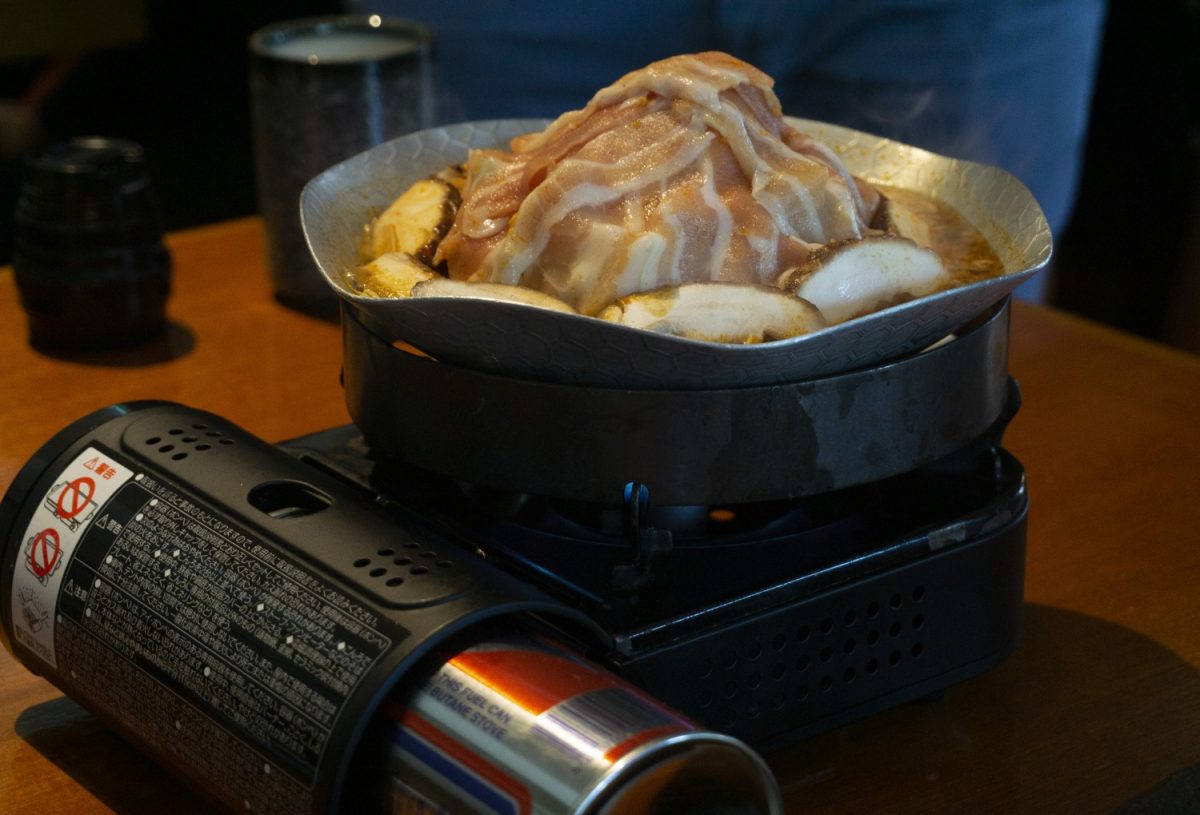 When they say 'mountain pork nabe', they definitely mean a mountain. The slices of pork come arranged in a mountain, with a sea of broth surrounding it. The pork is then cooked in the pot alongside shiitake mushrooms, beansprouts, onions, and carrots. This time, we got to try the Pirikara Miso soup. As they cooked in the broth, the pork slices soaked up the Pirikira Miso and so each bite of the pork carried with it the sweet and mildly spicy notes of the Pirikira Miso broth.
Nama Bara Chirashi, S$28.80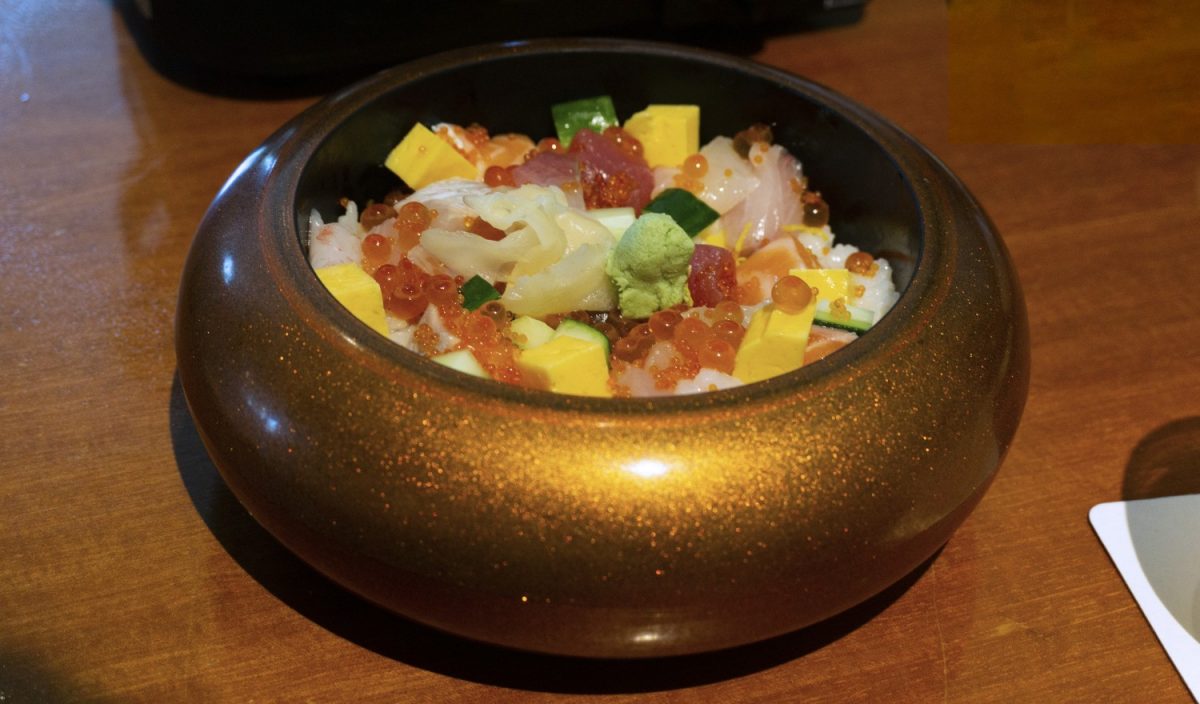 At a glance, the Nama Bara Chirashi looks incredibly aesthetic. Filled with diced tuna, yellowtail, salmon, white dish sashimi, sweet shrimp, salmon roe, fish roe, sweet omelette, and cucumber, the dish not only looks pretty but it tastes great too. The steamed Japanese rice is slightly vinegared and is slightly sweet. The sashimis all taste fresh and are placed generously atop of the bowl of rice. It is easily one of the best chirashi rice bowls we have tried in a while.
Kakuni & Mentaiko Kamameshi, S$25.80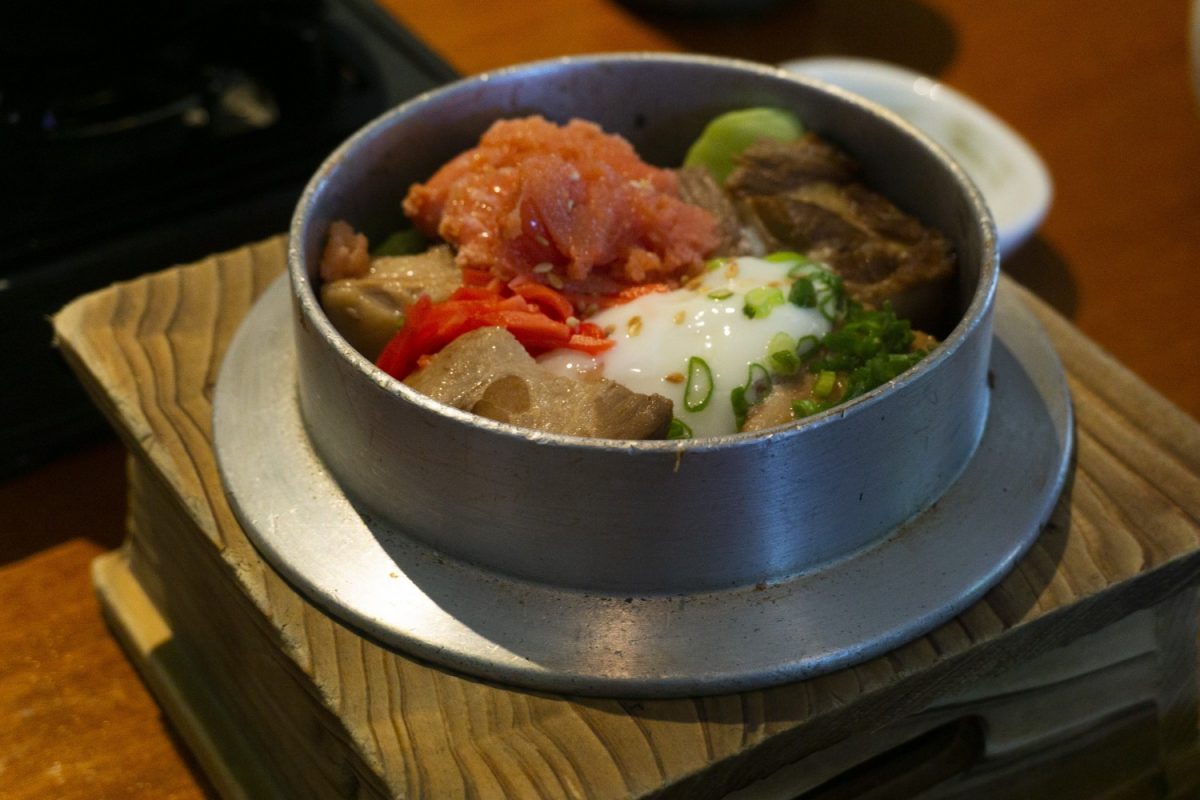 Fans of clay pot rice might like the Kamameshi, which is essentially a Japanese clay pot rice, except a metal pot is used instead of a clay pot. Just like clay pot rice, the Kamameshi consists of steamed white rice flavoured with light soy sauce, and top with flame-seared tender braised pork, seasoned cod roe (or mentaiko as it is called in Japan), and a soft boiled egg. The mild spiciness from the mentaiko comes with hints of the sea while not being overly fishy in taste, and complements the savoury braised pork well and we recommend eating straight out of the metal pot as you'll get to enjoy the slightly burnt rice stuck to the bottom of the pot. The Kamameshi also comes with a pot of soup broth to pour into the metal pot to polish off the dish.
Crispy Fried Apple Pie, S$8.80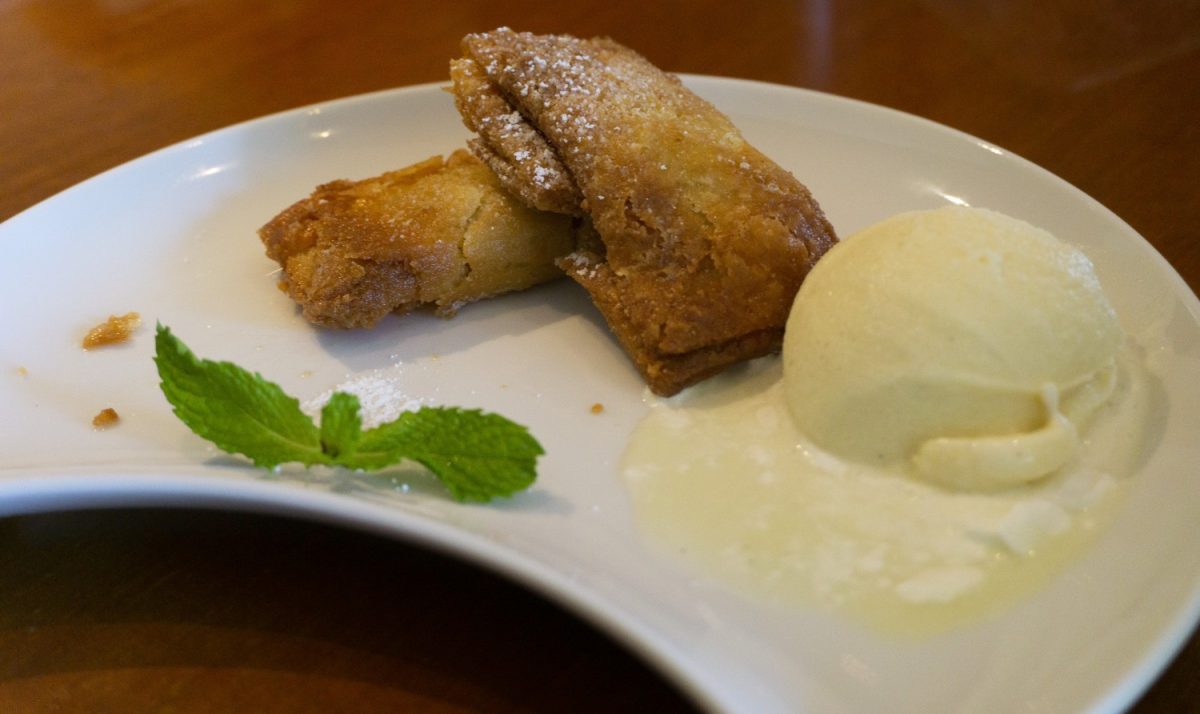 This deep-fried pastry comes with an apple pie filling that is sweet but not sharp to the tooth. It comes paired with a scoop of vanilla ice cream which goes great with the hot fruity apple pie filling. It is overall a great dessert and we found ourselves going back for more Apple Pie.
Overall, Sun With Moon's 2019 grand menu comes with a variety of authentic Japanese dishes to please every customer. As Sun With Moon revamps their menu every year, we recommend you try these dishes out before their menu changes next year!