Smartwatches are the future…or at least many smartwatch makers claim this form of wearable technology is the next big thing in the years to come. Popularized by the very affordable Pebble, smartwatches are slowly becoming the next ubiquitous accessory that can be found on a fellow geek's wrist. Smartwatches, presently, are generally "nice-to-haves" as opposed to "must-haves" which is why I was rather surprised that Sony actually has 2 models of smartwatches out in the market.
Smartwatches, the polite accessory
Social etiquette has gone out of the window since the advent of the smartphone. In general, we instinctively reach for the phone at every possible moment and check for alerts on the phone even if nothing has come through. With the Sony Smart Watch 2, and other smartwatches, it allows the user to glance at their wrist instead of staring at a screen. It does make for a more polite gesture but it is still distracting in a conversation.
The Sony Smart Watch 2 handles alerts pretty well (as it should) and syncs nicely with pretty much all current gen Android devices out there. The only issue is that the alerts do not exactly sync well with your phone. For example, an email comes in and the watch buzzes; a glance at the watch and subsequently reading the email on my phone does not remove the "unread" email alert on the watch.
After syncing your Smart Watch 2, users will be prompted to download a variety to add-ons to complement and customize your Smart Watch 2 experience via an in-app app store. Confused?
Simply put, Sony has created an ecosystem that allows other developers to create and sell apps that work on the Smart Watch 2. Apps that handle notifications for SMS, email and calendar are free direct from Sony, but notification alerts from 3rd party apps such as WhatsApp are paid. Having to pay for an app to send an alert from your phone to the wrist is a big mystery to me. I foresee that many would skip paying and if that is the case, Sony does need to step up and support more the popular mobile phone apps.
A wrist beauty
Compared to the Pebble, the Sony Smart Watch 2 is a big step up in terms of aesthetics. Not only does the watch look good, it sports a nice colour screen that has comparable battery life to the e-ink Pebble.
Like mobile phones of old, once you've moved on to colour, it's hard to turn back. However, the lack of customisable watch faces is a small consideration for those who love to get a unique look.
By default, the Sony Smart Watch 2 has many beautifully designed watch faces but without the ability to add new faces is a big pity and the biggest draw to owning a smartwatch in general. Perhaps it has to do with battery life conservation for the watch.
For all the designed poured into the external look of the watch and it's innards as well (battery life is a big plus once again) the software UI for both watch and phone is utilitarian at best. It looks like Android Donut when we are already on KitKat; that's like 7 generations of Android behind.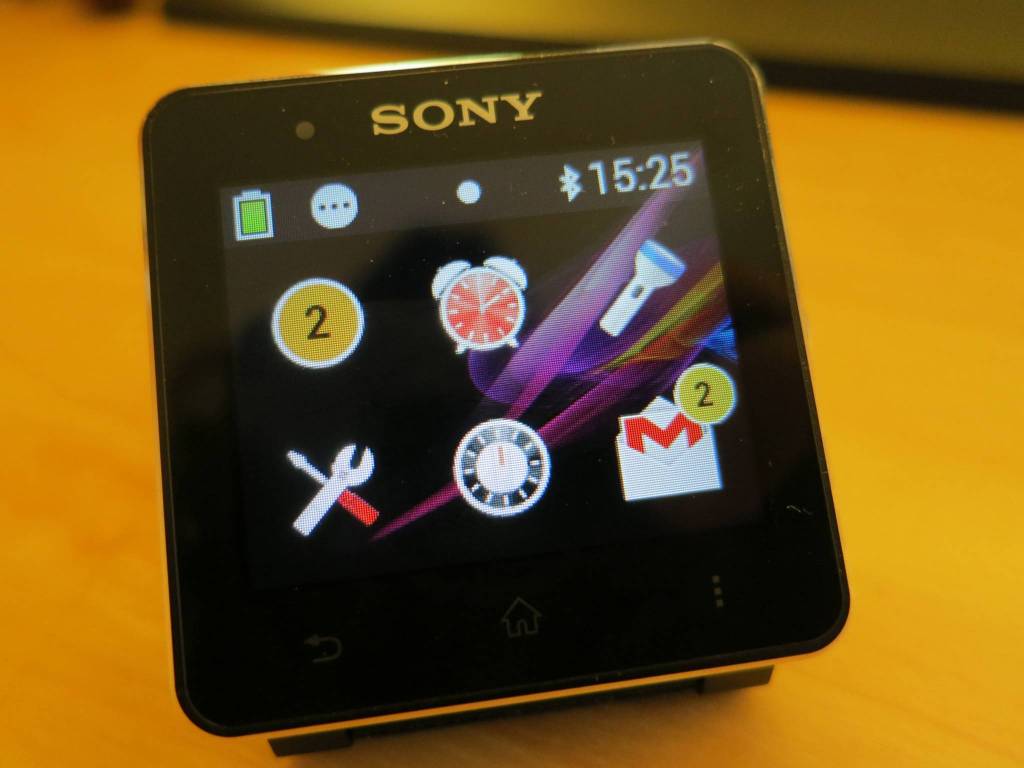 The best part of the Smart Watch 2 would be it's micro-USB charging port. No proprietary connection nonsense here which is a lifesaver when the rarely heard line of "I need to charge my watch" comes up.
Get one or wait?
If you've never owned a smartwatch, I feel that the Sony Smart Watch 2 is a better starting point as compared to a Pebble. While more expensive, the colour screen does make a big difference and simply has a bigger wow factor. Functionally, both watches are essentially the same so it really does boil down to aesthetics.
As far as smartwatches go, this is a very good attempt by Sony and I can't wait to see how far the next jump goes, which I understand might be pretty near the corner.
Gerald currently straddles between his love of video games and board gaming. There's nothing that interests him more than trying out the newest and fanciest gadget in town as well. He dreams of publishing a board game sometime in the future!
---

Drop a Facebook comment below!

---