Sony's Extra Bass line of wireless speakers have always been flashy with multiple colours and strobing lights, and the new Sony Extra Bass SRS-XB31 is no different. However, it is not all form and no function. The XB31 is an improvement over the previous generation and delivers more.
The Sony Extra Bass SRS-XB31 is solidly built and is no lightweight. At 890g, it is rather heavy and would take up some real estate in your backpack. The new fabric material that Sony is using on the exterior is an odd choice though, and only time will tell if it is a durable enough surface.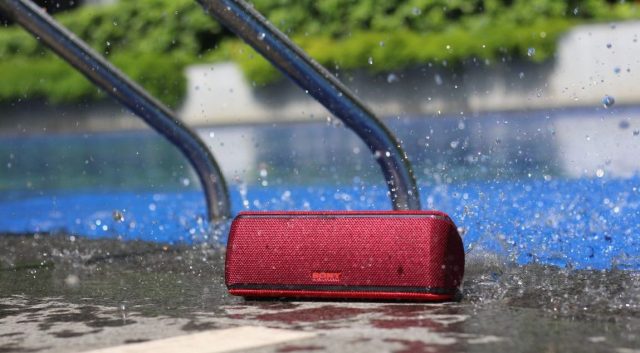 For the more clumsy ones, it is also shockproof, so there is no worry with accidentally dropping or knocking it off a table. being rated for drops up to 1.2m above the ground
The XB31's 48mm drivers deliver exceptional clarity and punchy bass over a range of genres. It is much larger as compared to its competitors, enabling it to push out tunes with clearer midtones and deeper bass. From the electronic tunes of Daft Punk to classic rock of Oasis, it provided an excellent listening experience for everyone in the office.
This speaker is loud. At its maximum volume, it is loud enough to be heard up to 20 metres away in an open space. There is also no audible distortion in the sound when pushed to its maximum volume. For its size, it sure packs a punch.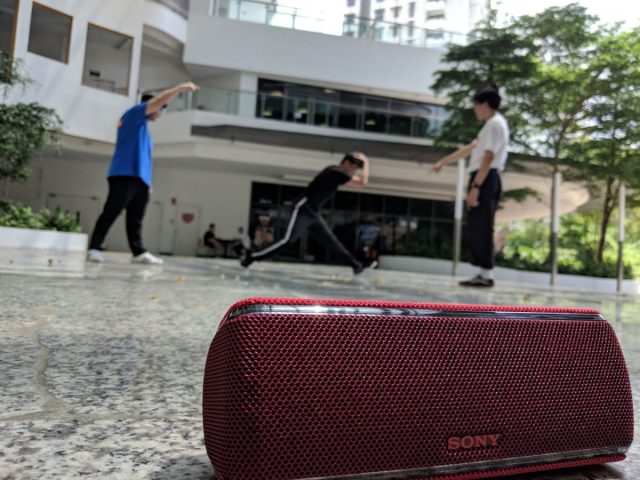 The only downside is that the speakers are forward-facing, as compared to 180-degrees audio projection like what the UE Boom 2 is trying to encapsulate.
Sony's inclusion of the LED line and strobes lights are a nice touch to the speakers. The lights pulsate and change colours in sync with the music that is being played.
When Sony claimed that their new Extra Bass speakers were "washable", we were skeptical. So, we didn't take their word for it and tested it out for ourselves.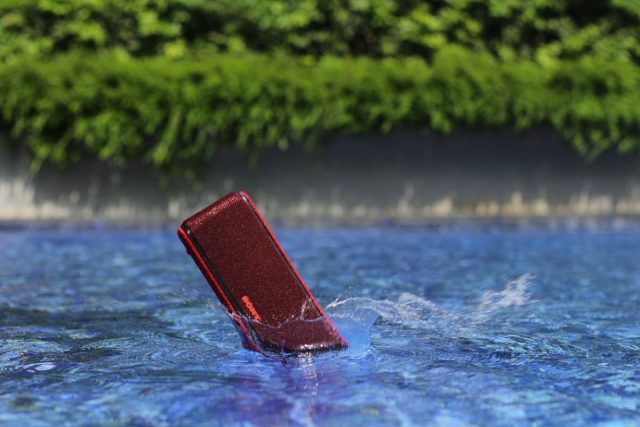 There you go, dunked and tested. The XB31 even surprised us by floating in the water after we dropped in it for a swim.
The speakers play music even when dipped inside the water. We did not test how long it could stand being soaked before giving in, so hold your horses on throwing an underwater music system.
The XB31 can be paired with your device via Bluetooth and NFC, and it is a rather painless process. There is no password to key in when pairing via Bluetooth, and NFC-enabled devices connect immediately when tapped.
Your entertainment options can be controlled via the Sony Music Center app on your smartphone. The app automatically detects which Sony audio device is paired and is connected to your music apps as well. The app enables you to control playback options, lighting, and also let you pair up multiple sets of Sony speakers for a "wireless party chain".
Battery life is fantastic on the XB31. Sony advertises that it has a 24-hour battery life, and it definitely surpasses that. Since the first full charge, there has not been a need to plug it to charge for the two weeks that we had the review unit. This is, of course, when playing music at average levels and not at its max. The XB31 charges through a micro-USB port, which is still more commonly used as compared to USB-C.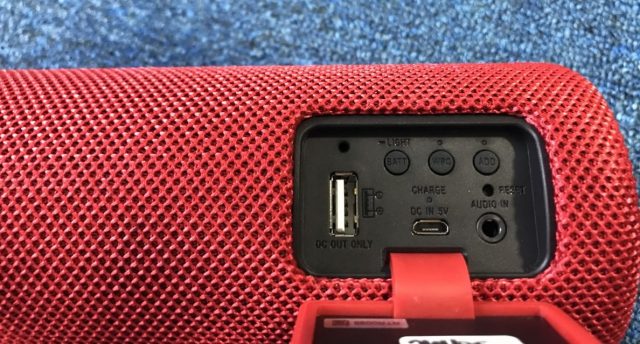 If you are afraid of draining your smartphone battery by pairing over Bluetooth, there is 3.5mm input jack for AUX input. There is no noticeable difference in the audio quality as the XB31 uses the newest LDAC codec for Bluetooth playback. The XB31 also comes with a USB port, which lets it double as a power bank for you to charge your smartphones.
Compared to its competitors in the similar price range, the XB31 is great. Sound quality is on par if not better. The connectivity options and long battery life are the key features that makes the XB31 stand out among its peers.
GEEK REVIEW SCORE
Summary
Bluetooth speakers are ultimately lifestyle devices, and the XB31 definitely does not get in the way of fulfilling its role. An enjoyable user experience all-around, life-proof, a 24-hour battery life and superb sound quality make the XB31 a worthy contender if you are in the market for a portable speaker solution.
Design -

8.5/10

Build Quality -

10/10

Performance -

8.5/10

Value -

8/10
---

Drop a Facebook comment below!