Staying and working from home has caused many to study and re-evaluate their home situation, with many adapting and buying new equipment, from additional monitors, comfortable mice and keyboards, HD cameras and handsfree headsets, and exercise equipment and furniture, to augment their current situation.
But the one thing that few think about, that they should, is the power supply. The recent November downpours, accompanied by the usual flashes of lightning and thunder should make those working from home afraid – it doesn't happen often, but blackouts do happen in Singapore.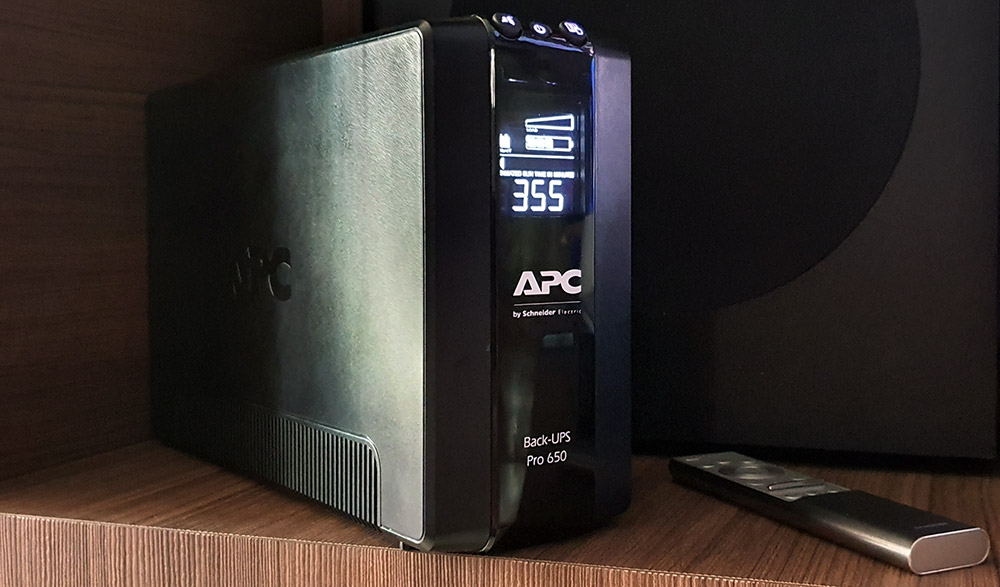 If you're working in your office, some larger companies even have back-up systems but even then, you would know of or have experienced the fear of a power failure or systems shut down that has somehow wiped the data for your day's work. Well, imagine having this happen at home?
More homes are probably placing their power systems on a higher strain, with additional laptops, desktops, printers, air-conditioning, lights, fans and other electronics powered up for extended periods. That's where an uninterruptible power supply comes in. These are little boxes of energy that continue to power your devices in the event of a blackout or power trip, so that you can take those previous additional minutes of power to save your work, create backs-ups and shut down your equipment properly, before succumbing to the effects of lack of power.
Think of them as battery packs the size of a mini PC, where you connect it to a power source, and connect your electronic devices to it, providing an uninterruptible power source (UPS) when you need it.
The Back-UPS PRo BR650MI from Schneider Electric offers connection to up to six devices, and up to 390W of support. With its built in battery pack, it can provide about several minutes of additional power, which is more than enough time to save files and power down all connected devices.How many minutes of additional juice it provides depends on how many devices are connected and drawing power from it.
Because it is a standalone device, you are limited by the power cords that can link to this. If you leave it out in the living room, this means your home entertainment systems, such as your Hi-Fi system and television sets will be taken care of, but where it is most useful, is where your other tech gadgets are, from your monitors, desktops and printers – basically things that require power, might store precious data, but do not come with a battery.
The first thing you have to know about this model is that it comes with connectors to power up to six devices, but the packaging only comes with 2 cables. Now these aren't your standard 3-pin connectors that you use with most electronics, from TV, desktops or game consoles. Also known as the C13 connector, this is the end that goes into your device. On the end of a normal C13 cord would be the standard 3-pin plug that goes into the wall. Here, the six connectors on the BR650MI are actually C14 inlets, so you cannot use your existing cables with it.
If you want to connect 6 devices, you have to source for 4 additional C13 to C14 inlet cables. Now, what happens if your device does not come with the standard C13 3-pin, but use, say, the C7 two-pin aka Figure 8, for the PlayStation 4 console? Well, that means you need to buy a C7 to C14 inlet cable, to connect the PlayStation 4 to the BR650MI. The same applies if your device uses the C5 aka Mickey Mouse three-pin, which some power bricks connect to.
At the front of the unit is a display, that shows how much is being drawn from the device, to power up to six devices, and as long as the amount falls under the threshold, you're safe. Of course, the more devices you connect and the more power each device draws, the less stand-by power you have, should there be a power outage. Now, it would be rather incongruous to assume that all six devices should draw power at the same time, but even if it did, do note the 390W limit on this unit. If your printer or game console isn't turned on, it won't need power and even if they are turned on, just power them down immediately in the event of a power failure.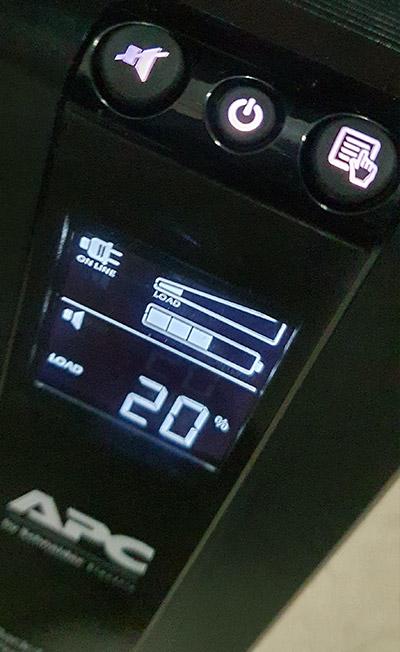 The important devices that this should power are your work stations, be it a desktop, iMac and your external monitors. By connecting two monitors and one desktop, the BR650MI calculated around 14 minutes of additional power should there be a power failure. Turning off one monitor boosted that time by two minutes, and 16 minutes is more than enough time to save all my files, and power off my machine.
The second thing you know about this device is that it does not work right out of the box. It actually contains a battery unit that can be replaced, should it run weak and out of juice after extended use. Simply lay the unit on its side and slide out the bottom cover and the battery unit will be revealed. Now, there are two cables running to the battery and only one is connected. Before you power the device up, you need to slide the battery out partially, to insert the exposed cable to a connection point on the battery unit, and slide the battery back in. Return the cover to its original position and the BR650MI is ready for use.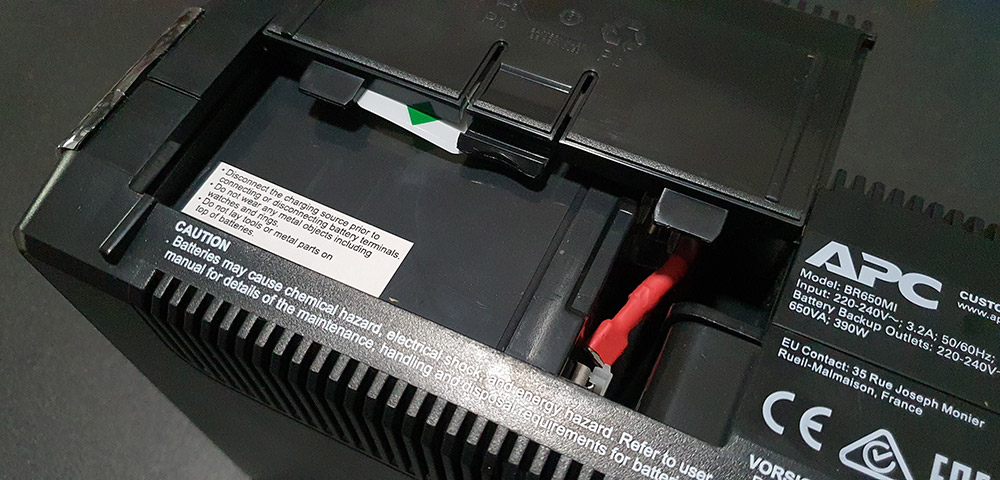 Aside from the 6 connectors to link your devices to, this device also comes with built-in surge protection, to prevent your devices from frying in the event of a lightning storm. There is also a data port to connect this to your PC, that your computer recognises the device. It also comes with surge protected LAN and telephone ports, just in case.
Does this unit work? Well, short of an actual power failure, it's hard to measure effectiveness. But by turning off the power supply to the BR650MI, the unit still continued to power my desktop and both monitors for the next 15 minutes. Oh, and in the event of a power failure and you're working on your desktop and aren't aware, the unit emits a loud beep at intervals, to alert you that it is no longer drawing power from the wall socket, which means that even if your computer is on and you happen to be taking a nap, you're bound to wake up.
What this does offer though, is peace of mind, of knowing that even if something were to happen, the connected equipment would remain in operation. Having lost data due to forgetting to turn on the power to the power supply connected to my laptop, I know how important work information is. Of course, this unit won't be helpful if you forget to connect it to your devices, but once all the cables are connected, this should offer you some level of security, knowing that you are granted precious minutes to protect your work.
At S$290, the BR650MI is a small investment for greater peace of mind, to protect not only your more expensive hardware, but also the work you are doing at home.
GEEK REVIEW SCORE
Summary
A UPS isn't the most natural gadget most individuals would think of getting on their own, but under the current extraordinary landscape, its importance in the home cannot be emphasised.
Aesthetics -

8/10

Build Quality -

8/10

Performance -

8/10

Value -

9/10

Geek Satisfaction -

9/10
---

Drop a Facebook comment below!