If you're still thinking of getting a computer with anything but a Solid State Drive (SSD) in 2021, you have to ask yourself if it also needs a CRT monitor and ball mouse to go along with it. SSDs have a huge advantage compared to their Hard Disk Drive (HDD) counterparts, and whether you're building a new desktop or seeking an upgrade, an SSD is the go-to solution for faster boot speed, data transfer, and game loading time.
And one of the best in the business is Samsung, regarded as one of the leading brands for SSDs (and HDDs) for the past decade. The Korean tech giant has been continuing its efforts in releasing greater-performing and better-value-for-money products, and its latest is the Samsung SSD 870 EVO SATA III 2.5-inch.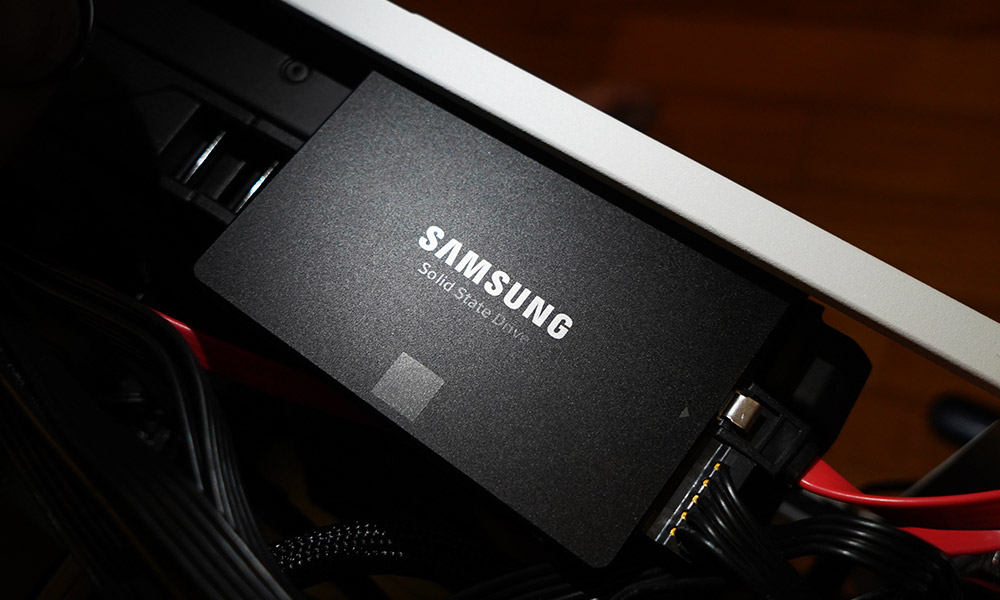 This new addition serves as Samsung's next iteration of the ever-popular 2.5-inch SATA SSD lineup, offering an optimal balance between performance and price, in addition to reliability, speed, and a long lifespan. Where SSDs shine, however, is in accessibility.
NVMe SSDs are known for their blazing fast read and write speeds, but they come with two caveats in tow: a hefty, premium price tag, and incompatibility with certain systems. SATA SSDs, meanwhile, are able to provide an edge here, combining affordability and performance to suit the preferences and needs of both gamers and content creators alike.
Since internal drives usually end up in your storage trays unseen, the design for the SSD 870 EVO is ultra-minimal, measuring 100 mm x 69.85 mm x 6.8mm in the form of a solid matte black encasing that sports the Samsung logo. Even with a compact PC chassis like the Aftershock Vault's NZXT H1 Mini-ITX case, the SSD 870 EVO slips right in perfectly without trouble.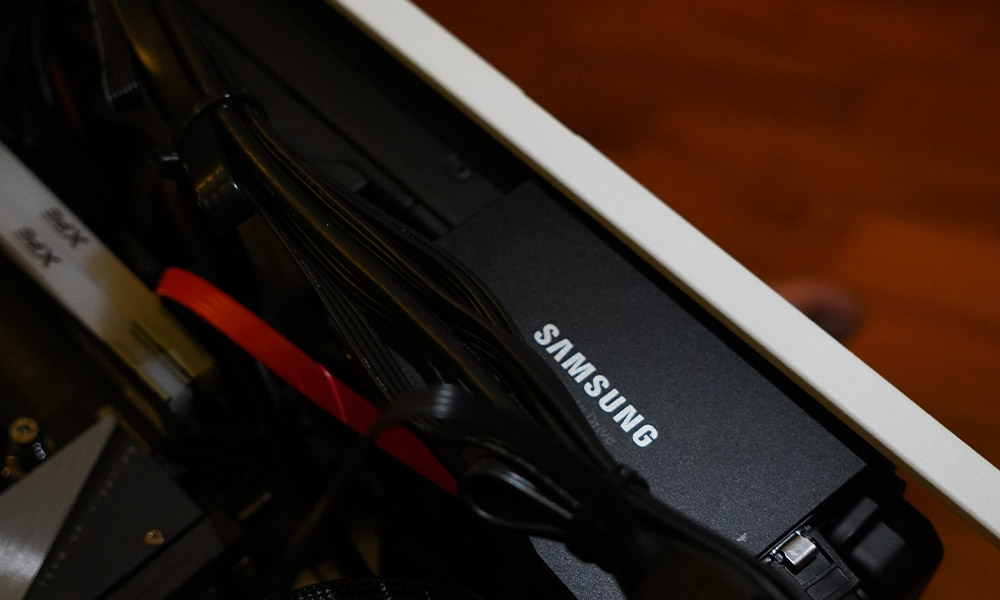 The SSD 870 EVO comes in four different storage space options: 250GB, 1TB, 2TB, and 4TB. Installation is seamless and simple, but you need to prepare a SATA cable first as the SSD doesn't come with one. Like any other SSDs or HDDs, all you have to do next is plug and play, but don't forget to backup your old storage devices first!
On paper, the SSD 870 EVO boasts sequential read/write speeds of up to 560MB/s and 530MB/s respectively, and offers a long-lasting lifetime of up to 2,400 Terabytes written (4TB model) depending on its edition.
After running CrystalDiskMark to check its sequential read/write speeds, the results are quite accurate to what Samsung promotes: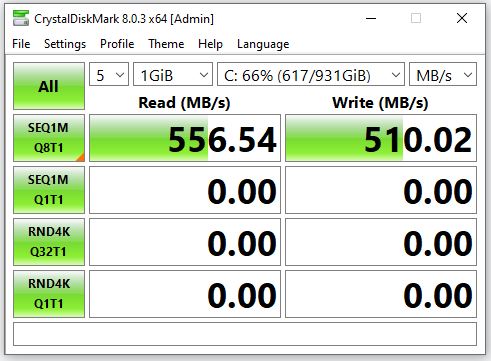 While the speeds of the SSD can never catch up to its NVMe successors, it still offers a reasonably fast speed. Whether you're starting up your desktops, loading up your games or transferring huge chunks of 4K video files, the SSD 870 EVO is reliable and hasn't failed us in all our content creation endeavours.
Starting up our desktop, which runs a Ryzen 5 2600x CPU and NVIDIA GeForce 2060 RTX, and firing up Cyberpunk 2077 all took less than 10 seconds respectively. Loading times in between the game were smoother as well. Considering the high GPU intensity that the game runs on, it's likely that you'll be able to run all your favourite games and operating systems on the SSD 870 EVO without any issues.
As for file transfers, there was quite a significant difference. Transferring a 4 GB file using the SSD 870 EVO took less than five seconds but on an HDD, it was irregular and can take over ten seconds. As for video editing work, the previews load way faster and the overall rendering experience would be faster and more responsive.
If you're handling lots of data transfer processes because of content creation work, then the SSD will prove to be an even more valuable asset to your setup. Even if you're not looking to upgrade it as a boot or main drive, the SSD can still be a wonderful data storage backup because of its price point.
Additionally, if you're wondering about fan noise – it's almost inaudible. The SSD runs surprisingly silent and makes a great companion for those who are on an AIO cooling looking to complete their soundless setup.
The SSD also hovered around 40-45 degrees on idle and hit 48 degrees when we're running games or doing benchmark tests on Samsung's Magician software.
The Magician Software adds twice as much convenience, functionality, and value to their products. The software features tools to track your driver's health, space, temperature, and updates, alongside performance benchmark tests and diagnostic scans to identify and fix driver problems.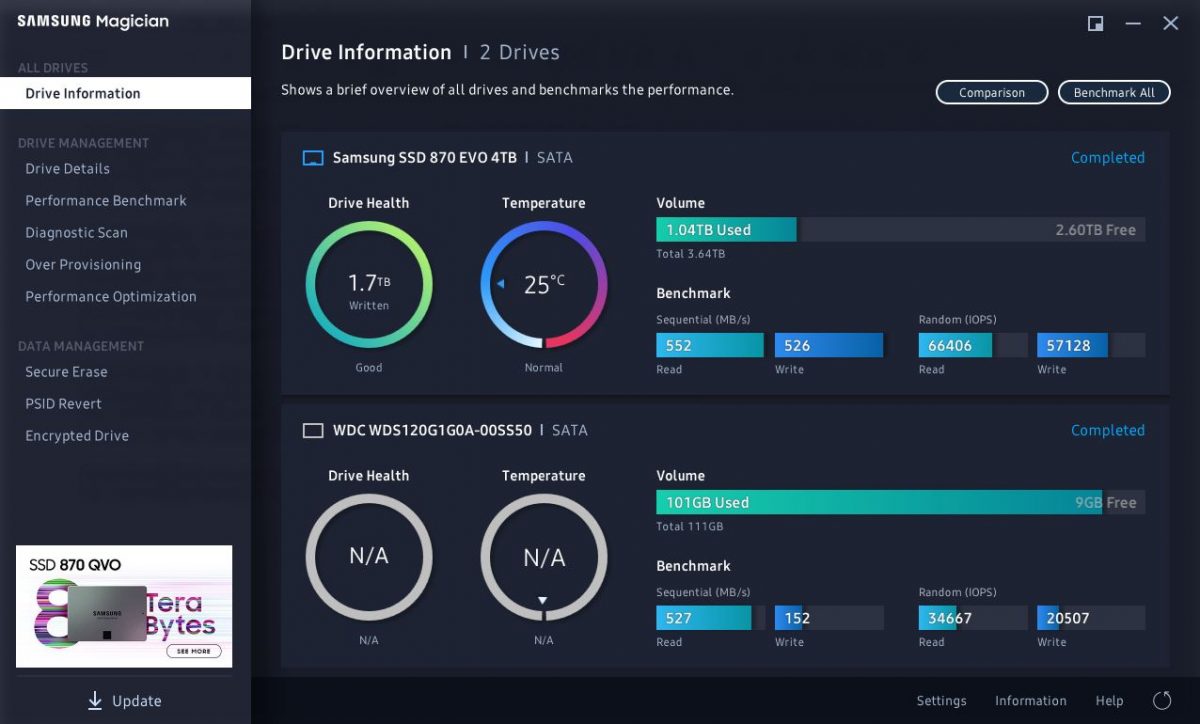 Additionally, the Samsung Data Migration Software (that comes with the SSD) allows you to ease into your hardware upgrading processes by helping users safely back up their data, including their current operating system and all of their other softwares, thus simplifying an experience that may be deemed as cumbersome and tedious.
Users just need to clone the old drive with the migration software to the newly plugged in SSD EVO 870 and physically remove the old drive after, and voilà – you got yourself a new SSD!
A five-year limited product warranty also means that the Samsung SSD 870 EVO is privy to increased longevity.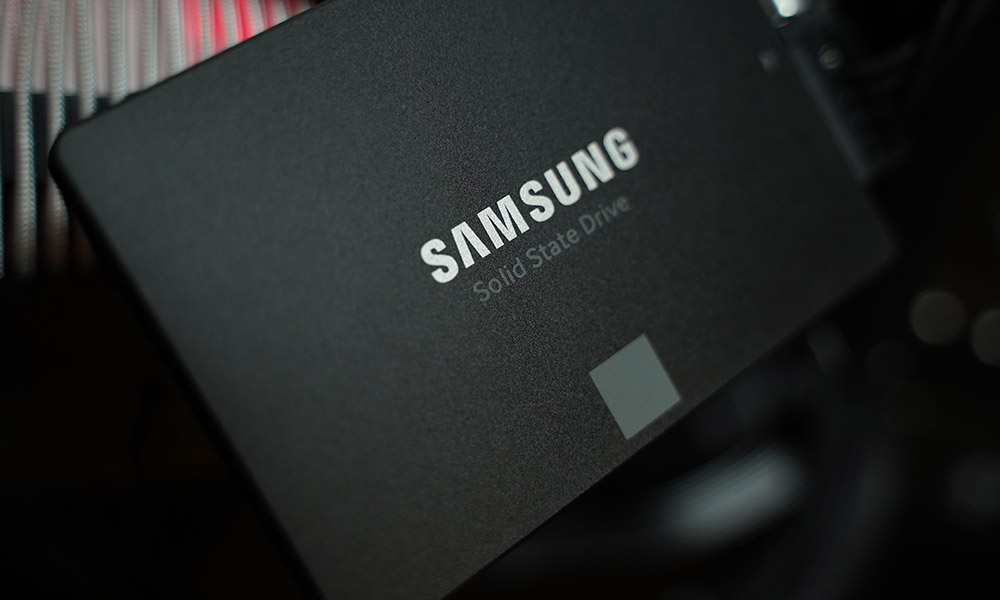 In summary, the Samsung SSD 870 EVO offers gamers an affordable price for its great performance, and has little to no drawback. It is the perfect mid-range storage drive for gamers and content creators who don't sport an NVMe supported system or want an affordable upgrade.
With its price per performance value, it's hard to find a reason not to upgrade your older SSDs or HDDs.
The Samsung SSD 870 EVO is available on Amazon, Lazada, and Shopee.
GEEK REVIEW SCORE
Summary
The Samsung SSD 870 EVO is the ideal choice for upgrading your storage devices if you're looking for performance, reliability, and affordability.
Performance -

8/10

Value -

9/10

Geek Satisfaction -

8/10