When it comes to keyboards, good optical switch keyboards are relatively rare compared to their mechanical counterparts. Razer aims to change that with its new flagship keyboard, the DeathStalker V2 optical gaming keyboard.
The Razer DeathStalker V2 comes in a few variants, both wired and wireless. We tried the Razer DeathStalker V2 Pro wireless low-profile linear optical keyboard for a week, and typed away impressed with its minimalist design, fast performance, and feel-good tactile response.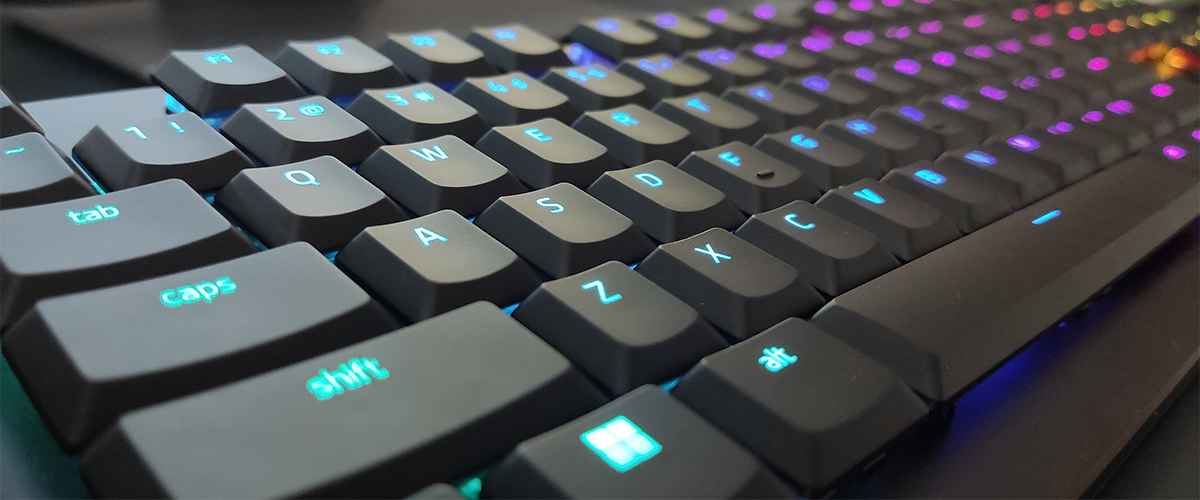 Objectively, optical switches are better than their mechanical counterparts because they respond faster and last longer. However, one of the issues with optical switches is that they usually don't feel good to type on. The DeathStalker V2 Pro low-profile linear optical switches eliminates that pain point, offering fast and quiet keypresses with just the right amount of tactile feedback, which makes typing on it a joy.
The actuation point is a mere 1.2mm, with a full travel distance of 2.8mm. If you game competitively (we don't), where milliseconds can matter, the quick response time can and should translate to better win rates. Outside competitive gaming, using the keyboard for typing or movement in single-player games has proven to be an enjoyable experience, as everything just clicks into place.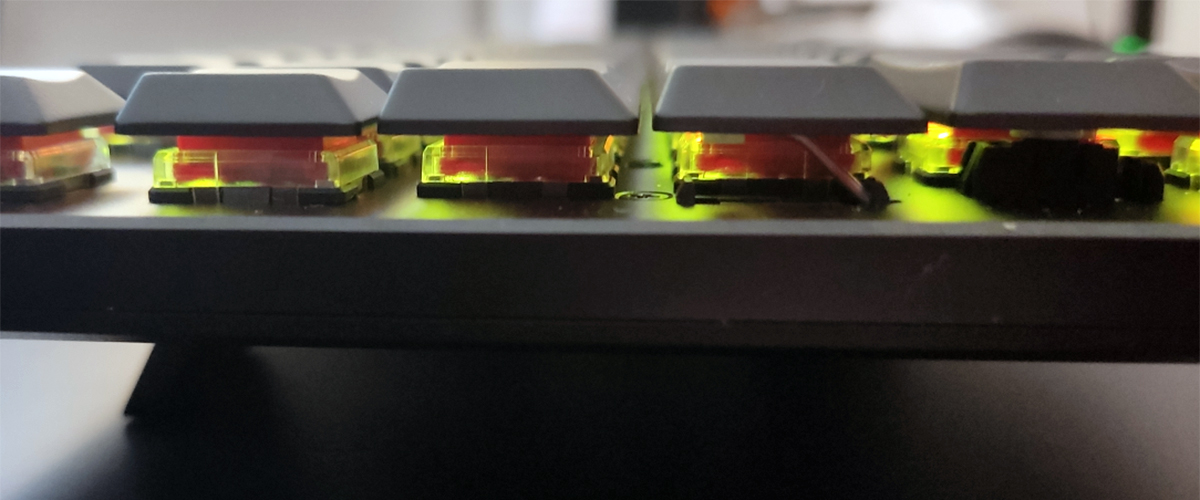 The keyboard also has N-key rollover (NKRO) which means every key press is registered, important in games such as Nioh 2 where key combos are integral to the gameplay. When you die, you can't blame the keyboard for not registering your keypresses – just blame bad skills and user issues.
You can connect the DeathStalker V2 Pro to your PC in three different ways: directly with a USB-A to USB-C cable that also charges the keyboard when connected; with the 2.4GHz Razer HyperSpeed wireless dongle; and through Bluetooth 5.0 which can save up to three different profiles.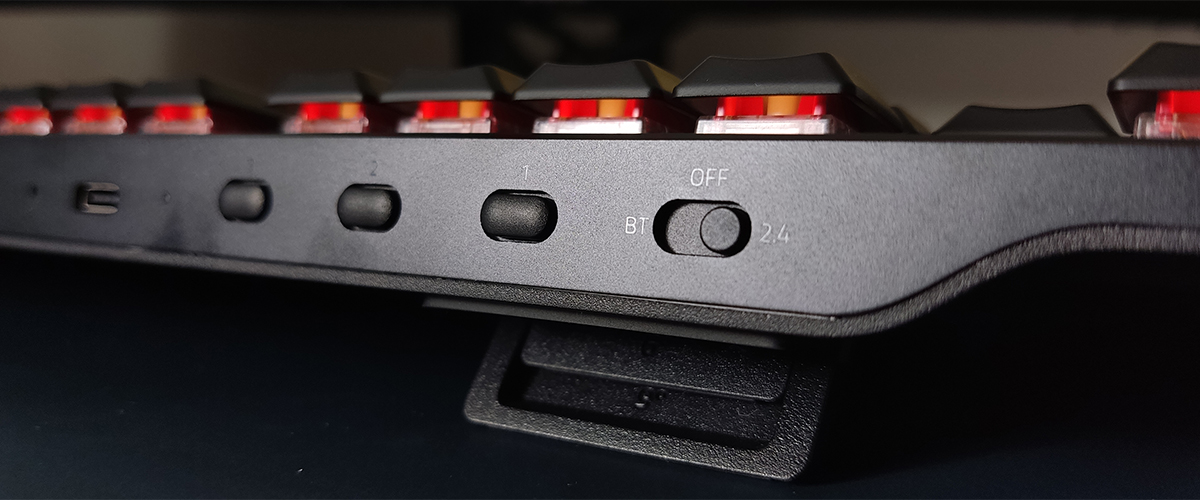 Although we'd settle for a wired version, you'll be getting the Pro version primarily for its wireless functionality. Here, the 2.4GHz Razer HyperSpeed dongle works seamlessly to provide a low-latency stable connection and we did not encounter any noticeable drop when typing or gaming during the week of use. The dongle can simultaneously link to two supported Razer devices, so if you are invested in the Razer ecosystem, the dongle lets you link (for example) to the DeathStalker V2 Pro, and a supported Razer mouse with just one USB port, freeing up one USB port for other devices.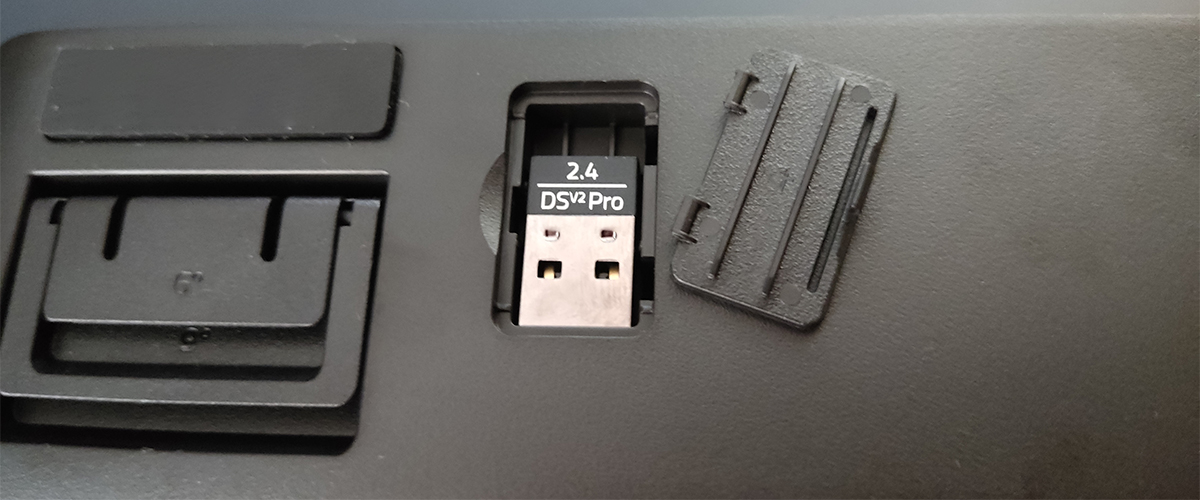 Bluetooth functionality lets you connect the DeathStalker V2 Pro to three different devices through three quick-access buttons on the back of the keyboard. You can swap between say, the PC, your laptop, or your phone/tablet with one button press so you can keep your desk setup to the minimum.
The keyboard feels solid and has a substantial heft to it, with the top plate made with aluminium alloy meant to withstand scratches and corrosion. Its ABS keycaps are coated with a durable substance meant to prevent the fading and 'oily' look that comes from long-term use on cheaper keyboards. Each key is also rated for a 70-million keystroke lifespan, which essentially means they'll last years even with regular daily use.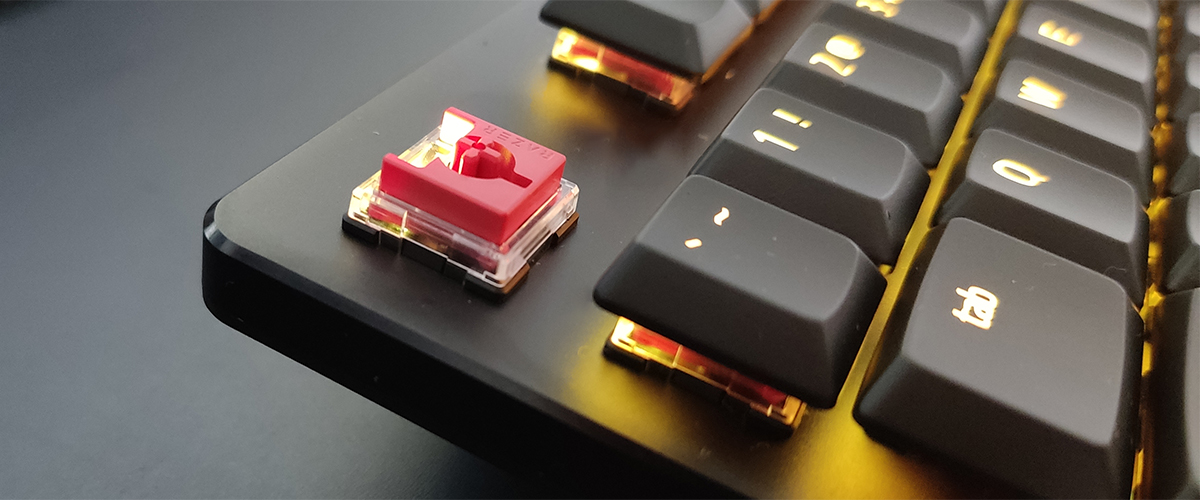 Like other Razer keyboards, the DeathStalker V2 Pro comes with a suite of Razer Chroma RGB backlight functions that you can easily change on the keyboard itself via Fn+Ctrl+Number, or through the Razer Synapse app for even more granular customisation. The colours are consistent and bright across the board, with lighting that highlights even secondary legends of the keys. RGB does drain the battery faster though so if you are using it on wireless, you should keep track of the battery life so that you don't run out of juice midway through your gaming session.
To do that, Razer has made it very easy to check the keyboard's battery levels. By pressing Fn+End, you will be able to see which of the five levels of battery it is at, with each level roughly corresponding to 20 percent of the full charge. It is displayed right above the arrow keys, making it easy to keep an eye on the battery without having to turn the keyboard around.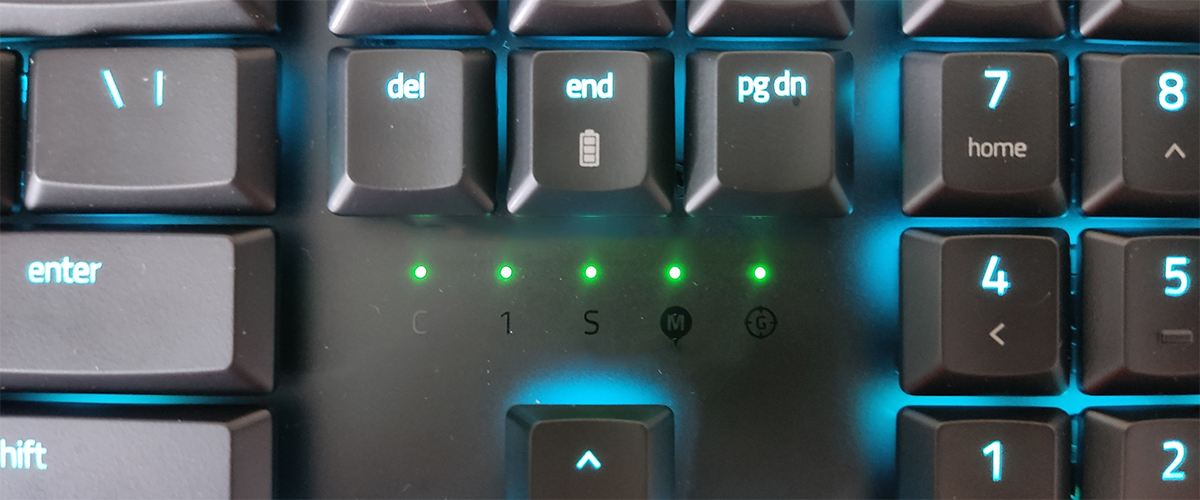 The battery was lab tested to last 40 hours with the RGB Spectrum Cycle lighting at 50 percent, which allows for a certain level of portability, though we kept it plugged in when not in use to keep it topped up.
The keyboard also comes with two accessible media tools on the top right of the keyboard itself. The media button lets you pause and skip soundtracks, while the media roller lets you control the volume and mute functions. Nice to have? Certainly. Necessary? Arguably not. But once you've gotten used to changing the volume quickly while you are in a game without having to fumble with your headset or PC settings, it is hard to go back to how you were doing it before.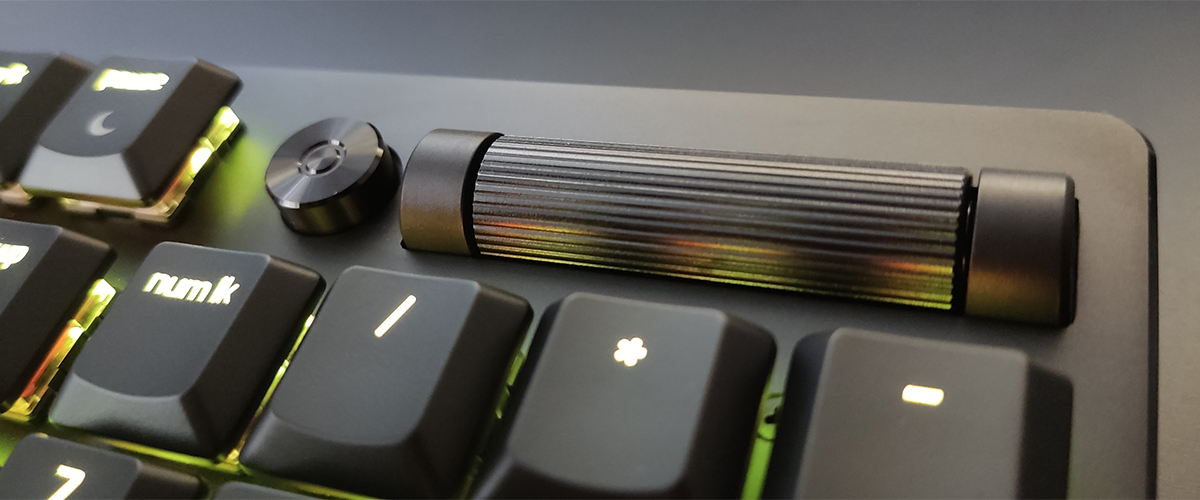 Other quality-of-life (QOL) features on the DeathStalker V2 Pro include on-the-fly macro recording (Fn+F9) as well as a gaming mode (Fn+F10) which disables the Windows, Alt+F4, and Alt+Tab keys. The latter is important to prevent accidental keypresses when you panic in the midst of a game because admit it, gamers have experienced the dreaded minimise to desktop Windows+D combo, which usually leads to a 'You are dead' screen.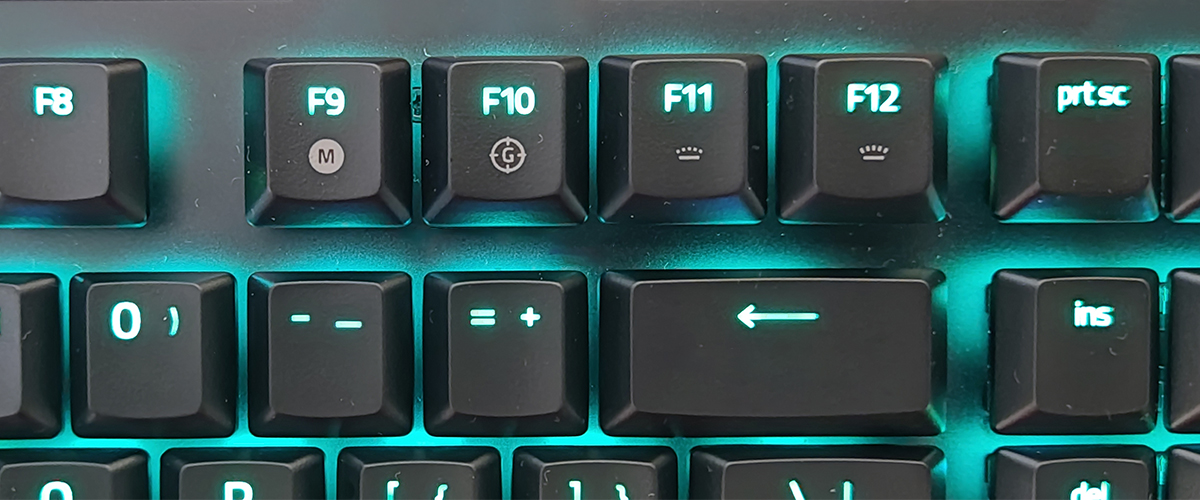 All in all, the Razer DeathStalker V2 Pro is an excellent optical-switch keyboard that is one of the best in its class. Its keypresses are responsive, it feels good to type on, and it has a slew of QOL features that make using it a breeze. Its downside is it doesn't come cheap, retailing at S$319. But if you can afford it, the Razer DeathStalker V2 Pro will certainly make a powerful addition to your gaming (or typing) arsenal.
GEEK REVIEW SCORE
Summary
The DeathStalker V2 Pro is Razer's new flagship optical keyboard, boasting a low-profile design with wireless and Bluetooth capabilities, that is responsive and feels good to use. But you'll have to fork out S$319 for the pleasure.
Aesthetics -

9/10

Build Quality -

9/10

Performance -

10/10

Value -

7/10

Geek Satisfaction -

9.5/10