As the work-from-home culture finds its place in the professional world, an increased focus has been shifted to the productivity and comfort of home set-ups. A trusty laptop, office mouse, and headphone or earpiece set are essential gear for remote working, especially when there are meetings and conference calls to attend. Not everyone is a fan of the third device, however, with the headphone cups and in-ear buds bringing discomfort and warmth to the ear after prolonged use. Audio and video peripheral maker Poly is offering an alternative solution in the form of the Poly Sync 40, a portable smart speakerphone that packs in several nifty communication elements, including easy connectivity and clear audio quality, to win a new working crowd over.
The middle sibling of the Sync 20 and Sync 60, the Sync 40 measures 10.2 cm high and 27.3 cm wide, and comes equipped with the brand's signature voice-compatibility feature. Like all of Poly's USB headsets and personal speakerphones, it carries certified support for popular voice platforms like Microsoft Teams, Skype, and Zoom, which gives users access to quick, hassle-free connection and crisp audio for both work and entertainment.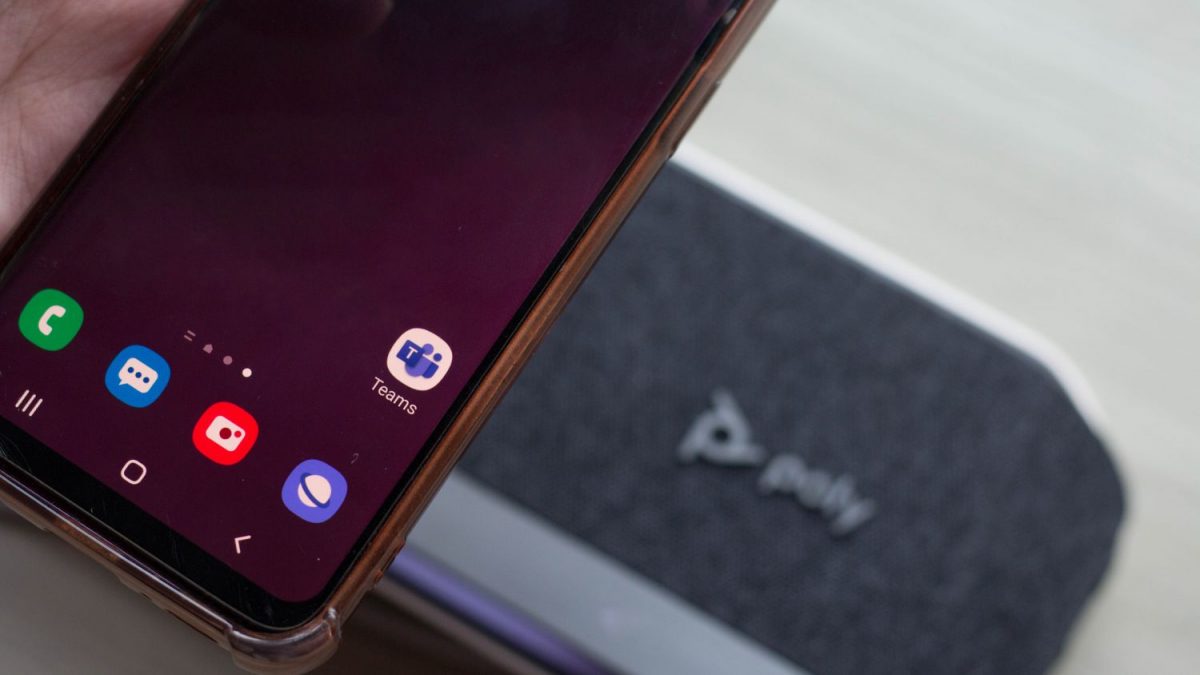 While there wasn't a chance to test the Sync 40 with any of the above, its performance on Google Hangouts and Discord was impressive enough. Audio on both the receiving and speaking end proved to be crystal clear and free of distortion, though there were times where background static could be picked up. No evident popping or hissing was detected as well, and that made it easy to understand or communicate spoken sentences and words from either side of the call. The device's multi-mic set-up is no slouch, too, being able to pick up the speaker's voice from approximately six feet away at moderate talking volume.
It's in a quiet setting that the speakerphone demonstrates its prowess at balancing out the background and foreground noise. Courtesy of its intelligent voice-detecting technology, phoning up an individual across multiple instances yielded the crisp tap-tap-tap sound of the mechanical keyboard that was later smothered by the speaking voice once it came on. The same was observed during weekly virtual Dungeons & Dragons sessions, with the speaking voices drowning out ambient sound for greater clarity. There's a little something to note here, however – higher-pitched voices may be a little too harsh on the ears at higher volume, so users can consider a lower volume default instead.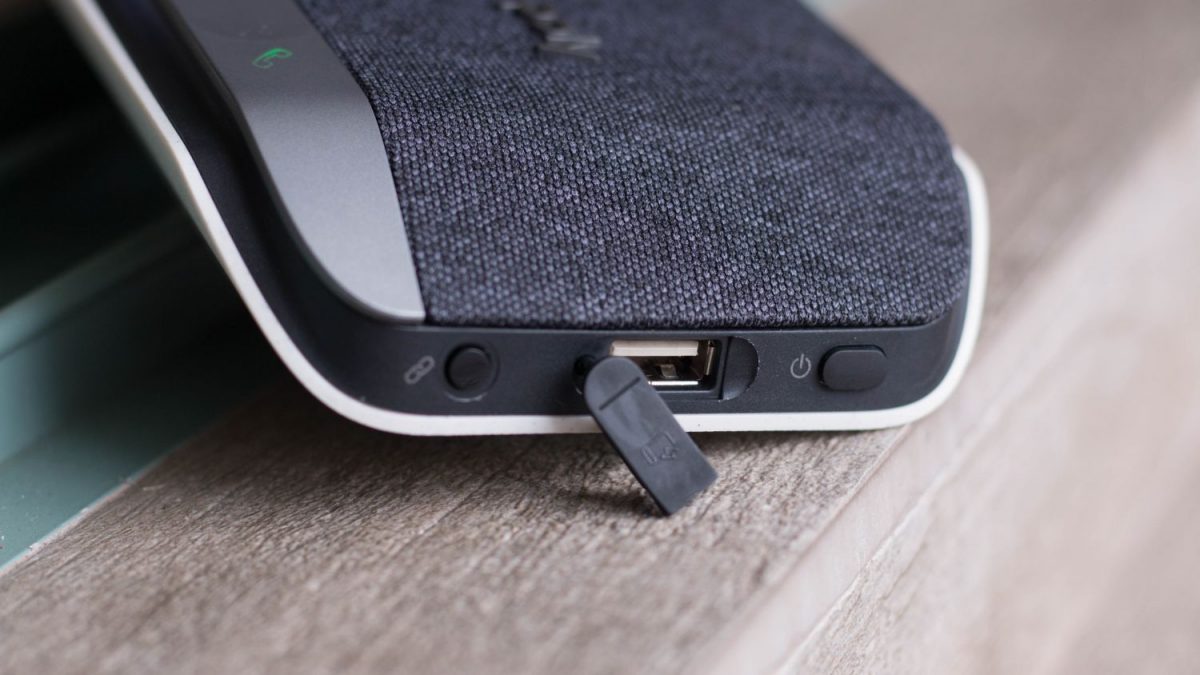 Fortunately, managing controls on the Sync 40 is a simple, fuss-free affair. The loudspeaker houses a handful of touch-sensitive buttons on the front-facing bottom strip that allows for Bluetooth pairing, muting audio, answering and ending calls, volume adjustment, and the programming of a custom function. Coiled at the base is an integrated USB-A and USB-C cable, with the right side sporting the power button, device link function, and a USB-A port for smartphone charging.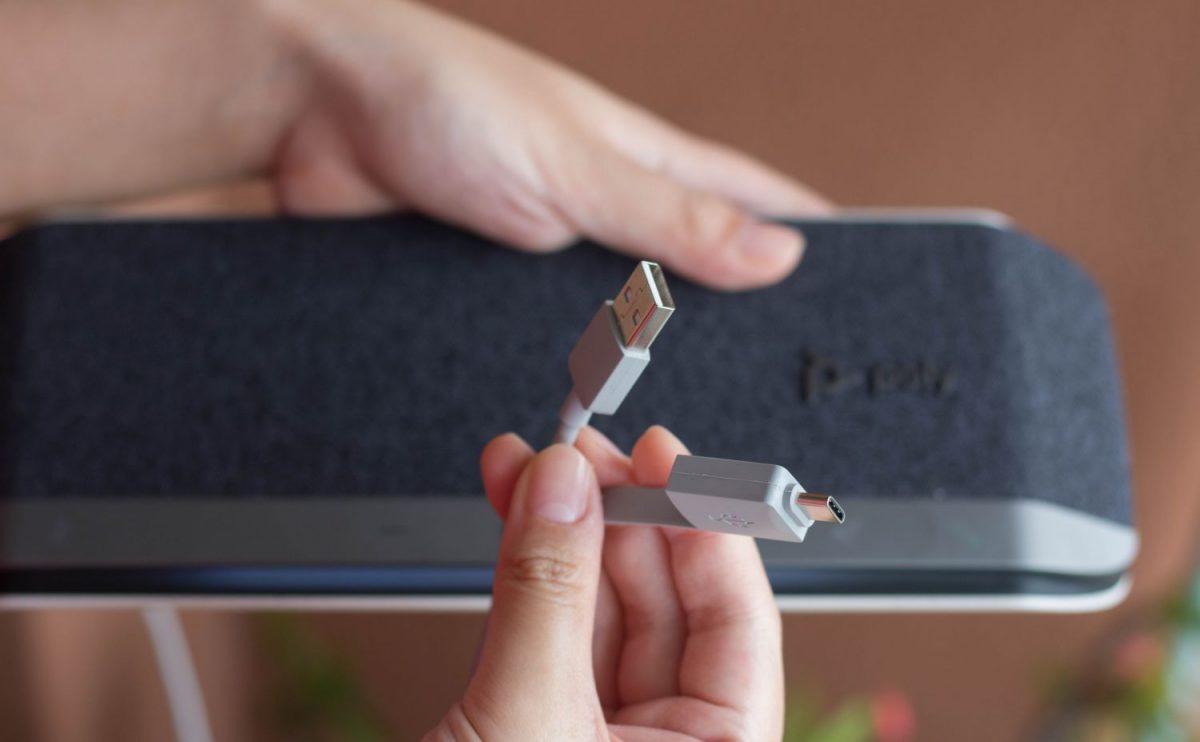 That last feature, in particular, is a nice little addition that offers a convenient, if slow, recharge in a pinch. Coupled with its compact 610-gram body, the speakerphone can be easily carried around one's home or office as a portable charger substitute – just don't expect too much out of it.
What you see here is, as such, what you get. The Sync 40 properly labels each function with easily-recognised icons, which means users will be able to quickly identify what the buttons do. They work well for the most part, and can effortlessly register feedback to activate the respective features, but that's, in itself, also a double-edged sword. As it turns out, these touch controls are overly-responsive, making it easy for accidental brushes to be detected. The lack of a prominent tactile sensation doesn't exactly help its case either, as the feedback area is not clearly demarcated.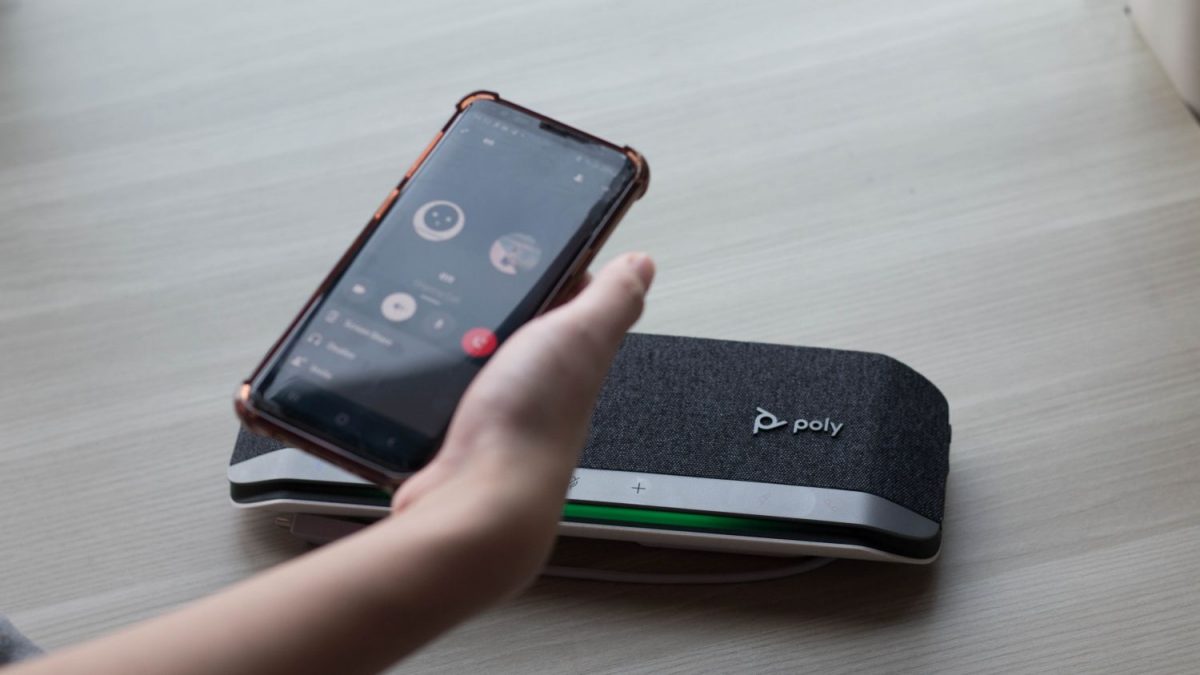 Pressing down on the volume rocker, meanwhile, causes the top and bottom LED strips to flash, indicating a change in audio levels. Apart from highlighting the status of a call, the illumination also helps users to determine if Bluetooth connectivity is in use. The absence of a battery indicator appears to be the downside of this design, but that's deliberate on Poly's part, as one will have to download the desktop or mobile app in order to view its charging and usage status. While some may find this a little troublesome, it's rather in-line with the ecosystem trend of the current-day Internet of Things era.
Where the speakerphone can be easily hooked up to the laptop, the phone-pairing process proved to be less intuitive. Even with the Bluetooth function activated on mobile, connection was only possible when the user boots up the app – an inconvenience that didn't carry over to the computer, where one could just turn on Bluetooth without having to install the app. The experience is further soured by the app's unappealing and bland interface that fails to entice others into exploring its other functions, Plugging in, as such, is the most reliable opinion for the best connection.
The set-up of the wireless daisy chain also fell below expectations, with the process requiring multiple restarts before working properly. Credit has to be given where it's due, however. Something that Poly did well with the device-linking feature is its anti-interruption property, which prevents another user from hijacking the Sync 40 to transmit content without permission, or cut in a now-playing song library with new music.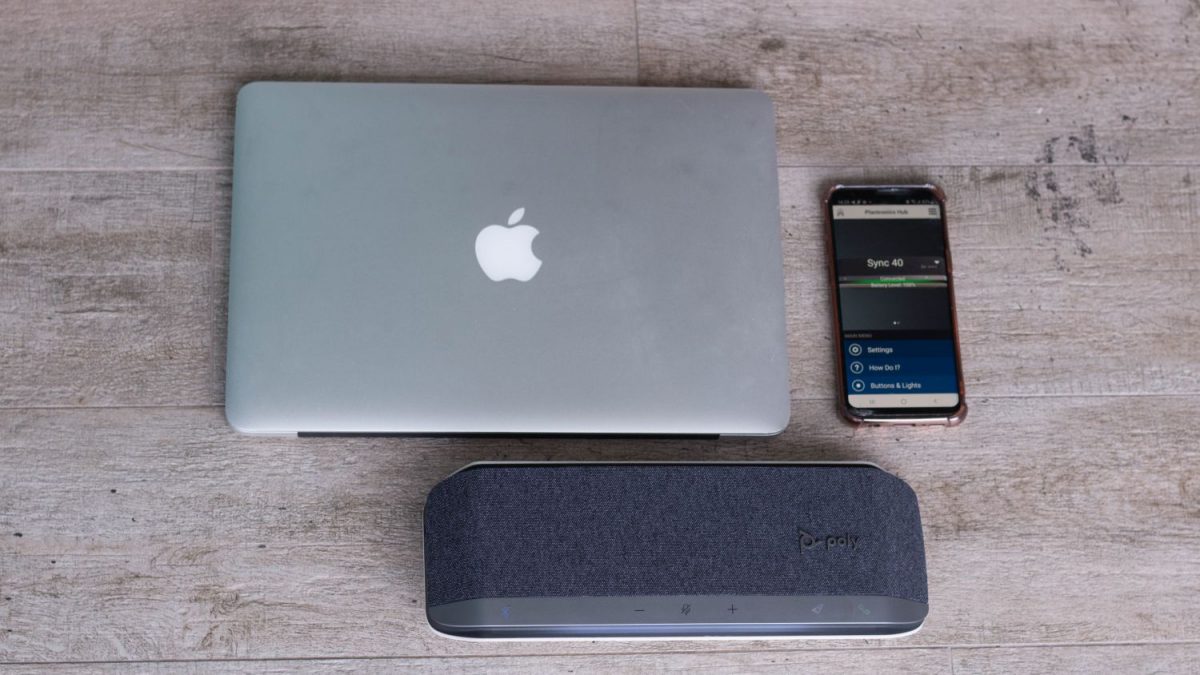 Indeed, the speakerphone's versatility means that it's able to double up as a music-playing speaker as well, courtesy of an in-built 50 mm music loudspeaker. Despite its reduced capabilities, it actually puts up a very decent performance, transmitting the bass, mids, and highs at an impressive loudness. The Sync 40 is no JBL or Sony, and doesn't quite account for the lack of rich, punchy tones and hollow-sounding hi-hats, but having the ability to switch between blasting music and attending calls without headphones certainly makes for an appealing prospect.
A slight gripe here would be the loud 'beep' sound transmitted by the volume buttons when activated, which will interrupt the music being played. This is, however, likely to be a mere distraction for most, and won't take long to get used to.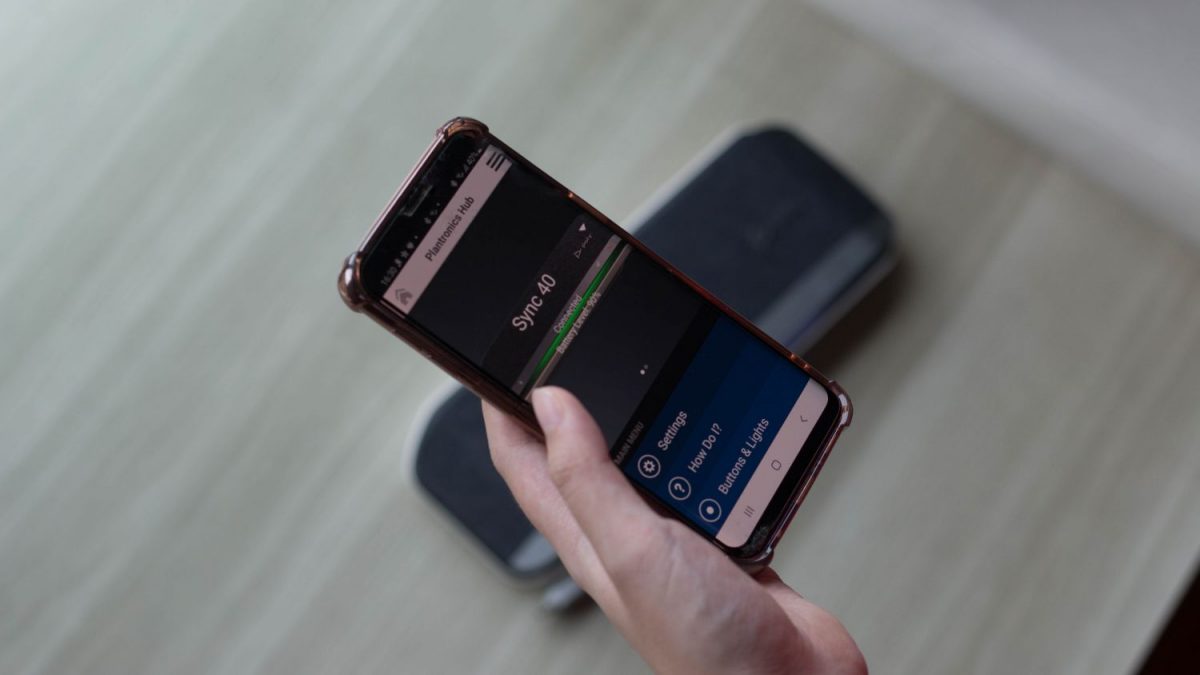 There's a reason why meetings aren't anyone's favourite, and that's because of their tendency to overrun. Long calls are an inescapable part of the working lifestyle, and Poly presents its solution in the form of 5,000 mAH battery that can sit through 30 hours of talk time and five hours of charging. While it's difficult to gauge the accuracy of these figures down to the tee, the speakerphone only tapped out after one whole week of calls and music-blasting, so users won't have to worry about its endurance throughout the working day.
The Sync 40 can essentially be described as "unassuming but brimming with quality" – a trait that has also been carried over to its aesthetic. Decked out in the muted tones of gray, it doesn't particularly come across as striking or outstanding, with the plastic base deceptively lending a budget, economical touch. In one's hand, however, the build is solid and sturdy, sporting no flex when pressure is applied.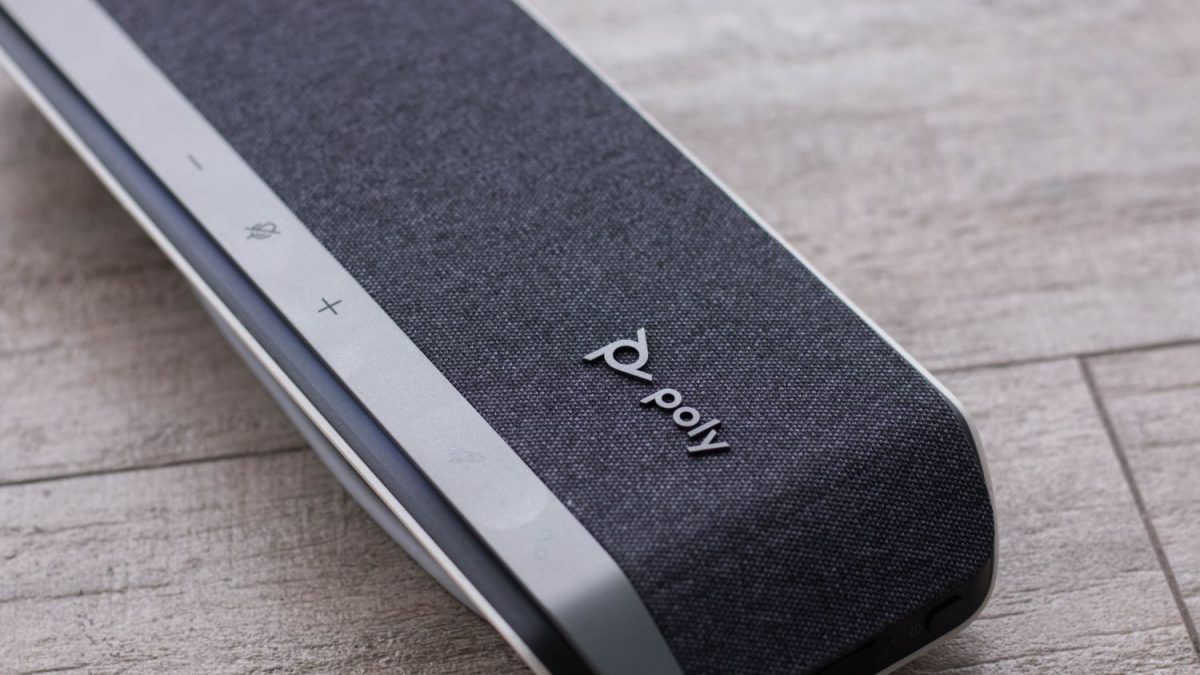 Ideal for flexible workspaces and huddle rooms where users bring their own laptops, the speakerphone excels in the communication experience, offering great feedback and spoken clarity for users, especially on supported platforms. The areas of wireless connectivity, app interface design, and other minor gripes mean that there's room for further improvement, but the Sync 40 attempts to make up for these shortcomings with its compact versatility. In a world that continues to be charmed by sophisticated tech, Poly's straightforward, no-frills approach to showcasing the value of simplicity is worth noting. 
The Poly Sync 40 is now available in Singapore through authorised distributed partners.
GEEK REVIEW SCORE
Summary
Simplicity is key, and the Poly Sync 40 manages to achieve this rhetoric with the combination of convenient communication, great audio quality, and nifty versatility.
Aesthetics -

7/10

Build Quality -

8/10

Performance -

8.5/10

Value -

7/10

Geek Satisfaction -

8/10
---

Drop a Facebook comment below!