When it comes to using a wireless mouse, the biggest issue often would be latency or "lag". After all, inputs are transmitted over the air and gamers have come to form the impression that wired trumps wireless anytime. Just look as far as the wired versus Wifi Internet debate to get my drift. With the G900 Chaos Spectrum, Logitech has effectively erased away any concerns that most gamers might have with using a wireless device. In the time I've used this mouse, everything has been great. I wish I could blame the hardware for my deaths in game but that fault squarely lies on my shoulders alone.
Right from the get go, Logitech has created an incredible experience considering you'd have invested a considerable amount on this mouse. It's the small touches that really adds on to an already awesome core product.
Great mice have a good balance between features and price. One thing I've noticed is that as Logitech continues to improve upon its branding, it also shows in the packaging of their latest mouse.
The unboxing process gives off the impression that you've truly invested in a premium product. But similar to how it felt with their latest headphones, the higher price points of Logitech's recent gaming products will make you wonder if there's overcompensation going on. After all, the G900 Chaos Spectrum falls into the higher echelons when it comes to Logitech's usual price range, and it comes across as if the actual product might go the way of some competitors – all that flash with none of the quality.
Compact is the mantra Logitech is channeling with the G900. Everything that you get out of the box can be nicely tucked away save for the braided USB cable. There's no charging dock here for the mouse, with Logitech opting for direct micro USB input to keep the device juiced.
The provided USB receiver is also different from the ones that unify all other Logitech devices as well. The G900 goes solo because the company claims that this mouse is one of the most responsive out in the market right now, which is why a standalone receiver is required.
As the G900 is designed as an ambidextrous tool, included within the package are additional shoulder buttons that snap on and off easily with magnets. All these components are nicely tucked away when not in use with the included accessory box. You would think the wireless mouse is designed for travel. But alas, apart from the box, there are no additional carrying cases to go along with the mouse itself, which is a small wasted opportunity.
The fit in hand for the G900 is extremely comfortable and the primary left and right mouse buttons have a satisfying click when pressed. Due to the length of the mouse, I'd say users that employ a palm grip to their mice would feel most at home with this device.
After spending a great amount of time with the mouse, the quality and pedigree of the device shows and excels with FPS games. I've spent most of my time on Overwatch, and one would come to appreciate the simplicity in it's design. Sure, it doesn't have a multitude of buttons available, but with two extremely well placed thumb buttons, it is more than sufficient for me to climb the ranks in game. I've used the mouse on wireless exclusively on Battlefield 1 and in Dota 2 as well, and found that the mouse really does work as touted – it's incredibly sensitive to inputs and with no delay in commands whatsoever.
Additionally, the length of the thumb buttons are generously well spaced and it'll be hard to strike the wrong button even in the thick of the battle.
As far as performance goes, the G900 lives up to the specs. It has fast response times and frictionless tracking on pretty much all your regular mousepad surfaces. The G900 performs extremely well during intense firefights and I cannot imagine using any other mouse model after this.
On-the-fly mouse sensitivity toggles can be found on the face of the mouse and require more force to engage, which is good considering that they are positioned well enough to avoid any accidental depresses. However, depending on how often you'd need sensitivity toggles, you might find it tricky to switch it on the go especially when you're sniping, which makes it both a boon and a bane at the same time.
Even after extended use, the mouse is holding up well in terms of build quality — there's no peeling of the surface coating that often plague mice who employ such materials, which is surprisingly common especially if you game in high humidity environments like Singapore.
As with all Logitech products, install the specific drivers from the website and you're good to go. There isn't much that I could add on that has not been covered with our past coverage of recent Logitech devices, it's pretty much all here. The emphasis for glowing logos on a mice that runs on a rechargeable battery feels totally unnecessary but is appears to be the design guideline for the current generation of gaming peripherals.
Despite all the bling, the G900 touts a 25 hour battery life and in real world use, I've found that it goes about 4 evenings worth of gaming sessions before I'm prompted with a critical battery warning. This duration is with the mouse lights on and would probably be able to eke out a few more hours with them off.
With the G900, Logitech has hit all the high notes when it comes to both performance and comfort. It'll be interesting to see where the brand goes from here, as they've really been able roll out products of consistent quality especially with their core line of products.
GEEK REVIEW SCORE
Summary
At S$249, the Logitech G900 represents the upper echelons that you can possibly achieve for a mouse. It's an excellent mouse all round and should elevate your game to the next level.
Overall
9.1/10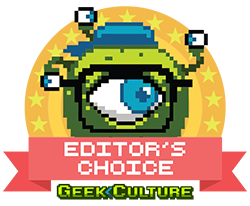 Aesthetics -

9.1/10

Build Quality -

9.5/10

Performance -

10/10

Value -

7.5/10

Geek Satisfaction -

9.5/10
Gerald currently straddles between his love of video games and board gaming. There's nothing that interests him more than trying out the newest and fanciest gadget in town as well. He dreams of publishing a board game sometime in the future!
---

Drop a Facebook comment below!
---