The Lenovo Legion Y530 is a gaming laptop that attempts to straddle the line between the niche gaming market and the general one. With prices starting from S$1,200, its affordability far outstrips a lot of gaming models out there. But in its quest for lower price points, it has had to make some sacrifices.
At 365mm by 260mm, the Legion is one of the more compact gaming laptops in the market, and fairly thin at only 24mm. Don't underestimate it though, because its sleek built houses an 8th gen Intel core i7-8750 processor (although you can opt for the cheaper i5-8300 model), a 1TB 7400 RPM hard drive, and the standard 8GB DDR4 RAM (with the option of going for 16GB should you be willing to shell out more). All of this in a surprisingly solid 2.3kg.
While it's definitely no brick, its weight feels nice and reassuring — although we should add, our biceps started to burn after toting it about for half an hour or so, so hand-carry is probably for muscles made of sterner stuff.
Design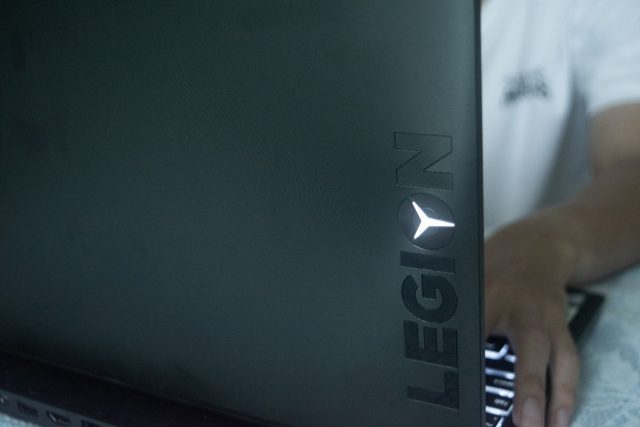 Despite being made of plastic, there's nothing about the Legion's outlook that feels cheap. Sporting a slightly vinyl-like, textured outer shell embossed with Legion's logo running along one side, the black-on-black design is a great example of understated polish, which is perfect for those who don't quite want to announce their gaming hobbies to the world.
Per current laptop trends, the Legion Y530 features thin bezels at the top and the sides, although the bottom bezel is fairly thick and houses the camera — which offers a most unflattering angle if you're using it for webcamming or streaming purposes.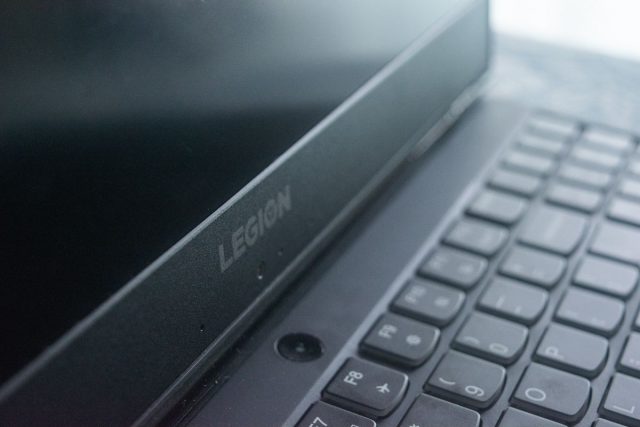 Around the keyboard, the plastic feels smoother, with a matte sort of finish that's pretty comfortable to rest your hands on. Just note that it does tend to pick up fingerprint marks. Now, the keyboard is a full-bleed, with a discreet white backlight that won't immediately out you to non-gaming peeps, but might take some getting used to if you've been inducted into the ways of flashy red, green and yellow.
The travel feels quite pleasant, and you won't get a lot of noise when you're typing, so you won't have to worry about distracting that fellow student down the table who's trying to cram in an entire semester's syllabus within one night.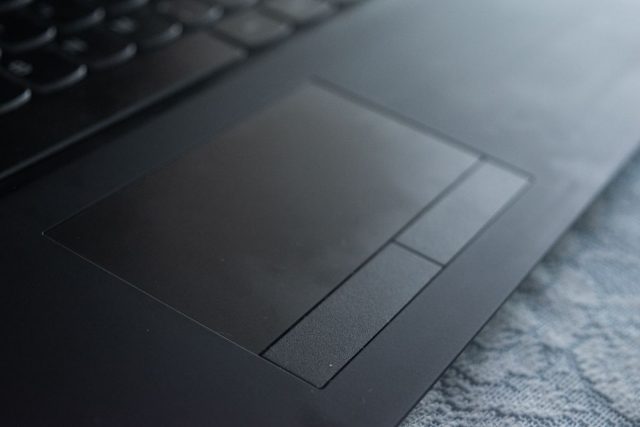 There really isn't much to be said about the trackpad – it's not particularly fancy but it does its job. Still, we're not quite fond of the loud clickity-click of the harbour buttons, because they do get a little jarring after a while.
Positioned along the front edge, the Legion Y530's Harman speakers with Dolby Audio does give you a fairly rich soundscape. Right as we were playing the opening scene of Final Fantasy XV, we were treated to the swelling vocals of Stand By Me gently drowning out the boys' heat-induced griping, which tugged hard on our heartstrings. Although there really isn't much sound isolation, so you won't be able to get a sense of direction for a particular set of footsteps, for example.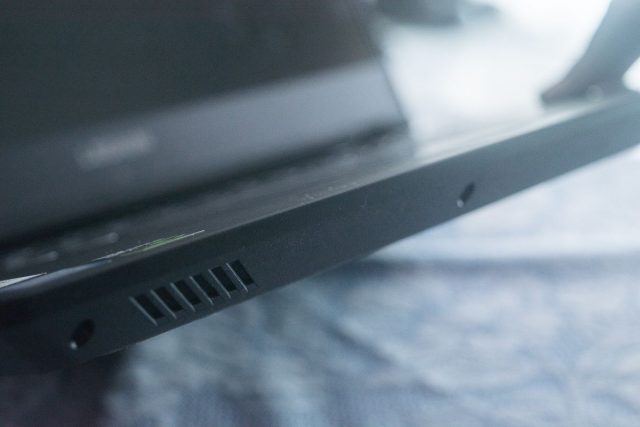 The Legion Y530 features three USB-A ports — although of the three, two are positioned at the sides, alongside a combo jack and the vents, with the remaining housed at the back with the rest of the ports. You'll be getting one USB-C (which will allow you to output to an external monitor), a mini DisplayPort, HDMI and a RJ45 ethernet port. And having everything at the back does help to keep your workspace neater when you're docked to a table.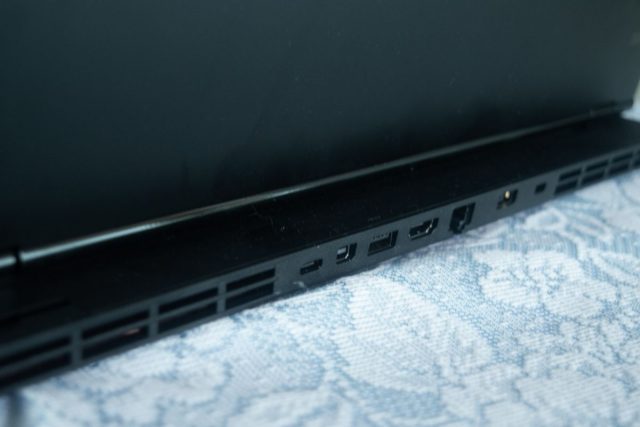 Display
Running at 60Hz with a resolution of 1920 x 1080, the 15.6-inch IPS panel display will offer you fairly smoothly rendered graphics. And while it might be a little dim under direct sunlight at 250 nits, it proved no problem for us when we were using the Legion Y530 indoors.
The colour gamut isn't amazing, on the other hand. You don't get a lot of vibrancy, which is par for the course at this price range. Of course, this means that if you're using the Legion Y530 for colour-grading purposes, you may find yourself overcompensating on saturation. That isn't to say it's impossible to work on, but you'll probably need a while to get the hang of it.
Performance
Sporting the Nvidia GeForce GTX 1050Ti (the 1050 and 1060 will also be available), the Legion Y530 won't give you much problems for most games out there — at medium to high settings. There's been no noticeable lag as we zipped around as Noctis in Final Fantasy XV, or fired off arrows as Hanzo in Overwatch.
Final Fantasy XV Windows Edition – 50fps (average) on high
Overwatch – 110fps (average) on high
We did notice, however, that despite its two cooling fans, the temperatures tend to get pretty high on the back end, where the ports sit. The Legion Y530 does offer a cooling boost option within its Vantage software to crank up the fans if need be.
It seems like discretion is key with the Legion Y530, as we barely heard a peep from the fans while we were gaming. On the downside, they kicked in hard when we were running Adobe Photoshop and Lightroom concurrently — so maybe this laptop's not entirely geared for content creation. Another somewhat sore point for the Legion Y530: we experienced three isolated Premiere Pro crashes while we were in the midst of video-editing. The footages, while 4k, were for sequences that didn't quite make ten minutes. Given the unfortunate loss of progress that comes with each crash, we'd really hesitate to work on any longer project on this machine.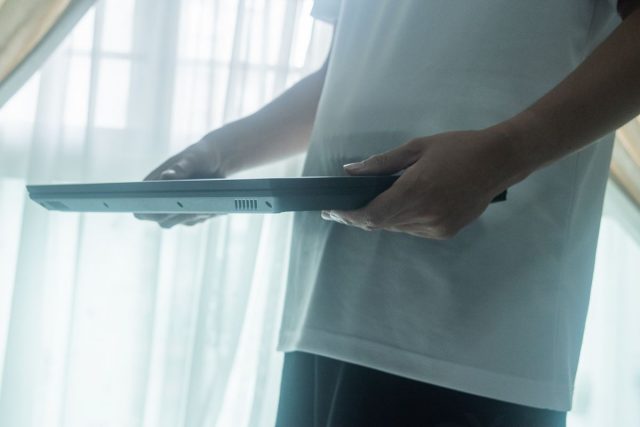 And if you're the sort averse to lugging around peripherals while out, you may find it a little disheartening that the Legion Y530's 52.5Wh battery will give you under five hours of battery life, which means it won't last the entire day, assuming you're looking to bring your laptop to class or work. You'll be down to two hours, max, if you're doing anything more intensive — say editing videos on Premiere Pro. The power adaptor is therefore almost definitely a must should you be out for long hours. The only consolation is that it doesn't exactly weigh much, so it won't be too much of a workout carrying all that around.
With its subtle exterior, the Legion Y530 is a pretty reasonable bang for the buck if you're a casual gamer looking for something decent enough to run most games out there. Its subdued aesthetics will have it pass unnoticed many a critical eye, so gaming at the back of an incredibly trying lecture will probably not get you in trouble (you didn't hear this from us). But for avid content creators or more nit-picky individuals, you may have to look a step up in price range for something better suited to your needs.
Review Unit Specifications
| | |
| --- | --- |
| | Legion Y530 |
| CPU | 8th Gen Intel Core i7-8750H Processor (Hexa Core, 9MB Cache, up to 4.1GHz) |
| Display | 15.6" FHD (1920 x 1080) IPS Anti-Glare Display(250N, 60Hz) |
| Memory | 24GB memory (8GB DDR4 2666 RAM + 16GB Intel Optane memory) |
| Graphics | Nvidia GeForce GTX 1050 Ti 4GB DDR5 |
| Storage | 2TB HDD |
| Size | 365mm (length) / 260mm (breadth) / 24mm (depth) |
| Weight | 2.3kg |
GEEK REVIEW SCORE
Summary
The Legion Y530 is a decently affordable laptop for casual gamers.
Aesthetics -

8/10

Build Quality -

7/10

Performance -

6/10

Value -

8/10

Geek Satisfaction -

7/10
JoYFQ is a Gryffindor who distracts herself from the pitfalls of capitalism and hegemonic representations by reading fanfiction. Has surprisingly good RNG luck in games. Probably just jinxed herself.
---

Drop a Facebook comment below!

---