Technology has advanced to a point where you can slip a decent graphics card into a laptop and it'll run games far better than expected, providing owners with a machine that can handle work and games with ease. But as gamers can attest, it still takes a powerful machine to provide that advantage players seek, and Lenovo's Legion series of gaming laptops are designed to provide a superb gaming experience for hardcore gamers, and this year, the Chinese PC maker has updated its gaming machines with the latest Intel 13th Generation Intel chips, and Nvidia laptop graphics processors.
Sporting an onyx grey chassis, the Legion Pro 7i looks aesthetically pleasing with the Lenovo and Legion logos on the lid. According to Lenovo, the laptop is made from recycled aluminum in the bottom cover and post-consumer recycled polymers on the top cover, which means that it is somewhat environmentally friendly. The Legion Pro 7i has a dimension of 363.4 x 262.15 x 25.9mm and weighs 2.6kg.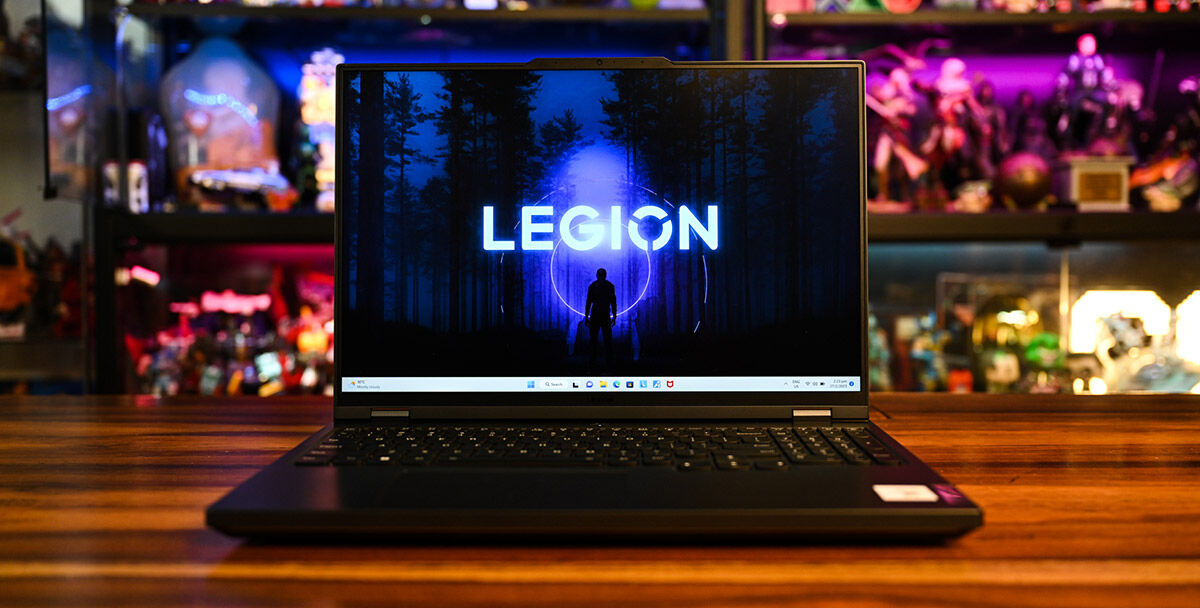 Lifting the lid reveals a 16-inch IPS display that supports WQXGA (2560 x 1600) resolution with up to 500 nits brightness, and up to 240Hz refresh rate. Even though some gaming brands are offering 17-inch displays, bigger doesn't always mean better and the gaming experience on the Legion Pro 7i wasn't dampened by its slightly smaller screen size. When viewed indoors, the display looks vibrant, with good color saturation when we ran several HD content, and fired up some 3D games, including Godfall and Borderlands 3, at the high resolution settings.
The camera and microphone are located above the display, for taking photos, recording videos, and video conferencing, while the base offers a full-sized Legion TrueStrike gaming keyboard with RGB backlight and rectangular touchpad. The keys here have audible tactile feedback that isn't too noisy, and they are also neatly spaced out, unlike the cramped numeric pad on the right, which uses smaller keys.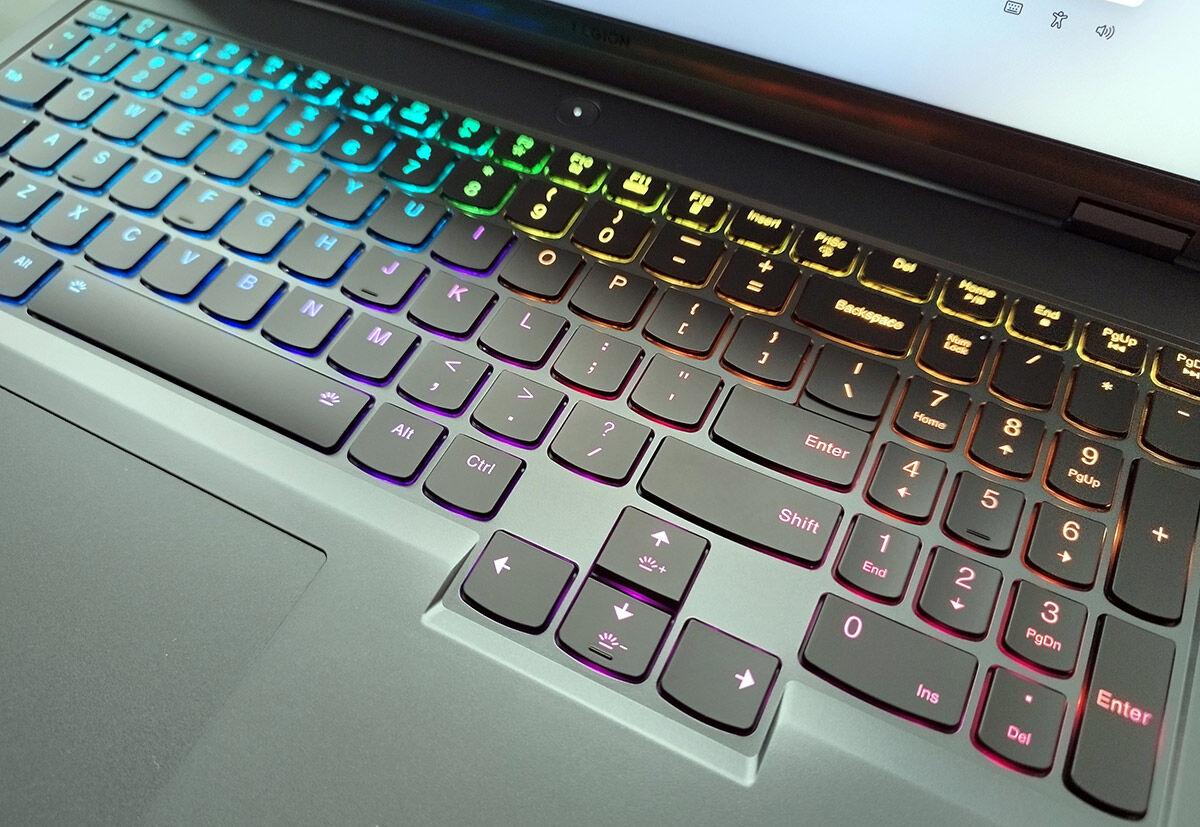 Lenovo also included a set of four swappable ceramic key caps, replacement scissors (that are found underneath the key cap) and a two-sided detachment tool for gamers looking to swap their keys, primarily the W, A, S, D which is commonly used for four-direction movement in first person shooting games.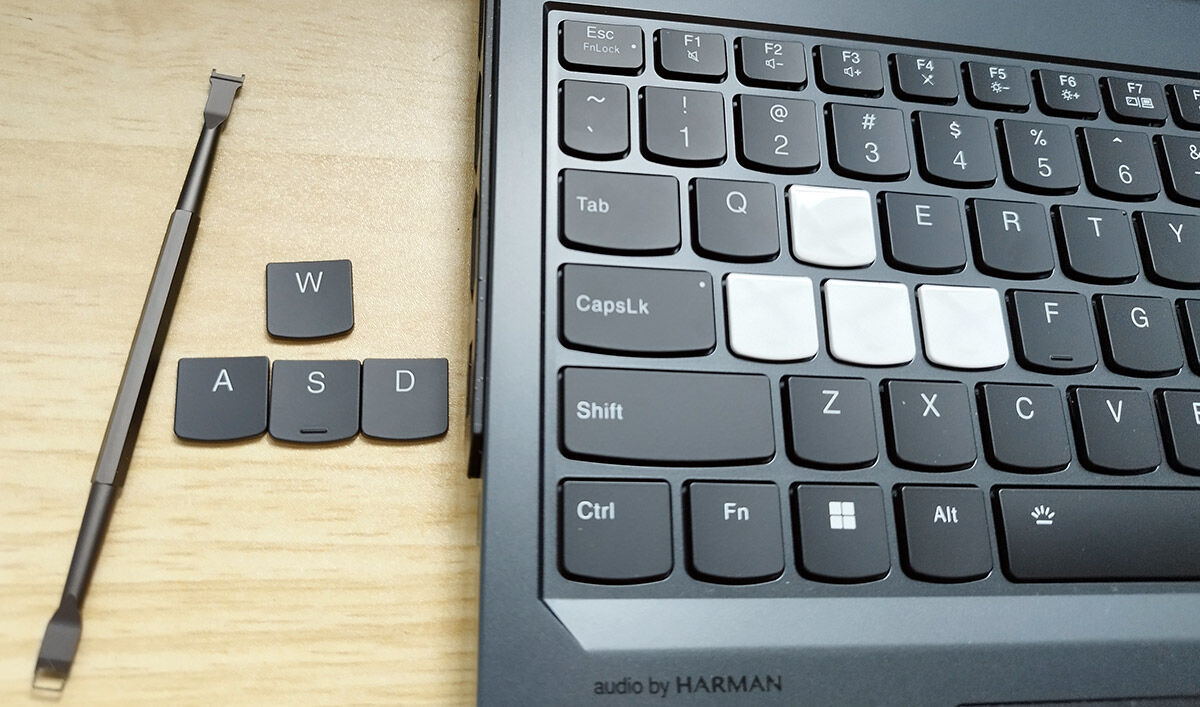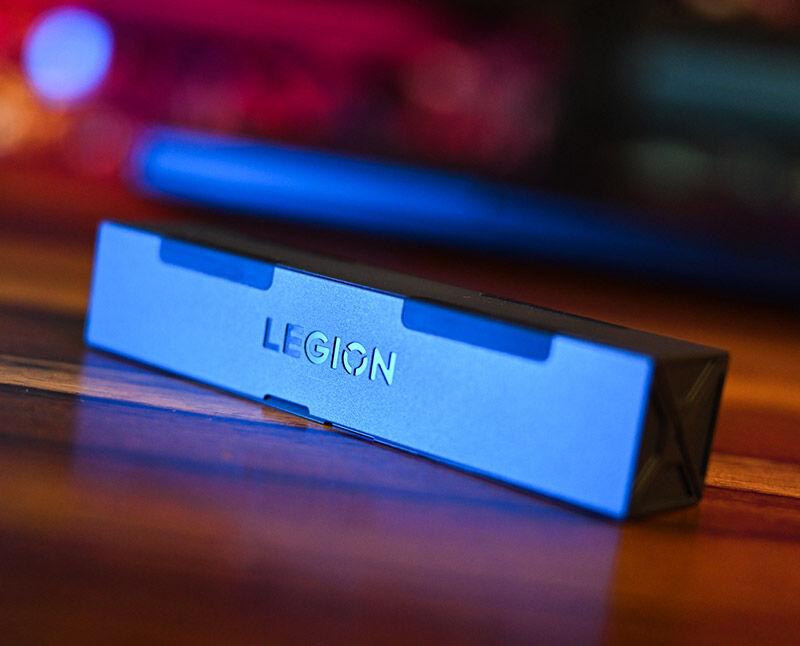 The power button is above the keyboard and has a color indicator that lets you know what mode the machine is currently running – White (Balance mode), Red (Performance mode), Blue (Quiet mode) and Purple (Custom mode).
On the left we find a USB 3.2 Gen 1 port and a multi-purpose USB Type-C connector that supports Thunderbolt 4, while the combo audio jack, web camera switch and USB 3.2 Gen 1 connectors are located on the right edge. The unique power connector, 2 X USB 3.2 Gen 1, 1 X HDMI, 1 X multi-purpose USB Type-C and RJ45 Ethernet ports are all placed on the rear.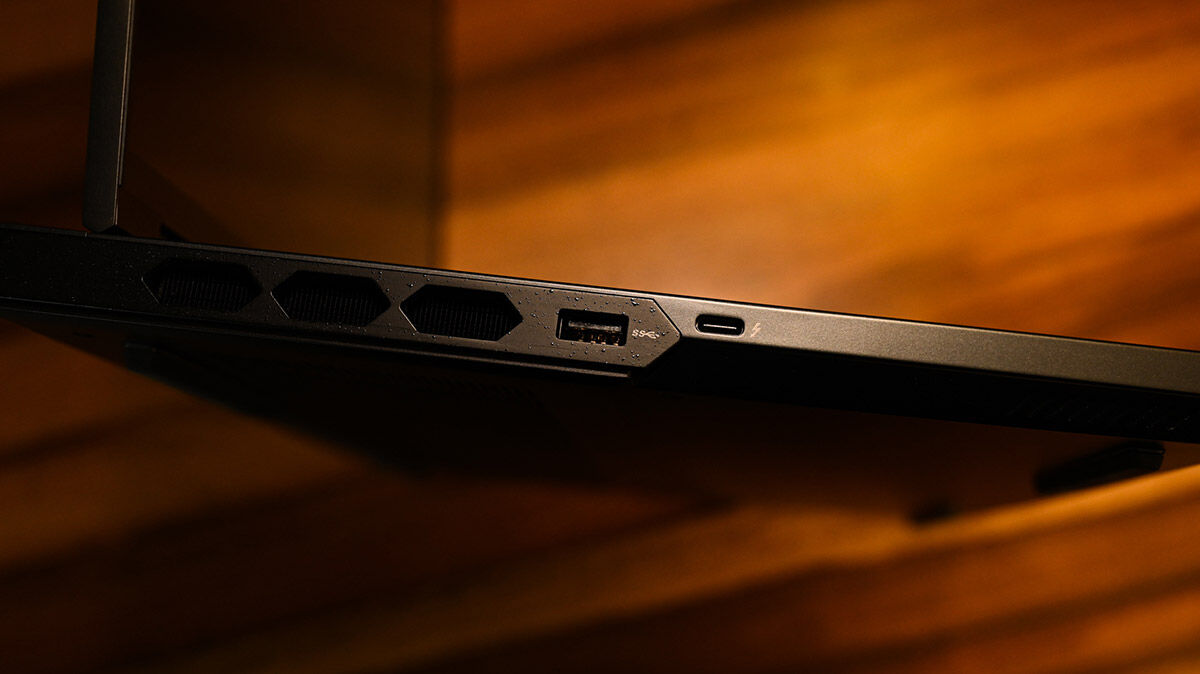 According to the manufacturer, the gaming laptop touts Legion Coldfront 5.0 thermal technology with liquid metal that enhances heat transfer from the CPU, as well as an improved fan system with 3D blades as thin as 0.1mm to provide optimal air flow and thermal efficiency when running intensive games and applications. Do note the hot air blowing out from the exhaust vents on both sides and rear, and you'll feel it especially if you are using an external mouse rather than the touchpad. The laptop built-in speakers are on both sides from the touchpad and they provide decent treble and mids, but less audible bass that should suffice for your general audio enjoyment.
The Lenovo Vantage application is preinstalled with the Legion Pro 7i that provides hardware monitoring such as CPU and GPU usage, enables device security protection, warranty check and support request. There are also four thermal modes to choose from – Performance, Balance, Quiet and Custom and these provide the optimal combination between performance, power consumption and speed of cooling fans. The Legion Pro 7i also features Lenovo AI Engine+, powered by Lenovo LA-2Q AI chip, which deploys a software machine learning algorithm to optimally tune system performance the longer you run your games and applications.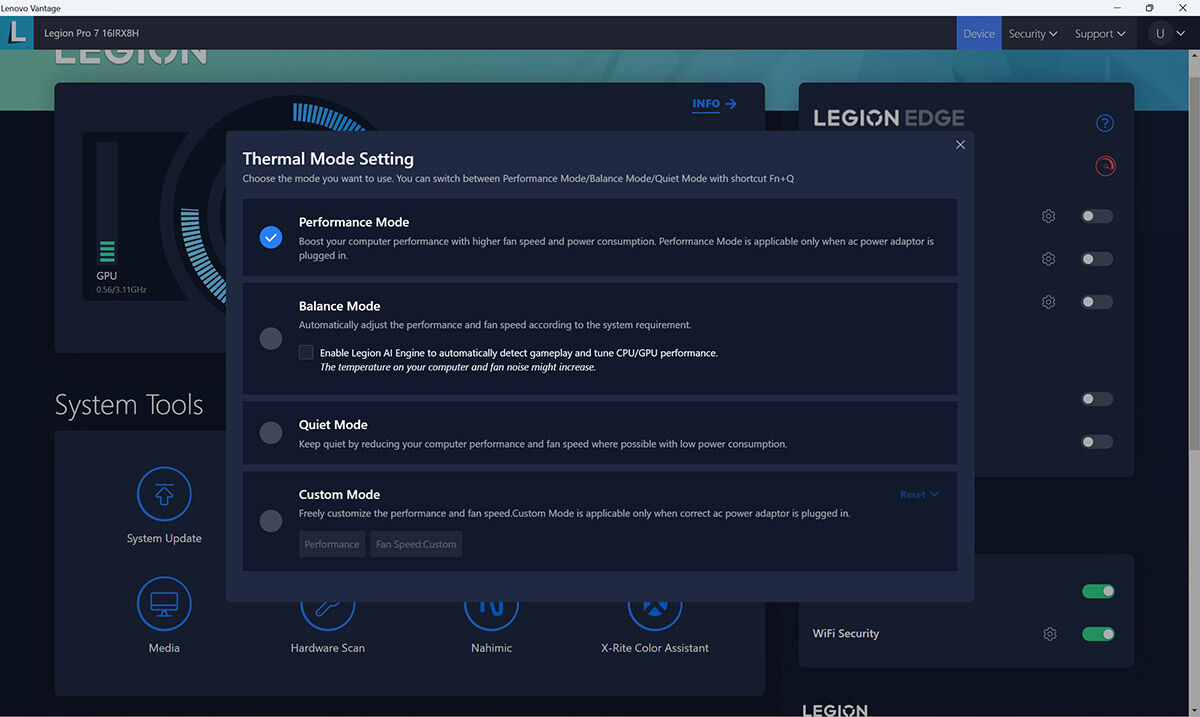 The Legion Pro 7i that was sent to us is an engineering sample that comes equipped with Intel 13th generation i9-13900HX processor (up to 5.4GHz), NVIDIA GeForce RTX 4080 laptop GPU (12GB GDDR6), 32GB DDR5 memory and two 1TB SSDs for storage. While the hardware specifications may not be of the highest tier, i.e. Intel i9-13980HX CPU and NVIDIA GeForce RTX 4090 laptop GPU, Lenovo does offer limited customizable options for users who prefer different hardware to the pre-configured model.
Performance-wise, the Legion Pro 7i did very well in the 3DMark Professional Fire Strike Extreme and Time Spy Extreme benchmark tests, with scores of 20,701 and 8,628 respectively. It also scored a decent 12,585 on maximum threads used in the 3DMark CPU Profile benchmark tests. Borderlands 3, a popular first-person RPG shooter game, has an in-game benchmark utility and at 1920 x 1080 resolution and maximum settings, the Legion Pro 7i was able to deliver 162.92 frames per second, which translates to a smooth and fluid gaming experience. Like most gaming laptops, the Legion Pro 7i works better when plugged to a power outlet, and if you don't have it on hand, know that with our PCMark Battery tests on gaming applications, the laptop lasted 1 hour and 4 minutes before fizzling out.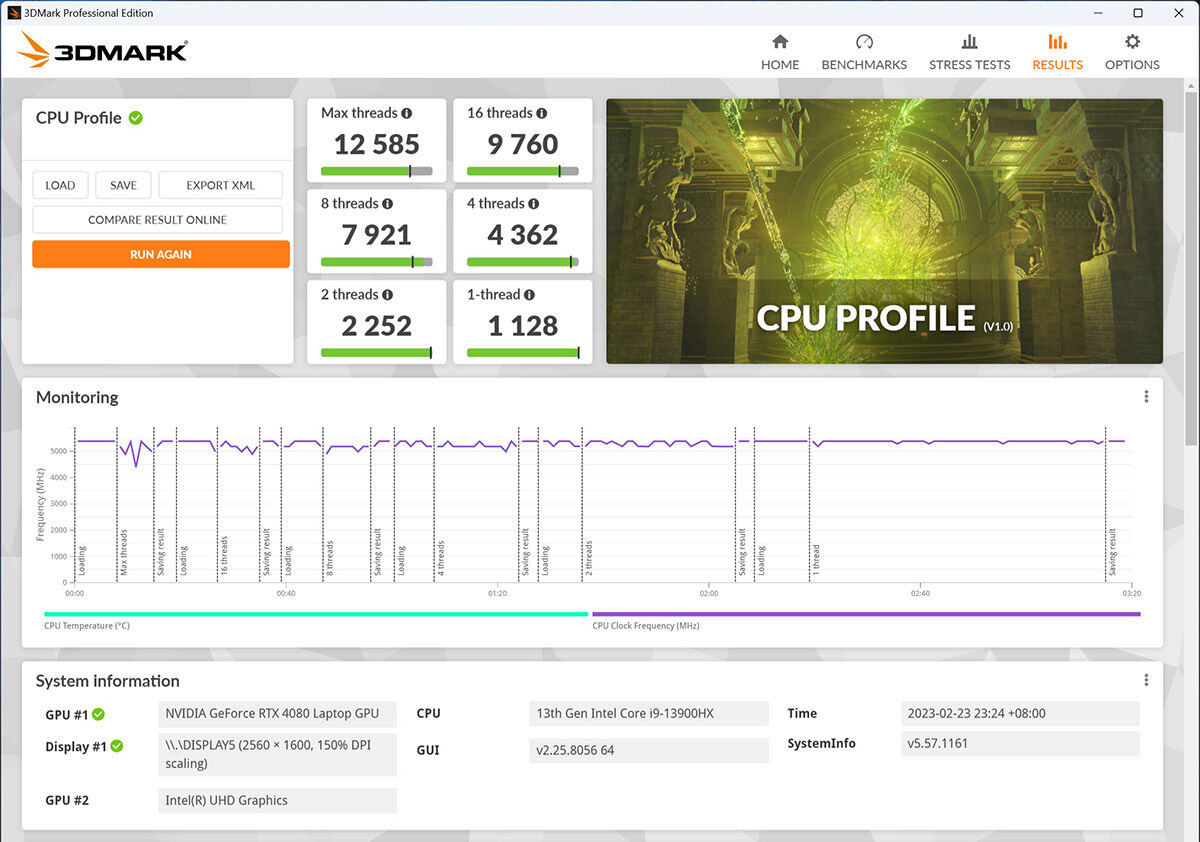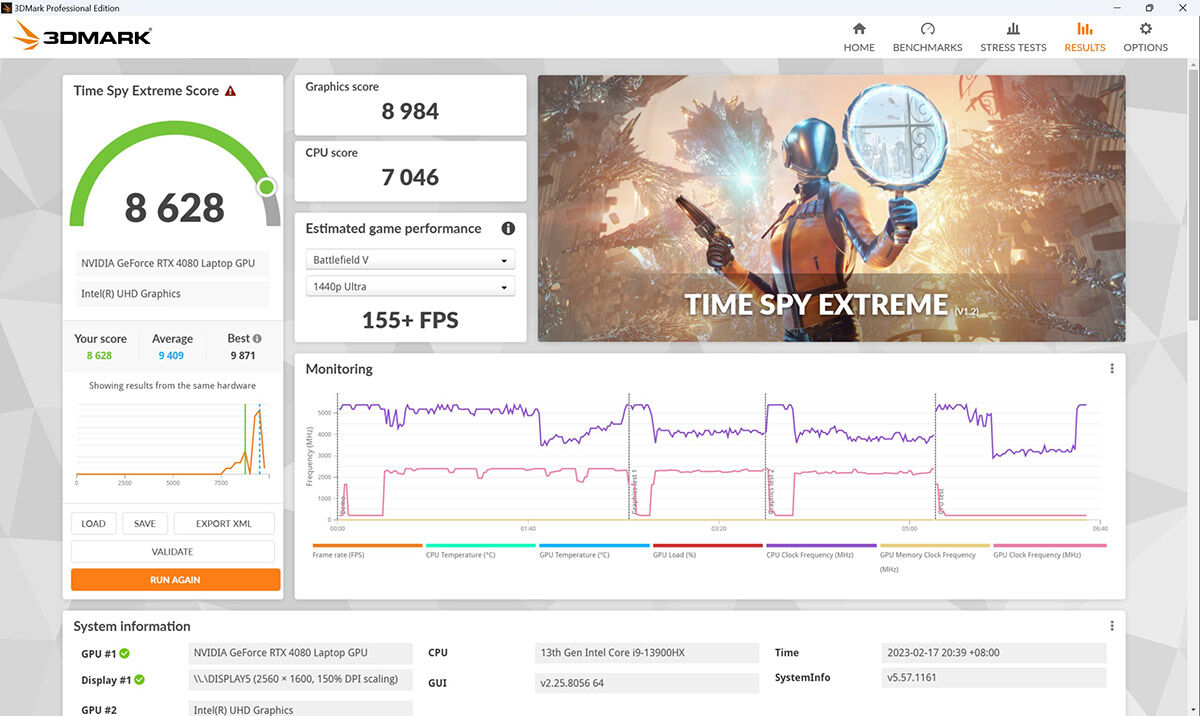 At the retail price of S$5,299, the Lenovo Legion Pro7i, powered by Intel Core i9-13900HX with NVIDIA GeForce RTX 4080 laptop GPU, 32GB DDR5 memory, 1TB SSD storage and preloaded with Windows 11 Home 64-bit, isn't the souped up machine that professionals might want, but that would likely cost twice as much for a lot less comparable increase in performance. The price is steep compared to an ultraportable, but its in the price range of a MacBook Pro 16 and this one can run far more games. If you're looking for a machine that handles games better than an ultrabook, and want to keep spending down, this Pro7i offers great features and performance for its price.
GEEK REVIEW SCORE
Summary
Updated with the latest hardware, the Lenovo Legion Pro 7i is one gaming laptop that offers a good balance of price and performance for hardcore gamers.
Overall
9.1/10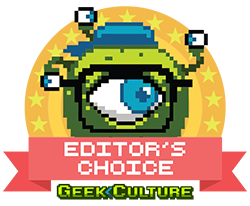 Aesthetics -

9/10

Build Quality -

9.5/10

Performance -

9.5/10

Value -

8.5/10

Geek Satisfaction -

9/10