No self-respecting movie reviewer will put on record that one-time comedian Adam Sandler makes good movies.
Sure, the guy can be funny (Happy Gilmore, 1996), but he has also starred in countless terrible movies – Pixels (2015), Jack and Jill (2011) and I Now Pronounce You Chuck and Larry (2007) are just some of the painfully unfunny films the American comedian has been a leading man of.
But hey, the dude is a multimillionaire whose movies have made a combined US$2 billion at the box office, so who are we to argue? And a substantial amount of his moolah probably comes from the Hotel Transylvania franchise, which consists of three theatrical films, two graphic novels, two short films, a TV series and several video games. So who has the last laugh now?
Sandler returns to voice Count Dracula, who is beginning to feel sad and lonely, and which immortal wouldn't? In an attempt to cheer up the vampire who runs his own hotel, his daughter Mavis (Selena Gomez) arranges for a vacation… on a cruise ship targeted at the monster community. Yes, a vacation for someone who runs a hotel, on a hotel, on a boat.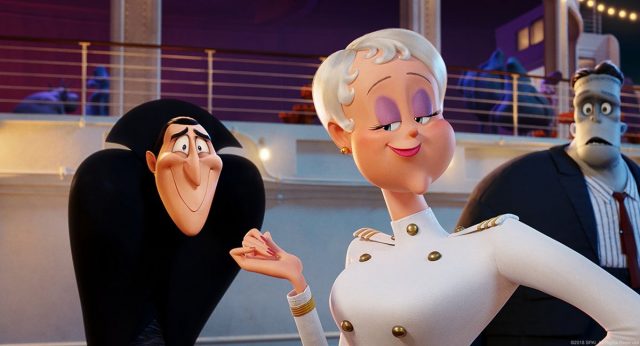 Coming along for the holiday is Mavis' human husband Johnny (Adam Samberg), and Dracula's friends, whom you may remember as a motley crew of monsters (The Mummy, Frankenstein's Monster, etc). On the ship, Dracula falls in love with the Captain Ericka (Kathryn Hahn), who has some devious plans of her own to wipe out all monsters.
Before we go on, does anyone remember what happened in Hotel Transylvania (2012) and its sequel (2015)? There are some vague recollections, though not as memorable as the Despicable Me films, but rest assured – it doesn't matter whether you have watched those two movies or not, because any sequel that is set out to make a splash at the box office should be able to stand alone on its own.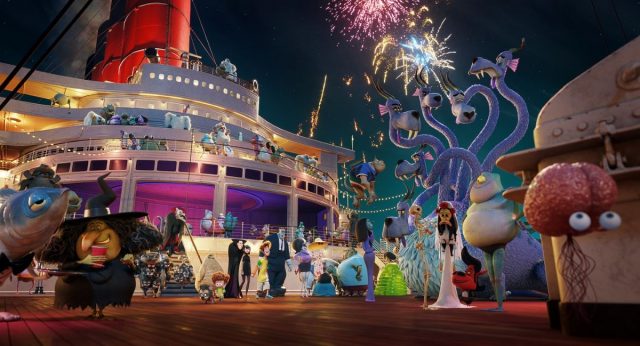 Russian-American director Genndy Tartakovsky is back to helm this third instalment in the franchise, or as we would say it, bleed the franchise dry. The movie does what it's supposed to do – to entertain young viewers, and hopefully, those who are still young at heart. The colourful animation, while never reaching the standards of Pixar and Disney movies, is enough to keep kids' eyes glued to the screen for 97 minutes.
The humour is occasionally chuckle-worthy (we especially love the scenes with the wolf pups), and goes into the territory of fart jokes which may just make some people howl in laughter.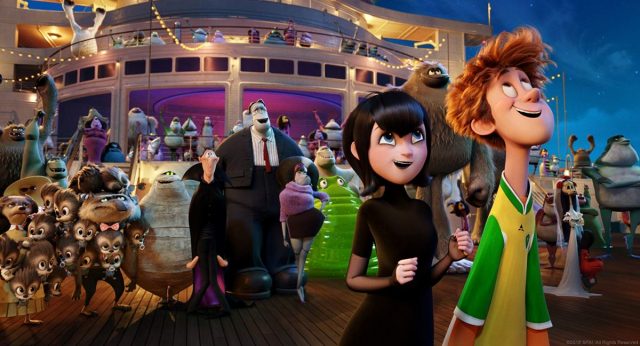 Besides Sandler and Gomez, the ensemble voice cast also returns. The talented comedians include Kevin James (Frankenstein's Monster), Fran Drescher (Frankenstein's wife), Steve Buscemi (Wayne the Werewolf), David Spade (Griffin the Invisible Man) and Mel Brooks (Vlad the Ancient Vampire). These actors don't have much to do in this movie, but we're guessing the paycheck is worth their time in the recording studio.
Adding to the movie's marketing efforts is Joe Jonas, who releases his vocals to a singing Kraken. American model Chrissy Teigen also gets her first movie role as the Invisible Man's girlfriend.
The movie doesn't reinvent the wheel, and that's not a bad thing. There is enough slapstick to keep children and their parents adequately entertained, and there are wholesome messages about family love. The filmmakers are also probably aware that this kiddy flick will not receive as much love as any Pixar or Disney productions, but with the amount of profits made by the previous two movies, why forego this opportunity to revisit the money making monster mash?
GEEK REVIEW SCORE
Summary
Want to hear a vampire fart? This third instalment in the money-making franchise has got that covered.
Story -

6/10

Direction -

6.5/10

Characterisation -

6.5/10

Geek Satisfaction -

6.5/10