It would appear that home cleaning, along with the pursuit of ensuring it's hassle-free, is not bounded by geographical constraints.
Hizero is another home appliance manufacturer whose products are not entirely well-known brand in the mainstream, but they have been doing extremely well in China, making a name in home cleaning. The Hizero F801 is their latest all-in-one mop that takes the work out of a chore.
Based on user feedback, the Hizero F801 4-in-1 Bionic Mop has received a mixed bag of reviews. The bionic mop touts the ability to sweep, mop, and dry at one go, as with many other brands out there, but it is the last and final feature that claims the unit can self-clean, that sets it apart.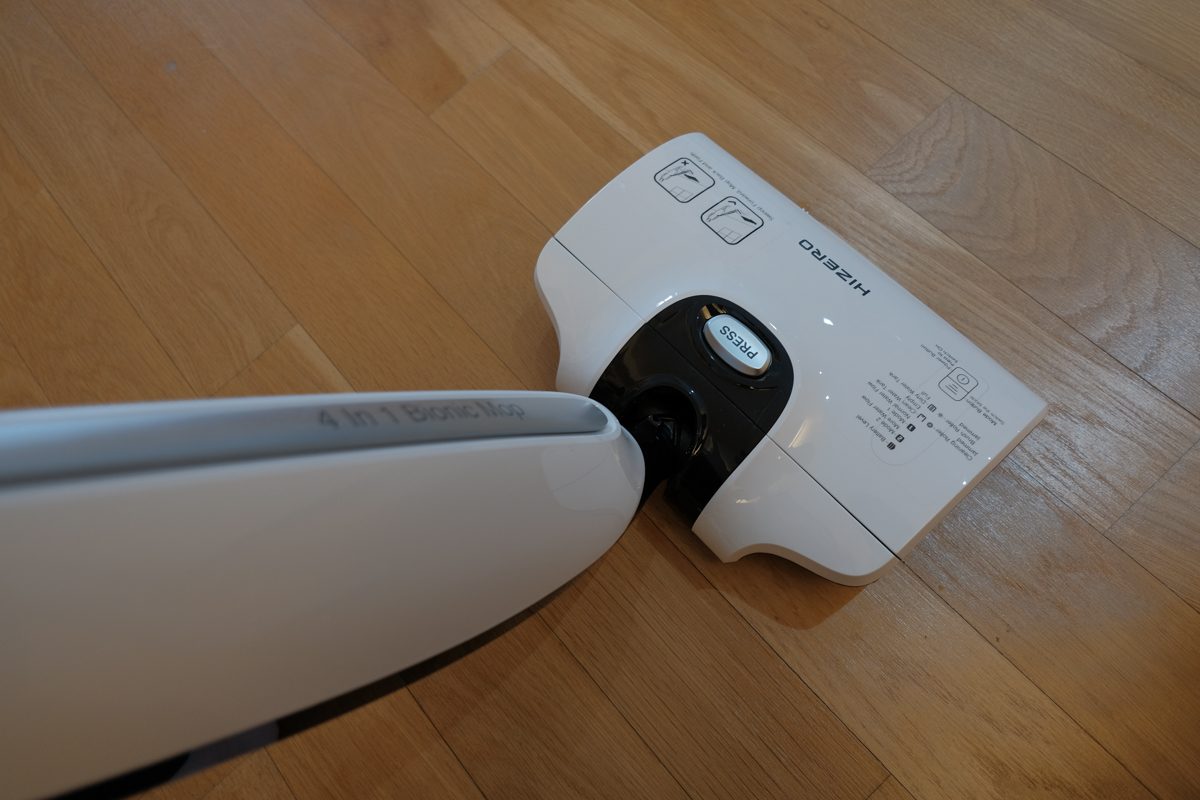 Standing at about 1.2 metres from base to handle, the Hizero F801 4-in-1 Bionic Mop will need someone of a certain stature to manoeuvre. Combined with a weight of about 4kg, this cleaner will certainly give anyone a good workout if it's used on a daily basis. It's definitely not a device which the kids can easily operate based on weight alone. We're not fat-shaming the device here but the weight distribution of the Hizero F801 4-in-1 Bionic Mop is centred mostly at the middle and bottom, which can pose a challenge to operate.
There's a bit of setup when it comes to the Hizero F801 4-in-1 Bionic Mop. Firstly, users will need to prime the cleaning roller for 20 minutes to ensure it attains absorbency. Next, you'd want to give the Hizero F801 4-in-1 Bionic Mop a charge, and it takes about 4 hours for the mop to be fully powered up before it can be operated for a good 45 minutes or so.
The machine comes supplied with a nice docking system to help charge and store the mop in the home but there are some reservations behind the connecting contacts. It does lock nicely in place while charging, though it would be very much preferred if the power adapter plugged directly into the bionic mop itself.
Essentially, the Hizero F801 4-in-1 Bionic Mop operates very much like a mechanical squeegee machine for the floor. Once the mop is charged and cleaning head is primed, you're ready to go. The next step would be to fill up the clean water tank. And while Hizero recommends using their own cleaning solution, it's really hard to tell if there's anything different about the liquid from other household cleaning agents.
The difference here might be due to the fact that the cleaning head found on the Hizero F801 4-in-1 Bionic Mop might not be as porous as one might be familiar with when it comes to sponges. It's far stiffer and its smooth surface becomes actually pretty adhesive once it becomes moist. This helps plenty to pick up dirt on the floor with ease.
Fill up the clean water tank and you're good to go!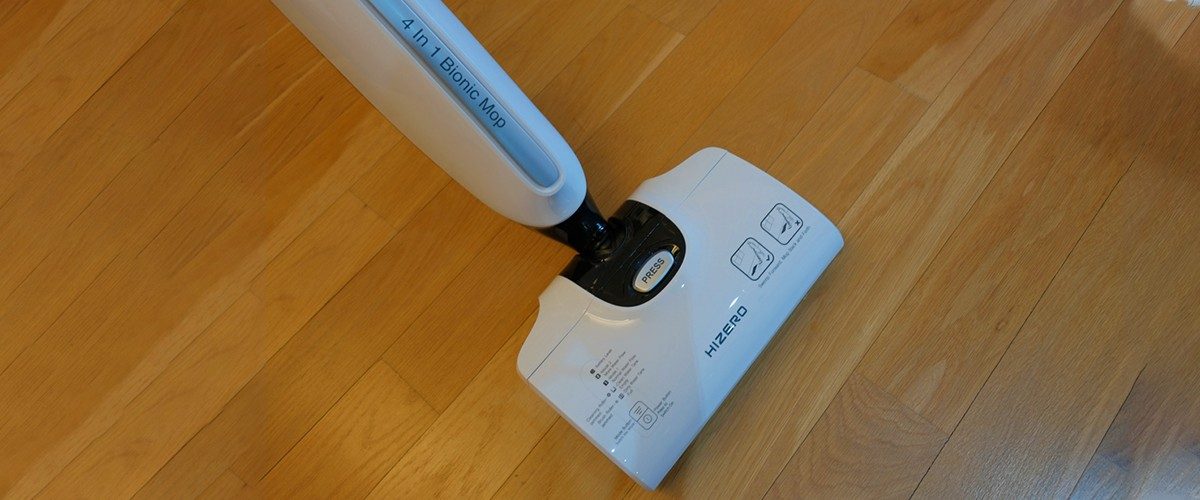 On paper, the Hizero F801 4-in-1 Bionic Mop claims to be able to cover a 50 square meter space on one water tank. This would be the first issue one might encounter when purchasing this, especially if you have a home bigger than 50 square meters. This means you'll be making more than one run to the sink in order to replenish that water to continue cleaning.
With two levels of cleaning available, the higher-powered option would take about 5 minutes for the tank to drain entirely. In my tests, cleaning the home on the lower (less water consumption) option just didn't cut it.
The application of the water was simply too little for my liking and the higher-powered option did far better. With two tanks, one for clean water and another for the dirty waste, one would need to refill and clear the dirty water at least twice for a 90 square meter home like mine. This can be quite a hassle and you might need to traverse across the freshly mopped floor to do so.
With the weight balance of the bionic mop being an issue, the motor which powers the device is relatively gentle though it doesn't seem to do well when tugged backwards. More often than not there's the fear the bionic mop is not being operated as it should be.
While it might be a pain to refill the Hizero F801 4-in-1 Bionic Mop, at least it does its job well in cleaning the home. The application of liquid is more than sufficient and the bionic mop has no issues lifting up large dirt on the floor. It would pick up items larger than a LEGO brick simply because there is no space for it to go for the bionic mop.
Within the cleaning head itself, the Hizero F801 4-in-1 Bionic Mop has a separate tray for dirt and hair plus, there's an agitator which separates large dirt particles from entering the dirty water tank. Overall, cleanup is easy though it can be harrowing.
For larger dirt particles, it will all be separated into a different compartment which users can easily lift and dispose of. There's a bit of maintenance when it comes to the roller bristles which is not unlike other devices of similar nature but, no worries, it's relatively easy to clean. For the dirty water tank, an exposed metal contact can be a cause for concern down the line. Thankfully, if water gets on the contact itself, a quick wipe will solve the issue.
The lack of clean water will also prevent the bionic mop from operating. Once the tank is empty, the mop itself will visually turn red informing the user to make a refill run. Over time, users will quickly get used to the machine's quirks and possibly clean faster (but not cleaner) as intended.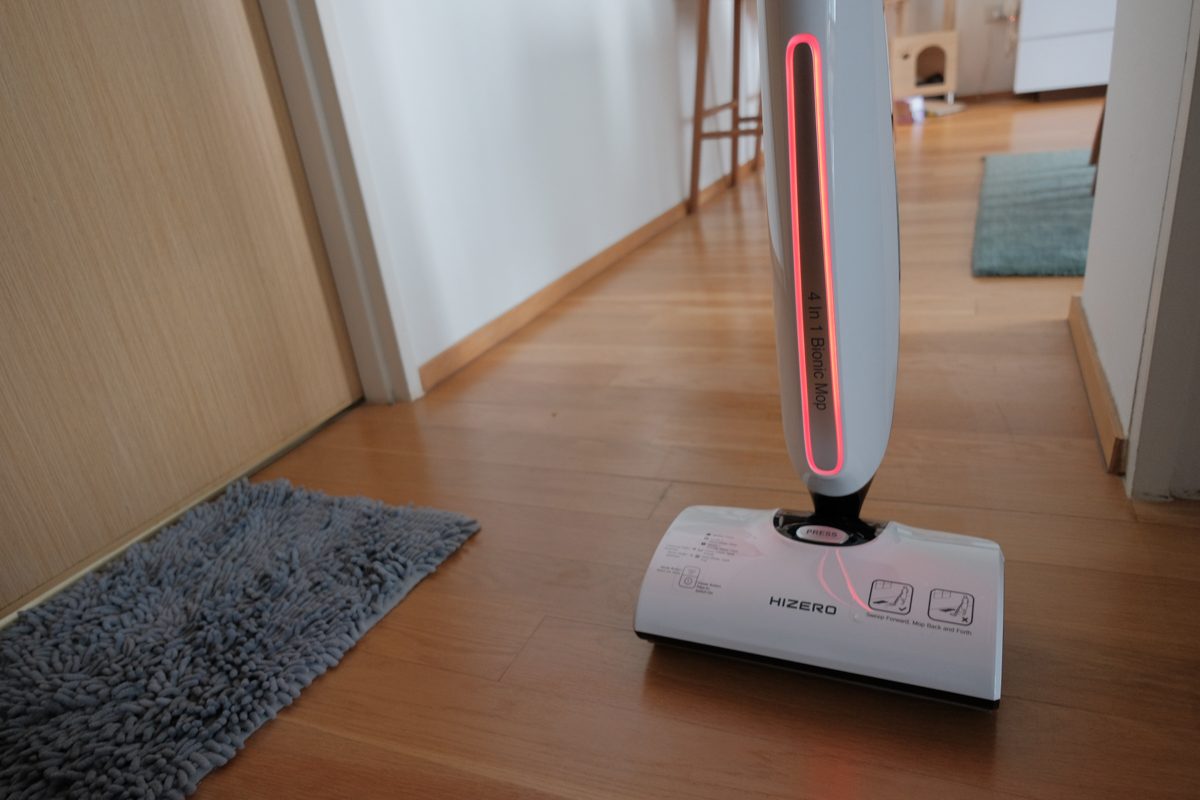 While it's really hard to fault the Hizero F801 4-in-1 Bionic Mop on its cleaning performance, the small clean water tank is really a deal-breaker especially if the home is larger than its operating range. Thus it's hard to make a solid recommendation when this is a glaring flaw in the bionic mop's design. While one could always make do on a lower-powered setting, it doesn't quite clean as well. After all, users who are looking to get such devices really do want to get their home clean at one go instead of having to make repeated passes.
Priced at S$799, the Hizero F801 4-in-1 Bionic Mop is right up there with other products in the same category but until it's able to resolve the cleaning tank issue, it's hard to make a solid recommendation.
GEEK REVIEW SCORE
Summary
While Chinese manufacturers tend to have a solid cost to performance ratio when it comes to their products, the Hizero F801 4-in-1 Bionic Mop is not quite part of that equation. When the product itself has a critical bottleneck which might be a hassle to resolve while cleaning, it marrs the overall experience.
Aesthetics -

7/10

Build Quality -

8/10

Performance -

7/10

Value -

6/10

Geek Satisfaction -

7/10
Gerald currently straddles between his love of video games and board gaming. There's nothing that interests him more than trying out the newest and fanciest gadget in town as well. He dreams of publishing a board game sometime in the future!