Everybody knows sex. Sex-education classes tell you to wrap it up or live in regret as a teen parent, religious texts tell you it's a sin unless it's within the confines of holy matrimony, and in the ever-present hook-up culture in today's modern society, it's just a thing people do for fun one night (or multiple nights) with a stranger, a friend or a hottie from a dating app. But not everybody knows pleasure and intimacy – certainly not Nancy Stokes in British sex-comedy Good Luck to You, Leo Grande. 
Emma Thompson plays Nancy Stokes, a Religious Education teacher who at the age of 55, has not experienced pleasure. She hires a young 20-something-year-old sex worker, Leo Grande (Daryl McCormack), after the death of her husband and what first seems like a romance-novel fantasy actually develops into an in-depth exploration of sexuality, human connection, sex and intimacy and power dynamics.
In Good Luck to You, Leo Grande, Thompson's Stokes is uptight, sexually inexperienced and hence insecure, and carries a lot of shame – shame for even hiring a sex worker to have sex with, shame for even wanting to have sex as a recent widow and a religious education teacher and shame for existing as an older woman, though all of which is not a fault of her own. McCormack's Grande on the other hand is liberated, confident and sexy – but not without a history tainted by shame and disgust for his career choice. 
The two are complete opposites, providing an interesting exploration of what sex means for one who is sexually deprived and one that is sexually free. Their age gap is apparent and despite what viewers and Stokes are led to believe, a human connection based on mutual trust, honesty and respect are surprisingly possible, even in relationships that are transparently transactional.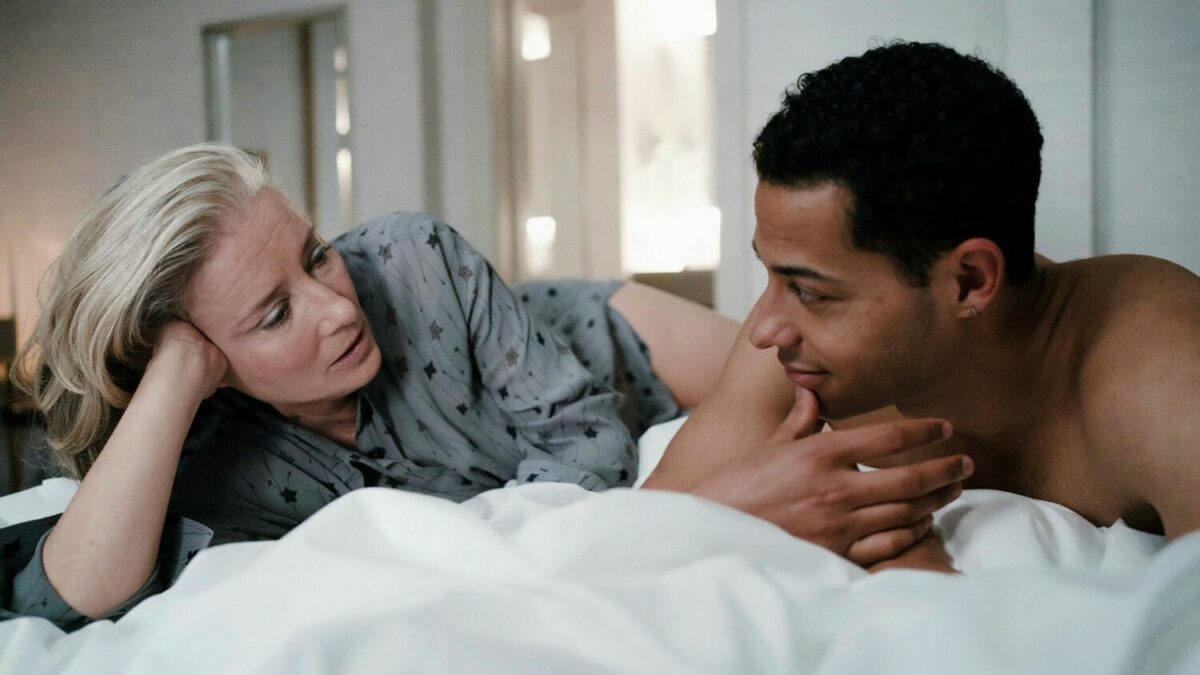 The film is sectioned into four meetings, each of which sees the growth in Stokes and Grande's relationship and their sex. It is also within these meetings we learn more and more about the characters and the themes the movie aims to tackle. There are discussions on the legalisation of sex work, parent-child relationships as well as how conversations around sex positivity have shifted over the years. All of which happens within the four walls of the hotel room Stokes books for her two-hour sessions with the great Leo Grande.
For 1 hour and 37 minutes, viewers see nothing else but our characters in the same hotel room – sitting on the sofa, lying down in bed, and in one of the meetings, a variety of positions we'd leave to your imagination. It is set up rather simply, almost like a staged play. There are no special effects or beautiful sceneries for viewers to take in and there's nothing visually wowing but it works in Good Luck to You, Leo Grande.
The movie's strength isn't in how it's visually presented but in the movie's script and our actors' performance of intimacy and connection. Fans of Thompson will enjoy the 63-year-old's performance as a repressed old woman learning to accept herself and her needs. Women who are perhaps closer in age to the actress may find Thompson's Stokes relatable, though it is no secret that many men and women regardless of age do struggle with loving their bodies at some point in their lives.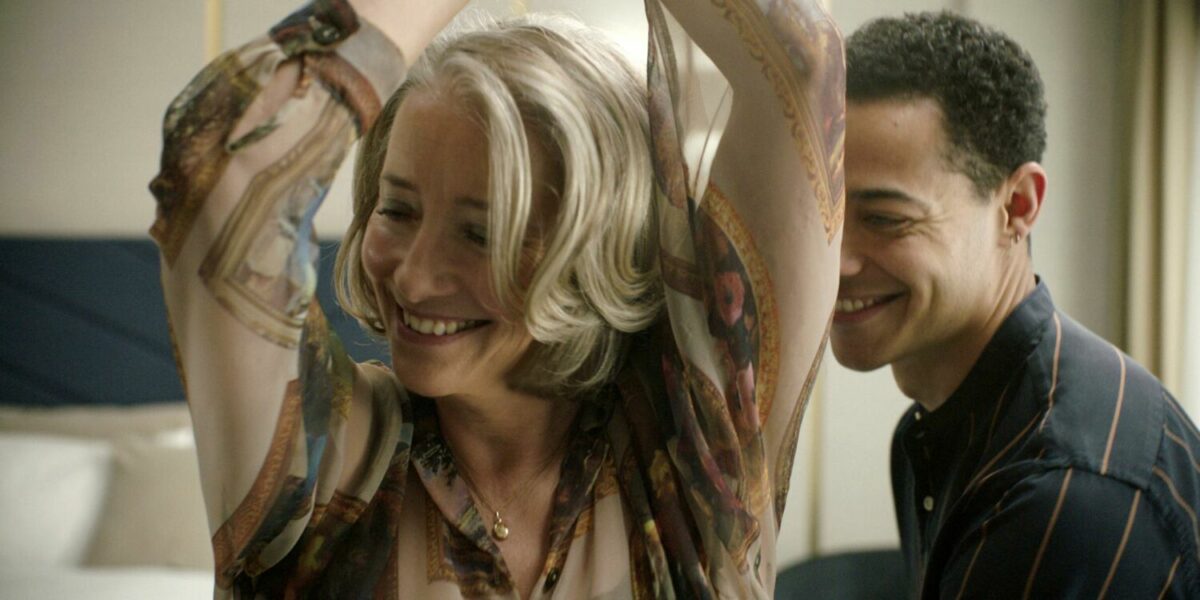 McCormack is just breathtakingly beautiful to look at and puts up a solid act as a sex worker who is so much more complex than led on. McCormack's Grande is brilliant and challenges Stokes' outdated beliefs about sex and escorting in a gentle way. He is patient with Stokes despite some difficult moments and moves between wit, compassion and vulnerability with grace. 
This is not in any way an educational film, but it does open audiences' eyes to topics that in some conservative households may be considered taboo to discuss. It is an intimate movie that viewers can very easily find themselves in the scene and feel like they personally know these characters. Whilst the lack of variety in shots and location may make the film feel monotonous at some points, Thompson and McCormack's delicate dance and chemistry make Good Luck to You, Leo Grande a pleasure to watch.
GEEK REVIEW SCORE
Summary
Emma Thompson and Daryl McCormack's sex-comedy Good Luck to You, Leo Grande is full of heartfelt moments, light laughs and gentle lessons on pleasure and self-acceptance.
Story -

7/10

Direction -

7/10

Characterisation -

8/10

Geek Satisfaction -

7/10