Even as we return to working in the office, online meetings aren't going away. Hybrid work has become the new norm, so no matter if you are at the workplace or spending the rest of the week communicating with your colleagues through Zoom meetings, there's still a need for a solid work setup. Part of that equation includes having a webcam that gets the job done, and it's something that Dell's new Pro 2K Webcam WB5023 is well-acquainted with.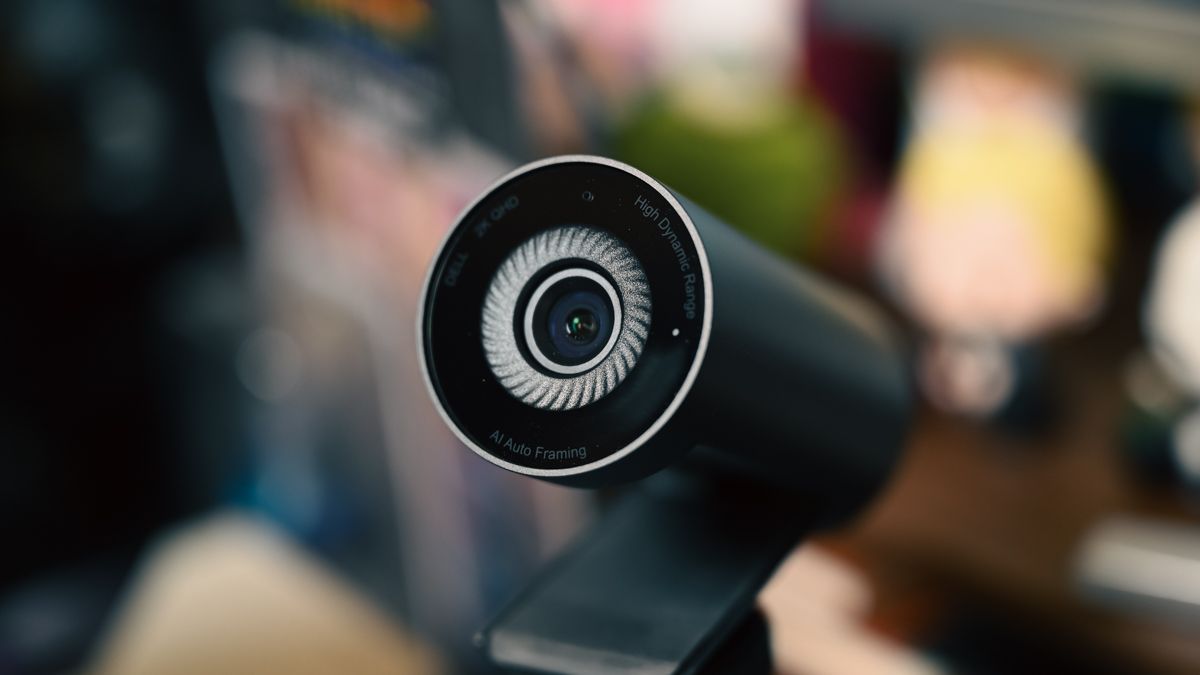 An easy plug-and-play webcam that even the tech-adverse can't mess up, it features a black cylinder-shaped body, a large, round glass-covered lens, and a removable magnetic lens cap that come together to measure 3.6 inches long by 1.73 inches in diameter. There's also a rubberised built-in monitor clip with a threaded tripod mounting point, alongside a movable foot which allows the tilt angle to be adjusted. More notably, it keeps the webcam fastened securely to your desktop or laptop screen, so there's no need to fret over the loss of its grip when it's in use.
Hooking it up to the computer makes for a fuss-free affair. The device connects via a permanently-attached, 1.5m long USB-A cable that sits perpendicular to its body, resulting in a professional, sleek, and neat workspace that's free of awkward, jutting wires. Just plug it in, and you're all good to go.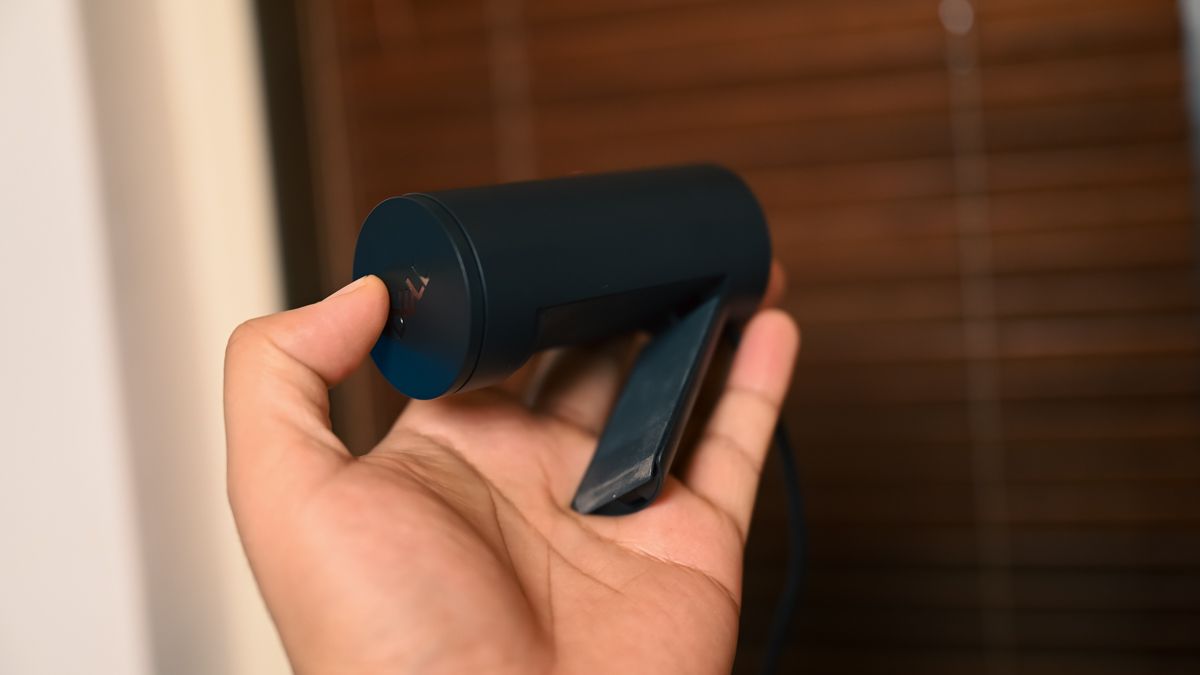 By default, the WB5023 offers a 78° field of view with autofocus and is able to record at 2K QHD (2,560 x 1,440) at 30 FPS. Like most tech these days, however, these settings can be customised via Dell's Peripheral Manager software, where users can adjust the camera's field of view to 65° for a closer portrait short and even zoom in up to 4x. Other controls, such as brightness, sharpness, and contrast and saturation can all be calibrated, while auto-focus and HDR can be toggled on or off as needed. The most exciting feature on the list is arguably AI Auto Framing, which brings users back into the centre frame regardless of their position.
Naturally, we put all of that through their paces to check how the differences matched up to expectations. For the test, we only switched on our overhead chandelier, so one may say that the setting was fairly dim.
As seen here, the auto-white balance works quite well in low-light conditions. There isn't much background noise and the camera can impressively light the scene evenly. Not only can it pick up a user's facial features in low light, most of the background and items in our background are still visible and relatively crisp.
When auto-framing was activated, the WB5023 zoomed in and framed us right in the center of the screen. Tracking and framing were both accurate and consistent, but image quality took a hit – even if we could still make out our features. The situation improves slightly once HDR is turned on, resulting in greater clarity, brightness, and liveliness. It's not as clear as we'd like it to be, though.
With auto-framing off, the test photos remain clear, no matter the edits. After increasing brightness, contrast, and saturation levels, they showed no sign of deterioration, with the background boasting even lighting and accurate colouring.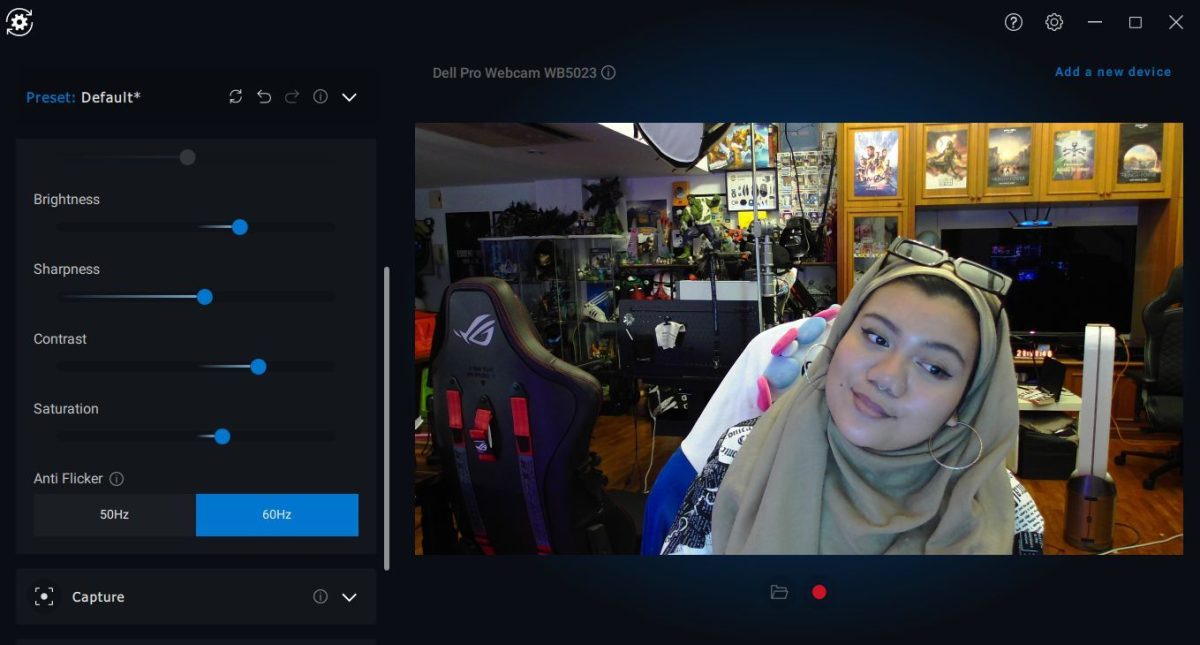 For the average user, these settings are more than enough to tailor the webcam for the desired look and feel. The fact that the WB5023 also has auto-white balance and auto-exposure means there are fewer factors for users to fuss about, but an option to alter exposure would have been appreciated. As it takes a while for the webcam to achieve auto-exposure, manual adjustment might just be more efficient instead.
At S$240.99, the Dell Pro WB5023 is the most cost-effective as compared to its peers in the market like the Razer Kiyo Pro (S$299.90) and the Elgato FaceCam (S$309). It's a worthy investment that gets the job done with minimal fuss while dishing out some bonuses on the side, such as basic customisation and AI framing technology. There's nothing particularly fancy here, but that isn't stopping it from putting on a decent performance in the areas that matter most.
GEEK REVIEW SCORE
Summary
The Dell Pro Webcam WB5029 is a great webcam that delivers professionalism, fuss free. We promise, even the tech-adverse will have no qualms about it.
Aesthetics -

8/10

Build Quality -

7/10

Performance -

8/10

Value -

7/10

Geek Satisfaction -

7/10